Commemorating the 375th anniversary of Bermuda 1609-1984
Date: 3rd May 1984
Stamps: 375th Anniversary of Bermuda 1609-1984 – 12c Sir Thomas Gates and Sir George Somers; 30c Jamestown Virginia; 40c Wreck of the Sea Venture; $1 Fleet leaving Plymouth England.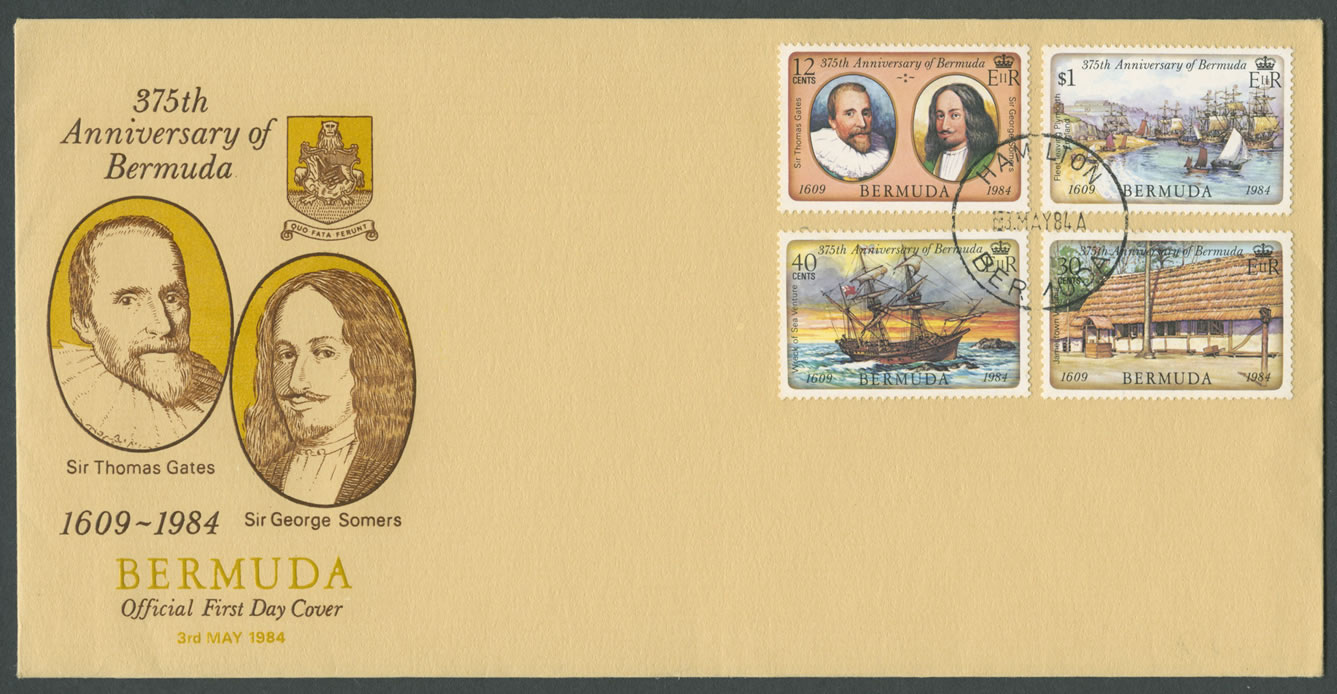 Type: Official First Day Cover
CDS: 03.MAY84A HAMILTON BERMUDA
Cachet: 375th Anniversary of Bermuda 1609-1984. Bermuda Official First Day Cover 3rd May 1984. Quo Fata Ferunt. Sir Thomas Gates and Sir George Somers (front). Bermuda with mangifying glass (reverse).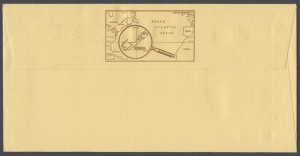 375th ANNIVERSARY OF BERMUDA 1609-1984
On 2nd June 1609, under the command of Admiral Sir George Somers, a fleet of seven ships and two pinnaces sailed from Plymouth carrying six hundred new colonists bound for Virginia. They were to join those who reached Virginia safely in 1607, sailing in the three ships under the command of Christopher Newport, and who had established a settlement in Jamestown despite the great privations they suffered during the first two winters.
Because ofthe question ofprecedence, the appointed deputy Governor, Sir Thomas Gates, was travelling together with Sir George Somers, on board the 'admiral' ship the SEA VENTURE which was captained by Christopher Newport.
The fleet sailed in consort until 24 July, when it encountered a hurricane. The vessels were scattered by the storm but all managed to reach theJames River, except the SEA VENTURE which was wrecked off Bermuda on 29 July. The ship was lodged between two reefs, which prevented it from sinking. This allowed not only the hundred and fifty men, women and children to get ashore on to the Island of St George's, but later for most of the cargo and much of the ship itself to be salvaged.
Under Sir Thomas Gates' direction, Richard Frobisher, an experienced shipwright, began building a pinnace out ofthe SEA VENTURE's timbers to carry the survivors on to Virginia. Sir George Somers, recognising that this vessel would not be large enough to take them all, undertook to build a smaller pinnace of Bermuda cedar for the remainder. The two vessels were completed in April 1610 – the larger being called the DELIVERANCE whilst the other was called the PATIENCE.
The two vessels sailed for Virginia on 10 May and reached Jamestown on 24 May. Finding provisions short at the settlement; and notwithstanding the arrival of Lord De La Ware, the appointed Governor, with three supply ships; on 19 June 1610 in company with another pinnace (which was forced back) Sir George sailed for Bermuda in the PATIENCE to collect wild hogs and fish for Jamestown. Soon after arriving, Somers died and, although he directed the crew to return to Jamestown with supplies, his nephew, Captain Matthew Somers took his body to England in a
cedar chest – and with it the first word ofthe potential ofthe islands for colonisation.
Acknowledgment for the above information is made to Dr J C Arnell.
TECHNICAL DETAILS
Designer: R Granger Barrett
Printer: Walsall Security Printers Ltd
Printing process: Lithography
Set: 50 (2 panes of 25)
Stamp size: 28.45 x 42.58mm horizontal
Values: 12c, 30c, 40c, and $1
Paper: Crown Agents Watermarked
Souvenir Sheet Size: 75 x 135mm
No. of stamps on sheet: 30c and $1 (block perforation)
Release date: 3 May 1984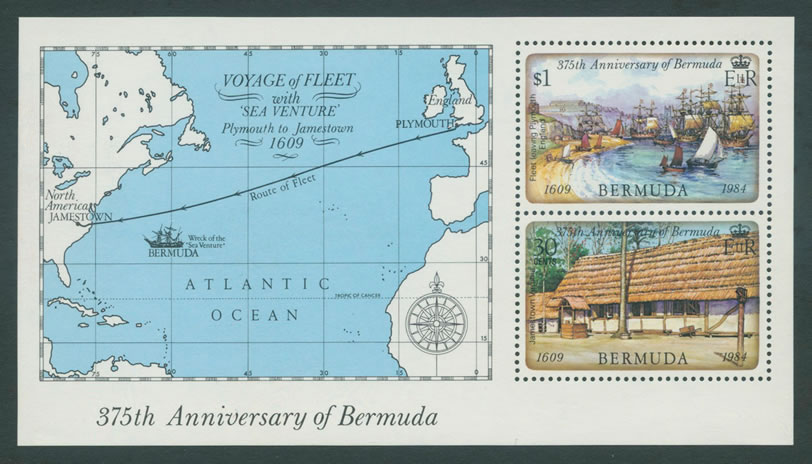 Type: Miniature Sheet
Text: 375th Anniversary of Bermuda. VOYAGE of FLEET with 'SEA VENTURE' Plymouth to Jamestown 1609
Dimensions: 130x73mm
Stamps: 30c and $1