Second issue of the shipwreck definitves
Date: 16th January 1986
Stamps: 7c Madiana Wrecked 1903; 20c San Pedro Wrecked 1594; 60c Mary Celestia Wrecked 1864; $1.50 Caesar Wrecked 1818; $2 Lord Amhurst Wrecked 1778; $3 Minerva Wrecked 1849.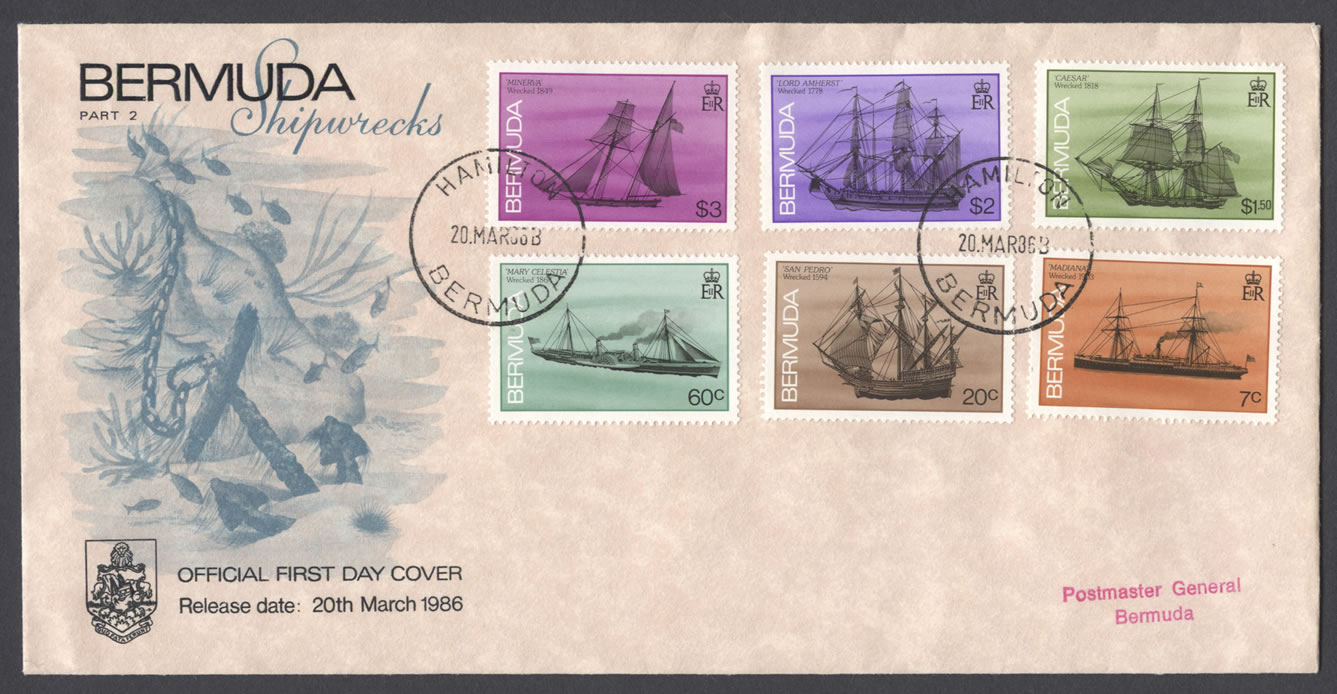 Type: Official First Day Cover
CDS: 20.MAR86B HAMILTON BERMUDA
Cachet: Bermuda Shipwrecks PART 2. OFFICIAL FIRST DAY COVER Release date: 20th March 1986
Address: Postmaster General Bermuda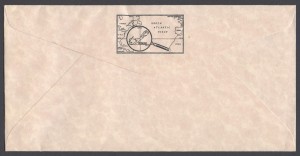 Liner
BERMUDA
Bermuda's Wrecks
The Islands of Bermuda consist of about twenty square miles of dry land situated on the southwestern part of a shallow 400 square mile oval seamount, that is fringed with coral reels. Because of the location of the islands, the southern reefs are within half a mile of Bermuda's beaches, while reefs extend 10-12 miles 10 the north of the main island.
In the days of the treasure fleets from the Spanish Main, the homeward course, after a rendezvous at Havana, was through the Bahamas Channel and up the Gulf Stream to a latitude just south of Bermuda, whence with a southwest wind the ships would pass just north of the islands on a course for the Azores. It was usually late summer – a time of hurricanes when the Spanish Fleet sailed for home, and an unknown number of treasure vessels, caught in a storm and blown off course or through faulty navigation, were lost on Bermuda's reefs.
Over the centuries, Bermuda had a well-deserved reputation as a navigational hazard and a place to be avoided unless it was a ship's destination, for many an unsuspecting captain did not know he was off the Island until his vessel was caught on the reefs and lost. Even those captains sailing for Bermuda from North America, caution was the word. The advice given to navigators by Captain Penrose, Royal Navy, in 1795 was to make for 30º05′ north latitude some 50-100 miles west and then sail due east, "which will bring you to the Islands passing 4 or 5 miles clear of the SW breaker, which is the only danger on that side of the Island, and this only a Mile from the Shore." In those days, it was possible to know the latitude quite accurately from the sun or stars, but not the longitude.
In spite of all the developments in modern navigation techniques, ships continue to be lost on Bermuda's reefs. However, now it is not the result of the forces of nature or the uncertainty of position, as in the past, but carelessness and ignorance on the part of many ot today's merchant mariners
Bermuda's new definitive being released in three parts in 1986 depicts seventeen wrecks – those in Part 2 are:-
MADIANA
The Madiana. Captain Roderick Fraser, was a British registered iron screw steamer bound from New York to Bermuda with a general cargo, when she ran aground on Bermuda's reefs on 14 February 1903.
SAN PEDRO
The San Pedro is thought to have been a 350-ton merchant noa of the New Spain treasure fleet. She was wrecked on the Bermuda reefs in 1594, while carrying treasure home from the Spanish Main. The remains were discovered by local diver, Teddy Tucker, in 1950. Four years later, working with Robert Canton, Tucker made the first major treasure find of modem times. This included gold bullion, silver coins, jewellery (including an emerald-studded cross, which was stolen from an exhibit in 1973), and many personal and everyday items. The artifacts were subsequently purchased by the Bermuda Government and are on display at the Bermuda Maritime Museum. See 1969 Bermuda Treasure commemoratives…
MARY CELESTIA
The Mary Celestia was a swift, 207-ton paddle-wheel steamer, used as a Confederate blockade runner during the American Civil War. Loaded with a cargo of bacon, rifles and ammunition, she cleared Hamilton on 6 September 1864, under the command of Captain Sinclair and piloted by a Bermudian, John Virgin. About six o'clock in the afternoon, she mysteriously struck a reef off the South Shore, about a third of a mile south of Gibb's Hill Lighthouse, and sank quickly with the loss of only one life.
CAESAR
The Caesar, Captain Joseph Richards, was a British brig, built at Cumberland, Co. Durham in 1814. She was bound from Shields, England to Baltimore with a cargo of grindstones, bricks and glassware, when she was lost off Bermuda on 21 February 1818. Of particular interest is the special order of Masonic bottles with an American eagle embossed on them. Apart from a few bottles retained by the manufacturer, the only examples of them are those recovered from the wreck. Several are on exhibit at the Bermuda Maritime Museum.
LORD AMHERST
The Lord Amherst, Captain Hartwell, was a British armed transport, being used as a hospital ship to carry invalided Sailors from Jamaica to England, together with a cargo of indigo and rum, when she struck the reefs off the west end of Bermuda on 16 February 1778.
MINERVA
The story of the Minerva is a favourite in Bermuda's sea-going lore. She was a Bermuda-built cedar ship, which in 1849 sailed on a voyage to Africa. Caught in a storm, she was abandoned by her crew and left to her fate. One morning, the residents around Ely's Harbour in Somerset awakened to find that the Minerva had drifted home!
(By J.C. Arnell, in collaboration with Fred Taylor.)
Part Two – 20th March 1986
7c – Madiana (1903)
20c – San Pedro (1594)
60c – Mary Celestia (1864)
$1.50 – Caesar (1818)
$2 – Lord Amhurst (1778)
$3 – Minerva (1849)
Technical Details
Designer: Mr. Leslie Curtis
Printer: The House of Questa
Process: Lithography
Stamp Size: 28.45 x 42.58mm
Set: 50 (2 Panes of 25)
Paper: C.A. Spiral Watermarked
3c Constellation (1943)
5c Early Riser (1876)
10c Curlew (1856)
12c Warwick (1619)
$8 H.M.S. Pollo. (1783)
Part Three – Release Dale To Be Decided
15c H.M.S. Vixen (1890)
25c Alert (1877)
40c North Carolina (1880)
5Oc Mark Antonie (1777)
$1 L'Herminie (1838)
$5 Caraquet (1923)