Commemorating Bermuda Treasure 1594
Bermuda Treasure 1594 Commemorative Stamps Official First Day Cover
Date: 29th September 1969
Stamps: 4d, 1/3, 2/- and 2/6 1594 Treasure from the Sea
Official First Day Cover
Cachet: "Bermuda Treasure" First Day Cover. September 29, 1969.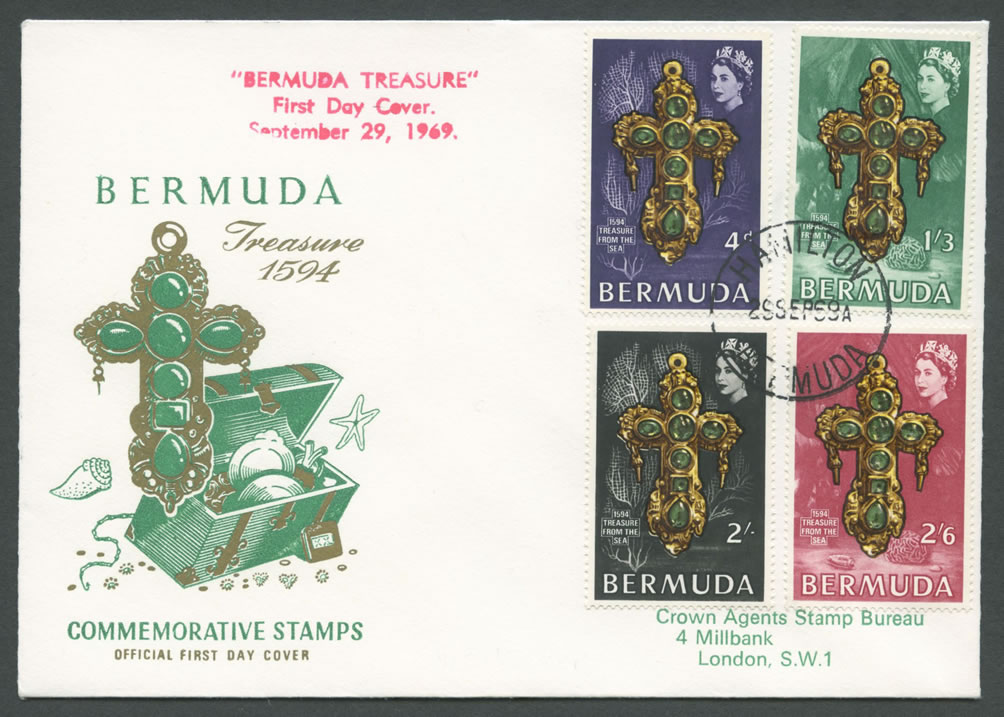 CDS: HAMILTON 29SEP69A
Address: Crown Agents Stamp Bureau, 4 Millbank, London SW1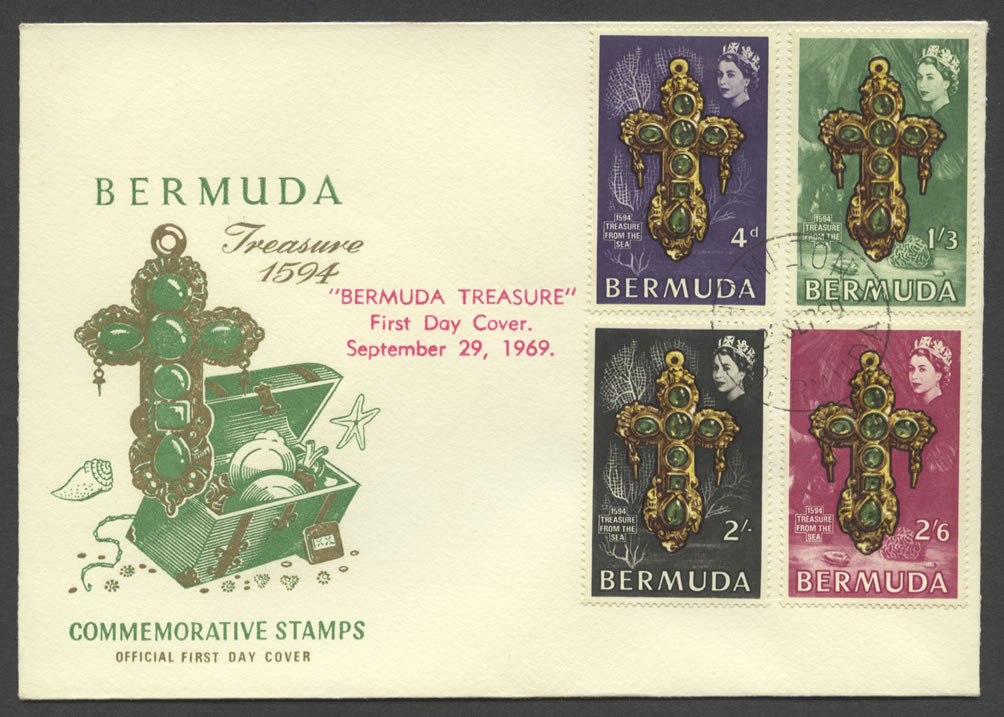 About the Bermuda Treasure 1594
The stamps feature one of the most valuable pieces of sunken treasure ever found – The Tucker Cross – an emerald studded 22 karat gold cross discovered by Teddy Tucker in 1955. It is believed to have come from San Pedro, a Spanish galleon lost on the reefs in 1594. Tucker sold it to the Government of Bermuda in 1959 saying "he wanted it to remain on the island forever."
The following is an excerpt from "How I found the Cross" by Teddy Tucker
September 1955, and the weather was getting worse. Then on the seventh day, a Sunday, I found the greatest single object of all. Eager to work faster, I took a water hose down to the bottom and turned on the jet to blast sand from the area below the brain coral. After carving a deep hole I turned the jet off. When the debris settled, my eyes fell on a gold cross, lying face down in the sand. I picked it up and turned it over.

Awe struck, I counted the large green emeralds on its face. There were seven of them, each as big as a musket ball. From small rings on the arms of the cross hung tiny gold nails, representing the nails in Christ's hands, and at the foot was the ring for a third, which had been lost. The ornate carving, while beautiful, was somewhat crude, indicating that Indians had made the cross. It remains my most treasured discovery.
Just before an official visit to the Maritime Museum to view the treasure by Queen Elizabeth II in 1975, the Tucker Cross was stolen and replaced with a replica.
Despite a large international investigation the original has never been recovered and the crime remains one of the greatest unsolved art theft mysteries.
The 1992 Bermuda Wrecks issue features the San Pedro on the 20c stamp.