Commemorating the Silver Jubilee of Queen Elizabeth II
Date: 7th February 1977
Stamps: 5c Her Majesty at Queens View; 20c The St. Edward Crown and $1 …sits down in her Chair of Estate
Official First Day Cover
Cachet: Silver Jubilee 1952-1977. Bermuda Official First Day Cover – 7th Feb 1977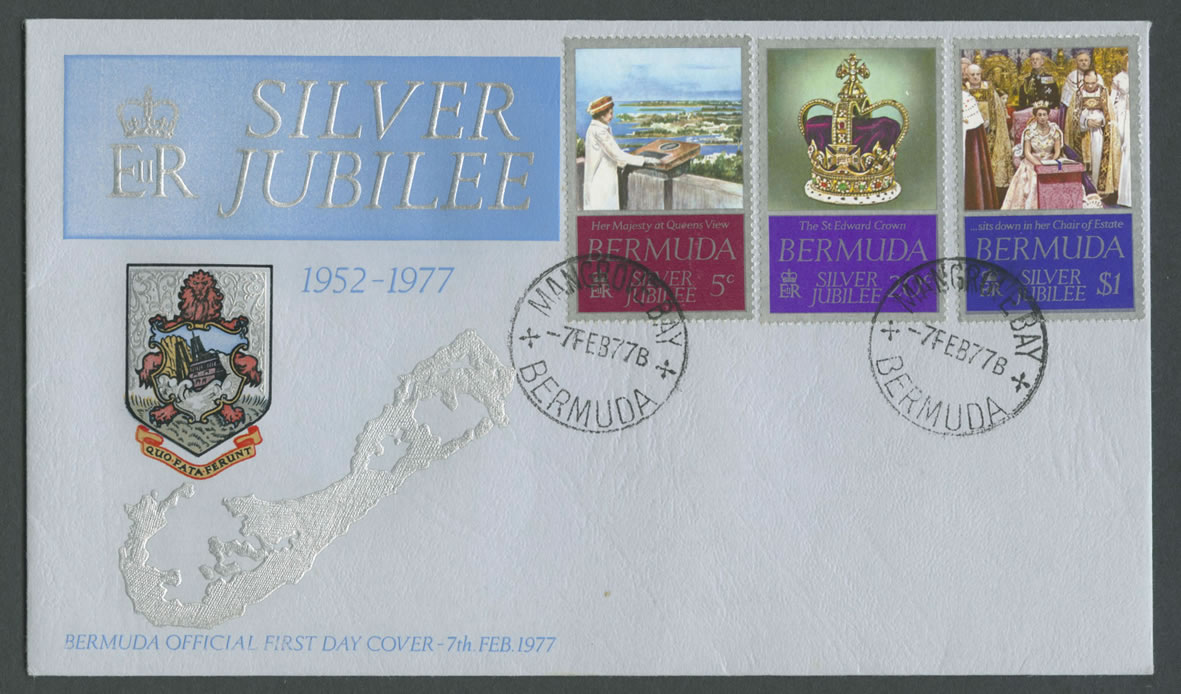 Type: Official First Day Cover
CDS: MANGROVE BAY BERMUDA -7FEB77B
Liner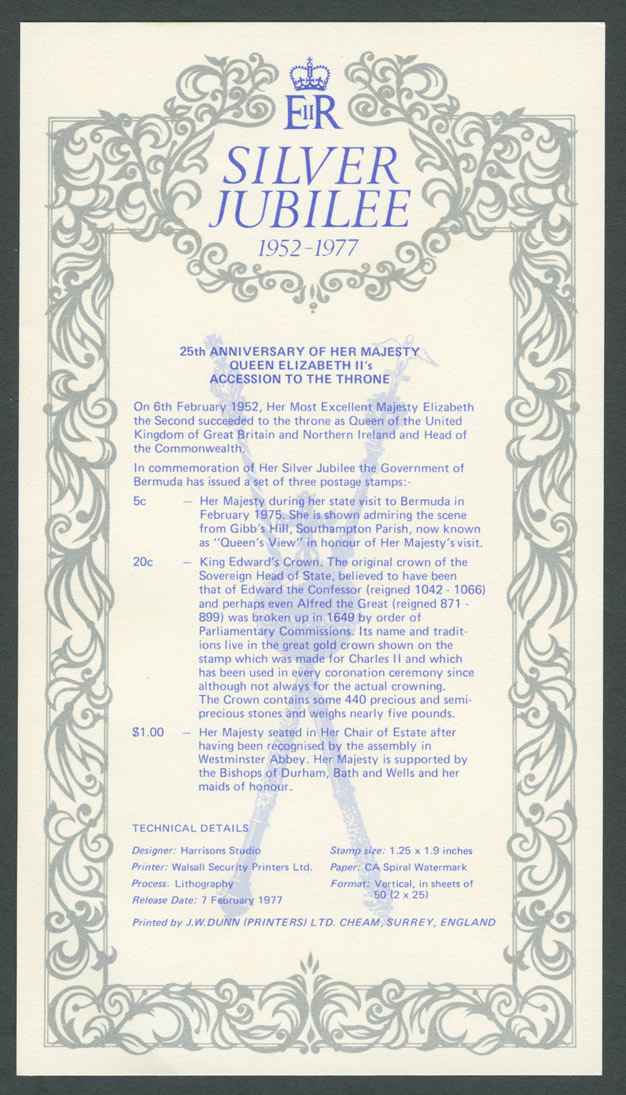 25th ANNIVERSARY OF HER MAJESTY QUEEN ELIZABETH II's ACCESSION TO THE THRONE
On 6th February 1952, Her Most Excellent Majesty Elizabeth the Second succeeded to the throne as Queen of the United Kingdom of Great Britain and Northern Ireland and Head of the Commonwealth.
In commemoration of Her Silver Jubilee, the Government of Bermuda has issued a set of three postage stamps:-
5c Her Majesty: during a state visit to Bermuda in February 1975. She is shown admiring the scene from Gibb's Hill, Southampton Parish, now known as "Queen's View" in, honour of Her Majesty's visit.
20c King Edward's Crown. The original crown of the Sovereign Head of State, believed to have been that of Edward till! Confessor (reigned 1042 – 1066) and perhaps even Alfred the Great (reigned 871 – 899) was broken up in 1649 by order of Parliamentary Commissions. Its name and traditions live in the great gold crown shown on the stamp which was made for Charles II and which has been used in every coronation ceremony since although not always for the actual crowning.
The Crown contains some 440 precious and semi-precious stones and weighs nearly five pounds.
$1.00 Her Majesty seated in Her Chair of Estate after having been recognised by the assembly in Westminster Abbey. Her Majesty is supported by the Bishops of Durham, Bath and Wells and her maids of honour.
Technical Details
Designer: Harrisons Studio
Stamp slle: 1.25 x 1.9 inches
Printer: Walsall Security Printers Ltd.
Paper: CA Spiral Watermark
Process: Lithography
Format: Vertical, in sheets of 50 (2 x 25)
Release Date: 7 February 1977
Printed by J.W.DUNN (PRINTERS) LTD. CHEAM, SURREY, ENGLAND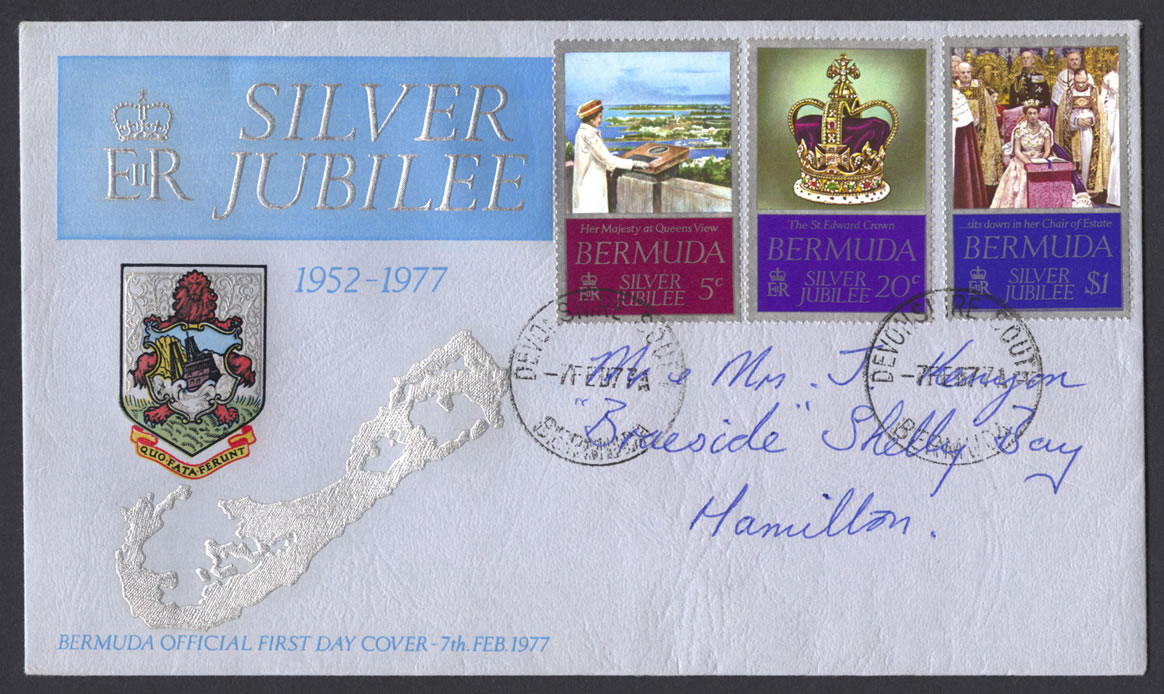 Type: Official First Day Cover
CDS: DEVONSHIRE SOUTH BERMUDA -7FEB77A
Unofficial First Day Covers
Royal Commonwealth Society
Offical Commemorative Stamps of Bermuda Honouring the Silver Jubilee of Queen Elizabeth II 1952-1977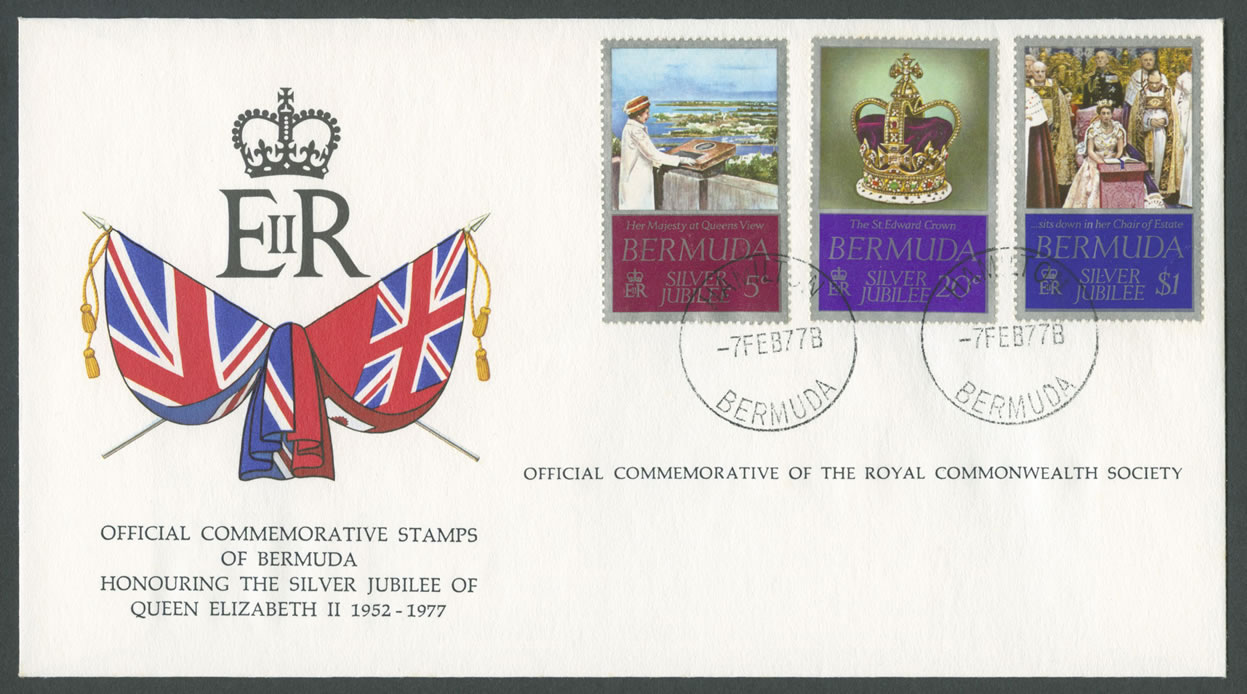 Type: First Day Cover
CDS: HAMILTON BERMUDA -7FEB77B
CACHET: The Royal Commonweath Society and logo (reverse)
Stamps: 5c Her Majesty at Queens View; 20c The St. Edward Crown and $1 …sits down in her Chair of Estate
About The Royal Commonwealth Society
The Royal Commonwealth Society (RCS), founded in 1868, is a network of individuals and organisations committed to improving the lives and prospects of Commonwealth citizens across the world. Originally named the Colonial Society, later re-christened as the Royal Colonial Society, the Royal Colonial Institute and lastly as the Royal Empire Society is an international educational charity and a private members' club. Its mission is to support and promote the modern Commonwealth, its culture and core values. Working through a range of educational, civil society, business and governmental networks, the RCS addresses issues that matter to Commonwealth citizens.
The Westminster Collectors Society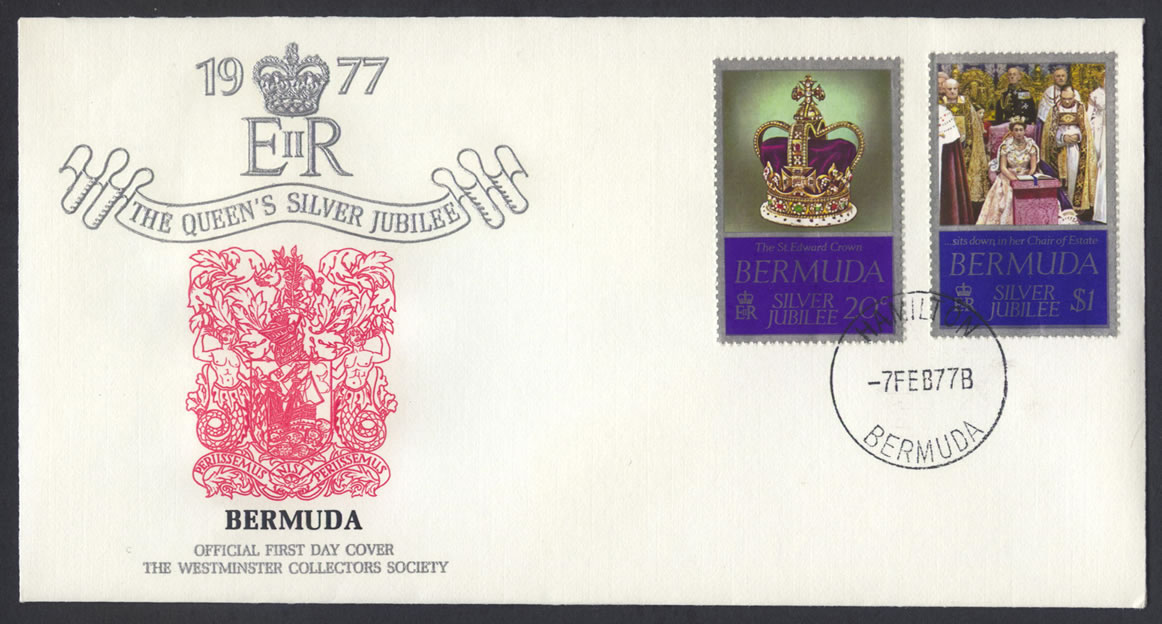 Type: First Day Cover
CDS: HAMILTON BERMUDA -7FEB77B
CACHET: 1977 EIIR THE QUEEN'S SILVER JUBILEE BERMUDA OFFICIAL FIRST DAY COVER THE WESTMINSTER COLLECTORS SOCIETY
Stamps: 20c The St. Edward Crown and $1 …sits down in her Chair of Estate