Commemorating the Tall Ships Race
1st Race Plymouth-Tenerife 1,450 miles. 2nd Race Tenerife-Bermuda 2,530 miles. 3rd Race Bermuda-Newport 635 miles. Parade Newport-New York.
Date: 15th June 1976
Handstamped Cachet: FIRST DAY OF ISSUE "TALL SHIPS RACE" 15th JUNE, 1976
Stamps: 5c Christian Radich Norway (cadet ship); 12c Juan Sebastian de Elcano Spain (cadet schooner); 17c Eagle USA (coastguard cadet ship); 20c Sir Winston S. Churchill Great Britain (cadet schooner); 40c Kruzenshtern USSR (cadet barque); $1 Cutty Sark trophy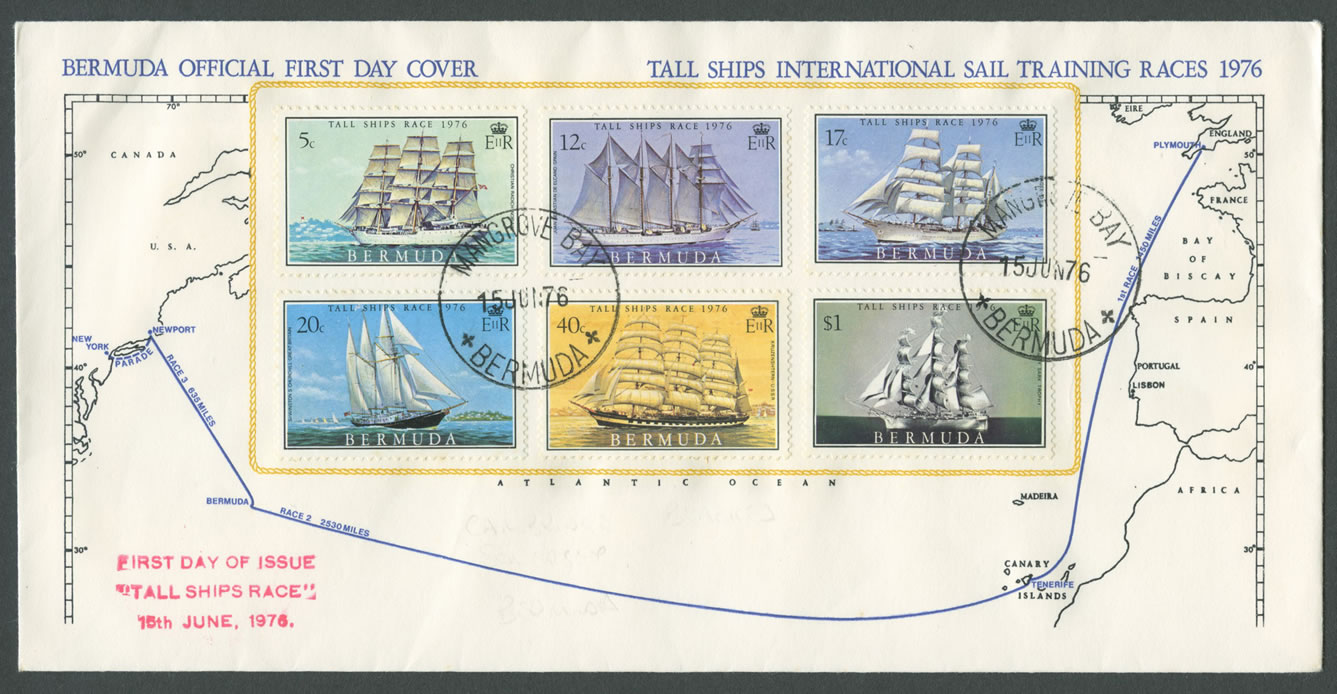 Type: Official First Day Cover
Cachet: Printed – BERMUDA OFFICIAL FIRST DAY COVER TALL SHIPS INTERNATIONAL SAIL TRAINING RACE 1976.
CDS: 15JUN76 MANGROVE BAY BERMUDA
Address: Cambridge Beaches, Somerset, Bermuda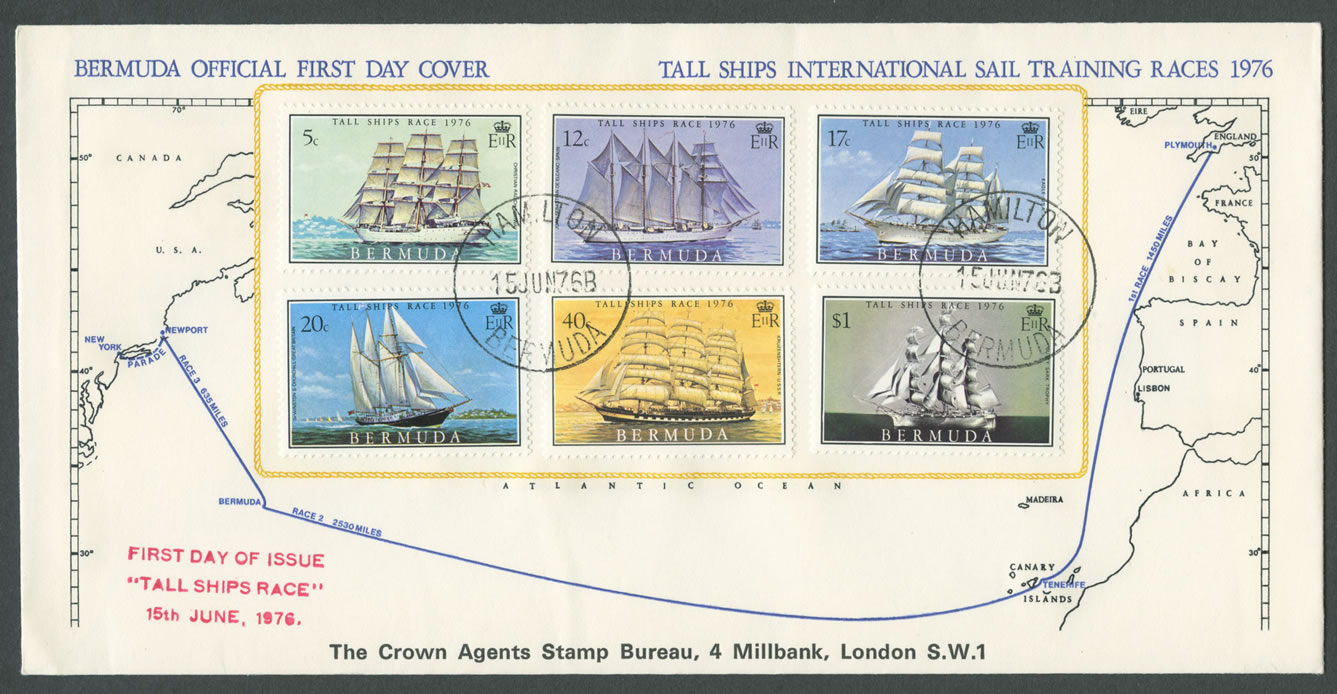 CDS: 15JUN76B HAMILTON BERMUDA
Liner
BERMUDA TALL SHIPS RACE
The Tall Ships International Sail Training Races is a biennial event, which has grown from small beginnings to a spectacle of major international importance. The 1976 race is one of the most complex sailing projects ever organised with an estimated 100 vessels carrying more than 3000 young people from 20 participating nations. The ships, after departing from Plymouth will call in at Tenerife, Bermuda and, Newport Rhode Island.
The vessels and crews of trainees aged between 16 and 25 will be competing for the Cutty Sark Trophy, a silver model of the famous clipper Cutty Sark. This magnificent trophy will be awarded to the crew who, by the vote of the whole fleet, has contributed most to international understanding during the races. The presentation will be made in the United States a part of the bicentennial celebrations.
Several of the vessels taking part will be crewed by girl trainees, competing for a smaller version of the trophy, which will be awarded to the first girls' crew home on corrected time.
Some of the participating vessels are shown on the stamps. They are:-
5c – Christian Radich (Norway 773 tons)
12c – Juan Sebastian de Elcano (Spain 2478 tons)
17c – Eagle (USA 1727 tons)
20c – Sir Winston S Churchill (Great Britain 300 tons)
40c – Kruzenshtern (USSR 3185 tons)
and on the $1.00 stamp is featured the silver Cutty Sark trophy.
Philatelic Details:
Designer: Richard Granger Barrett, London, England
Printer: John Waddington Ltd.
Process: Multicolour Lithography
Sheet format: Two panes of 25
Stamp size: 28.45 x 42.58mm perforation to perforation
Watermark: Crown Agents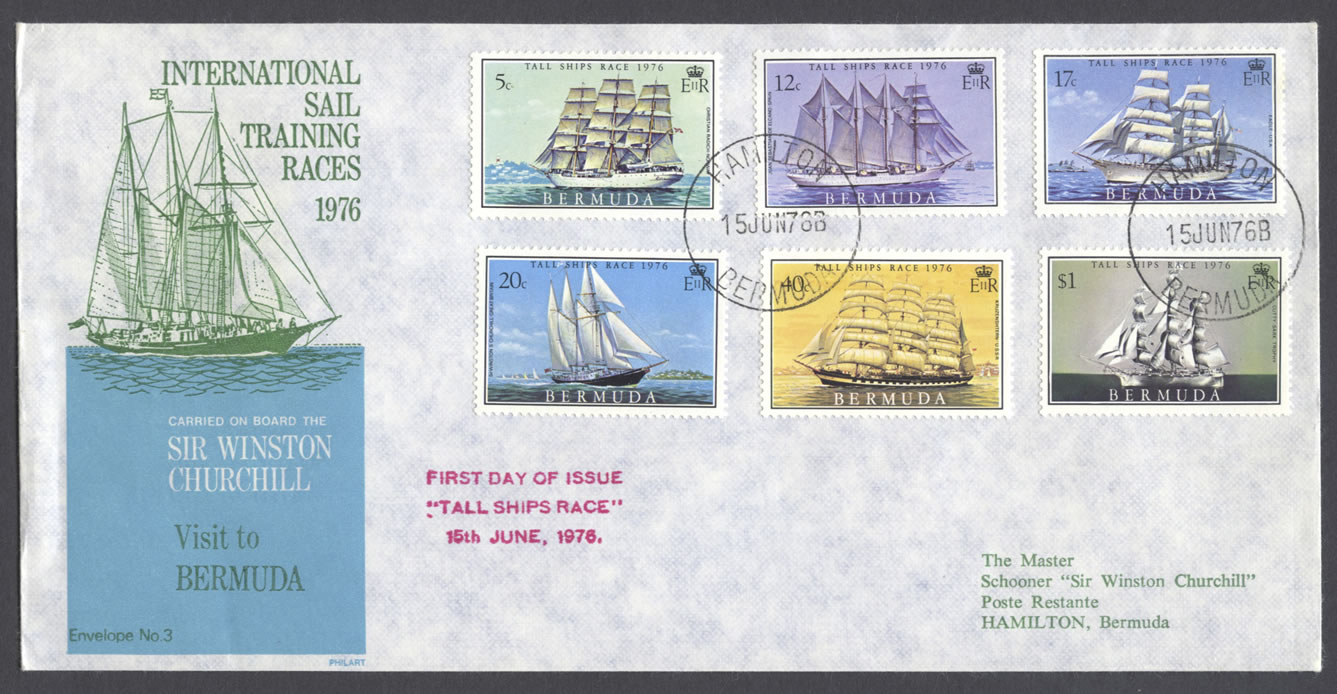 Type: First Day Cover
CDS: 15JUN76B HAMILTON BERMUDA
Cachet: International Sail Training Races 1976 / CARRIED ON BOARD THE SIR WINSTON CHURCHILL Visit to Bermuda Envelope No.3 PHILART
Address: The Master, Schooner "Sir Winston Churchill", Poste Restanted, HAMILTON, Bermuda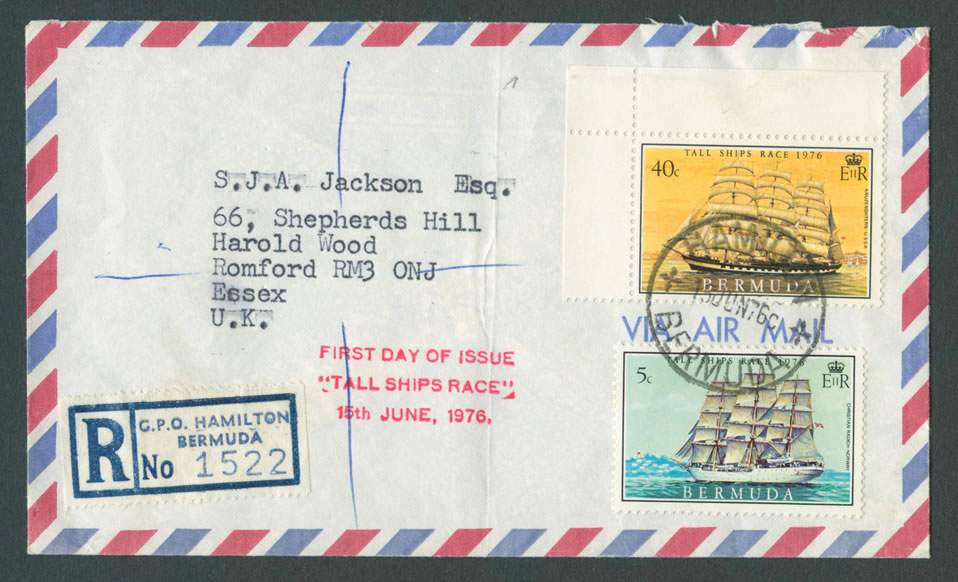 Type: Registered First Day Cover
Registration Label: G.P.O. HAMILTON BERMUDA No 1522
CDS: 15JUN76c HAMILTON BERMUDA
Stamps: 40c and 5c