Bermuda Summit overprints
Date: 8th December 1953
Stamps: QEII Bermuda map 3d and 1/3d definitives overprinted "Three Power Talks December, 1953"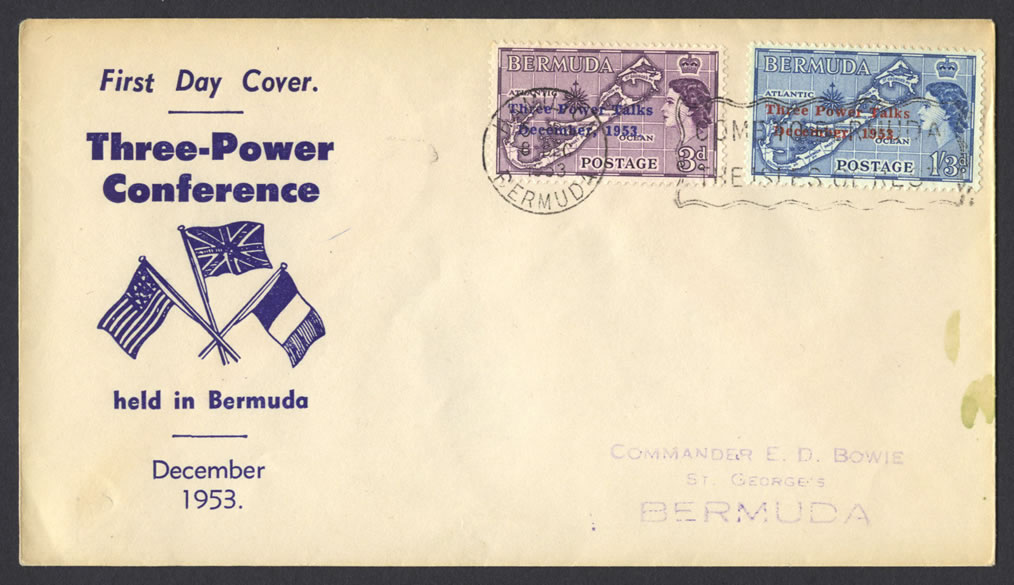 Type: First Day Cover
CDS: 8 DEC 1953 HAMILTON BERMUDA / COME TO BERMUDA THE ISLES OF REST
Cachet: First Day Cover Three-Power Conference held in Bermuda December 1953
Address: Commander E.D. Bowie, St. George's, Bermuda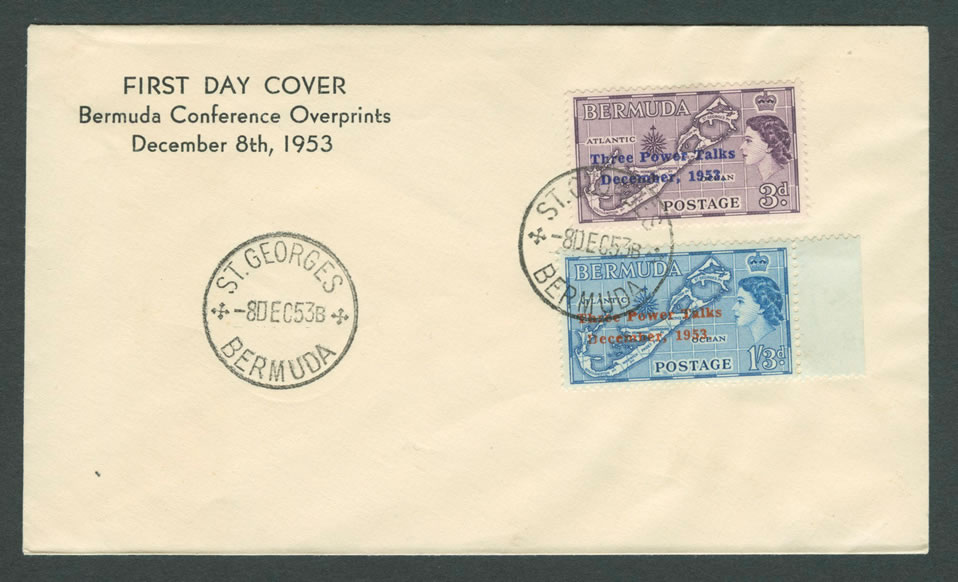 Type: First Day Cover
CDS: -8DEC53B ST.GEORGES BERMUDA
Cachet: FIRST DAY COVER Bermuda Conference Overprints December 8th, 1953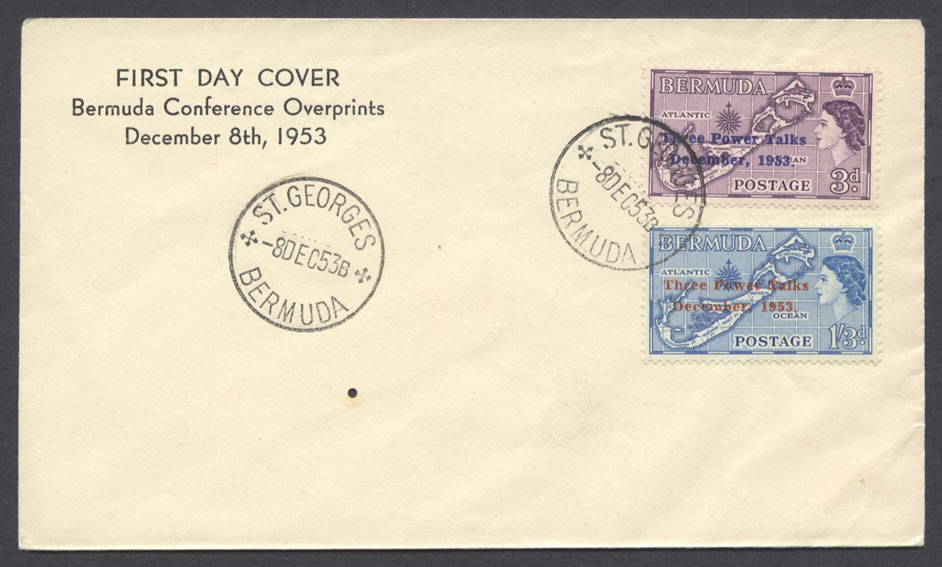 Type: First Day Cover
CDS: -8DEC53B ST.GEORGES BERMUDA
Cachet: FIRST DAY COVER Bermuda Conference Overprints December 8th, 1953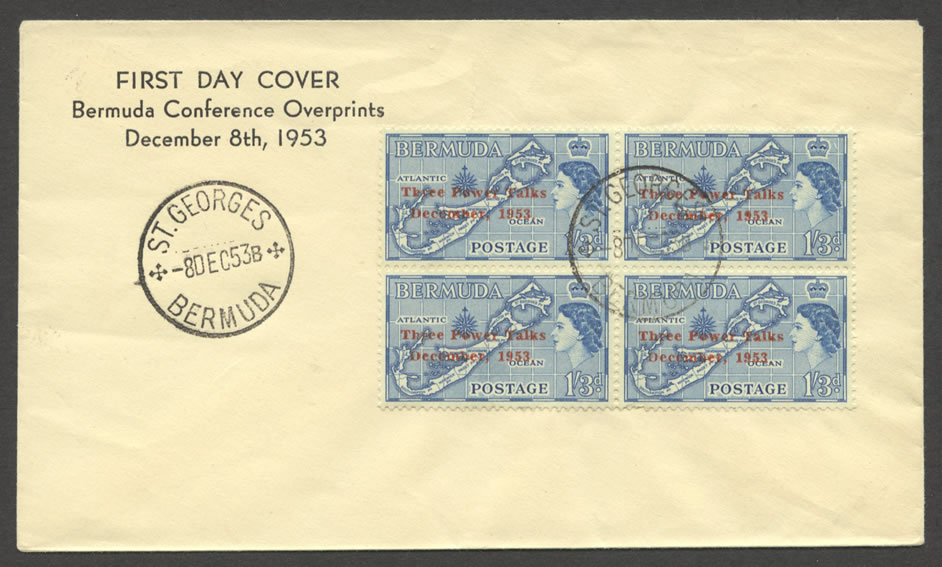 Type: First Day Cover
CDS: -8DEC53B ST.GEORGES BERMUDA
Cachet: FIRST DAY COVER Bermuda Conference Overprints December 8th, 1953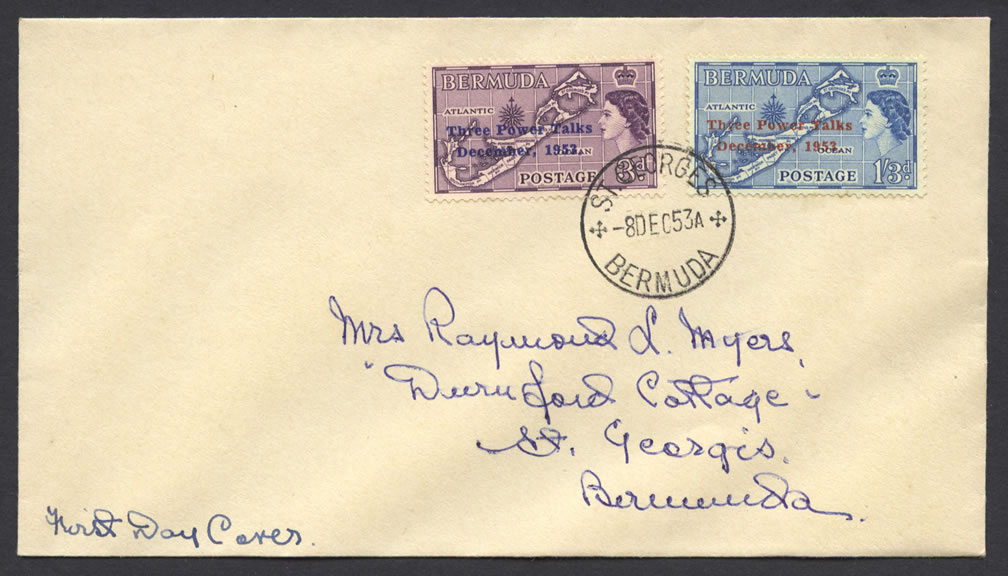 Type: First Day Cover
CDS: -8DEC53A ST.GEORGES BERMUDA
Address: Mrs Raymond L. Myers, "Durnford Cottage", St. George's, Bermuda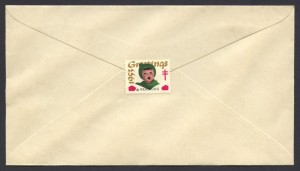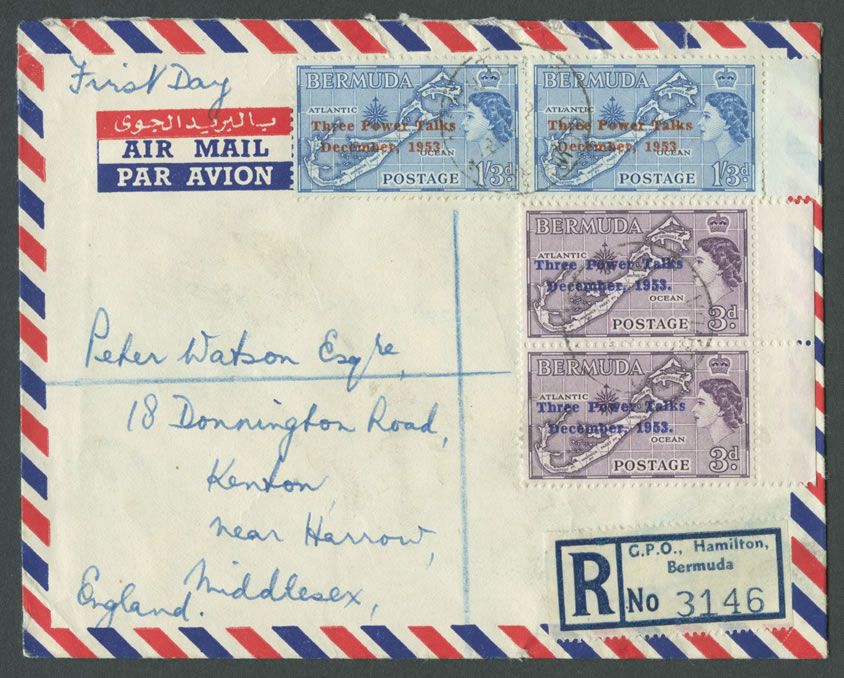 Type: Registered Air Mail First Day Cover
CDS: -8DEC53 HAMILTON BERMUDA (slightly unclear)
Registration Label: R No 3146 G.P.O., Hamilton, Bermuda
Address: Kenton, Near Harrow, Middlesex, England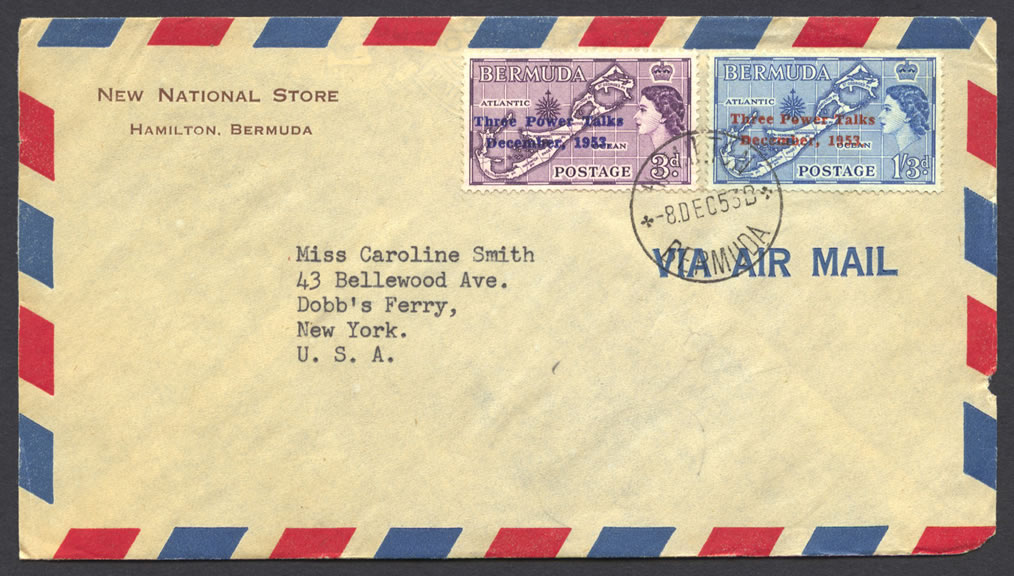 Type: Air Mail First Day Cover
CDS: -8DEC53B HAMILTON BERMUDA
Address: 43 Bellewood Ave. Dobb's Ferry, New York. U. S. A.
More information
Bermuda's proximity to the United States made it an attractive choice for summit conferences between British Prime Ministers and US Presidents. The first summit was held in December 1953, at the insistence of Prime Minister Winston Churchill, to discuss relations with the Soviet Union during the Cold War.
Three Powers participants included Winston Churchill, US President Dwight D. Eisenhower and French Premier Joseph Laniel.