Commemorating the 75th anniversray of the UPU
Date: 10th October 1949
Cachet Purple and Red: COMMEMORATIVE ISSUE 75th ANNIVERSARY OF THE UNIVERSAL POSTAL UNION FIRST DAY COVER 10th OCTOBER, 1949
Stamps: 2½d Universal Postal Union 1874-1949 Hermes, Globe and forms of transport; 3d Universal Postal Union 1874-1949 Hemispheres, Jet-powered Vickers and Steamer; 6d Universal Postal Union 1874-1949 Hermes delivering letters; 1/- Universal Postal Union 1874-1949 UPU Monument in Bern – Union Postale Universale.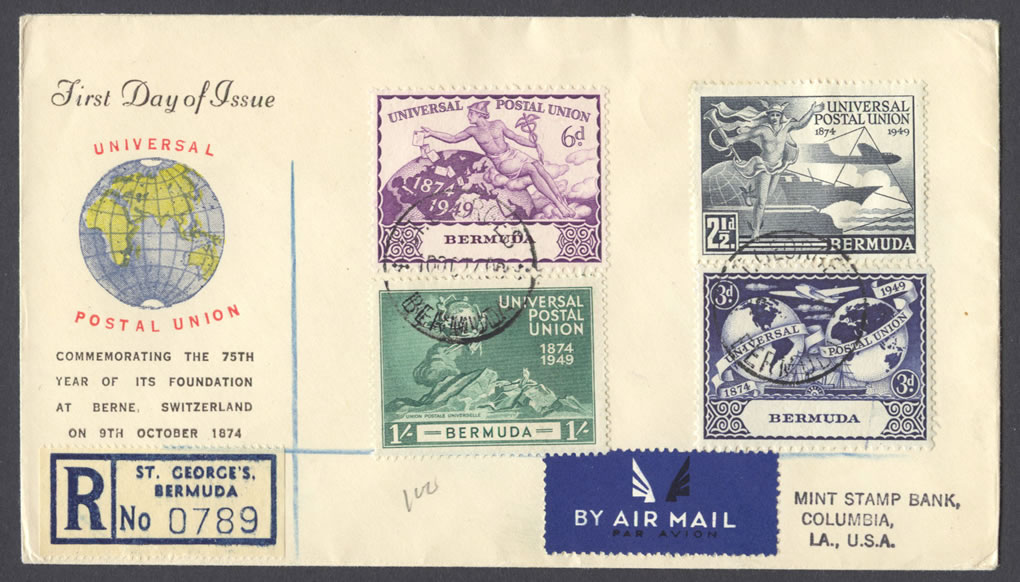 Type: First Day Cover
CDS: 10OCT49B HAMILTON BERMUDA
Back Stamps: OCT 11 1949 3? NEW YORK NY AIR MAIL FIELD / OCT 13 1949 COLUMBIA LA REGISTERED
Cachet: First Day of Issue, UNIVERSAL POSTAL UNION, COMMEMORATING THE 75TH YEAR OF ITS FOUNDATION AT BERNE, SWITZERLAND ON 9th OCTOBER 1874
Registration Label: ST. GEORGE'S, BERMUDA No 0789
Address: Mint Stamp Bank, Columbia, LA, U.S.A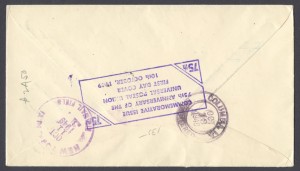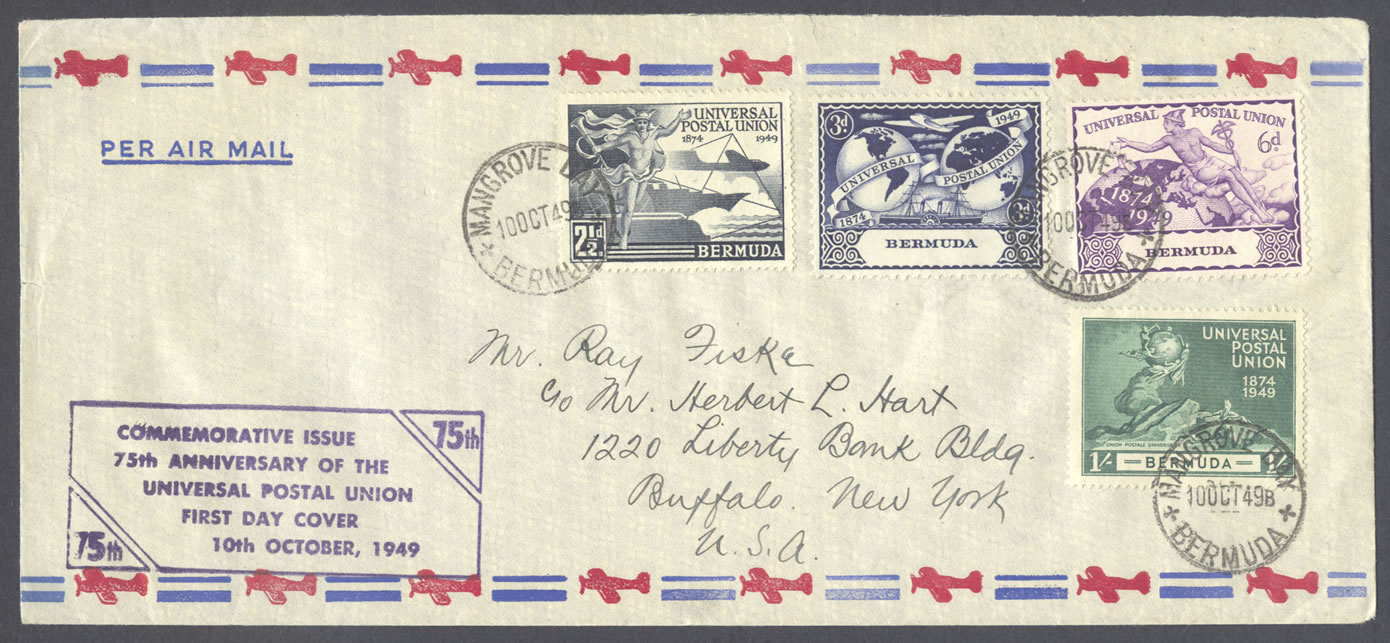 Type: First Day Cover
CDS: 10OCT49B MANGROVE BAY BERMUDA
Address: Mr Ray Fiske, c/o Mr Herbert L. Hart, 1220 Liberty Bank Building, Buffalo, New York, USA
Reverse: Signed Edwin H. Pullman on Cambridge Beaches, Somerset, Bermuda stationery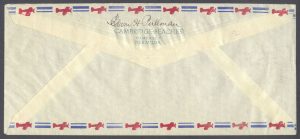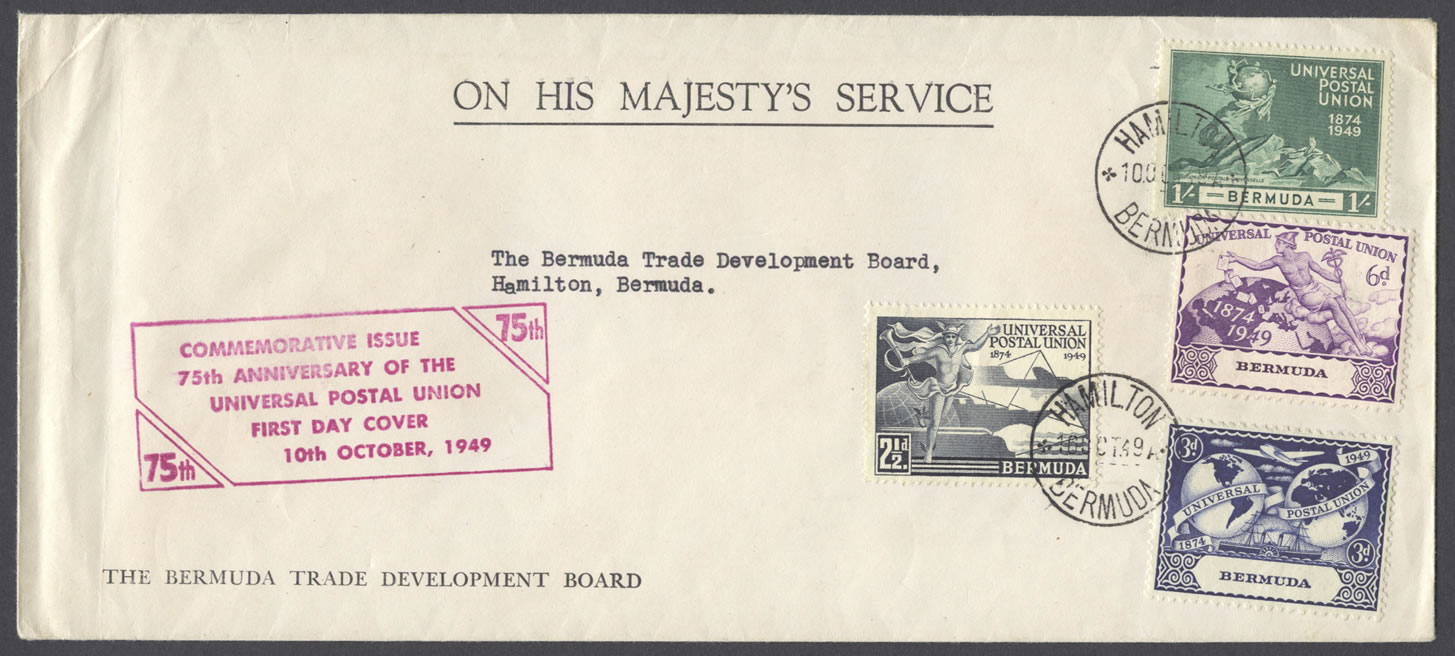 Type: OHMS First Day Cover
CDS: 10.OCT.49A HAMILTON BERMUDA
Envelope: ON HIS MAJESTY'S SERVICE, THE BERMUDA TRADE DEVELOPMENT BOARD
Address: The Bermuda Trade Development Board, Hamilton, Bermuda.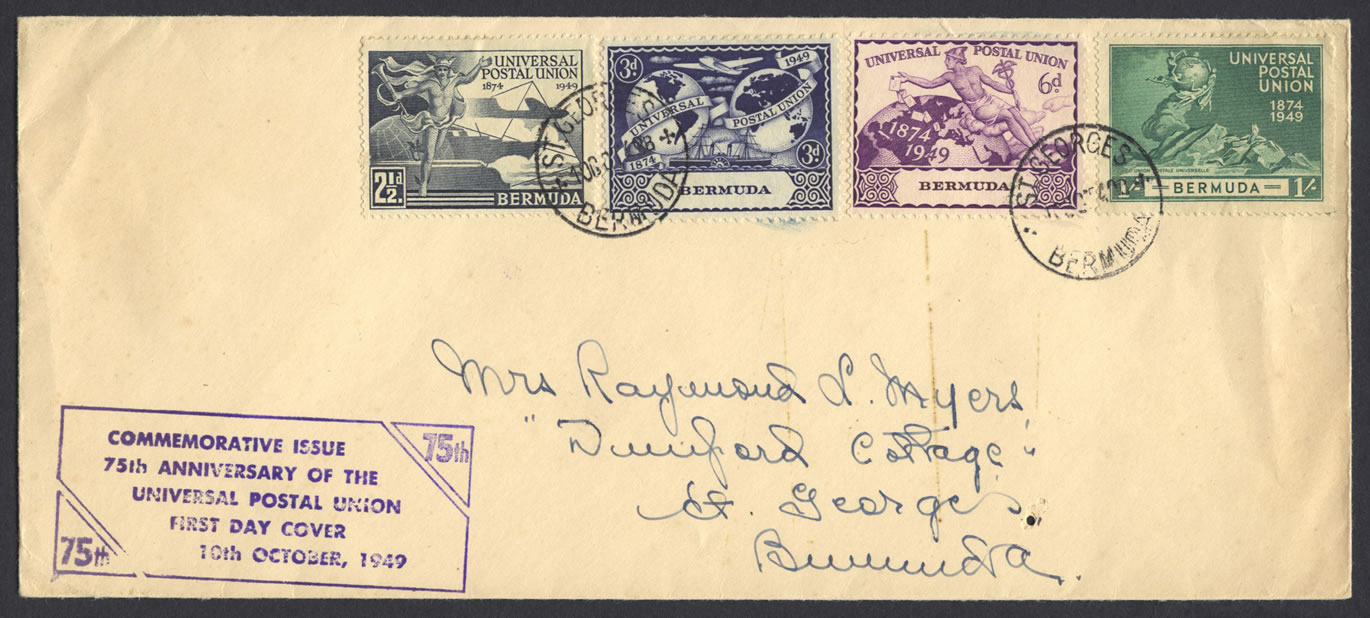 Type: First Day Cover
CDS: 10OCT49B ST. GEORGES BERMUDA
Address: Mrs Raymond L. Myers, "Durnford Cottage", St. George's, Bermuda.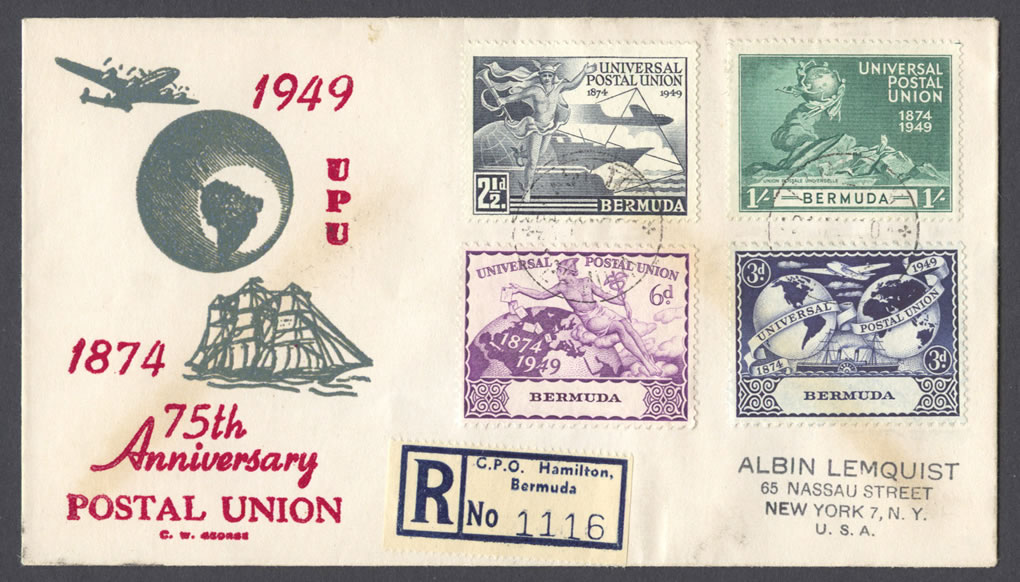 Type: Commemorative Cover
Date: 21st January 1950
CDS: 21JAN50A HAMILTON BERMUDA
Cachet: Universal Postal Union, 75th Anniversary, 1874-1949 UPU 75th Anniversary POSTAL UNION C. W. GEORGE
Registration Label: G.P.O. Hamilton, Bermuda No 1116
Address: Albin Lemquist, 65 Nassau Street, New York 7, N.Y., U.S.A
Back Stamps: JAN 22 1950 1PM NEW YORK, N.Y / 1-22 1950 NEW YORK, N.Y REG'Y. DIV. / 1-23 1950 CHURCH ST. N.Y.-REG.-N.Y.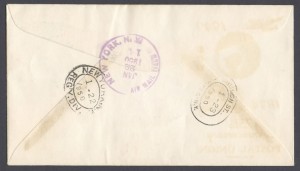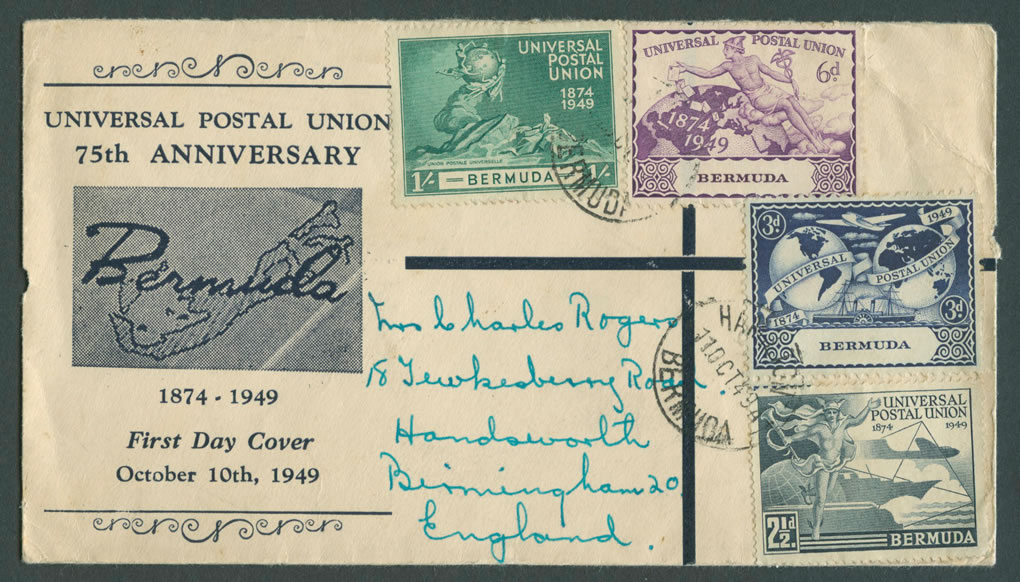 Date: 11th October (Note: day after issue day)
CDS: 11OCT49A HAMILTON BERMUDA
Cachet:Universal Postal Union, 75th Anniversary, 1874-1949 First Day Cover October 10th, 1949
Address: Mrs Charles Rogers, 18 Tewkesbury Road, Handsworth, Birmingham 20, England
About the Universal Postage Union
The Universal Postal Union (UPU, French: Union postale universelle) is a specialised agency of the United Nations that coordinates postal policies among member nations, in addition to the worldwide postal system. The UPU contains four bodies consisting of the Congress, the Council of Administration (CA), the Postal Operations Council (POC) and the International Bureau (IB). It also oversees two cooperatives including the Telematics and EMS Cooperatives respectively. Each member agrees to the same terms for conducting international postal duties. The UPU's headquarters are located in Bern, Switzerland.
Prior to the establishment of the UPU, each country had to prepare a separate postal treaty with other nations it wished to carry international mail to or from.
About the Omnibus issue
Key facts
Designer: n/a
Printer: Waterlow and Sons Limited
Name Printer: Bradbury Wilkinson & Co Ltd
Process: Recess-Printed
Name Process: Typographed
Perforation: n/a
Watermark: Multiple Script CA
Release Date: 10th October 1949
Issuing territories: 65 + 11 GB and local designs (Have seen quoted 84?)
Number of stamps: 310
The Universal Postal Union Omnibus issue marks the 75th anniversary of the UPU. It was only the second British Empire Omnibus Collection not to mark a Royal anniversary and is the largest Omnibus collection.
List of issuing territories
Aden
Aden – Seiyun
Aden – Shihr and Mukalla
Antigua
Ascension
Bahamas
Barbados
Basutoland
Bechuanaland
Bermuda
British Guiana
British Honduras
British Solomon Islands
British Virgin Islands
Brunei
Cayman Islands
Cyprus
Dominica
Falkland Islands
Falkland Islands Dependencies
Fiji
Gambia
Gibraltar
Gilbert & Ellice Islands
Gold Coast
Grenada
Hong Kong
Jamaica
Kenya Uganda Tanganyika
Leeward Islands
Malaya – Johore
Malaya – Kedah
Malaya – Kelantan
Malaya – Malacca
Malaya – Negri Sembilan
Malaya – Pahang
Malaya – Penang
Malaya – Perak
Malaya – Perlis
Malaya – Selangor
Malaya – Trengganu
Malta
Mauritius
Montserrat
New Hebrides (2 sets English and French)
Nigeria
North Borneo
Northern Rhodesia
Nyasaland
Pitcairn Islands
St Helena
St Kitts-Nevis
St Lucia
St Vincent
Sarawak
Seychelles
Sierra Leone
Singapore
Somaliland Protectorate
Southern Rhodesia
Swaziland
Tonga
Trinidad and Tobago
Turks and Caicos Islands
Zanzibar
Local design – list of issuing territories
Australia (1)
Bahrain (GB overprints)
British Postal Agencies in Eastern Arabia* (GB overprints)
Ceylon (3)
Great Britain (4)
India (4)
Kuwait (GB overprints)
Morocco Agencies – Tangier (GB overprint)
Pakistan – Bahawalpur (4+4)
South Africa (3 billigual pairs)
South West Africa (3 South Africa billigual pairs overprints)
*British Postal Agencies in Eastern Arabia issued early postage stamps used in Abu Dhabi, Bahrain, Dubai, Kuwait, Muscat and Qatar. Muscat and Dubai relied on Indian postal administration until 1 April 1948 when, following the Partition of India, British agencies were established there. Two agencies were opened in Qatar: at Doha (August 1950) and Umm Said (February 1956). In Abu Dhabi, an agency was opened on Das Island in December 1960 and in Abu Dhabi City on 30 March 1963. The agencies also supplied stamps to Bahrain until 1960; and to Kuwait during shortages in 1951–53.
The agency in Dubai issued the Trucial States stamps on 7 January 1961. As each state took over its own postal administration, the offices closed. Closure dates were: Qatar on 23 May 1963; Dubai on 14 June 1963; Abu Dhabi on 29 March 1964; finally Muscat on 29 April 1966.