Posted on the High Seas
Type: Commemorative Paquebot Cover
Date: 4th December 1936
CDS: S.S. MONARCH OF BERMUDA POSTED ON THE HIGH SEAS and DEC 4 NEW YORK N.Y. PAQUEBOT
Cachet: TRANSATLANTIC SEAPOST 1906 – 1936 / Sponsored by Admiral Beatty Chapter 46 Hamilton Bermuda / With John Rodgers Chapter 26 Honolulu Hawaii U.S.C.S / From Bermuda, a British Crown Colony, Northwest by British Seapost Ship. / 1906 – EDWARD VII – MONARCH OF BERMUDA / 1936 – EDWARD VIII – MONARCH OF BERMUDA / December Marks the 5th Anniversary of the Maiden Voyage of the Q.T.E.V. "Monarch of Bermuda"
Address: Miss Isabella Buckley, 400 W Pershing, Cheyenne, Wyoming, USA
Stamp: 2½d King George V pictorial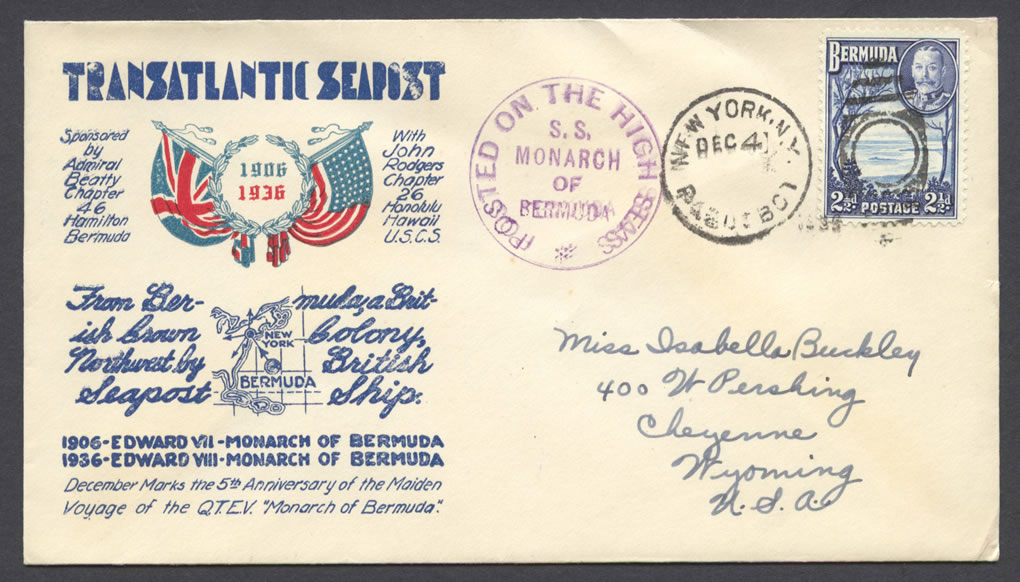 King Edward VIII
Edward VIII was King of the United Kingdom and the Dominions of the British Empire, and Emperor of India, from 20 January 1936 until his abdication on 11 December 1936. Edward was the eldest son of King George V and Queen Mary.
Monarch of Bermuda
(Furness, Withy: 1931-1947)
In 1919 Furness Bermuda Line was awarded the mail contract for the New York to Bermuda service. This service reached its zenith in the years just before the Second World War when Furness Bermuda Line ordered two luxury liners – the Monarch of Bermuda and the Queen of Bermuda. They were built by Vickers Armstrong Ltd, Walker on Tyne, England. The Monarch of Bermuda was 579 feet long with a beam of 76 feet. Completed in 1931 she was 22,424 gross tons and powered by steam turboelectric propulsion (engines by Fraser & Chalmers, Erich (turbines), and by General Electric Co Ltd, Birmingham (motors)), driving 4 screws. She was fitted with 3 funnels, had 2 masts and a cruiser stern. her service speed was 19 knots. With the two new ships the Bermuda run from New York enjoyed the ultimate in luxury and they became known as "the millionaires' ships". The two sister ships sailed on 3 week cruises from New York to Bermuda for Furness-Bermuda Line. Their three funnels gave them an impressive appearance, although they were hardly graceful compared to most Atlantic greyhounds. They were amongst the elite ships of their day and had private facilities in their cabins. The run between New York and Bermuda took only 40 hours in each direction and that allowed 4 days to be spent on the Island.
When the Second World War broke out in 1939, the two luxury liners were requisitioned for war duties. The Monarch of Bermuda served as a troopship while the Queen of Bermuda became an Armed Merchant Cruiser and later a troopship. After the war the Monarch of Bermuda was gutted by fire while being refitted for passenger service. She was salvaged by the Ministry of Transport and converted into an emigrant liner. Renamed New Australia, she was operated by Shaw Savill. In 1958 she was sold to Greek Line and renamed Arkadia. Eventually she was retired from service in 1966 and sent to be scrapped at Valencia in Spain.