Information about airmail in Bermuda
With First Flight Covers and Commemorative stamps there is a good history of airmail connections with Bermuda Stamps.
Zeppelin Airmail
US Navy Los Angeles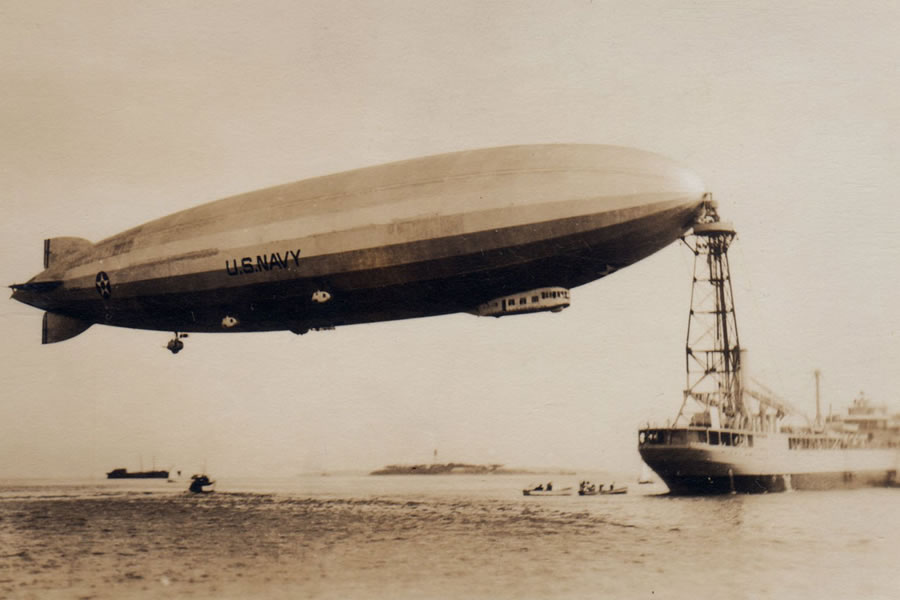 As part of the reparations following the First World War, Germany handed over to the United States Zeppelin LZ126 which made its first trial flight in August 1924 and was delivered at Lakehurst on 15th October 1924 where it was re-numbered ZR-3 and christened "Los Angeles".
First Overseas Airmail
The first flight of this dirigible under the command of the US Navy was in February 1925 when the destination was Bermuda. Plans had been made to moor the airship to USS Pakota, lying off Hamilton, but storms made this impossible; the Los Angeles did, however, fly over the island and dropped the mail despatched from the USA, but no mail could be taken on board so the first airmail from Bermuda was postponed until the second visit of the Los Angeles in the following April. Fortunately the weather allowed the mooring of the airship to the USS Pakota, and three sacks of mail were taken on board. Most letter were stamped with a cachet in black either "BERMUDA FIRST OVERSEAS AIRMAIL" or "AIR MAIL SERVICE BERMUDA" and the franking rate was 2½d per letter. Postmarks were as early as 16 April.
The Los Angeles was decommissioned in 1932 as an economy measure, but was recommissioned for a period after the USS Akron crashed in April 1933. Soon returned to storage, the airship was struck off the Navy list in 1939 and dismantled in its hangar and so ending the career of the Navy's longest serving rigid airship.
See covers from the Airship Los Angeles
First Official Aeroplane Mails
Imperial Airways G-ADUU Cavalier Short Empire S-23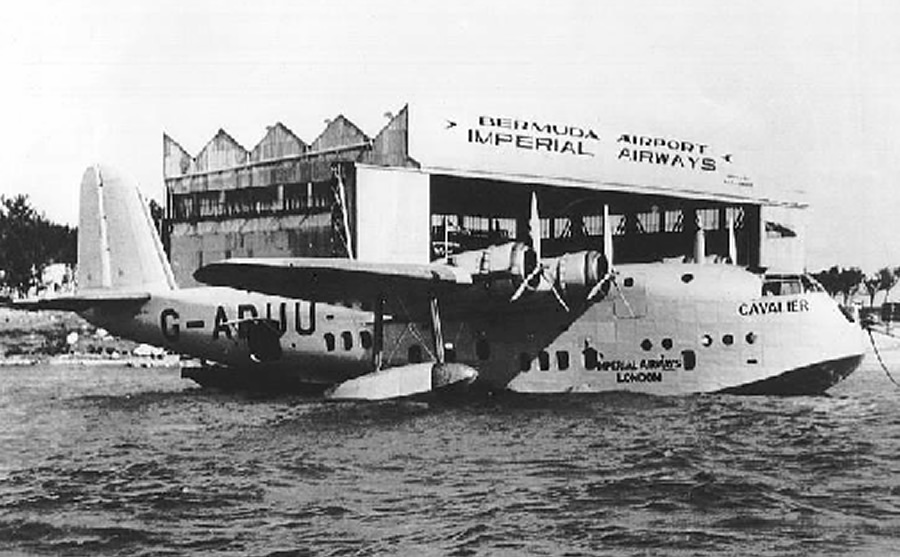 Cavalier, the Imperial Airways flying-boat for use on the Bermuda – New York service in conjunction with Pan American Airways, one of 28 new two-decker Empire flying-boats of Imperial Airways: length 88′, height 31′, span 114′, top speed 200 mph, weight nearly 18 tons, crew 5, accommodation for 24 passengers; four engines, each 740 hp.
1937 16th June: First Official Flight Hamilton to New York
Imperial Airways opened their service on 16th June 1937 from Hamilton to New York when Captain William Neville Cumming piloted flying boat Cavalier G-ADUU with N. Richardson as Co-Pilot. A large mail was carried and cacheted "BERMUDA – U. S. SERVICE R.M.A. "CAVALIER" FIRST FLIGHT". On the same date PAA Bermuda Clipper flew from New York to Bermuda but no mail contract had been placed with the US operating company and Imperial Airways were not allowed to carry US mail.
See covers from Cavalier first flight
1937 16th November: First Unofficial Flight Baltimore MD to Hamilton
When the first flight from Baltimore MD (US winter base) to Bermuda was flown 100 covers with Baltimore despatch postmark of 16th November 1937 were flown by PAA passenger service and on arrival at Bermuda were refranked and officially flown from Hamilton on 18th November 1937 by Imperial Airways on their first flight to Baltimore. Backstamps of 19th November certified this bypassing of officialdom.
1938 16th March: First Official Flight Baltimore MD to Hamilton FAM 17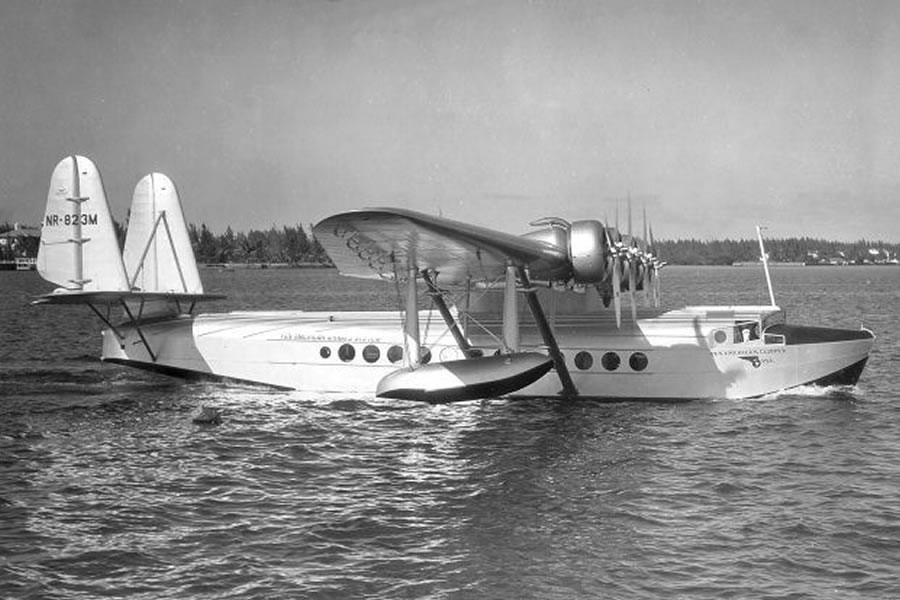 The first official mail flight from Baltimore to Hamilton designated FAM 17 was on 16th March 1938 by PAA Bermuda Clipper NC16735. Covers feature a magenta cachet "UNITED STATES AIR MAIL FIRST FLIGHT FAM 17 BALTIMORE – BERMUDA" featuring Bermuda map and aircraft silhouette between Easter Lillies was used. The pilot was Robert O. D. 'Rod' Sullivan. PAA Bermuda Clipper NC16735 was a Sikorsky S-42B used for Baltimore/Bermuda route. Later used briefly in Alaska and renamed Alaska Clipper in 1940 and then Hong Kong Clipper II in 1941 to be used for the Manila/Hong Kong route. Sunk by Japanese bombing at Kai Tak Airport in Hong Kong Harbour on December 8th 1941.
See covers from FAM17 first flight
1938 17th March: First Official Flight Hamilton to Baltimore MD
First flight was on 17th March 1938 by PAA Bermuda Clipper with mail proved by a Baltimore backstamp of the same day. The PAA Bermuda Clipper had the Pan American number NC16735 and flown by Robert O. D. 'Rod' Sullivan.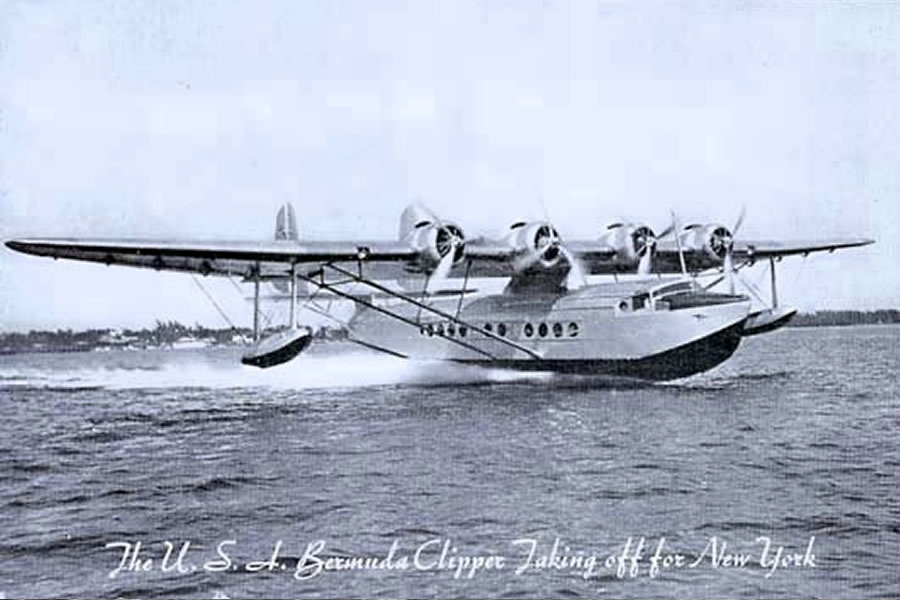 1938 5th April: First Official Flight Hamilton to Port Washington
When the base was again changed to Port Washington, a small mail was sent on 5th April 1938 to commemorate the event.
1939 21st January: The loss of Cavalier
Cavalier was lost on 21 January 1939 due to icing while flying from USA to Bermuda. Ten of the thirteen on board were saved after being rescued by tanker vessel Esso Baytown. There is a plaque in tribute to the event in the Bermuda Anglican Cathedral.
Imperial Airways withdrew from the route due to no aircraft being available which left the PAA Bermuda Clipper to continue the service alone until the arrival of Clipper No. 20 in March 1939.
1939 20th May: FAM 18 Trans-Atlantic Southern Route
Pan American Airways started the southern route of their Trans-Atlantic service FAM 18. The Pan American Southern Route from the United States was from New York to Marseilles via Horta in the Azores and Lisbon. Mail destined for the UK was flown to Paris by Air France before being flown to London. PAA Yankee Clipper carried out the Atlantic route and was purchased by the U.S. Navy in 1942, but operated still by Pan Am.
The First Crossing
THE Pan-American Boeing 314, Yankee Clipper, left Baltimore at 2.34 p.m. on March 26 on the first stage of the machine's initial Atlantic crossing. A few minutes less than five hours later the crew reported that the boat had covered 733 miles (showing an average of 146 m.p.h.), and Horta, in the Azores (2,448 miles from Baltimore) was reached at about midday on March 27, after a flight of 17 hr. 37 min. (140 m.p.h.). The machine was due to leave for Lisbon, Marseilles, Southampton, and Foynes on March 28. In all there were twenty-one people on board, and the take-off was apparently made in about thirty seconds without any difficulty from calm water. The flight is to be completed at the commander's discretion, according to circumstances and weather conditions. In charge of the machine is Capt. Harold Gray, who will be remembered as the chief pilot of the S.42B. used for Pan-American Airways' Atlantic experimental flights in 1937, and he has eleven operating members of the crew with him. As Government observers there are three officers of the armed forces and three officials of, the Civil Aeronautics Authority. The other passengers are Mr. J. H. Schildhauer, the operations manager of the Atlantic division of PAA; Mr. E.
Duff, of the Boeing Company; and Mr. A. B. Gaylord, representing the Curtiss-Wright Corporation, the manufacturers of the two-row 1,500 h.p. Cyclones, four of which are fitted.
Yankee Clipper crashed and sank in the River Tagus near Lisbon, Portugal on February 22, 1943.
1939 24th June: FAM 18 Trans-Atlantic Northern Route
Pan American Airways started the Northern Route of their Trans-Atlantic service FAM 18. The Northern Route was only flown fortnightly in the summer from New York, Shediac (Canada), Botwood (Newfoundland), Foynes (Ireland) and on to Southampton.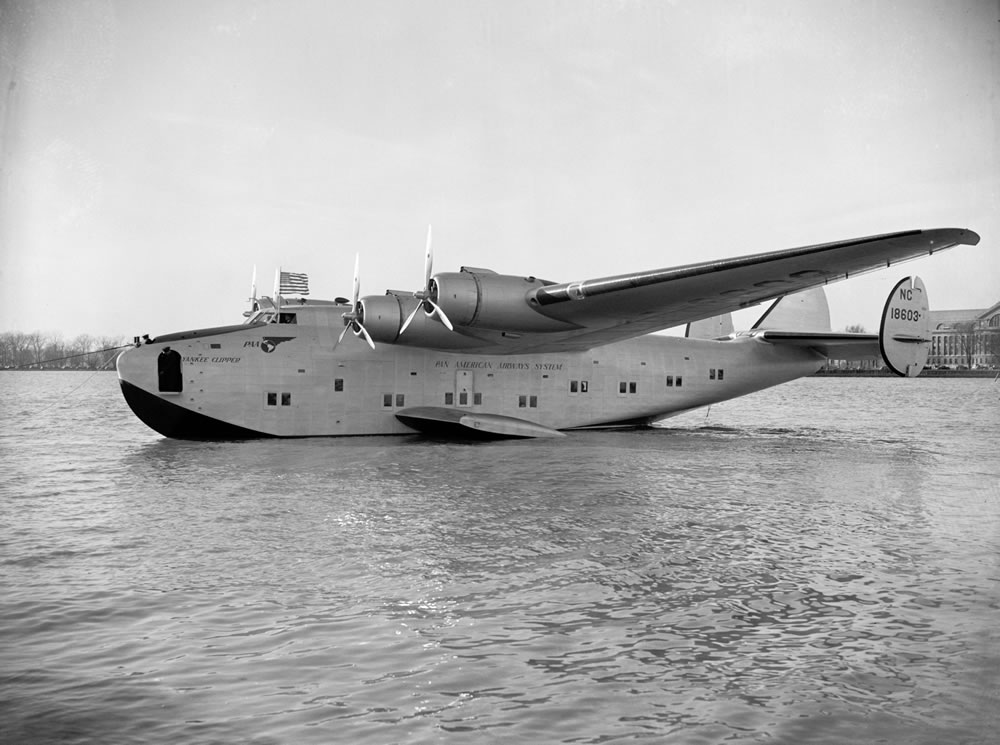 The first flight of the regular Imperial Airways trans-Atlantic service left Southampton on 5 August, 1939.
1948 17th January: The last flying boat and closure of Darrell's Island Marine Airport
BOAC operated its last Boeing 314 flying boat G-ABGZ, RMA Bristol, Captain J.W. Burgess. The Darrell's Island Marine Airport was then closed.
1948 18th January: The First Speedbird Constellation
First flight from Hamilton to New York via BOAC First Speedbird Constellation, G-AHEN, RMA Baltimore flight. See covers…
1948 1st May: First Flight Trans-Canada Airlines Hamilton Montreal Toronto
Hamilton–Montreal–Toronto by Trans-Canada Airlines. The service was bi-weekly with Canadair Four North Stars – one service to and from Montreal and one to and from Toronto. See covers…
FAMs
The Post Office Department designated any contract airmail route flown by an airline into/from a foreign country into/from the US as a "Foreign Air Mail" route. The Foreign Air Mail routes became known as FAMs. FAM 17 was awarded to Pan American Airways and Imperial Airways.
Of interest to Bermuda stamp coillectors are the covers flown on Foreign Air Mail contract routes to and from Bermuda with stamps, postmarks, cachets, and markings that trace the routes and their development.
The FAM routes are numbered from 1 to 98. Routes changed over time, with legs added and removed.
Imperial Airways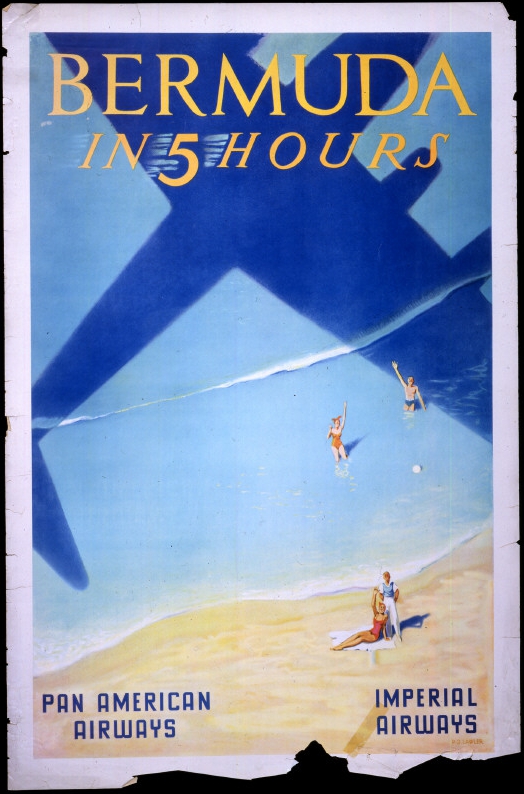 In 1923 the British government recommended that the main existing aircraft companies should be merged into one organisation. Its mission was to create an airline company which would be strong enough to develop Britain's external air services. As a result, Imperial Airways Limited was formed on March 31, 1924 inheriting 1,760 miles of cross-Channel routes and a collection of aircraft. Imperial Airways had the task of reopening British European air routes and developing air communications between Britain and its colonies. In its first year of operation Imperial flew 853,042 miles, carried 11,395 passengers and 212,380 letters.
FAM-17 was awarded jointly to Imperial Airways and Pan American Airways and on June 15, 1937 flying a Short Empire S-23 flying boat piloted by William Neville-Cumming, Imperial inaugurated flight service from Hamilton, Bermuda to Port Washington, Long Island NY.
Further information
Foynes Flying Boat Museum
Located in the original Foynes Airport Terminal Building, travel back to the 1930s and 40s when Foynes played a pivotal role in establishing commercial transatlantic passenger flights. Learn the history of Flying Boats and the diverse range of people who arrived and departed from Foynes. Board the only B314 flying boat replica in the world.