First official airmail despatch from Great Britain
First Official Airmail despatch from Great Britain to Bermuda. Pan Am initiated two transatlantic air service routes with the Boeing 314 Yankee Clipper.  The Southern Route operated via Bermuda and the Azores en route to Lisbon, Portugal and Marseille, France. See Northern Route…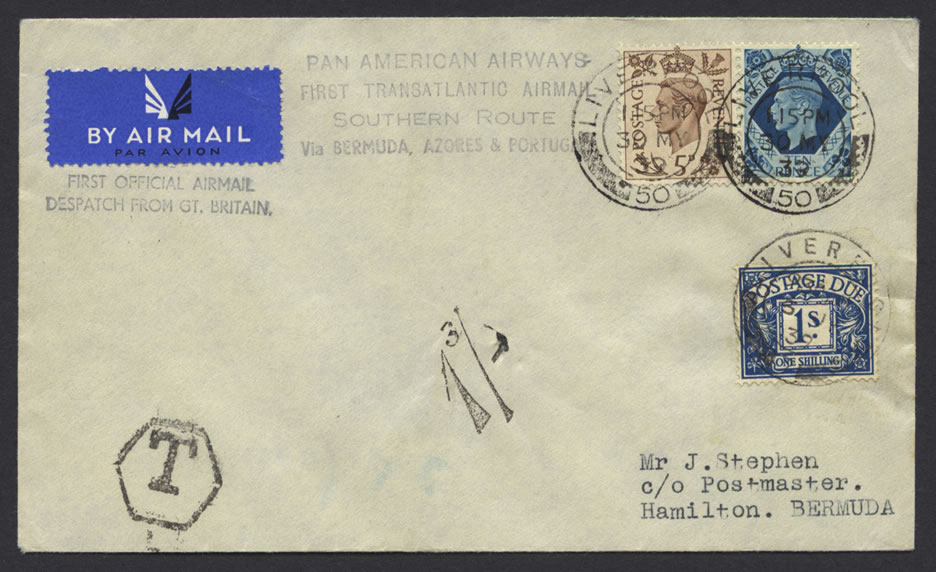 CDS: 1.15PM 30 MY 39 LIVERPOOL 50
Cachets: PAN AMERICAN AIRWAYS FIRST TRANSATLANTIC AIRMAIL SOUTHERN ROUTE Via BERMUDA, AZORES & PORTUGAL / FIRST OFFICIAL AIRMAIL DESPATCH FROM GT. BRITAIN
Backstamp: -8JUN39C HAMILTON BERMUDA
Label: BY AIR MAIL PAR AVION
Address: Mr J. Stephen, c/o Postmaster, Hamilton, Bermuda / Reverse: 12 Cook St., Liverpool 2, England
Stamps: Great Britain KGVI 5d and 10d with Postage Due 1s One Shilling. Tax hexagon and handstruck "1/-" applied in Hamilton returned to the U.K. where 1/- Postage Due applied.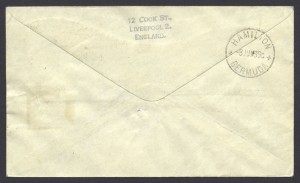 Boeing 314 Yankee Clipper