Bermuda stamp catalogues
A good catalogue is essential for identifying your stamps and seeing what else is available. Looking for Books?
Bermuda Specialised Catalogue Stamps and Postal History 1812-1970
Produced by the Bermuda Collectors Society and a must for the Specialist Bermuda Collector. 193 pages of information, pricing with colour and black & white illustrations, this is an essential publication for specialised collectors or anyone interested in Bermuda stamps. Stamps included: Postermaster Stamps, Queen Victoria Issues, Dock, Caravel, King George V high-value, Tercentenary of Representative Institutions, King George V Silver Jubilee, King George V and King George VI Pictorials, King George VI high-value, King George VI Commemorative, Queen Elizabeth II, Postal Stationery, Proofs and Related Material, Revenue Stamps and Railway Stamps. Postal History incl'uding Naval and Military mail, early Postal History and Handstamps, Adhesive-ear Postal marking, Censorship Handstamps & Lables, Paquebot marking, Machine cancellations, and Postage meters. Also included: Warship Covers, Aerophilately, NASA Covers, and Charity Seals.
Neil says: "This is an absolute must if you are a serious Bermuda collector – the only drawback is you'll find out how limited your current collection is!"
Author: Editors: David I Cordon & Michael Forand
ISBN: 9780615693033
Year: 12/2012
Binding: Soft
2013 Northern Caribbean Bahamas & Bermuda (3rd edition)
4th Edition due out 2016. An essential catalogue for any Bermuda or British West Indies specialist. The edition is part of Stanley Gibbons' popular series of colour 'Commonwealth' catalogues. This catalogue provides detailed price listings for the mint and used stamps of Bahamas, Bermuda, The Cayman Islands (including Jamaica used in The Caymans), Jamaica (including Great Britain used in Jamaica) and the Turks and Caicos Islands. Major plate flaws, watermark varieties and booklets are all listed.
Neil says: "This is a handy everyday catalogue, particularly useful if you collect beyond 1970."
About £21.95 – Buy it from Amazon or Stanley Gibbons. Older versions are cheaper
The catalogue has been updated as follows:
Bahamas – May 2013
Bermuda – October 2012
Cayman Islands – November 2012
Jamaica – August 2012
Turks and Caicos – March 2013
Great if you collect beyond 1970 and are specialist in this area.
Buy Stanley Giibons Northern Caribbean, Bahamas and Bermuda Stamp Catalogue online…
2010 Stanley Gibbons Stamp Catalogue North America
Includes USA, Canada Bermuda, Canal Zone, Hawaii, St. Pierre Et Miquelon and United Nations (New York). Stanley Gibbons catalogue bringing together the stamp issuing countries of North America. The catalogue contains up to date prices and listings of the following countries; Bermuda, Canada, St. Pierre et Miquelon, United States of America and United Nations (New York). The catalogue also covers a number of other areas of interest, including: Hawaii, Confederate States of America and the Canal Zone. It is a detailed and highly informative catalogue, ideal for any collector who specialises in any of the countries contained within this volume.
From £45 to £25 – Buy  it from Amazon or Stanley Gibbons.
Bermuda
Canada
St. Pierre et Miquelon
United States of America
United Nations (New York)
Buy  Stanley Gibbons Stamp Catalogue North America catalogue online…
2016 Commonwealth & British Empire stamp catalogue
Stanley Gibbons' Commonwealth & British Empire catalogue, commonly known as Part 1, is the definitive and comprehensive single volume reference to British Commonwealth and Empire Stamps issued between 1840 and 1970. Listings include variations in watermark, perforation, paper and printing methods, major shades, watermark varieties, important plate flaws, errors and booklets (all listed and priced).
New Elizabethan varieties include the 'Bloodstained finger' on the 1963 3d.+1d. Health stamp of New Zealand.
Long-listed varieties, such as the retouches on the 2d. 'Diadems' of New South Wales, the re-entry on the Canada 5c. Beaver and the inscription flaws on the Queen's Head stamps of Labuan are illustrated for the first time.
Other areas to have seen significant additions and improvements include Australian States, Burma, Indian Feudatory States and Malaysia.
A fully priced listing is now provided for the 'Interprovincial' stamps of South Africa – the stamps of the four provinces used in the Union prior to the issue of the first definitive and postage due stamps.
Great if you collect other Commonwealth and British Empire stamps as well as Bermuda.
Whether you are an active buyer of Commonwealth stamps, a dealer or an investor, it is vital to be right up to date with this very active market – and there is no more up-to-date reference than the 2014 'Part 1'.
About £85 from Stanley Gibbons or buy it from Amazon. Cheaper older versions available from SG or other outlets.
Buy Stanley Gibbons' Commonwealth & British Empire catalogue online…
Neil says: "Certainly worth having as a Bermuda collector if you need to identify inbound Commonwealth stamps on covers and omnibus issues."
2016 SCOTT CATALOGUE VOLUME 1 – (USA + COUNTRIES A-B)
Some 16,000 value changes are recorded in Vol. 1 of the 2014 Scott Standard Postage Stamp Catalogue, which contains the United States, United Nations and countries of the world, A-B.
The Scott catalogue of postage stamps, published by Scott Publishing Co, a subsidiary of Amos Press, is updated annually and lists all the stamps of the entire world which its editors recognise as issued for postal purposes.
It is published in six large volumes (as of 2013) and is also produced in non-printable CD and DVD editions. The numbering system used by Scott to identify stamps is dominant among stamp collectors in the United States and Canada.
Scott Catalogue Volume 1 – (Us & Countries A-B): Standard Postage Stamp Catalogue (Scott Standard Postage Stamp Catalogue Vol 1 Us and Countries a-B)
Higgins & Gage World Postal Stationery Catalogue
Bermuda Postal Stationery is listed in Section 2 of 1966 Edition 1 of Higgins & Gage World Postal Stationery Catalogue – a worldwide  encyclopedic catalogue of postal stationery. Despite most volumes not having been updated for over twenty years, the catalogue and the H & G numbering system are still widely used  although the values given in the catalogue naturally out of date.
The catalogue was published between 1964 and 1986 and comprises nineteen alphabetical volumes with supplements. The earlier volumes were edited by Edward Fladung who worked with Alexander D. Gage in the production of the catalogue. Later editions were edited by Melvin Feiner.
Neil says: "You buy this as a PDF and it will enable you to quote or check Higgins and Gage reference numbers."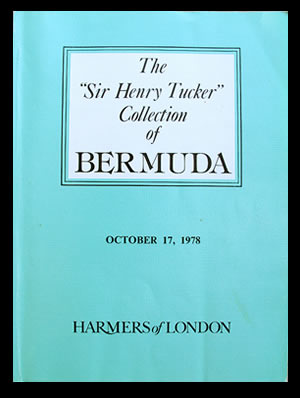 The "Sir Henry Tucker" Collection of Bermuda, Part One
Publisher: Harmers, London, 1978.
Auction catalogue, paperback, illustrated, 102 pages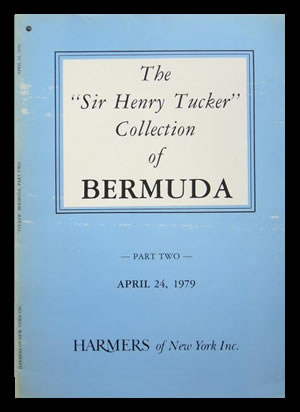 The "Sir Henry Tucker" Collection of Bermuda, Part Two
Publisher: Harmers, New York, 1979.
Auction catalogue, paperback, illustrated, 44 pages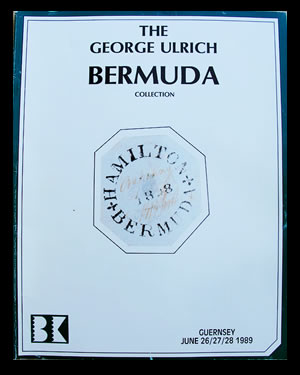 The George Ulrich Bermuda Collection – Auction Catalogue Guernsey 26-28 June 1989
by George Ulrich (1989)
Netto Stamp Catalogue of the British Colonies: Barbados to Bermuda
Published: Nov 1969