Marking the 60th Anniversary of the Bermuda Audubon Society
Date: 15th May 2014
Stamps: BERMUDA Eastern Bluebird 35c, 85c, $1.10, $1.25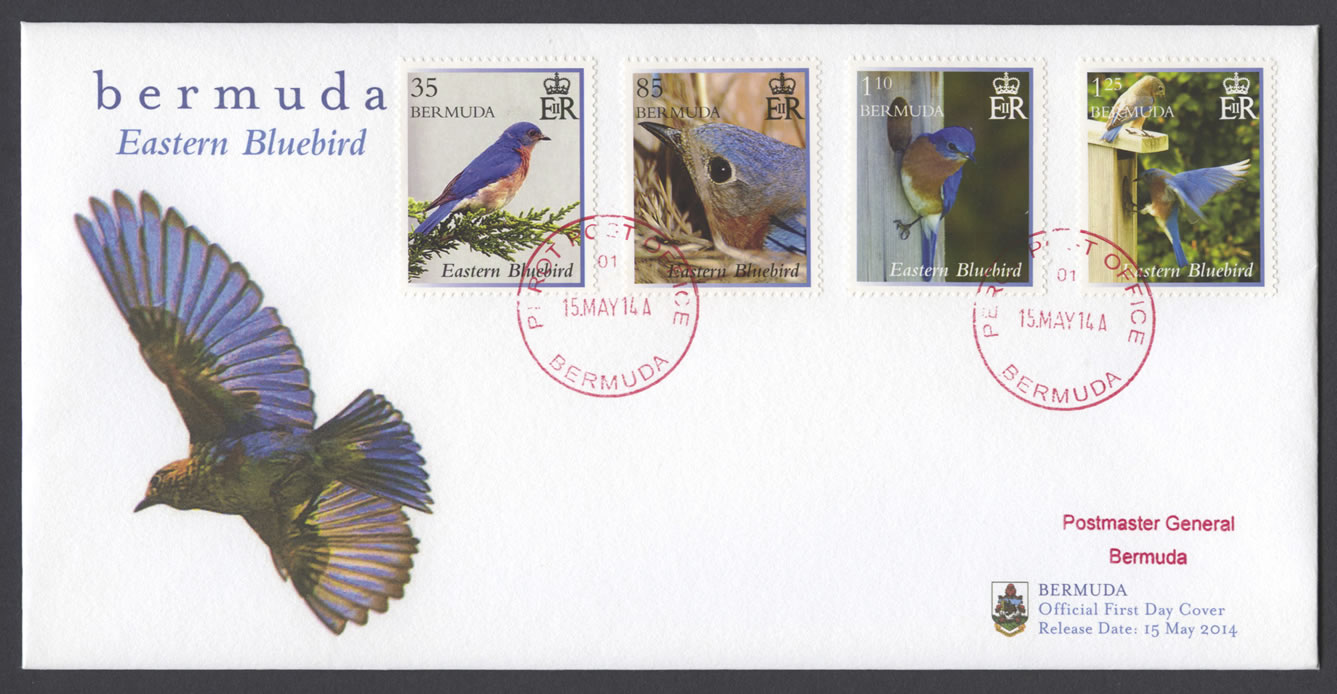 Type: Official First Day Cover
CDS: 15.MAY14A PEROT POST OFFICE BERMUDA
Cachet: bermuda Eastern Bluebird / BERMUDA Official First Day Cover Release Date: 15 May 2014
Address: Postmaster General Bermuda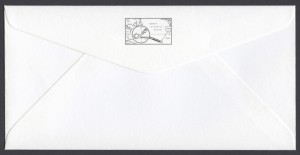 Liner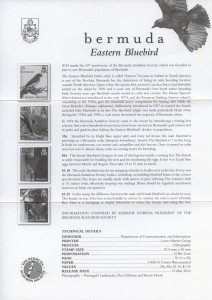 bermuda
Eastern Bluebird
2014 marks the 60th anniversary of the Bermuda Audubon Society, which was founded in part to save Bermuda's population of bluebirds.
The Eastern Bluebird (Sialia sialis) is called "Eastern" because its habitat in North America is east of the Rockies. Bermuda has the distinction of being its only breeding location outside North America. Quite when the species first arrived is unclear but it had definitely settled on the island by 1829 and is now one of Bermuda's best loved native breeding birds. Seventy years ago bluebirds mostly nested in cedar tree cavities. The House Sparrow (Passer domesticus), introduced in the early 1870s, and the European Starling (Sturnus vulgaris), colonising in the 1950s, gave the bluebirds heavy competition for nesting sites while the Great Kiskadee (Pitangus sulphuratus), deliberately introduced in 1957 to control the lizards, included baby bluebirds in its diet. The bluebirds' plight was made particularly bleak when during the 1940s and 1950s a scale insect decimated the majority of Bermuda cedars.
In 1954 the Bermuda Audubon Society came to the rescue by introducing a nesting box scheme. Since then hundreds of nest boxes have been erected on Bermuda's golf courses and in parks and gardens, thus halting the Eastern Bluebirds' decline in population.
35c Identified by its bright blue upper parts and rusty red breast, this male bluebird is perching on a Bermuda cedar (Juniperus bermudiana) branch. The bluebird is 7 inches long. It feeds on earthworms, cut worms and caterpillars and also berries. Once it nested in cedar trees but now it almost always relies on nesting boxes for breeding.
85c This female bluebird is lying in its nest of dried grasses inside a nesting box. The female is solely responsible for building the nest and for incubating the eggs. It lays 4 or 5 pale blue eggs between March and August. They take 13 to 15 days to hatch.
$1.10 This male bluebird may be encouraging a female to build a nest in the box. Every year the Bermuda Audubon Society holds a workshop on building bluebird boxes to the correct specification. The boxes are usually made with spruce or pine shelving. The entrance hole is 1½ inches wide, effectively keeping out starlings. Boxes should be regularly monitored, however, to keep out sparrows.
$1.25 In this stamp the difference between the male and female bluebird can clearly be seen. The female on top of the box is much duller in colour. In contrast, the male is more vibrantly blue. Here it is indulging in display behaviour to entice the female into using the box.
INFORMATION COMPILED BY ANDREW DOBSON, PRESIDENT OF THE BERMUDA AUDUBON SOCIETY
TECHNICAL DETAILS
DESIGNER: Department of Communication and Information
PRINTER: Lowe-Martin Group
PROCESS: Lithography
STAMP SIZE: 33.5 mm x 40 mm
PERFORATION: 13 Per 2cms
PANE: 50 (2 x 25)
PAPER: CASCO Crown Watermarked
VALUES: 35c, 85c, $1.10, $1.25
RELEASE DATE 15 May 2014
Photography: Pierangelo Lanfranchi, Glen Gibbons and Steven Flood
With thanks to Mira for purchasing these on my behalf at the Perot Post Office