World Philatelic Exhibition
Date: 27th May 2006
Stamp: Bermuda $1.10 Map of Bermuda
Souvenir Sheet: MS979 82.5mm x 65mm WASHINGTON 2006 World Philatelic Exhibition Washington DC, USA May 27 – June 3, 2006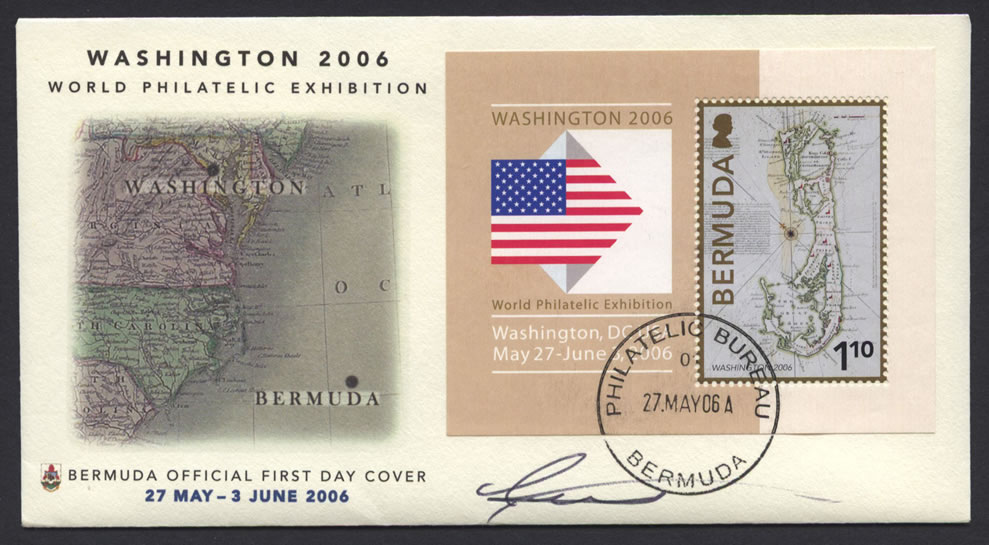 CDS: 01 27.MAY06A PHILATELIC BUREAU BERMUDA
Cachet: WASHINGTON 2006 WORLD PHILATELIC EXHIBITION / BERMUDA OFFICIAL FIRST DAY COVER 27 MAY – 3 JUNE 2006
Reverse: Map of Bermuda with magnifying glass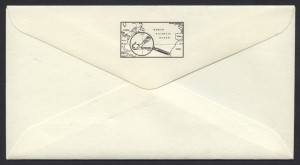 Liner
BERMUDA
Washington 2006
World Philatelic Exhibition
27 May – 3 June 2006
Hundreds of stamp enthusiasts from around the world will make Washington 2006 a success – dealers, collectors, postal administrations, philatelic societies and volunteers from backgrounds almost as diverse as their collecting interest. Continuing with tradition Washington 2006 promises to be exciting, bringing novice and life-long expert collectors together under one roof.
Origins of Washington 2006
Washington 2006 upholds a tradition started back in 1926 with the first U.S. international philatelic exhibition held in 1926 in New York City. Since that time mega-events are held almost every 10 years. The last World Philatelic Exhibition was held in San Francisco, California in 1997.
President of Washington 2006 is Dr. Michael Dixon. Dr. Dixon has international exhibitor experience as a judge and was an instrumental member of the London 1980 team. Dr. Dixon has also served as U.S. Commissioner to other high profile shows.
Senior Vice President and General Chairman is Colonel Stephen Luster. Also a judge and international exhibitor, Steve is best known for his award-winning thematic exhibit "Toward a United Europe".
The Venue: DC Convention Center
The 2006 World Philatelic Exhibition will be held in Washington, DC at the Washington, DC Convention Center. The edifice completed in 2003, has over 2.3 million square feet of space, including several exhibition halls, meeting rooms and restaurants. From 27 May to 3 June 2006, Washington 2006 will occupy the lowest level and the meeting rooms one level above, totaling more than 500,000 square feet of exhibition space.
A total of 3,800 display frames will be on show in a variety of categories. Of particular note, items from the British Caribbean will be featured from the Royal Philatelic Collection of Her Majesty Queen Elizabeth n. The collection was started in the 1860's by Queen Victoria's second son, Prince Alfred, Duke of Edinburgh, and expanded greatly over the decades.
The Bourse (Stamp Dealers' Area)
In addition to the exhibits, the biggest draw for collectors at Washington 2006 is the ability to visit with hundreds of dealers and postal administrations from around the world and purchase philatelic material from them.
An "Educational Centerpiece"
Washington 2006 will use this exhibition as an educational centerpiece to expand interest in stamp collecting with programs developed to bring the art and history of philately to new audiences with a special emphasis on school age children, tours and visiting experts.
The Philatelic Bureau of the Bermuda Post Office will be in attendance to launch a new stamp and souvenir sheet in commemoration of this event. The Washington 2006 logo will be displayed on the souvenir sheet and the gutter of the sheets of stamps.
The stamp showcases a map called, "A New and Accurate Map of the Bermudas or Summer Islands". Emmanuel Bowen created the map in 1747. It was engraved by W Innys, published in London and measured 44 x 35.5 cm. It is part of the Duperreault Bermuda Map Collection donated by Nancy & Brian Duperreault to the Bermuda Maritime Museum.
ACKNOWLEDGEMENTS
Thanks to the Bermuda Maritime Museum.
TECHNICAL DETAILS
Designer: Sheila Semos
Photography: Leslie Todd / Government Department of Communication & Information
Printer: Joh Enschede, Holland
Process: 5 colour Lithography
Stamp Size: 48.00mm x 31.90mm
Souvenir Sheet: Size 65mm x 82.50mm
First Day Cover Size: 92mm x 165mm
Perforation: 13 3/4 x 13 3/4 per 2 cm
Pane: 50 (2×25)
Value: $1.10
Release Date: 27th May 2006