Commemorating Princess Diana
Date: 31st March 1998
Souvenir Sheet: DIANA, PRINCESS OF WALES 1 July 1961 – 31 August 1997. $2.15 + 25c surcharge. In respect of international sales, 25c from the total selling price shown on the souvenir sheet will be donated to The Diana, Princess of Wales Memorial Fund. In respect of all national sales, 25c from the total selling price will be donated to a designated local charity. Features The Diana, Princess of Wales Memorial Fund logo and Diana, Princess of Wales Cypher.
Stamps: BERMUDA Various photographs of Diana – Wearing black hat 1983 30c; In floral dress 40c; Wearing blue evening drees 1996 65c; Carrying bouquets 1993 80c. $2.15+25c surcharge
Official First Day Cover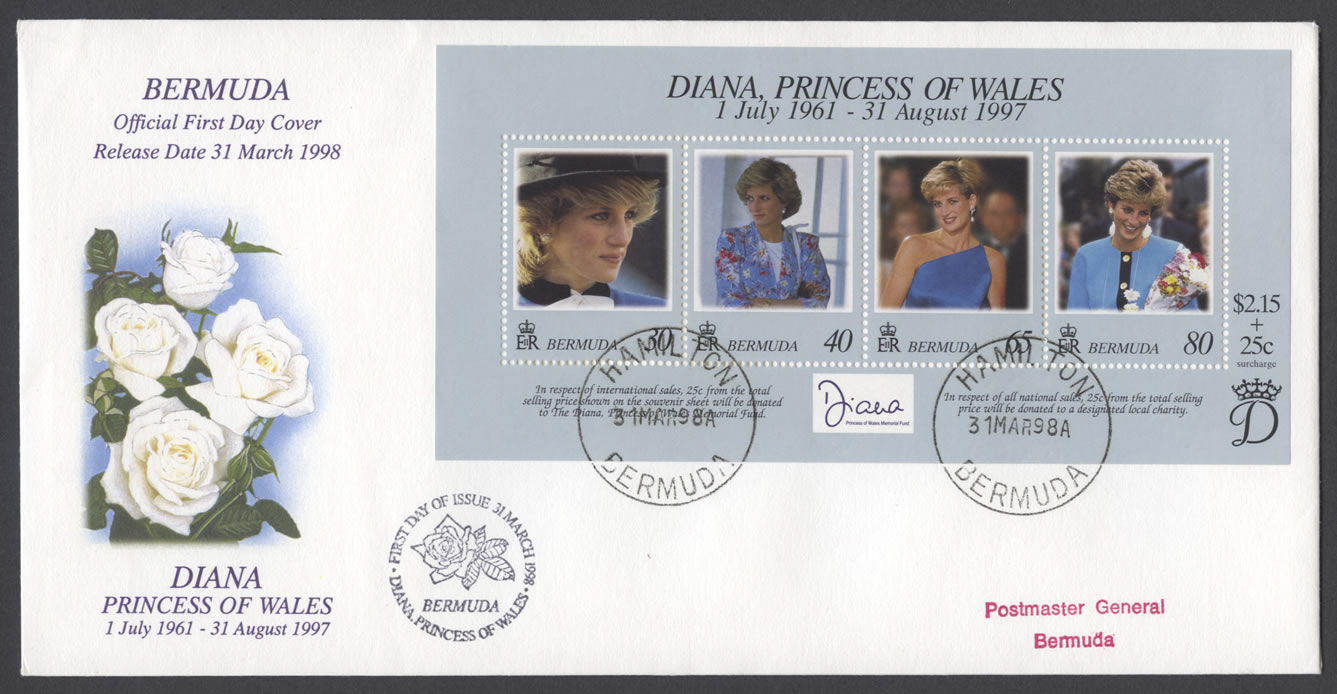 Type: Official First Day Cover
CDS: 31MAR98A HAMILTON BERMUDA
Cachet: DIANA PRINCESS OF WALES 1 July 1961 – 31 August 1997
Circular Stamped Cachet: FIRST DAY OF ISSUE 31 MARCH 1998 DIANA PRINCESS OF WALES BERMUDA
Address: Postmaster General Bermuda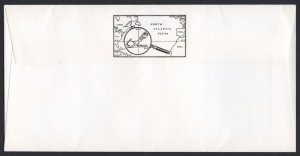 Liner
BERMUDA DIANA, PRINCESS OF WALES
Diana Spencer was born during the late afternoon of 1 July 1961. She was the third daughter of Viscount and Viscountess Althorp and was christened in Sandringham Church. She had two sisters Jane and Sarah and a brother Charles.
The Spencer family had amassed considerable wealth during the fifteenth century when the Spencers were some of the wealthiest sheep traders in Europe. They acquired an earldom from King Charles I and built Althorp House, the family home. In the subsequent centuries the Spencer family walked easily among the Royal Palaces with generations of the family occupying important positions at Court.
Diana Spencer grew up at Park House in Norfolk, a house acquired by Diana's mother. She was educated at West Heath where she earned a reputation for her diving and swimming, winning many trophies and cups.
Lady Diana Spencer first met Prince Charles when she was sixteen years of age, but the meeting which was later to lead to their marriage occurred during July 1980. It was at the home of Commander Robert de Pass, a friend of Prince Philip, and his wife Philippa, a lady in waiting to Her Majesty The Queen. Their relationship subsequently blossomed and it was at Windsor Castle on Friday 6 February 1981 that Prince Charles formally asked Lady Diana Spencer to become his wife. The official announcement of the engagement was made on 24 February.
Lady Diana Spencer married Prince Charles on 29 July 1981 at St Pauls Cathedral. The wedding was watched on television by over 750 million people in 70 countries across the world. The Archbishop of Canterbury commented it was "the stuff of which fairy tales are made".
The route back to Buckingham Palace was thronged with well,wishers. It was a day full of affection and spontaneity. The first three days of their honeymoon were spent at Earl Mountbatten's home, Broadlands, and from there they cruised in the Mediterranean after joining HMY Britannia at Gibraltar.
Her Royal Highness, The Princess of Wales gave birth to a son, Prince William on 21 June 1982. The couple's second son Prince Harry was born on 15 September 1984. Both boys were central to Diana's happiness during a life dedicated to public duty. Diana, Princess of Wales enjoyed immense worldwide affection and popularity. Having shaken off the image of fashion icon and traditional fairytale princess, she should be best remembered for her sympathy, active involvement and commitment to those people in the world suffering from ill,fortune and disease. Her call for greater awareness of and compassion towards AIDS sufferers is well known. In the last years of her life Diana, Princess of Wales, also became widely acclaimed for bringing the world's attention to the horrific injuries caused by landmines. She had links with many charities across the world and through her unstinting commitment and patronage, he.ightened awareness of their projects and raised much needed money for the continuance of their invaluable work.
The untimely death of Diana, Princess of Wales in a car accident in Paris on 31 August 1997, caused a worldwide outpouring of grief with many thousands of people laying floral tributes outside Kensington Palace in London and signing books of condolence. After a funeral service at Westminster Abbey, Diana, Princess of Wales was laid to rest in the grounds of Althorp House, the family home.
TECHNICAL INFORMATION
Design & Layout: Derek Miller
Transparencies: Alpha Photographic Press Agency
Printer: The House of Questa
Process: Lithography
Stamp Size: 30.56mm x 38.00mm
Sheetlet Size: 145mm x 70mm
Perforation: 14 per 2cms approx
Paper: CA Spiral Watermark
Values: 30c, 40c, 65c and 80c
Charity Surcharge: 25c
Total selling price per sheetlet: $2.40
Release Date: 31 March 1998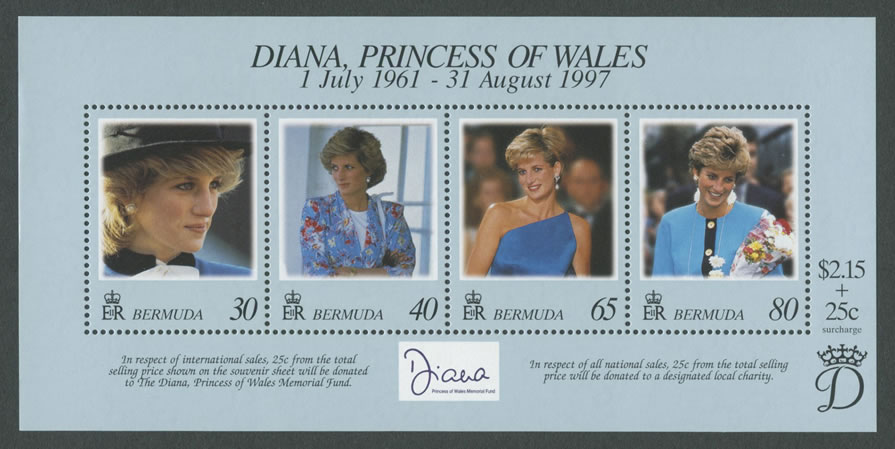 Type: Miniature Sheet / Souvenir Sheet
Unofficial First Day Covers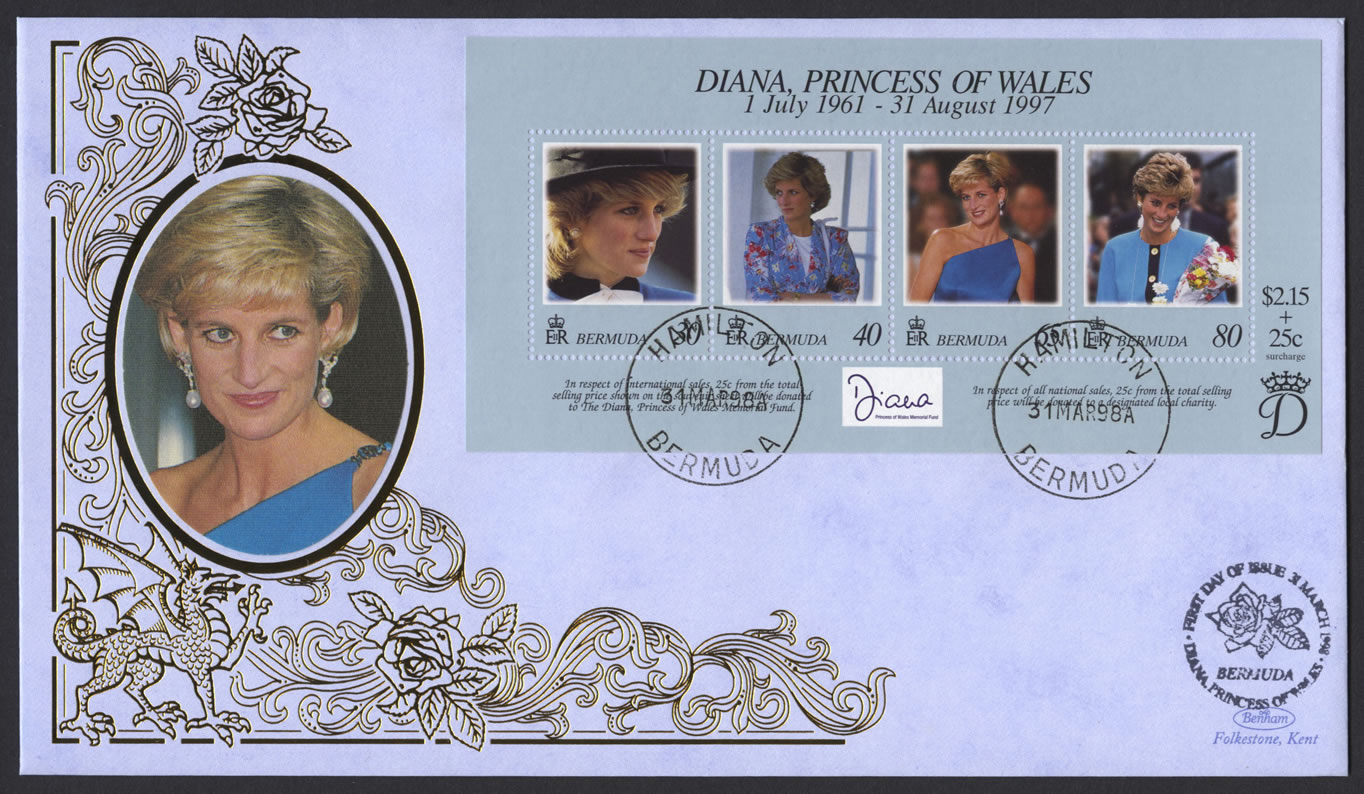 Type: Benham First Day Cover
CDS: 31MAR98A HAMILTON BERMUDA
Circular Stamped Cachet: FIRST DAY OF ISSUE 31 MARCH 1998 DIANA PRINCESS OF WALES BERMUDA
Envelope: Benham, Folkestone, Kent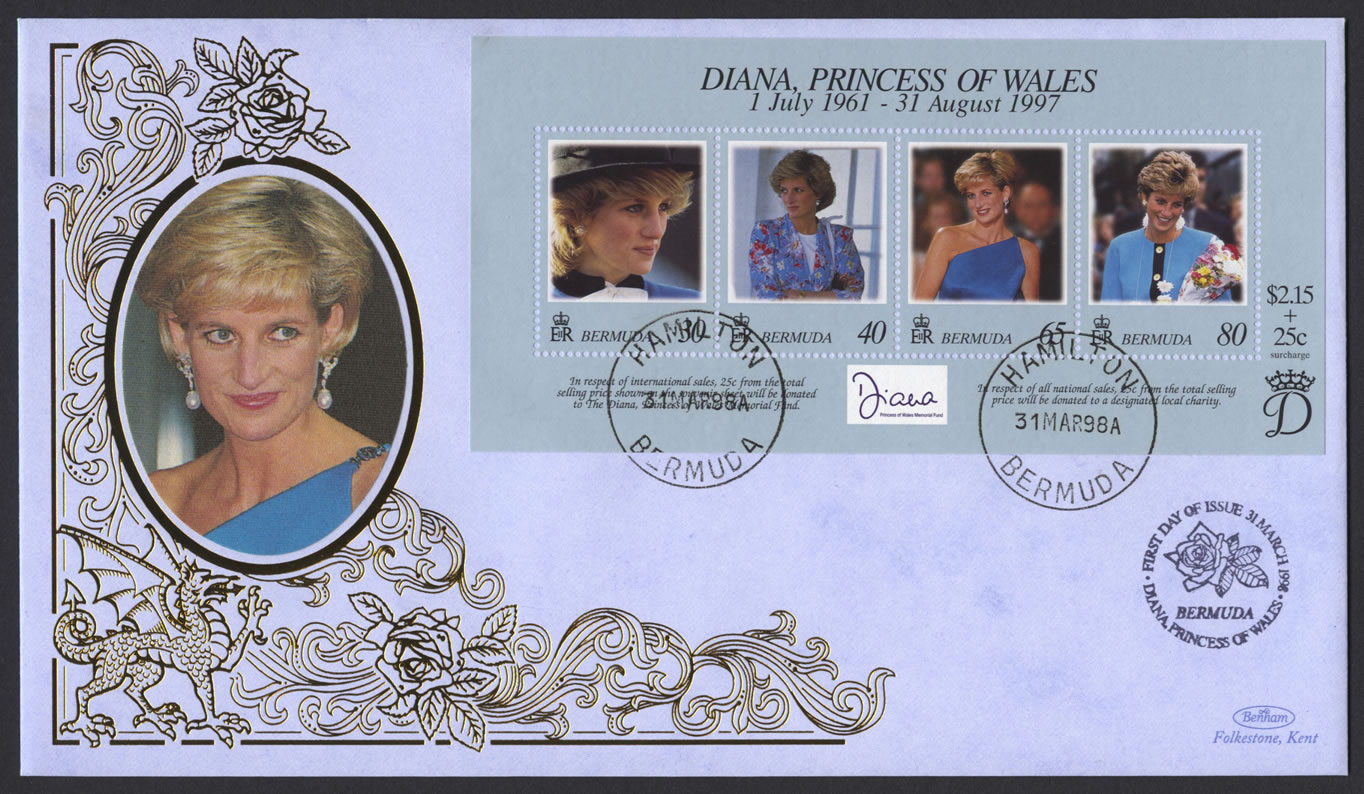 Type: Benham First Day Cover
CDS: 31MAR98A HAMILTON BERMUDA
Circular Stamped Cachet: FIRST DAY OF ISSUE 31 MARCH 1998 DIANA PRINCESS OF WALES BERMUDA
Envelope: Benham, Folkestone, Kent
Postal Commemorative Society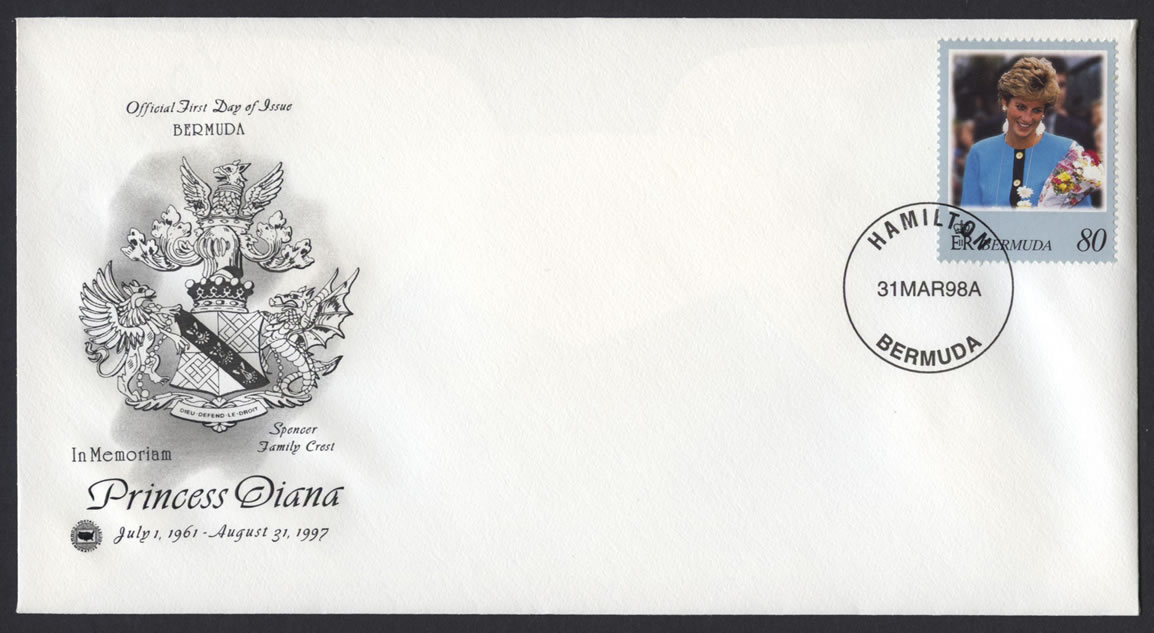 CDS: 31MAR98A HAMILTON BERMUDA
Cachet: Official First Day of Issue BERMUDA / Spencer Family Crest / In Memorium Princess Diana July 1, 1961 – August 31, 1997 POSTAL COMMEMORATIVE SOCIETY
Stamp: 80c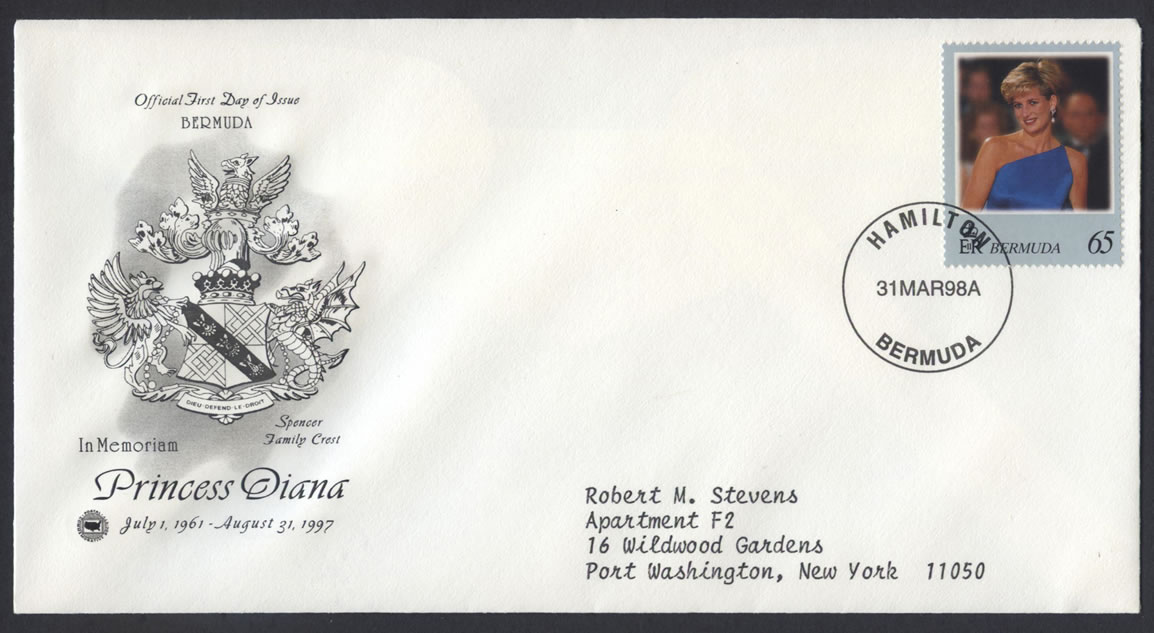 CDS: 31MAR98A HAMILTON BERMUDA
Cachet: Official First Day of Issue BERMUDA / Spencer Family Crest / In Memorium Princess Diana July 1, 1961 – August 31, 1997 POSTAL COMMEMORATIVE SOCIETY
Address: Port Washington, New York
Stamp: 80c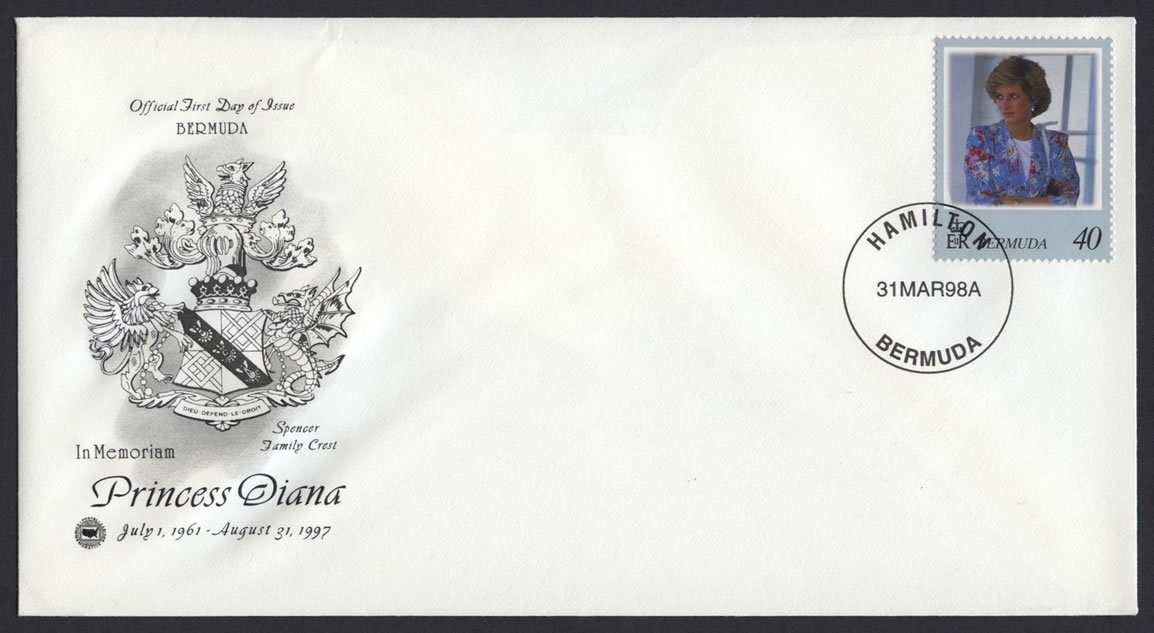 CDS: 31MAR98A HAMILTON BERMUDA
Cachet: Official First Day of Issue BERMUDA / Spencer Family Crest / In Memorium Princess Diana July 1, 1961 – August 31, 1997 POSTAL COMMEMORATIVE SOCIETY
Stamp: 40c