Commonwealth meeting
Date: 24th September 1996
Stamp: Bermuda $1 Commonwealth Finance Ministers Meeting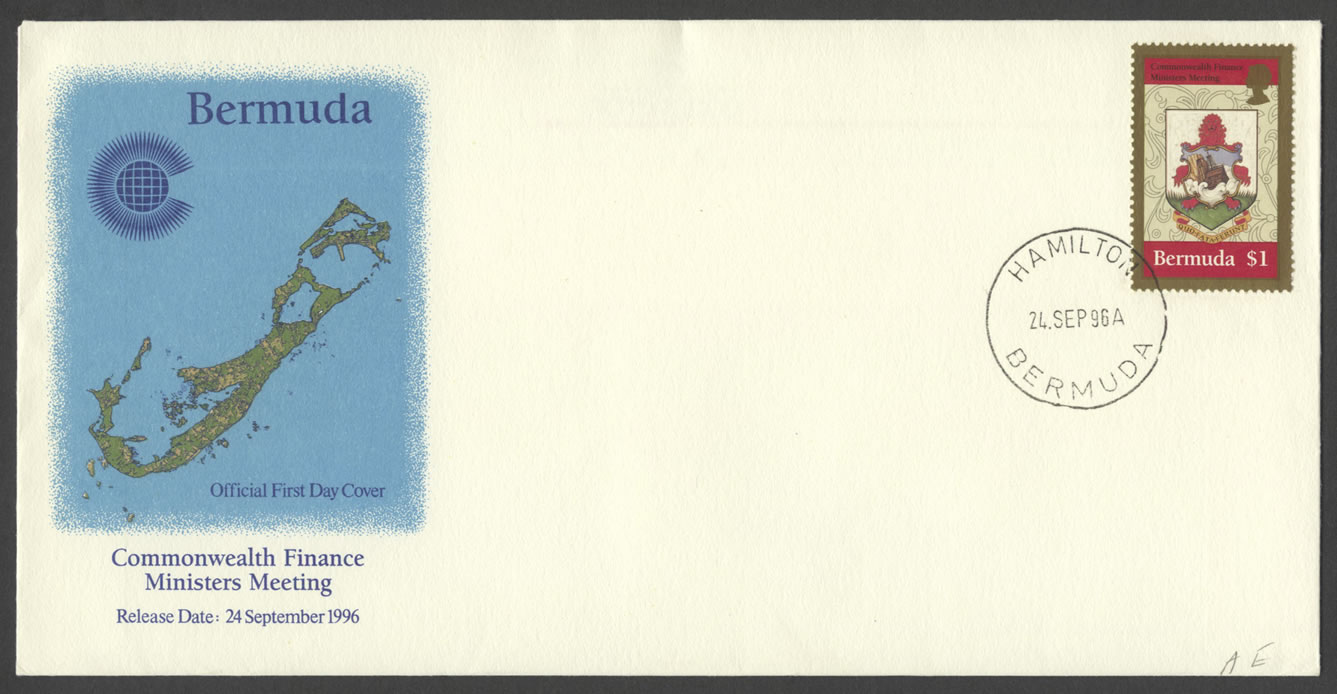 Type: First Day Cover
CDS: 24.SEP96A HAMILTON BERMUDA
Cachet: Bermuda Official First Day Cover / Commonwealth Finance Ministers Meeting / Release Date: 24 September 1996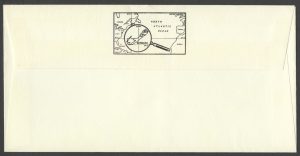 Liner
BERMUDA COMMONWEALTH FINANCE MINISTERS MEETING
24-26 SEPTEMBER 1996
Once again the Commonwealth Finance Ministers Meeting will be held in Bermuda, this time at the Southampton Princess Hotel from September 24.26, 1996. The Bermuda Government is pleased to issue an Official First Day Cover in commemoration of the meeting and particularly to warmly welcome the delegates to Bermuda.
The special strength of the Commonwealth lies in the combination of diversity of its members with their shared inheritance and language and the rule of law. The Commonwealth way is to seek a consensus through consultation and a sharing of experience. It is uniquely placed to serve as a model and as a catalyst for new forms of friendships and co-operation between nations.
At present there are 54 member countries and they constitute about a quarter of the world's population. Almost all of the countries were formerly British Colonies, having chosen to join the free association of countries that is now known simply as the Commonwealth. The modern Commonwealth is therefore a voluntary association of independent sovereign states, each responsible for its own policies, consulting and co-operating in their common interest and in the promotion of greater international understanding.
The Queen is Head of the Commonwealth, and Head of State of 16 of its members; in these countries (other than Britain), The Queen is represented by a Governor-General. Five Commonwealth countries are monarchies with their own sovereigns, and 29 are republics. As Head of the Commonwealth, Her Majesty The Queen underlined the uniqueness of the association when she said in a Christmas broadcast from New Zealand in 1953, "The Commonwealth bears no resemblance to the empires of the past. It is an entirely new concept built on the highest qualities of the spirit of man; friendship, loyalty and the desire (or freedom and peace." All member nations freely recognise The Queen's personal role as the symbol of Commonwealth unity.
The Commonwealth Secretariat was established in 1965 as a central body for consultation and co-operation between Commonwealth countries, and is financed by all member countries. The Commonwealth Secretary-General is His Excellency Chief Emeka Anyaoku of Nigeria.
Kind acknowledgement is given to Mr. Kenneth Richardson for providing the liner information.
TECHNICAL INFORMATION
Design: Based on a design originally prepared by Mrs Sheila Semos for the 375th Anniversary of Parliament
Printer: Joh Enschedé Security Printing
Process: Lithography
Stamp Size: 42mmx27.55mm
Pane: 50 (2×25)
Perforation: 13.25mmx 13.75mm per 2 cms
Paper: CA Spiral Watermarked
Value: $1
Release Date: 24 September 1996