65th and 70th Royal birthdays
Date: 20th June 1991
Stamps: Strip 70c 65th BIRTHDAY OF HER MAJESTY QUEEN ELIZABETH II; BIRTHDAY GREETINGS FROM BERMUDA and 55c 70th BIRTHDAY OF HRH THE PRINCE PHILIP DUKE OF EDINBURGH
Benham First Day Cover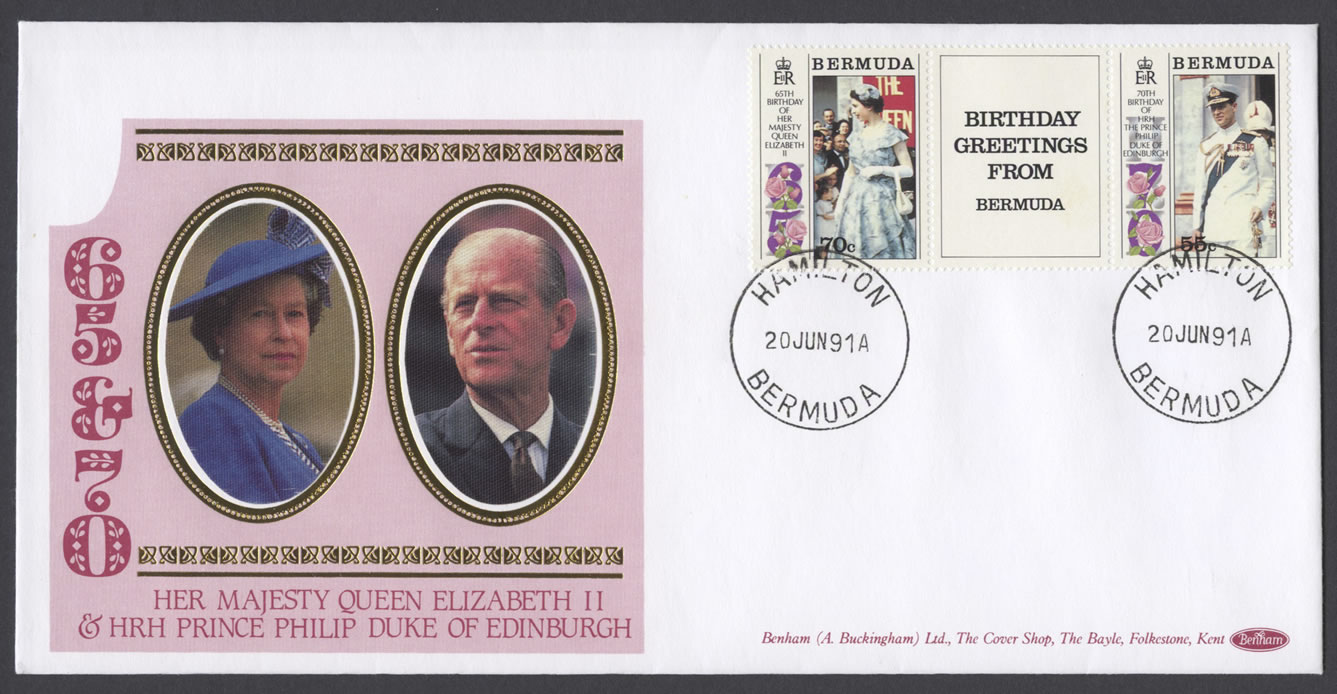 CDS: 20JUN91A HAMILTON BERMUDA
Cachet: 65 & 70 HER MAJESTY QUEEN ELIZABETH II & HRH PRINCE PHILIP DUKE OF EDINBURGH
Address: Benham (A. Buckingham) Ltd., The Cover Shop, The Bayle, Folkestone, Kent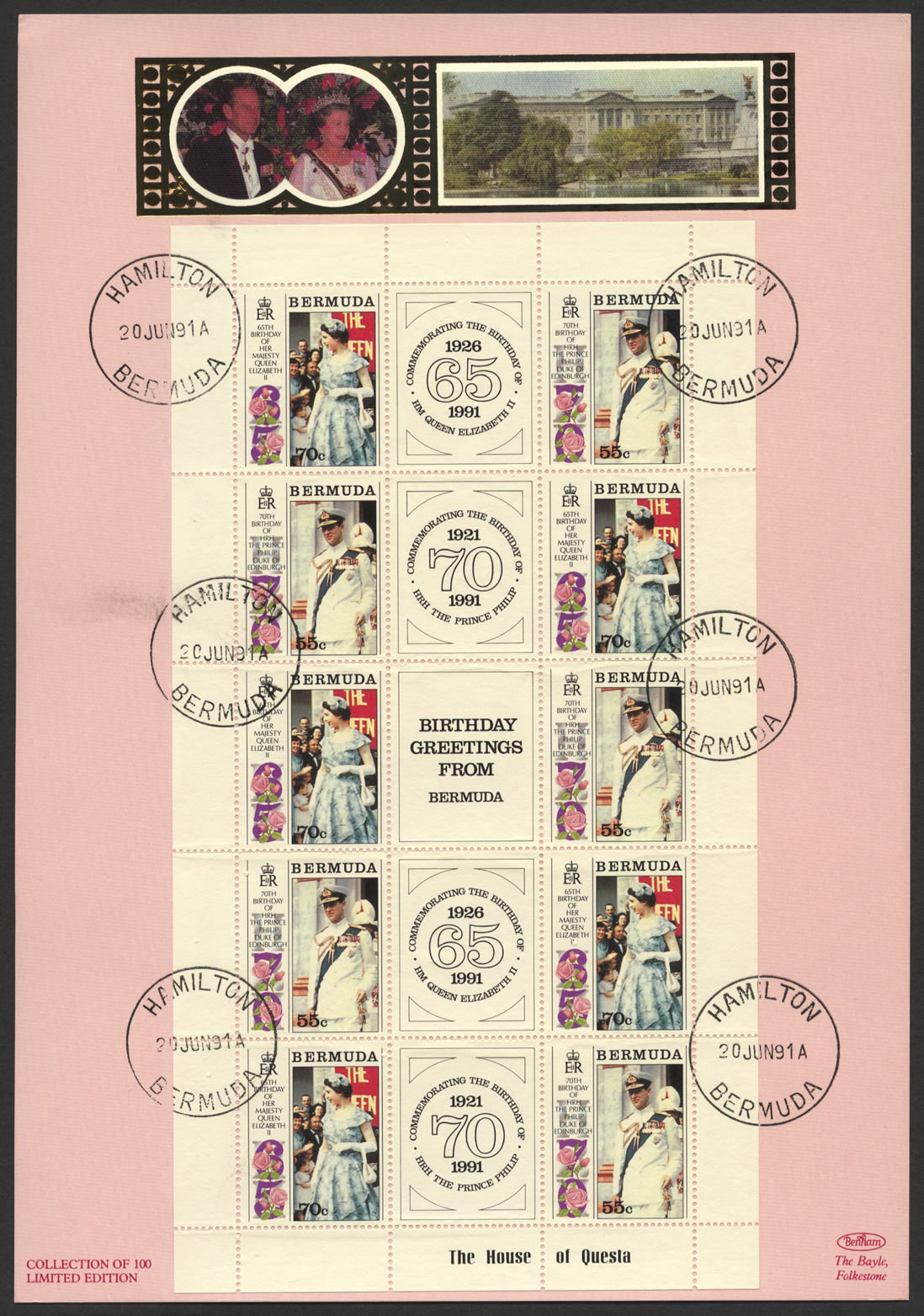 Type: Sheet
CDS: 20JUN91A HAMILTON BERMUDA
Text: Collection of 100 Limited Edition / Benham, The Bayle, Folkestone
Official First Day Cover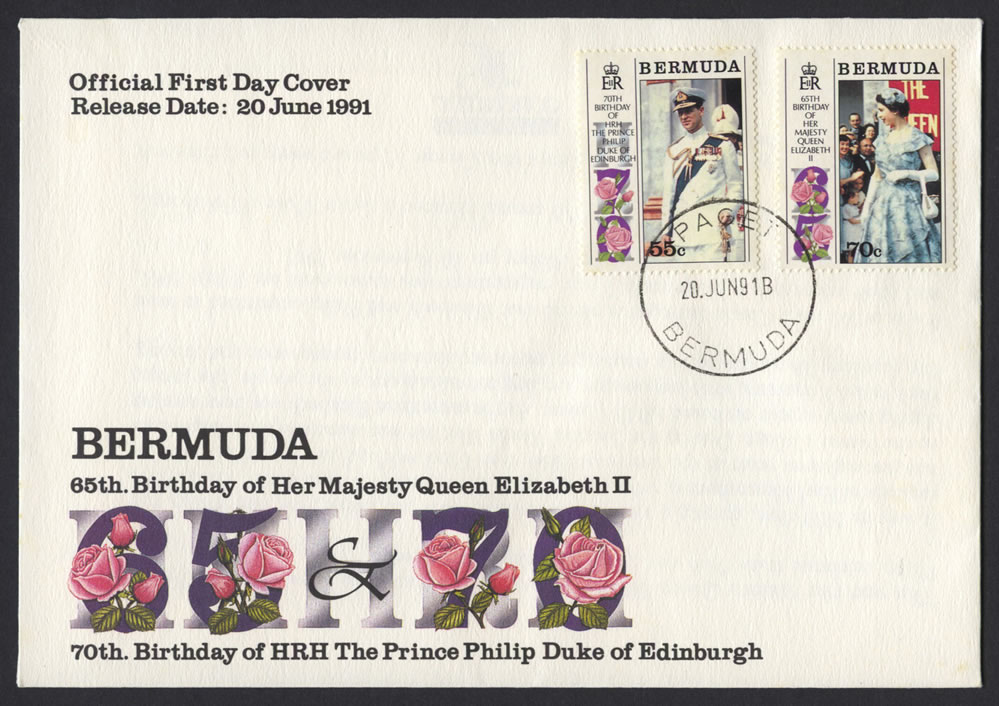 CDS: 20.JUN91B PAGET BERMUDA
Cachet: BERMUDA 65th. Birthday of Her Majesty Queen Elizabeth II 70th. Birthday of HRH The Prince Philip Duke of Edinburgh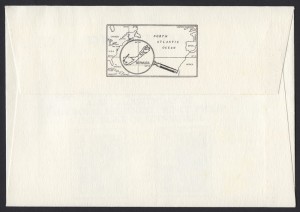 Liner
BERMUDA
65TH BIRTHDAY OF HER MAJESTY QUEEN ELIZABETH II AND 70TH BIRTHDAY OF HIS ROYAL HIGHNESS PRINCE PHILIP THE DUKE OF EDINBURGH
This year Her Majesty Queen Elizabeth 11 and her husband His Royal Highness Prince Philip celebrate their 65th and 70th Birthdays respectively.
It was in 1939 that, during a visit to Dartmouth with her father, she met Philip, the nephew of Earl Mountbatten, who was acting in the capacity of royal escort. Philip, who was just eighteen years of age, five years older than Elizabeth had just started his training at the Naval College. During the Second World War, he was mentioned in despatches during naval service on board HMS Valiant. At the same time Elizabeth was busy touring the United Kingdom, with her parents, lending moral support to the people. She joined the Auxiliary Territorial Service training in motorised transport maintenance and driving.
It was at Windsor Castle during this period that Elizabeth and Philip continued to meet and their relationship blossomed. Their engagement was announced on 9 July 1947, and they were married at Westminster Abbey on 20 November 1947.
On the day prior to the wedding George VI created Elizabeth's fiance 'Duke of Edinburgh'.
It was in 1952 when the couple were in Kenya that George VI passed away and Elizabeth ascended to the throne.
During her married life, Her Majesty the Queen, together with His Royal Highness Prince Philip, have visited many countries within the Commonwealth and outside it. She enjoys tremendous popularity and loyalty and is the Sovereign Head of the largest number of nations on earth. During the course of her reign, many countries once part of the British Empire have sought and been granted independence, but Her Majesty still remains Queen of the Commonwealth of Nations. Among her interests are horse riding and horse breeding.
His Royal Highness Prince Philip has devoted a lot of time promoting British industry and its exports. He was responsible for the introduction of the Duke of Edinburgh Award Scheme, which aims to promote the encouragement of young people into a wide variety of activities, including projects for community and sport. His support for the Commonwealth is also widely recognised.
This omnibus series of postage stamps of which Bermuda is a part, shows Her Majesty The Queen and His Royal Highness Prince Philip at a variety of formal and semi-formal occasions.
The two stamps issued by Bermuda illustrate Her Majesty The Queen and His Royal Highness Prince Philip during their visit to Bermuda on 24 November 1953, as part of their tour of fourteen Commonwealth countries. Bermuda was the first stop of this tour and it was the first time a reigning monarch had visited Bermuda.
TECHNICAL DETAILS
Designs: Derek Miller (Borders only)
Photographs: Courtesy of The Hulton Picture Company
Printer: The House of Questa
Process: Lithography
Stamp size: 30.56mm X 38.00mm (Portrait)
Sheetlet size: 210mm X 112mm containing 10 stamps separated by a central decorative gutter. (Portrait)
Perforation: 14 per 2cm
Watermark: CA Spiral
Values: 55c and 70c
Release date: 20 June 1991