Commemorating The Duke of Edinburgh's Award in Bermuda
Date: 28th September 1981
Stamps: Bermuda 10c THE DUKE OF EDINBURGH'S AWARD SERVICE HAMILTON; 25c OUTWARD BOUND – PAGET ISLAND; 30c EXPEDITION – ST DAVID's ISLAND and $1 THE DUKE OF EDINBURGH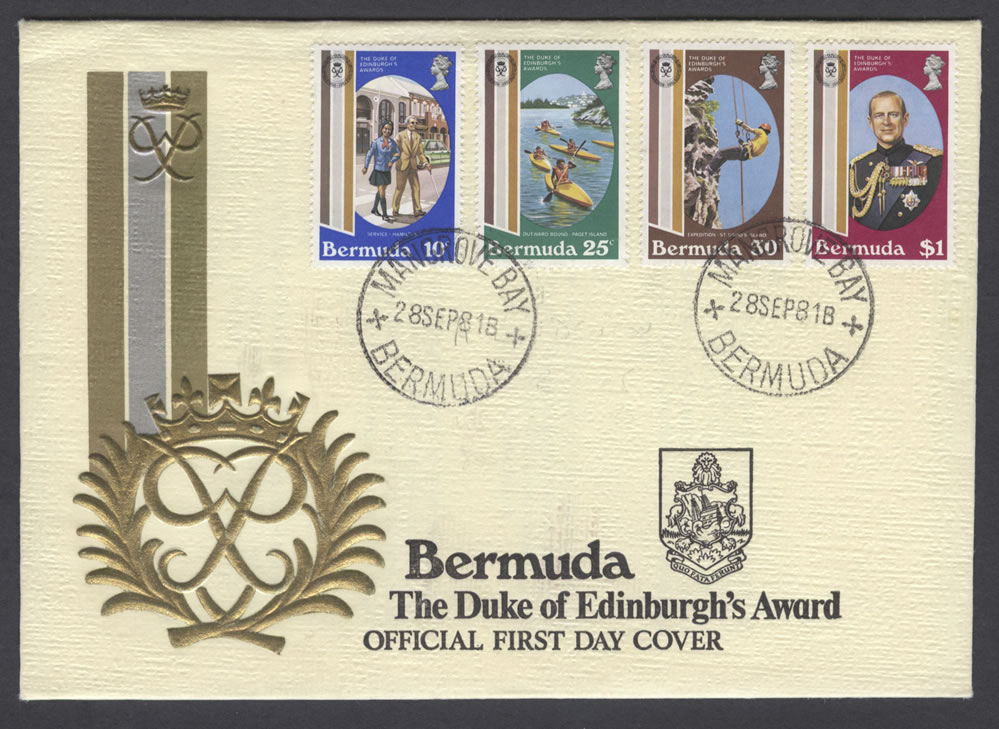 Type: Official First Day Cover
CDS: MANGROVE BAY BERMUDA 28SEPT81B
Cachet: Bermuda The Duke of Ediburgh's Award OFFICIAL FIRST DAY COVER
Address: Crown Agents Stamp Bureau, 4 Millbank, London SW1 / Postmaster General Bermuda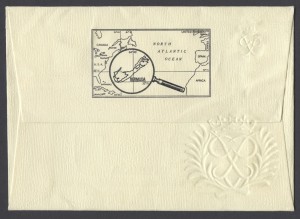 The Duke of Edinburgh's Award Scheme in Bermuda
"This Scheme is intended to help both the young and those people who take an interest in their welfare. It is designed as an introduction to leisure time activities, a challenge to the individual to personal achievement and as a guide to those people and organizations who are concerned about the development of our future citizens" (H.R.H. The Duke of Edinburgh).
When the approval of the Trustees was received from the United Kingdom it was agreed that the initial group of participants would be kept to a comparatively small number in order to gain experience of the actual operation, and within a few months there were 15 participants, including Boy Scouts, Girl Guides and young people who did not belong to any youth group.
Of this first small group of participants, no less than 6 went on to receive their Gold Awards. After three years there were more than 100 young people taking part and these numbers have grown so that at any time, at least 200 young people are involved with the Scheme at one stage or another.
During the period of the Scheme's availability in Bermuda, there has been a significant influx from the Girl Guides, the Boy Scouts, and the Outward Bound Programme. The recent development has principally been through the secondary schools, which perhaps reflects the circumstances around the world where the Award Scheme is seen as a valuable extra curricula activity in any school programme.
10 CENT STAMP
Service to the community plays an important part in making the young mind aware ofthe needs of others. It is fitting in this International Year of Disabled Persons to recognise the contribution of associations such as the Girl Guides – one of whom was amongst the first Bermudians to have achieved the Duke's Gold Medal Award.
25 CENT STAMP
Canoeing plays an important part of the Outward Bound course and with the new fibreglass single canoes, instruction up to capsize drill practice is offered. The design shows a group returning after an overnight trip to Hen Island.
30 CENT STAMP
Abseiling has been a very popular activity in the scheme since its introduction some seven years ago. Initial training begins at the small crag on the island and eventually culminates in the most formidable aspect of the course, the steep and rugged cliffs on St. David's Head.
$1.00 STAMP
His Royal Highness The Duke of Edinburgh has made several official visits to Bermuda and was present in 1975 when Her Majesty Queen Elizabeth II presented the awards at the National Stadium.
TECHNICAL DETAILS
Designer: Leslie Curtis
Printer: The House of Questa
Printing Process: Lithography
No. of Stamps per sheet: 50 (2 x 25)
Size of Stamp: 25.6 x 38.48mm
Paper used: Slaters Processed
Watermark: CA Spiral
Release Date: 28th September, 1981