Commemorating the paintings of Bermuda
Date: 16th May 1991
Stamps: 20c Pitts Bay Road, Prosper Senat 1916; 55c Frank Allison 1930; 70c Old Maid's Lane, Jack Bush 1934; $2 St. George's, Ogden M. Pleissner 1953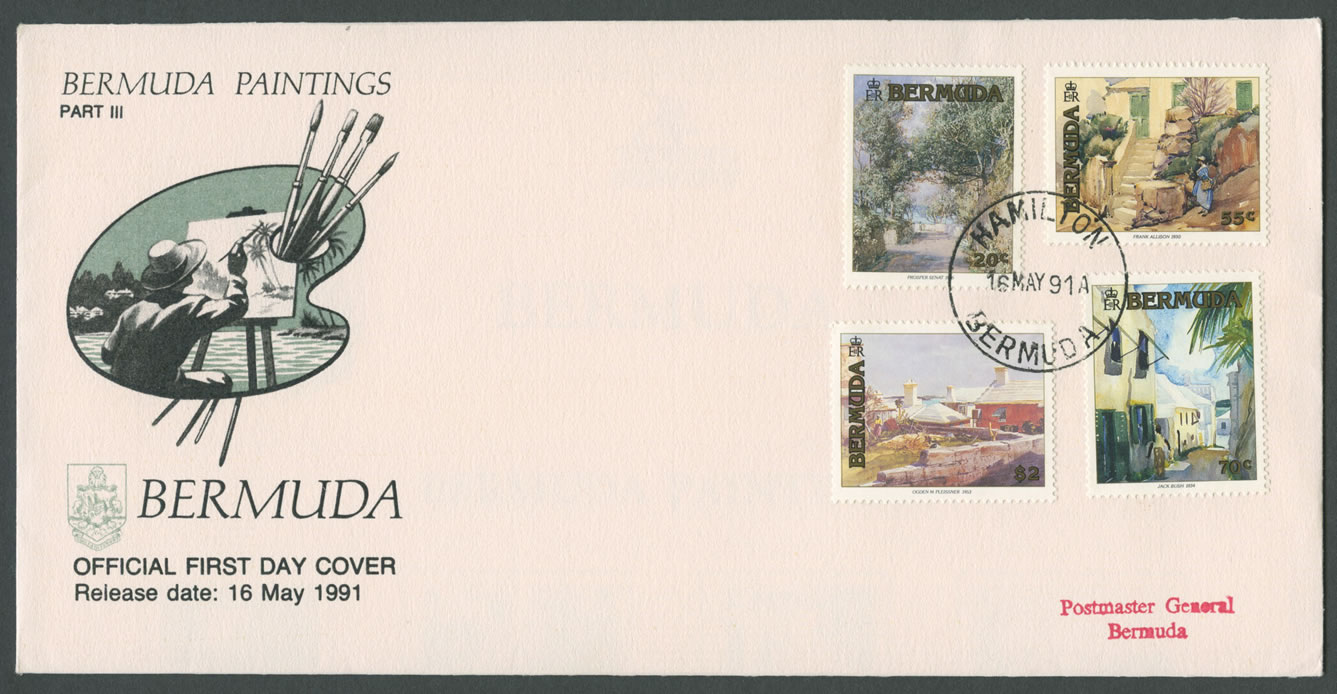 Type: Official First Day Cover
CDS: 16MAY91A HAMILTON BERMUDA
Cachet: BERMUDA PAINTINGS PART III, BERMUDA OFFICIAL FIRST DAY COVER. Map of Bermuda and magnifying glass (reverse).
Address: Postmaster General Bermuda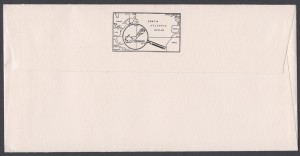 BERMUDA
BERMUDA PAINTINGS
This stamp issue, the third in a series, celebrates the joys of the visual arts and, in particular, Bermuda as a unique place to paint. Many artists took advantage of Bermuda's mild winters and close proximity to the eastern seaboard of the US. The majority of work done here by these artists went home with them.
In 1987 The Masterworks Foundation was formed to gather together these works of art inspired by Bermuda and to bring them home to form a national collection. The Foundation so far has acquired original works by Albert Gleizes, Charles Demuth and Jack Bush, amongst others; and arranged the loan and exhibition of an original Winslow Homer watercolour. Included in the collection is a vast array of Bermudiana to add breadth and variety to the permanent collection.
This series of stamps reproduces paintings done by the following artists represented in the collection:
20 cent
Prosper Senat (American, 1852-1925) was born in America and eventually settled permanently in England. Bermuda, 1916, a view of what is believed to be Pitts Bay Road overlooking the bay, is a gouache. The overall impression of softness in the light suggests a winter painting. Note the many cedar trees lining the road.
55 cent
Frank D. Allison (Canadian, 1883-1951) was an artist from the east coast of Canada who visited Bermuda once sometime in the 1930s. Bermuda's light and colour was particularly suited to his romantic style of painting.
In 1989 the Foundation managed to secure, as well as his Bermuda sketchbook, this picturesque watercolour.
70 cent
Jack Bush (Canadian, 1909-1977) honeymooned in Bermuda in 1934 and stayed at the St. George Hotel. To date, four original watercolours have been returned. St. George's was a very popular spot for artists to paint, whether from the harbour, street scenes, or aerial views looking down on the old town. This fluid watercolour of Old Maid's Lane is one example of Bush's early work and foreshadows his move towards abstraction. The
Foundation was most fortunate to have acquired this painting early in its collection.
$2
Ogden M. Pleissner (American, 1905-1983) frequented St George's in 1953. Most likely he drew rough pencil sketches and finished them on his return to the United States. As a result of his brief stay in Bermuda he produced some eight known paintings. The Foundation has found and brought back four of these majestic and magnificent watercolours. This painting of St George's captures the lush colours of summer.
With kind acknowledgements to Mr Tom Butterfield and Mrs Doreen Tuomola.
TECHNICAL DETAILS
Designer: Leslie Curtis (Borders)
Printer: The House of Questa
Process: Lithography
Stamp size 30.56 X 38.00 mm
Pane: 50 (2 X 25)
Perforation: 14 per 2 cm
Watermark: CA Spiral
Values: 20c, 55c, 70c, $2
Release Date: 16 May 1991