Commemorating horse drawn private carriages
Date: 21st March 1991
Stamps: Transport IV 20c Two-Seater Pony Cart. C.1805; 30c Varnished Rockaway C.1830; 55c Vis-a-Vis Victoria C.1895; 70c Semi-Formal Phaeton C.1900; 80c The Pony Runabout C.1905; and $1 Ladies Phaeton C.1910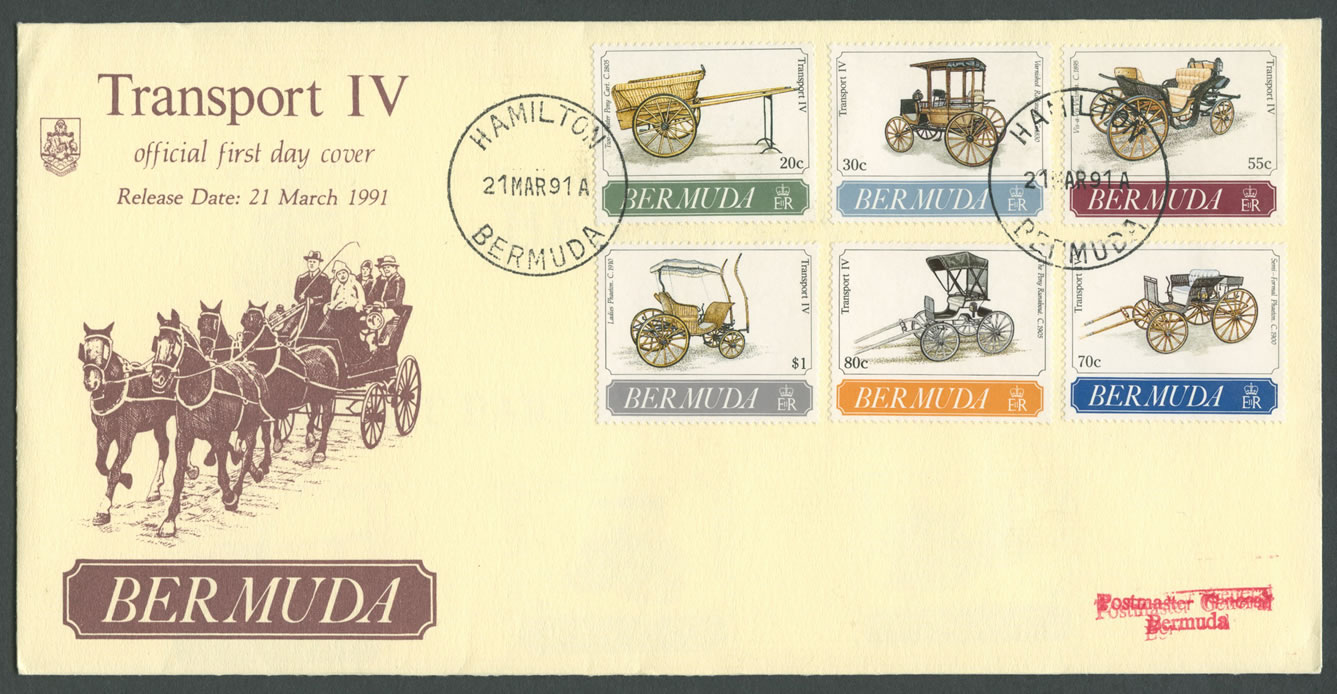 Type: First Day Cover
CDS: 21MAR91A HAMILTON BERMUDA
Cachet: Transport IV official first day cover Release Date: 21 March 1991 BERMUDA
Address: Postmaster General Bermuda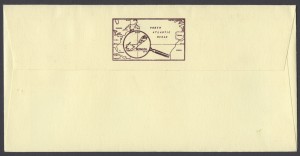 BERMUDA
TRANSPORT PART IV – PRIVATE CARRIAGES
Until the end of World War II, Bermuda was almost entirely dependent on horse drawn vehicles, as
private automobiles were not permitted until 1946.
While carriages go all the way back to the two-wheeled Chariot of Antiquity, latter day Bermudian carriages, such as illustrated on these stamps were elegant, light in weight, pleasantly sprung and airy.
Today we are so accustomed to the speedy progress of invention, it is hard to realise how long it took the carriage to reach the 19th century stage of perfection. The earliest four-wheeled passenger vehicles for instance, did not have turning front wheels and had to be dragged bodily sideways around corners. Even after the idea of the independent front wheeled axle turning on a central post had been successfully executed, there was a long delay before someone thought of cutting under the drivers seat, so that the front wheels could be made of a good size and the turning circle made smaller.
Lack of springing made the earliest carriage uncomfortable, and the first efforts were crude. It is said that swaying in a carriage body supported by leather straps, was enough to make anyone seasick! Most of the Bermudian carriages reflected the development of the comfortable leaf spring, which carried over into automobile manufacture, almost to the present day.
Fashion in carriages changed slowly, but there were many more varieties of vehicles for many different purposes. With care carriages could last a very long time, but they were expensive to buy and feeding the horses was difficult and time consuming. Hence they tended to be owned and used primarily by the well-to-do.
When automobiles came to Bermuda practically all the private carriages were disposed of in favour of a motor car. Fortunately examples of many types have been kept for posterity in the private carriage museum in St. George's who kindly permitted some of its carriages to be used as models for this set of stamps.
These carriages have been an active part of many lives and have been drawn by many a horse loved and admired by their owners.
20 cent Two~Seater Pony Cart was a useful vehicle for four children or two adults, its pony was a gorgeous black with flowing tail and mane as sleek as satin.
30 cent Varnished Rockaway was a less formal utility carriage.
55 cent Vis-A-Vis Victoria was used for afternoon drives of a formal kind with a pair of prancing horses to drive smartly over the roads. This carriage has unusual iron work under the coachman's seat.
70 cent Semi~Formal Phaeton was for a lady's use in the afternoon for a leisurely drive or for making calls. The seat on the back was for a groom who was even ready to go to the horse's head to hold it still while the lady stepped down.
80 cent The Pony Runabout with a buggy top was in constant use – always a dashing pony to keep its wheels in motion.
$1.00 Ladies Phaeton was a beautiful carriage, another of the great family of phaetons. It was elegantwith beautiful wicker-work and graceful lines, enhancing the beauty of its lady driver, note the interesting front axle and steering system.
The carriages illustrated on these six postage stamps are in the Carriage Museum, and the photographs upon which the designs have been based were taken by Mr Wilmont Simmons.
Permission to photograph the carriages and the information for this liner was provided by Mr ]oseph Wharton and Mr Horace Frith.
We gratefully acknowledge the assistance provided by these persons.
Technical information is as follows:
Designer: Nick Shewring
Printer: Walsall Security Printers Ltd.
Process: Lithography
Stamp size: 30.56 mm x 3B mm
Pane: 50 (2 x 25)
Watermark: CA Spiral
Values: 20c, 30c, 55c, 70c, 80c, and $1.00
Release date: 21 March 1991