History of the Royal Navy Series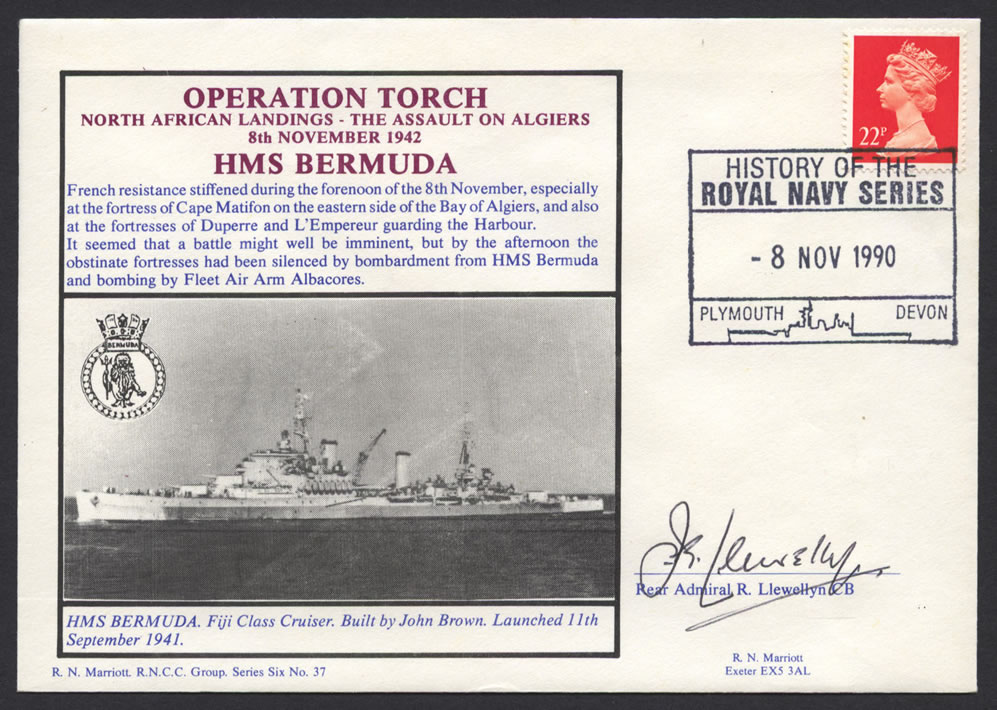 Postmark: History of the Royal Navy Series -8 NOV 1990 PLYMOUTH DEVON
Signed: Rear Admiral R. Llewellyn CB
Stamp: Great Britain 22p Machin series stamp
Operation Torch
North African Landing – The Assault on Algiers 8th November 1942
HMS Bermuda
French resistance stiffened during the forenoon of the 8th November, especially at the fortress of Cape Matifon on the eastern side of the Bay of Algiers, and also at the fortress of Duperre and L'Empereur guarding the Harbour.
It seemed that a battle might well be imminent, but by the afternoon the obstinate fortresses had been silenced by bombardment from HMS Bermuda and bombing by Fleet Air Arm Albacores.
HMS Bermuda. Fiji Class Cruiser, Built by John Brown. Launched 11th September 1941.
R. N. Marriott. R.N.C.C Group Series Six No. 37
R. N. Marriot, Exeter EX5 3AL