Paintings inspired in Bermuda
Date: 19th April 1990
Stamps: BERMUDA PAINTINGS 18c Fairylands, Bermuda, c 1890 Ross Sterling Turner; 50c Shinebone Alley, c. 1953 Ogden M. Pleissner; 60c Salt Kettle, 1916 Prosper Senate and $2 St. George's, 1934 Jack Bush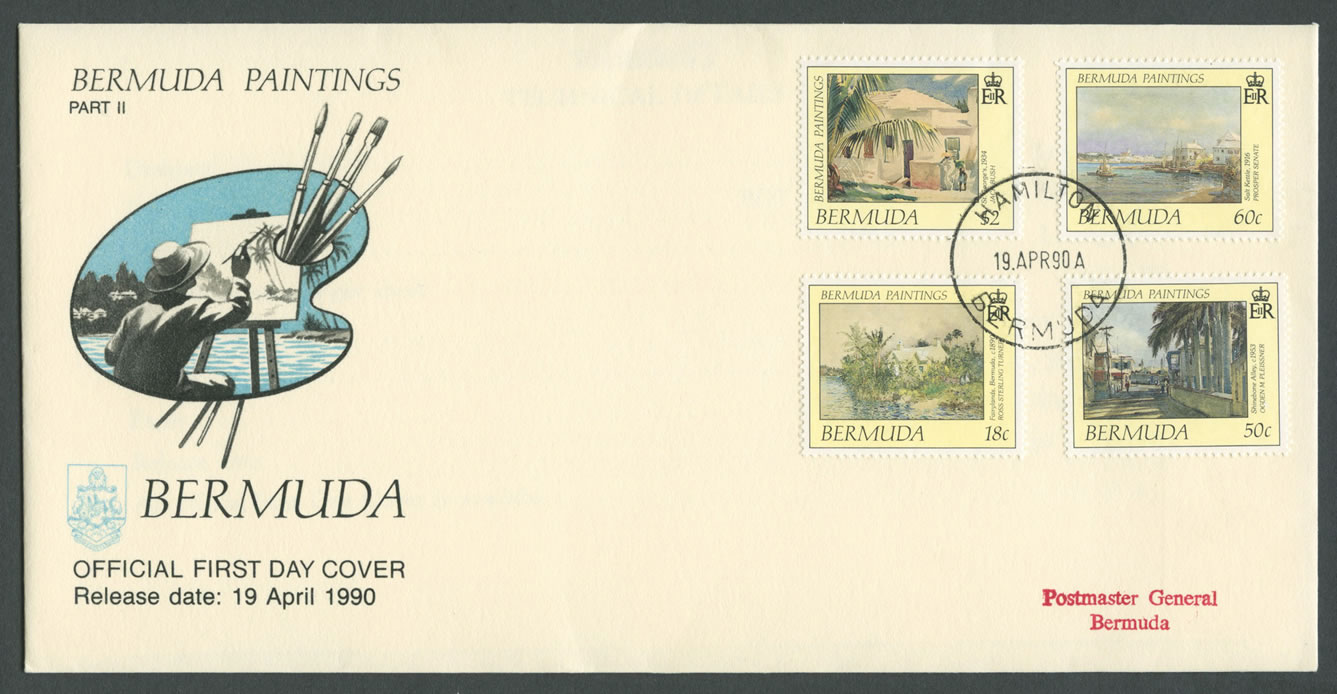 Type: Official First Day Cover
CDS: HAMILTON 19.APR90A BERMUDA
Cachet: BERMUDA PAINTINGS PART II BERMUDA OFFICIAL FIRST DAY COVER Release date: 19 April 1990. Reverse – Bermuda map and magnifying glass.
Address: Postmaster General Bermuda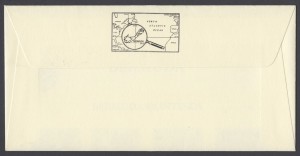 BERMUDA
BERMUDA PAINTINGS
This stamp issue, the second in a series, celebrates the inspiration of artists who found Bermuda a unique place to paint. Most of these paintings were taken out of Bermuda to the Home land of the artist. However it is with pride we can say many of these paintings are being returned to Bermuda through the Masterworks Foundation.
The Masterworks Foundation was conceived in 1987, from the realization that, given Bermuda's proximity to the eastern seaboard and its long history of tourism, there must be other artists that visited besides the famed Winslow Homer. Very quickly names like Marsden Hartley, Georgia O'Keefe, Andrew Wyeth, Charles Demuth and Albert Gleizes surfaced. After further investigation, Jack Bush, Ogden Pleissner, Reynolds Beal, Frank Allison were found; artists not just from the east coast of the U.S. but from Hungary, England, Canada and France who had visited and taken their work home. Bringing the work 'home' to their land of origin and inspiration has been the goal of the Foundation.
The collection to date consists of some seventy pieces that span 150 years, and includes sketch books, oils, watercolours, lithographs, photographs, a monotype by George Adult, an Albert Gleizes study; La Maison Du Gouverneur, and an exquisite watercolour of Hamilton by Prosper Senat.
The vision of the Masterworks Foundation is to house the growing 'Bermudiana Collection' under one roof for the enjoyment and education of all – our residents, our visitors and, most importantly, our children. As a trust and a registered charity, the collection belongs to, and can be seen by, everyone.
Jack Bush (Canadian, 1909-1977) honeymooned in Bermuda in 1934 and stayed at the St. George Hotel. To date, four original watercolours have been returned. St. George's was a very popular spot for artists to paint, whether from the harbour, street scenes, or aerial views looking down on the old town; it was rich in colour, form, texture, history and is well represented.
This rich and exquisite Jack Bush of Old Maid's Lane is but one example of Bush's work and what he was here. The Foundation is most fortunate to have acquired this painting early in its collection. Jack Bush's work was prolific and he was highly successful as Canada's leading abstract painter.
Ogden Pleissner (American, 1905-19 3) frequented St. George's in 1953. Most likely he drew rough pencil sketches and fini hed them on his return to the United State. He tayed only for a brief period and there are about eight known Bermuda works. All of them are the most majestic and magnificent watercolours. The Foundation has been able to return 'home' four of the originals so far. Pleissner is renowned for his hunting scenes which are highly sought after.
Prosper Senat (1852-1925) was born in America and eventually settled in England where he died. We know of three dates when he visited Bermuda. The view of Salt Kettle (painted from the same vantage point as the famed Winslow Homer watercolour) was painted in 1916. The quality of light is particularly rich, and suggestive of a passing squall. How many Bermuda works he executed is unknown. The Foundation has been able to secure two originals; one watercolour and one gouache.
Ross Sterling Turner (American, 1847 – 1915) has work in major museums throughout the US. This semi-impressionist painting of Fairylands has been enjoyed by almost everyone and the reproduction print is much sought after. Whether Turner visited more than once is not known, but two of the three known watercolours have been retrieved by the Foundation.
With kind acknowledgement to Mr Tom Butterfield.
TECHNICAL DETAILS
Designer: Leslie Curtis
Printer: BDT International Security Printing Ltd
Printing Process: Lithography
Number of stamps per sheet: 50 (2 X 25)
Stamp size: 30.56×38 mm horizontal
Values: 18c, 50c, 60c, $2
Paper: CA Spiral Watermarked
Release date: 19 April 1990
An official First Day Cover is available