Commemorating the Commonwealth Postal Conference
Date: 3rd November 1989
Stamps: 18c One Penny; 50c Two Pence; 60c Six Pence and $2 One Shilling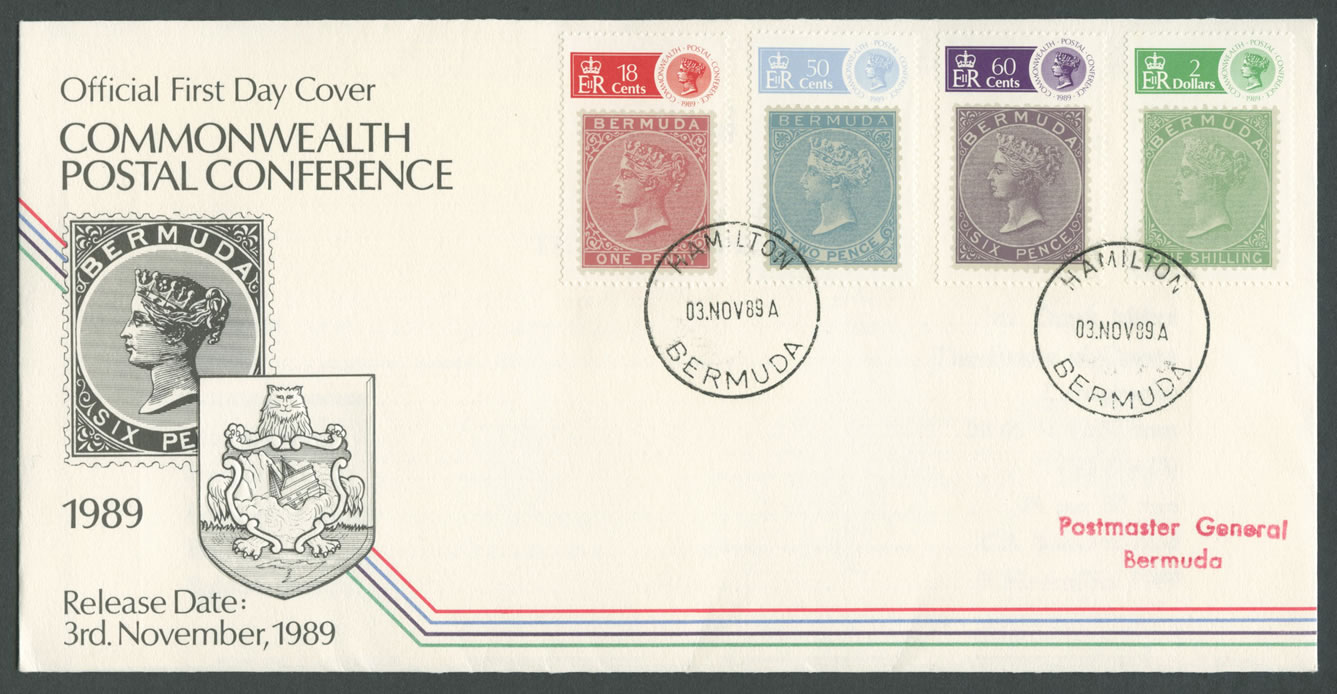 Type: Official First Day Cover
CDS: HAMILTON 03.NOV89A
Cachet: Official First Day Cover. Commonwealth Postal Conference 1989. Release Date 3rd. November, 1989
Address: Postmaster General Bermuda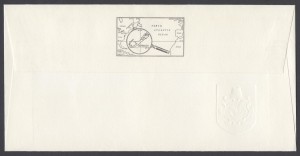 BERMUDA
COMMONWEALTH POSTAL CONFERENCE 1989
Bermuda did not issue its first adhesive stamps until 1865, twenty~five years after the appearance of Great Britain's well~known Penny Black. Even then, there were only three values ~ one penny, sixpence and one shilling. These values provided postage for local letters, letters to British North America and the British West Indies, and letters to the United Kingdom. A two penny stamp was added the following year and a three penny in 1873. This latter stamp is of particular interest because, in ordering it, the Bermuda Colonial Secretary made the unprecedented request that the colony "should prefer the effigy to be a different style, viz. – one representing Her Majesty at her present age in her ordinary head dress of ceremony all of which may be copied from any good recent engraving or Photograph." This request was apparently ignored and an effigy of the young queen was once again used, in accord with Queen Victoria's dictum.
A year later, one hundred and fifteen years ago, delegates from twenty~one countries attended the first international postal congress in Berne, Switzerland on 15 September 1874. While the first steps at simplifying postal rates were taken, the most far~reaching result of the congress was the establishment of the General Postal Union – a permanent body. This was ratified at a second meeting of the participants in Berne on 3 May 1875, and thus was begun the process of bringing uniformity to the world's postal services.
One of the first problems the new international organization had to face was the admission of new members, as much of the world still consisted of the colonies and territories of the European states. A special conference on 18 January 1876 agreed to the admission of British India and French colonies, and thus set the precedent for all the rest to be admitted. As a result, Great Britain applied for the admission of nine colonies, including Bermuda, and there were parallel requests for Danish, Dutch, Portuguese and Spanish colonies.
All were admitted at the Paris Congress of 1878, which agreed to change the name of the union to the Universal Postal Union. This congress established the postage for letters at 25 centimes per 15 grammes, with allowable deviations of 20 to 32 centimes to give the various admmistrations time to sort themselves out. Lesser rates were set for postcards, local
letters, ete. For ease of recognition that correct postage had been applied to mail, colours were standardized for local postcards (½d – green); internal letters (1d – red); and external
letters (2½d – blue).
Bermuda, although a member of the U.P.U., did not react immediately to these proposed changes. Its overseas rates were reduced in 1879, but not uniformly. The reductions ranged
upwards from 2½d to the United States, 3d to British North America, 4d to Great Britain and British West Indies, and 5d to French West Indies. To meet the new rate to Great Britain,
an orange 4d postage stamp was issued in 1880, along with the first halfpenny stamp in a stone colour, rather than U.P.U. green. The first 2½d stamp appeared in 1884 and was ultramarine. A green ½d stamp was finally issued in 1892.
With the standardization of overseas postage at 2½d in 1893, Bermuda may be said to have conformed at last to the 1878 U.P.U. regulations.
With acknowledgement to:- Dr. J.C. Arnell.
and also to:- Mr. D. Mitton and the British Library for Philatelic material provided.
TECHNICAL DETAILS
Designer Mr. Derek Miller
Printer: The House of Questa
Printing process: Lithography
Stamp size: 28.45 X 42.58 mm
Format: 50 (2 X 25)
Perforation gauge: 14 per 20 mm
Paper: CA Watermarked
Release date: 3 November 1989