Commemorating 300 years of Lloyd's of London
Date: 13th October 1988
Stamps: 18c Loss of HMS Lutine, 1799; 50c Cable Ship 'Sentinel'; 60c 'Bermuda' – caught fire, Hamilton 1931 and $2 'Valerian' lost during hurricane 1926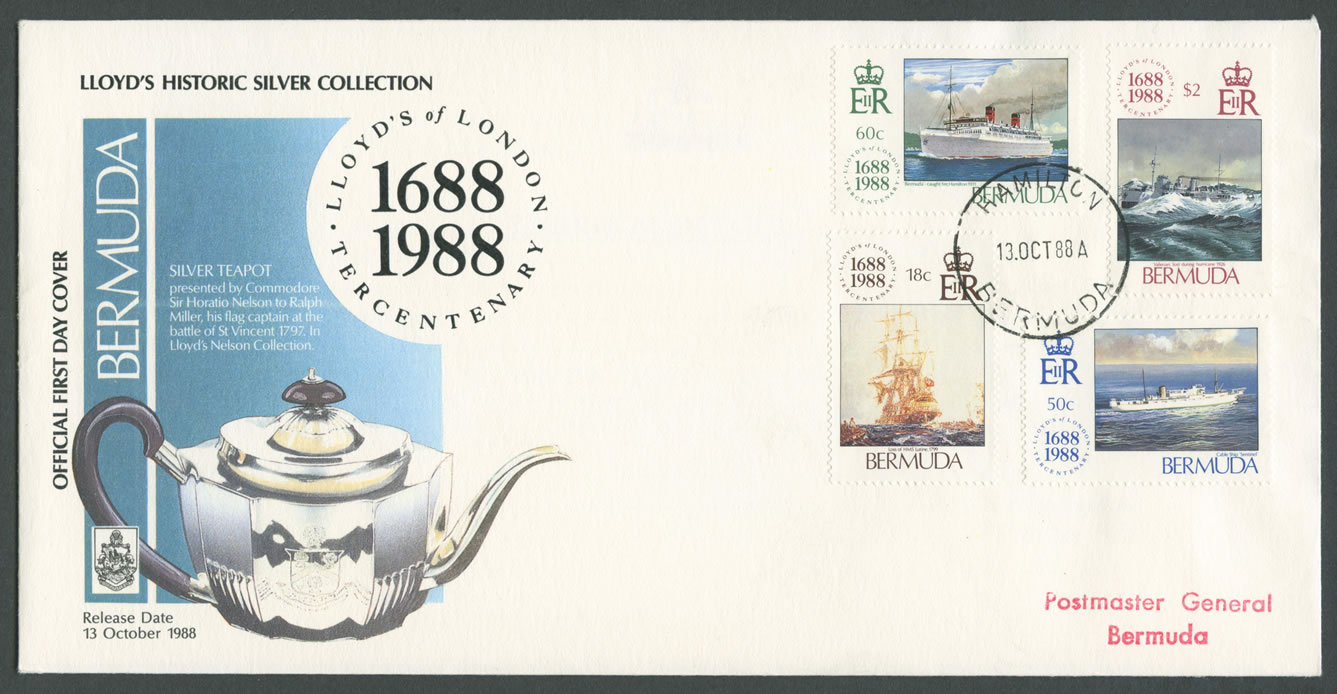 Type: Official First Day Cover
CDS: HAMILTON 13.OCT88A
Cachet: Lloyd's Historic Silver Collection. Lloyd's of London Tercentenary 1688-1988. Silver Teapot presented by Commodore Sir Horatio Nelson to Ralph Miller, his flag captain at the Battle of St Vincent 1797. In Lloyd's Nelson Collection. Official First Day Cover. Release Date 13 October 1988.
Address: Postmaster General Bermuda
BERMUDA
TERCENTENARY OF LLOYD'S: 1688 – 1988
Over the past three hundred years "Lloyd's of London" ha evolved from humble beginnings to become a unique worldwide insurance market.
In London, around the mid-seventeenth century, the importance of shipping was growing steadily with the resultant need for insurance for ships and cargoes. It was also at this time that coffee houses began opening as the popularity in the beverage increased.
Coffee houses were quickly adopted by merchants as meeting places for serious discussions and transaction of business. Mr Edward Lloyd's Coffee House became particularly popular with ships' captains, shipowners and merchants. Edward Lloyd built up a reputation for reliable shipping news and went on to become the recognised centre for obtaining marine insurance. A place where brokers could arrange for various wealthy merchants to fully cover an insurance risk, ensuring that those men underwriting the policies had sufficient financial integrity to meet their share of the claim should the need arise. Even today Lloyd's is still run as a Society of Underwriters, it is not a company.
1988 marks the Tercentenary of Lloyd's and to commemorate the occasion seventeen different Postal Authorities will be joining together in an omnibus stamp issue, each set containing four stamps. The 18c, which is the lowest value of each set, depicts an aspect from the history of Lloyd's. These scenes link together throughout the omnibus as a whole to show a full pictorial history of Lloyd's.
The First Day Cover shows a silver teapot presented by Commodore Sir Horatio Nelson to Ralph, his flag captain at the Battle of St. Vincent 1797. It is part of Lloyd's Nelson collection.
During the 1790s, when news of a successful fleet action was received at Lloyd's, a fund would immediately be raised for the relief of the wounded and the dependants of seamen and marines killed, or who died of their wound. Awards of silver were also made to officers for conspicuous gallantry.
In 1798 and 1801, funds were subscribed for the battle of the Nile and Copenhagen respectively, out of which gifts of plate worth a total of £1,000 were awarded to Vice-Admiral Lord Nelson.
Until the Peace of Amiens these various independent funds had been raised unofficially by Lloyd's to mark a specific victory. However, on 20 July 1803 thirty-three subscribers called a general meeting, and The Patriotic Fund was founded as a permanent nationwide charitable subscription for soldiers and sailor. It is still in existence today, for although Lloyd's insures ship it still maintains a traditional obligation to those who risk their lives in them, whether in peace or war.
The 18c value depicts HMS Lutine. She was previously La Lutine and was surrendered to the British at Toulon in 1793. In 1799 whilst carrying £1.25 million of bullion she was wrecked in a storm. During salvage operations the bell was recovered and is rung in the Underwriting Room at Lloyd's when an important announcement is to be made.
The 50c value features the cable ship Sentinel (originally named Monarch), which was built in 1946 and was responsible for the laying of many important underwater cables. She was purchased by Cable and Wireless in 1970 and based at Bermuda as a repair ship for cables until she was broken up in 1977.
The 60c and 2 value both feature insurance losse associated with Bermuda. The cruise ship "Bermuda" was a Furness Withy vessel delivered in 1928. Speed 17 knots and length 525ft. She burnt out in Hamilton harbour whilst operating on the New York – Bermuda run. She was returned for re-fitting in Belfast and again caught fire.
The highest value stamp, $2, features an illustration of the Valerian, a flower class of sloop of the Arabis type. She was built in 1915/16, 12,000 tons, speed 17 knots. On 22 October 1926 she foundered off Bermuda in a hurricane.
TECHNICAL DETAILS
Designer: Mr Derek Miller
Illustrations: Mr Ernest Nisbet (Garden Studio)
Printer: The House of Questa
Process: Lithography
Stamp size: 28.45 x 42.58mm
Format: 50 (2 x 25)
Perforation gauge: 14 holes per 20mm
Paper: CA watermarked
Release date: 13 October 1988