Commemorating the old garden roses of Bermuda
Date: 21st April 1988
Stamps: Bermuda Old Garden Roses 15c Old Blush; 30c Anna Olivier; 40c Rosa chinensis semperflorens; 50c Archduke Charles; $1.50 Rosa chinensis viridiflora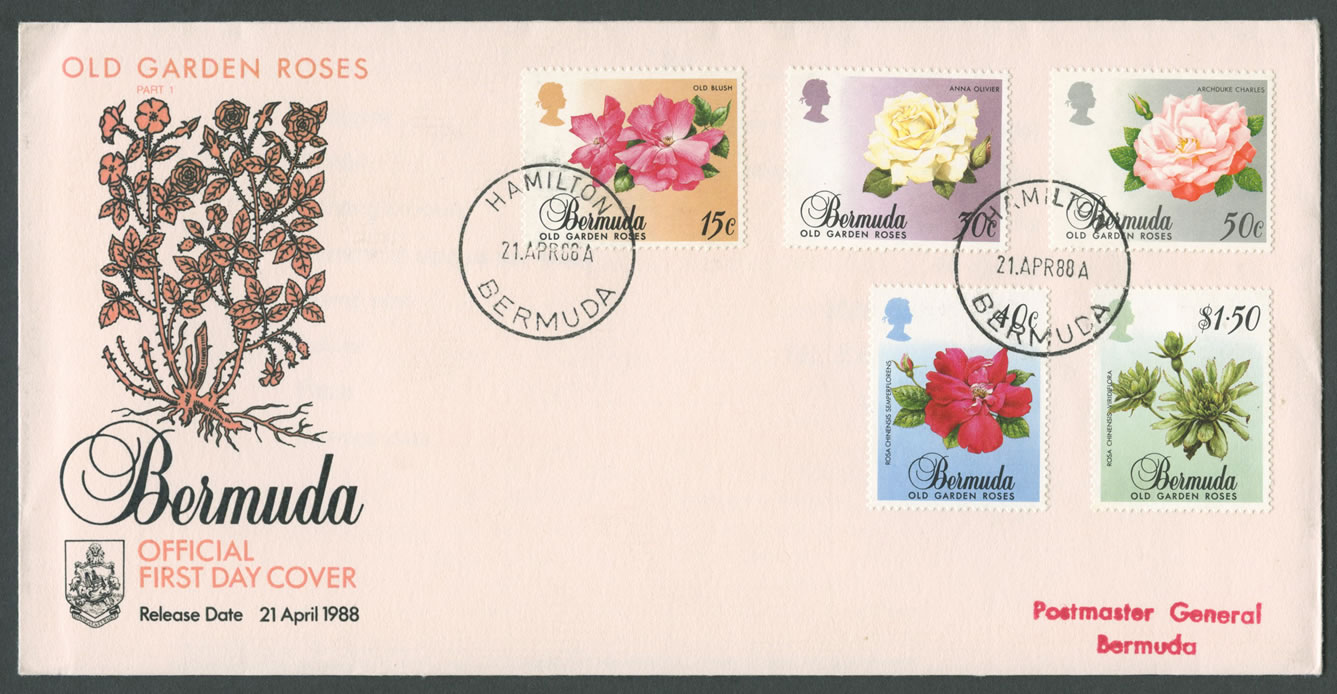 Type: Official First Day Cover
CDS: 21.APR88A HAMILTON BERMUDA
Cachet: OLD GARDEN ROSES PART 1 Bermuda OFFICIAL FIRST DAY COVER Release Date 21 April 1988
Address: Postmaster General Bermuda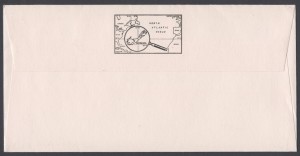 BERMUDA
OLD GARDEN ROSES
OLD GARDEN ROSES – by definition are those classes of roses which were in existence before the Hybrid Teas were developed in 1867, when "La France" was introduced. There are over a dozen classes of Old Garden Roses, but it is the Teas, Chinas, some Bourbons and Noisettes that do well here in Bermuda – all growing on their own roots.
Because of Bermuda's isolated position in the Atlantic, roses which were brought here many years ago, by passing ships, by Bermuda sea captains returning home, by homesick brides etc., settled in well, continued to flourish and to this day can be seen all around the Island. Bermuda has become unique in the rose world because these Old Garden Roses continue to thrive – many that were thought to be extinct have been found here in recent years, and one visiting rosarian went so far as to say that Bermuda was a Living Museum of Roses, to be cherished. These roses have become so much a part of our Island that they are referred to as "Old Bermuda Roses" and many of them have local names.
The Bermuda Rose Society was founded in 1954 by a group of interested and knowledgeable rosarians with the express purpose of encouraging the cultivation and love of roses in Bermuda and to conserve the old-fashioned roses that have stood the test of time in these islands. The Society has prospered, being associated now with the Royal National Rose Society of Great Britain, the American Rose Society, the Canadian Rose Society and the Heritage Rose group of the American Rose Society. The Bermuda Rose Society is also a member of the World Federation of Rose Societies, and in January 1987 hosted an area meeting of the W.F.R.S. At their last World Conference in Toronto, Canada, in June 1985, the W.F.R.S. invited the Bermuda Rose Society to give a lecture and slide show on the Old Garden Roses in Bermuda; this slide show has now been shown locally to many organisations and groups.
In December 1984 the Society published "Old Garden Roses in Bermuda", a book giving the historical background of Bermuda's roses, together with illustrations and descriptions of some of the roses that grow so well here. This book has been very favourably received by rosarians world-wide, and is available locally for the benefit of residents and tourists.
The first mention of a rose in Bermuda is by a Spaniard who was shipwrecked here in 1639. He described the garden that each house had and mentioned among other plants and herbs that there were many roses – mention of roses continues throughout Bermuda's history.
INFORMATION COMPILED BY THE BERMUDA ROSE SOCIETY
With acknowledgement to:- Mrs Allan Wingood and Mrs John Nicoll
15c: OLD BLUSH or PARSONS' PINK CHINA (1752) – a China rose. This is one of the four old stud roses which had such an impact on the rose world when introduced into Europe. It is a compact bush, very easy to grow. The flowers are produced in small sprays, in two tones of pink. This is the rose mentioned by the poet Thomas Moore in his "Last Rose of Summer" and so it has Bermuda connections because of Tom Moore's well documented visit to Bermuda in 1804 when he wrote "… the roses are in full bloom here".
30c: ANNA OLIVIER (1872) – a Tea rose. This is a very vigorous bush, with good form, growing to a height of over 6 ft. The buds are pointed, showing faint colour, opening to pale flesh-coloured, faintly yellow blooms, with a slight touch of deep pink around the edges, turning a deeper yellow with age. Visiting rosarians have disputed the identity of this rose but so far no one has been able to prove that it is not Anna Olivier.
40c: – Rosa chinensis semperflorens or SLATER'S CRIMSON CHINA (1792) – a China rose. This rose may be considered to be the most important of the old stud roses; it is known to Bermudians as the Belfield rose. Mr. Richard Thomson, Chairman of the Old Rose Committee of the American Rose Society at that time, found the rose growing at Belfield-in-Somerset in 1953 wben he was here on a visit. He was quoted as saying that at first he could not believe his eyes. He felt "like an art collector who had just unearthed a long-missing Rembrandt' '. After three years of intensive research, he finally confirmed his original opinion and much was written about his discovery in English, American and Canadian newspapers and rose publications at that time, as this rose was thought to have been lost to cultivation and its rediscovery was a cause for great excitement. It is a very slow growing small bush, reaching a height of up to 3 ft. It has dark green foliage, rather spindly, with small single red flowers, 2" across.
50c: ARCHDUKE CHARLES (about 1840) – a China rose. This was called Seven Sisters in Bermuda for many years, until it was correctly identified in the late 1950's. It has been a great favourite, for bushes are found in many old gardens, especially around the city of Hamilton. It grows into a large bush and produces dark red buds that open up rosy pink and crimson, darkening with age. It blooms all year.
$1.50: Rosa chinensis viridiflora or GREEN ROSE (1855) – a China rose. The Green Rose blooms throughout the year, providing flower arrangers with an unusual addition for their craft. It is perhaps more popular with them than with the rose growers, who are more likely to grow the rose for its novelty appeal. The bush is of medium green foliage and grows strongly to a height of 5 ft, the small double blooms sometimes being streaked with bronze.
TECHNICAL DETAILS
Designer: Roger Gorringe (Garden Studio)
Printer: BDT International Security Printing Ltd.
Printing process: Lithography
Number of stamps per sheet: 50 (2×25)
Stamp size: 30.56×38 mm mixed
Values: 15c, 30c, 40c, 50c, $1.50
Paper: CA Watermarked
Release date: 21 April 1988