50 years of commercial flights to and from Bermuda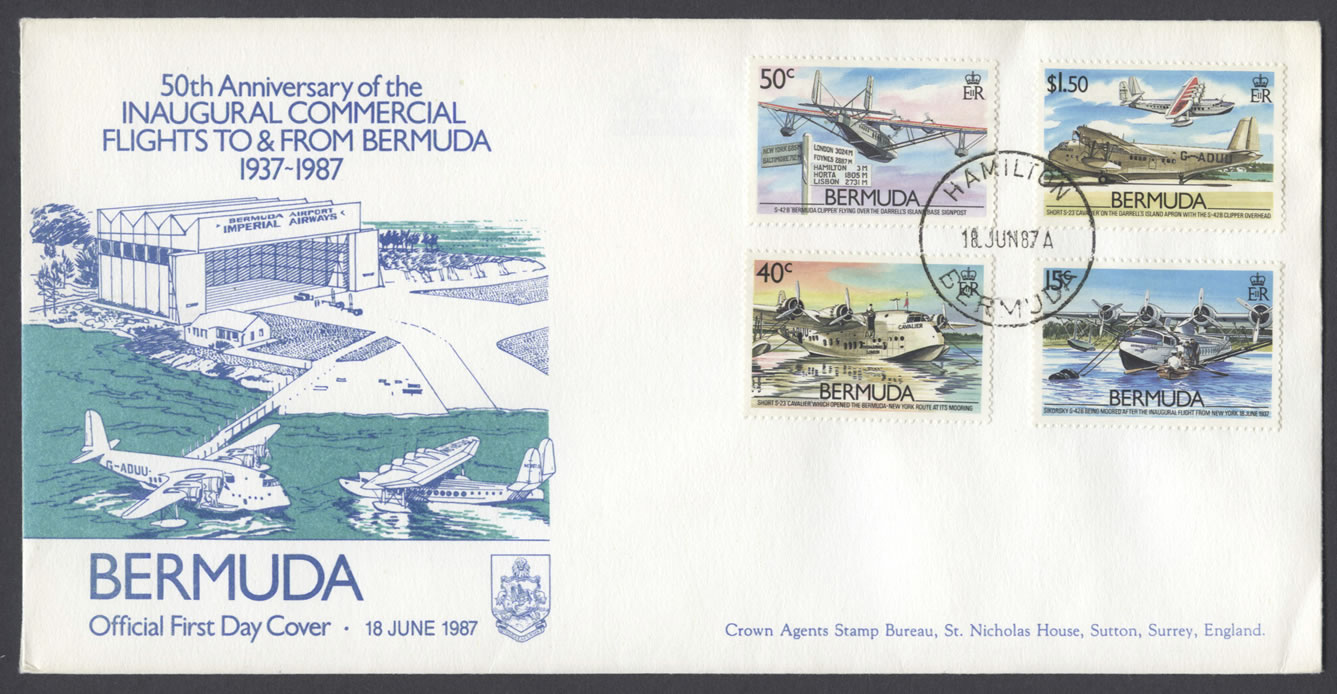 Date: 18th June 1987
CDS: 18.JUN87A HAMILTON BERMUDA
Address: Crown Agents Stamp Bureau, St. Nicholas House, Sutton, England.
Stamps: Bermuda 15c Sikorsky S-42B being moored after the inaugural flight from New York 18 June 1937; 40c Short S-23 'Cavalier' which opened the Bermuda-New York route at its mooring; 50c S-42B 'Bermuda Clipper' flying over the Darrell's Island base signpost and $1.50 Short S-23 'Cavalier' on the Darrell's Island apron with the S-42B Clipper overhead.
Reverse: Bermuda Map with magnifying glass.

Liner
BERMUDA
50 YEARS OF COMMERCIAL FLIGHTS TO BERMUDA
On June 16th, 1937, aviation history was made when the Imperial Airways flying boat 'Cavalier' made the first scheduled passenger flight between Bermuda and the United States. This flight from Darrell's Island to
New York took 5 hours and 36 minutes. On the return flight on June 18th, the 'Cavalier' was joined by Pan American Airways 'Bermuda Clipper', making its inaugural flight to Bermuda.
Preparations for these flights began in 1935 when the Bermuda Government and Imperial Airways entered an agreement calling for the construction and operation of Bermuda's first airport at Darrell's Island. With virtually no tide-flow and 2-mile stretcnes of unobstructed take-off lanes in every direction, this location was ideal for the operation of flying boats.
Following the completion of the hanger during 1936, the 23-ton 'Cavalier' – with a maximum range of 1,350 miles unable to fly from England to Bermuda – was sent to the island in three giant packing cases and assembled at Darrell's Island. After several trials in Bermuda starting on February 19th, 1937, three test-flights were made to New York on May 25th, May 29th and June 8th respectively. At the same time Pan American Airways were preparing the 'Bermuda Clipper' for the inaugural flight. Test flights to Bermuda were made on May 25th and 29th, as well as June 5th, 8th and 12th.
The initial flight schedule called for a weekly round-trip by ~ach flying boat. However, when the American terminal was moved to Baltimore for the winter months, the flight schedule was changed to two round-trips per week for both 'Cavalier' and 'Bermuda Clipper'. After nine months of operation, 2,000 passengers had been carried on 112 round-trips made by the two flying boats.
On January 21st, 1939, while on the 290th flight, 'Cavalier' was lost about three hours after leaving New York. As Imperial Airways could not replace the 'Cavalier', Pan American Airways added one of the 60-passenger Boeing 314's being built for the trans-atlantic service, to the Bermuda route. By outbreak of World War Two, 7,000 passengers had passed through Darrell's Island on a total of 500 flights.
World War Two and the introduction of the trans-atlantic service changed the pace considerably, with Bermuda becoming a stop-over for both the American and British flying boats on this route. At the same time the R.A.F. Ferry Command was established on Darrell's Island and dispatched over 400 American-built Catalina flying boats on their 3,000 mile non-stop flight to England. The U.S. Navy followed in 1941 and operated a flying boat patrol squadron from Darrell's Island while their own base was under construction at King's Point. Meanwhile, another airport was under construction at the other end of Bermuda – this one on land. The age of the flying boat was almost over.
Following the war, British Overseas Airways Corporation, successor of Imperial Airways, continued to operate Boeing 314's on the Bermuda-Baltimore route. However, by May 1947 landplanes had replaced the flying boats and Bermuda's first airport was obsolete. During its ten years ofoperation, 5,500 flights and 105,000 passengers had been taken care of at Darrell's Island.
40 years later – and only 50 year after the inaugural flights of 'Cavalier' and 'Bermuda Clipper' – the Bermuda Civil Air Terminal handles some 5,000 aircraft arrivals annually, bringing approximately 450,000 passengers to Bermuda. The 2-hour flight from the United States may not be as romantic as travelling to Bermuda by flying boat, but today it is difficult to imagine Bermuda without the daily arrivals of large jets, each carrying up to 400 passengers.
(WITH ACKNOWlLEDGEMENT TO: Mr. Horst Augustinovic)
The stamps show:
15c
The Pan American Airways 'Bermuda Clipper', a 21-ton flying boat designed by Igor Sikorsky and built by United Aircraft Corporation in Bridgeport, Connecticut, is being moored at Darrell's Island after its inaugural flight from New York on June 18th, 1937.
40c
The Imperial Airways 'Cavalier', a 23-ton 'Empire Class' flying boat built by Short Brothers in Rochester, England, opened the Bermuda-New York route on June 16th, 1937, and is shown at its moorings.
50c
The 'Bermuda Clipper' is shown flying over the Darrell's Island base signpost. The original signpost is now on display at the Bermuda Maritime Museum. With a span of 118ft. and length of 68ft., the 'Bermuda Clipper' carried 26 passengers and a crew of 7 at a cruising speed of 150mph.
$1.50
The 'Cavalier' is shown on Darrell's Island apron with the 'Bermuda Clipper'. The Royal Mail Aircraft 'Cavalier', with a span of 114ft. and length of 88ft., normally carried 17 passengers and a crew of 5, as well as Bermuda's airmail.
Technical Details
Designer: A D Theobald
Printer: Walsall Security Printers Ltd
Process: Lithography
Set: 50 (2 panes of 25 stamps)
Stamp size: 28.45 x 42.58mm
Values: 15c, 40c, 50c, $1.50
Paper: CA Spiral Watermarked
Release date: 18 June 1987