Paintings of Winslow Homer (1836-1910)
Type: $4 Stamp Booklet 10 x 40c
Date: 30th April 1987
Size: 125×91 mm
Stamps: 10 x 40c Winslow Homer – 2 x 40c 'Bermuda Settlers' – 1901; 2 x 40c 'Bermuda' – 1900; 2 x 40c 'Bermuda Landscape' – 1901; 2 x 40c 'Inland Water' Bermuda – 1901; 2 x 40c 'Bermuda Landscape' – 1900; 2 x 40c 'Salt Kettle' Bermuda – 1899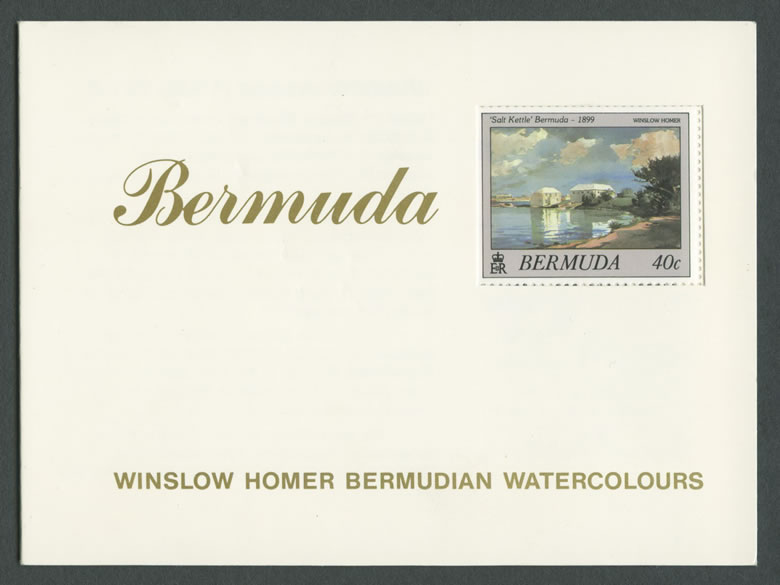 Inside cover:
Winslow Homer (1836-1910)
During his lifetime, Winslow Homer was primarily known for his oil paintings. It was whilst on vacation however that he began using watercolour, a medium that he continued to use for more that 30 years.
While visiting Bermuda in the winter of 1899-1900 and during subsequent visit of the following year, Homer painted at least 19 watercolours successfully capturing the unspoilt beauty of the Bermudian landscape, these he considered to be amongst his best work.
Paintings (in sequence left to right) are depicted by courtesy of; Worcester Art Museum, Philadelphia Museum of Art, Ellen Battell Stoeckel Trust, Hirschi & Adler Galleries Inc, and National Gallery of Art (Washington).
We are indebted to Helen Cooper of the American Art Department, Yale University Art Gallery for providing the information on Homer's life.
Inside back cover:
Bermuda Philatelic Bureau notification form.