Paintings of Winslow Homer (1836-1910)
Date: 30th April 1987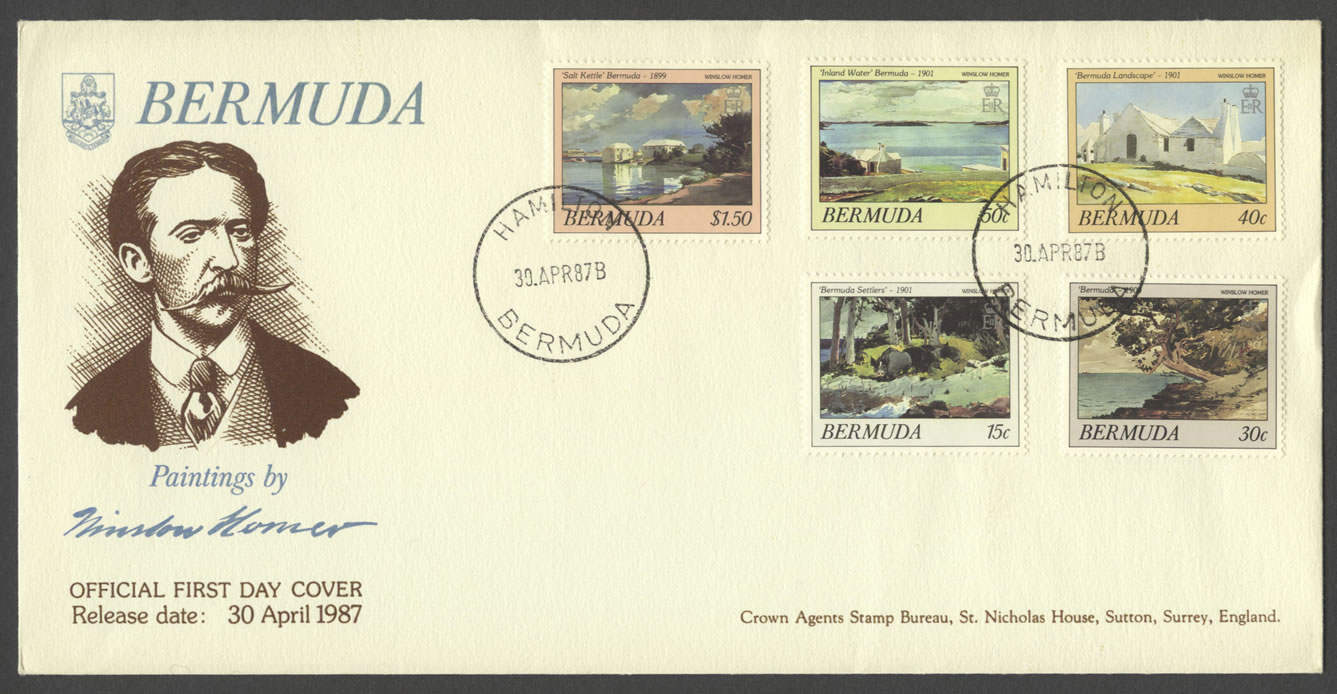 Type: Official First Day Cover
Cachet: BERMUDA Painting by Winslow Homer OFFICIAL FIRST DAY COVER Release date: 30 April 1987
Stamps: Bermuda Winslow Homer 15c 'Bermuda Settlers' – 1901; 30c 'Bermuda' – 1900; 40c 'Bermuda Landscape' – 1901; 50c 'Inland Water' Bermuda – 1901; $1.50 'Salt Kettle' Bermuda – 1899
Address: Crown Agents Stamp Bureau, St. Nicholas House, Sutton, England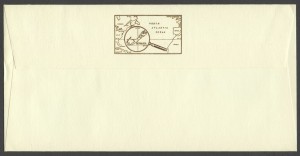 Liner
BERMUDA
WINSLOW HOMER (1836-1910)
15c: WORCESTER ART MUSEUM Worcester, Massachusetts
30c: PHILADELPHIA MUSEUM OF ART Philadelphia, Pennsylvania. Given by Dr & Mrs George Woodward
40c: ELLEN BATTELL STOECKEL TRUST Norfolk, Connecticut (Yale University)
50c: HIRSCHL & ADLER GALLERIES INC. New York
$1.50 NATIONAL GALLERY OF ART Washington. Gift of Ruth K Henschell in memory of her husband Charles R Henschell
Winslow Homer's watercolours, have, since the time of his death in 1910, been considered to be among the greatest achievements in American Art, unsurpassed for their directness, luminosity, and economy of means. During his lifetime, however, he was renowned mainly for his oils. Indeed no other living American artist of the period was represented by so many important oil paintings in pub1ic collections. The watercolours found a more private audience. Modest in size and fragile in nature, they were bought largely by collectors and connoisseurs, and rarely exhibited. Even today, when the majority of these works are now in museum collections, they are infrequently shown in order to preserve the colours from fading.
In watercolour as in no other place in his art, this reserved, intensely private man revealed a more poetic self. In watercolour, he experimented technically, explored new subjects, and most readily expressed his
interests in light, design, and colour. In fact, he created some of the most daring and adventurous watercolours ever seen in America. Homer's watercolour career spanned a period of more than thirty years. Whereas he worked on his oils over long months in his studio, in New York in the early years, and later in Prout's Neck, Maine, he created the watercolours primarily during working vacations in places he loved – the New England seaside, the Adirondacks, Quebec, the Bahamas, Florida and Bermuda. Despite the relatively short time he spent in these places – anywhere from one to several weeks, his output was prolific – more than 650 sheets are known. The easy portability of watercolour and its quick-drying character make it a natural medium for the travelling artist, stimulating a spontaneity of expression often lost in the heavier oils.
Although exposed to watercolour from his earliest youth, as his mother was a gifted amateur watercolourist, he did not take it up seriously until 1873 when he was thirty-seven years old, after having been a professional illustrator for more than fifteen years and an important painter in oils for a decade. His first watercolours were created at Gloucester, Massachusetts, and focused on the activities of the local children as they played along the wharves. From that time forward, he devoted part of each year to working in watercolour. Critics disparaged his early watercolours as raw and unfinished, but as the influence of French impressionism became more widely accepted in America, they came to appreciate the looseness and directness of Homer's style. Method and meaning were bound together, in response to places visited and seasons experienced.
It was Homer's custom to escape the severe Maine winter by spending several weeks in a warm climate. In the winter of 1899-1900 he visited Bermuda for the first time. At the time, Bermuda was still a relatively unfamiliar place to Americans, but its reputation as a desirable warm-weather resort was rapidly growing. Periodic reports in the press and such magazines as Harper's, Century Magazine, and Metropolitan described the pleasures of Bermuda's climate and the peace of mind attainable in a beautiful, largely unspoiled setting. After a voyage of less than three days, the journals promised, the visitor would have protection from what they called "the disturbances of modern life." Homer may have stayed at Mrs. Rebecca Swan's Country Boarding House, a tourist hotel at Scaur Hill, Somerset. Bermuda's special beauty apparently captivated the New Englander for he returned the following year. At least nineteen watercolours are known from these two visits. Using broad brushstrokes in shimmering layers of jewel-like colours, he focused on capturing the beauty of the landscape. Some watercolours, like Salt Kettle, Bermuda, focus on a specific site; others, like Bermuda Settlers (Homer's title), capture a sense of primeval innocence. The seemingly effortless execution of these watercolours disguises the deliberateness of his method and the extraordinary control he had over the liquid medium.
Homer considered the Bermuda watercolours to be "as good work … as I ever did." He kept a large number of them as well as some Nassau subjects in his studio until his death, resisting all offers to sell them individually. He hoped that they would be acquired as a group by some public institution to serve as a record of his achievement in the medium. Although he was widely celebrated as the most important American oil painter of his day, he himself had come to believe posterity would have a different view of his accomplishment. Near the end of his life he prophesied to a friend: "You will see, in the future I will live by my watercolours."
Helen Cooper
American Art Department
Yale University Art Gallery, New Haven, Connecticut, 1987
Technical Details
Designer: Leslie Curtis
Printer: Walsall Security Printers Ltd.
Printing process: Lithography
Number of stamps per sheet: 50 (2 x 25)
Stamp size: 30.56 x 38 mm horizontal
Values: 15c, 30c, 40c, 50c, $1.50
Paper: CA Spiral Watermarked
Release date: 30 April 1987