Concorde first flight from Bermuda to Orlando
Date: 17th October 1983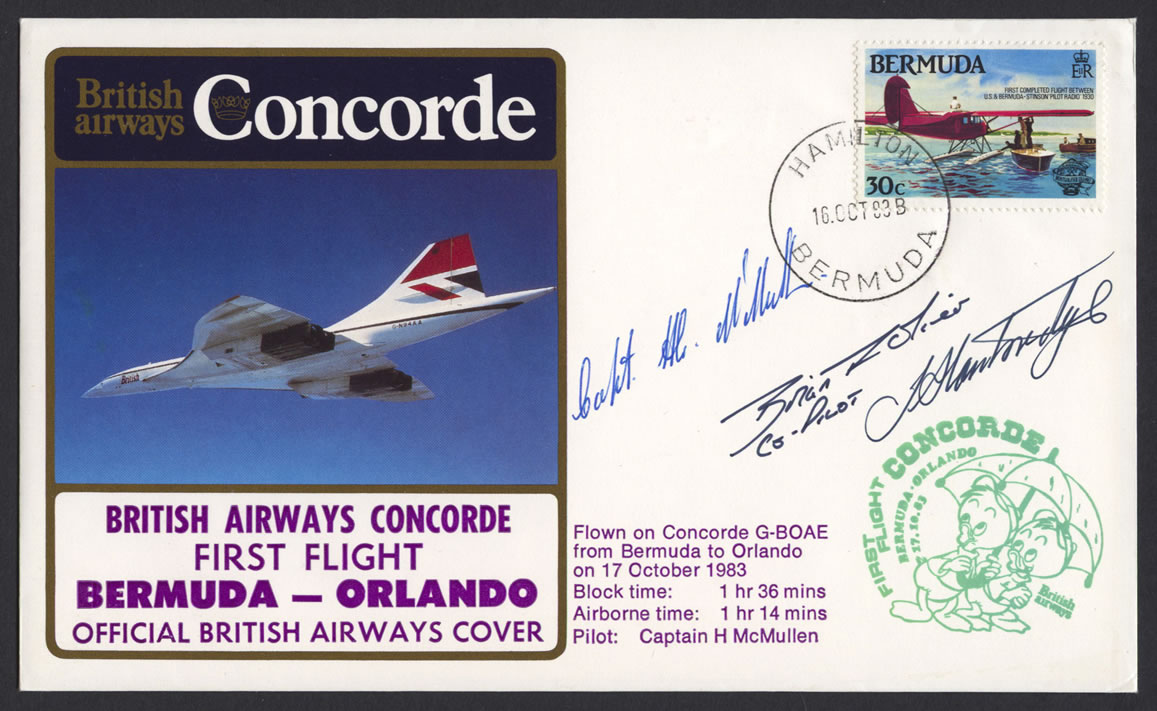 Type: Official British Airways Cover
CDS: 16.OCT83B HAMILTON BERMUDA
Backstamp: OCT 17 1983 ORLANDO, FL 328 / COVER NUMBER 32 OF 100 OFFICIALLY CREW SIGNED
Printed Cachet: British Airways Concorde BRITISH AIRWAYS CONCORDE FIRST FLIGHT BERMUDA – ORLANDO OFFICIAL BRITISH AIRWAYS COVER / Flown on Concorde G-BOAE from Bermuda to Orlando on 17 October 1983 Block time: 1hr 36mins Airborne time: 1hr 14mins Pilot: Captain H McMullen
Stamped Cachet: FIRST FLIGHT CONCORDE BERMUDA – ORLANDO 17.10.83 British airways featuring Huey and Dewey.
Stamps: BERMUDA 20c First completed flight between U.S. & Bermuda – Stinson 'Pilot Radio' 1930 / USA 20c Explorer II 1935
Signed: Captain H McMullen, SFO B R Oliver and SEO J Stanbridge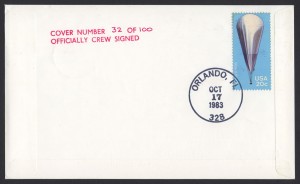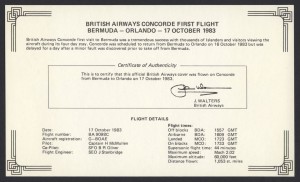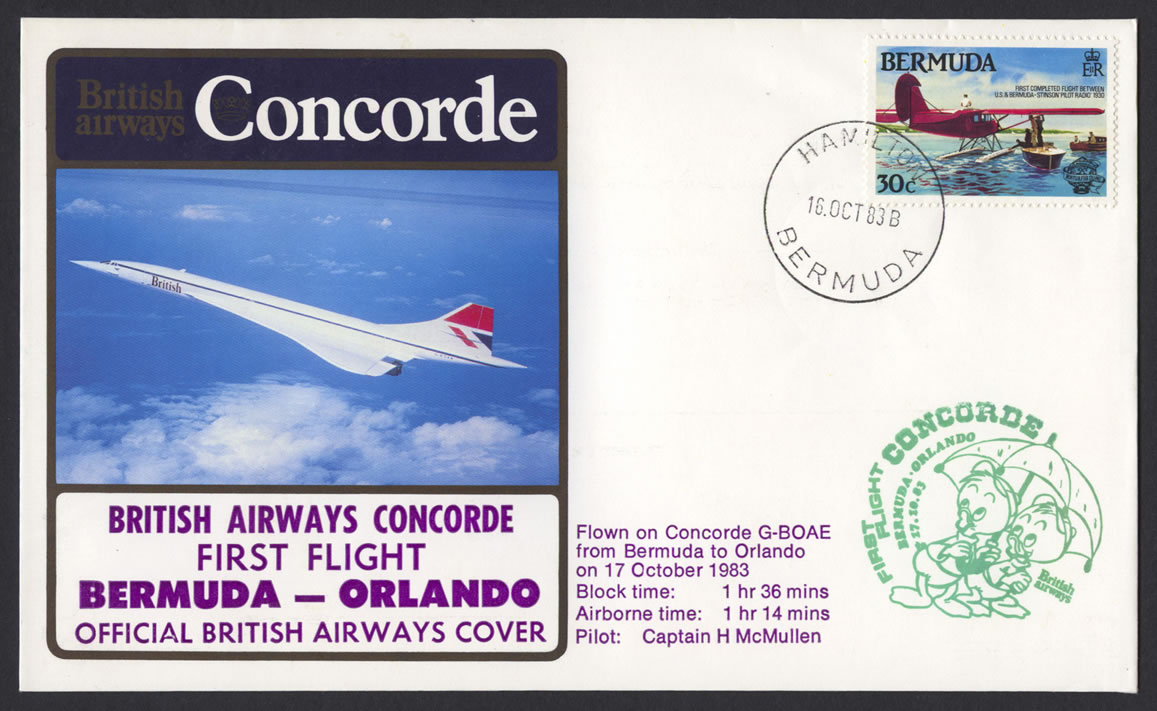 Type: Official British Airways Cover
CDS: 16.OCT83B HAMILTON BERMUDA
Backstamp: OCT 17 1983 ORLANDO, FL 328
Printed Cachet: British Airways Concorde BRITISH AIRWAYS CONCORDE FIRST FLIGHT BERMUDA – ORLANDO OFFICIAL BRITISH AIRWAYS COVER / Flown on Concorde G-BOAE from Bermuda to Orlando on 17 October 1983 Block time: 1hr 36mins Airborne time: 1hr 14mins Pilot: Captain H McMullen
Stamped Cachet: FIRST FLIGHT CONCORDE BERMUDA – ORLANDO 17.10.83 British airways featuring Huey and Dewey.
Stamps: BERMUDA 30c First completed flight between U.S. & Bermuda – Stinson 'Pilot Radio' 1930 / USA 30c Hot air ballooning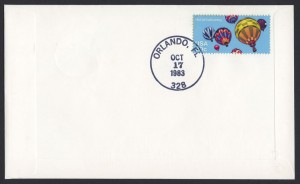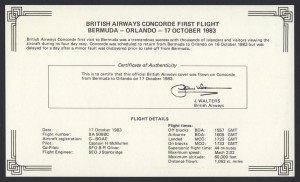 BRITISH AIRWAYS CONCORDE FIRST FLIGHT BERMUDA – ORLANDO – 17 OCTOBER 1983
British Airways Concorde first visit to Bermuda was a tremendous success with thousands of Islanders and visitors viewing the aircraft during its four day stay. Concorde was scheduled to return from Bermuda to Orlando on 16 October 1983 but was delayed for a day after a minor fault was discovered prior to take off from Bermuda.
Certificate of Authenticity
This is to certify that this official British Airways cover was flown on Concorde from Bermuda to Orlando on 17 October 1983.
J. WALTERS
British Airways
FLIGHT DETAILS
Date: 17 October 1983
Flight number: BA 9098C
Aircraft registration: G-BOAE
Pilot: Captain H McMullen
Co-Pilot: SFO B R Oliver
Flight Engineer: SEO J Stanbridge
Flight times:
Off blocks BOA: 1557 GMT
Airborne BOA: 1609 GMT
Landed MCO: 1723 GMT
On blocks MCO: 1733 GMT
Supersonic flight time: 44 minutes
Maximum speed: Mach 2.02
Maximum altitude: 60,000 feet
Distance flown: 1,053 st. miles