Bermuda's historic forts commemoratives
Date: 18th November 1982
Stamps: 10c Charles forte; 25c Pembroks forte; 30c Southampton forte and $1 Smiths forte and Pagets forte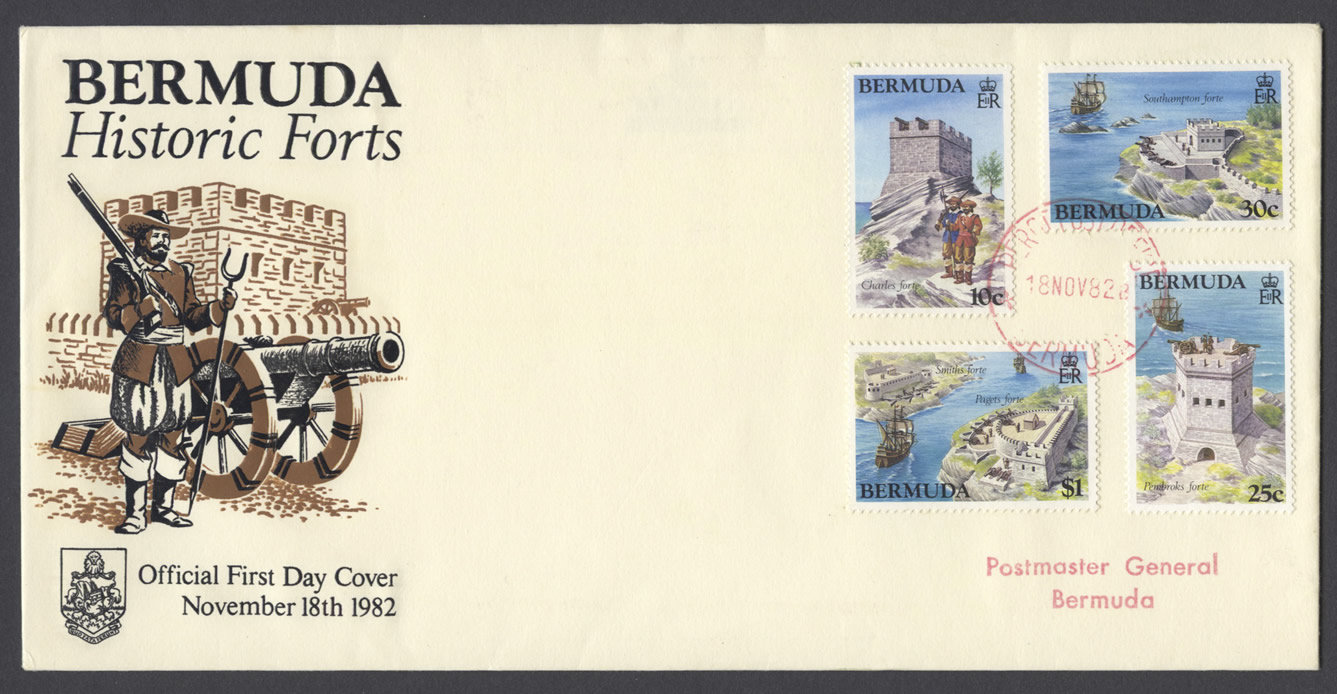 Type: Official First Day Cover
CDS: 18NOV82B PEROT POST OFFICE BERMUDA
Cachet: BERMUDA Historic Forts. Official First Day Cover. November 18th 1982 Reverse – Bermuda map with magnifying glass (reverse)
Address: Postmaster General Bermuda
BERMUDA
BERMUDA'S HISTORIC FORTS
The remains of fortifications all around the islands reflect Bermuda's part in world events ever since this uninhabited archipelago was settled by the English. GOVERNOR RICHARD MOORE – a carpenter and an excellent artist· began to build and to lay the foundations of several forts immediately upon his arrival in 1612.
History has recorded that in 1613 two Spanish vessels, anxious to learn more about these fortifications, made an attempt to enter Castle Roads – the gateway into Castle Harbour. From KINGS CASTLE – said to be Moore's most detailed and intricate fortification – two shots (out of total stock of three) were fired. That discharge was sufficient to discourage the threatening Spaniards for they quickly veered away and made for the open sea.
Bermuda's fortifications, fortunately, have tended to be more tokens of defense as they were at no time called into action.
TECHNICAL DETAILS
Designer: LesIie Curtis
Printer: The House of Questa
Printing Process: Lithography
Set: 50 (2 x 25)
Stamp Size: 28.45 x 42.58mm
Perforation Size: 14.5 per 2cm
Values: 10c, 25c – Vertical 30c, 1 Dollar – Horizontal
Paper: CA Spiral Watermarked
Release Date: 18 November 1982
10 cents Charles Forte
Built on an impressive promontory on Charles Island in 1614, this fort was unique in that it survived almost unaltered in design well into the twentieth century. It thus was deemed to be the oldest surviving English fort in the New World. Charles Forte survived principally, because it was militarily insignificant. It was in fact a mere out work of the King's Castle complex. It had "two peeces of ordinance" and was positioned to extend the King's Castle field of fire beyond Castle Roads and to provide covering fire for both the Castle's blind spot, close in along the northeast cliffs and the landing on the south side of Castle Island. This landing was used by ships' boats to present their papers before leaving Castle Harbour.
25 cents Pembroks Forte
Pembroks Forte was erected around 1613 on Cooper Island and with its "two peeces" (guns) controlled the eastern access route to the Castle Harbour. By supervising the construction of this installation (and others), Governor Moore had provided the necessary defense of the spoicious anchorage for naval craft in Castle Harbour.
Pembroke Forte was blown down in 1629 "by the great gust" and its reconstruction authorised the following year. It was however in 1672 that a committee was set up and instructed to view the fort and "decide whether the great gun should remain there or not' '.
Much later on in 1895, an unsuccessful attempt was made to re-establish activity on the island.
30 cents Southampton Forte
The construction was begun in 1620 on a relatively small island of the identical name overlooking the eastern side of Castle Roads. Three small bulwarks were raised at the fort in 1621 with "two curtains and two rauilings" which was later described as "indeed the onely true absolute peece offortification in the Isles ".
Much later, Southampton Forte was rebuilt and named Brangman's Fort – a stone structural outline of which remains even today.
$1 Smiths Forte/Pagets Forte
Smiths Forte (or Battery) was positioned on the north-eastern extremity of Smiths Island and dominated the southern side of the principal extrance to the St. George channel. Along with Pagets Forte, it guarded the channel and the "Old towne of St. George – a half a league within the harbour".
Pagets Forte was constructed on the south easterly end of the island of the same name and was so positioned in order to protect the northern side of the ship channel. Its construction was initially criticised because of the real threat to the cahow bird,
It is interesting to note that Pagets Forte has a history of being a "dismal and lonely spot" especially after working hours· so to speak. It is known, for example, that there was a high incidence of self-inflicted injury among the men which often led to death. There was simply nothing to do. The loneliness engendered depression which in 1889 saw an entire detachment desert the island en masse and make its way to Boston.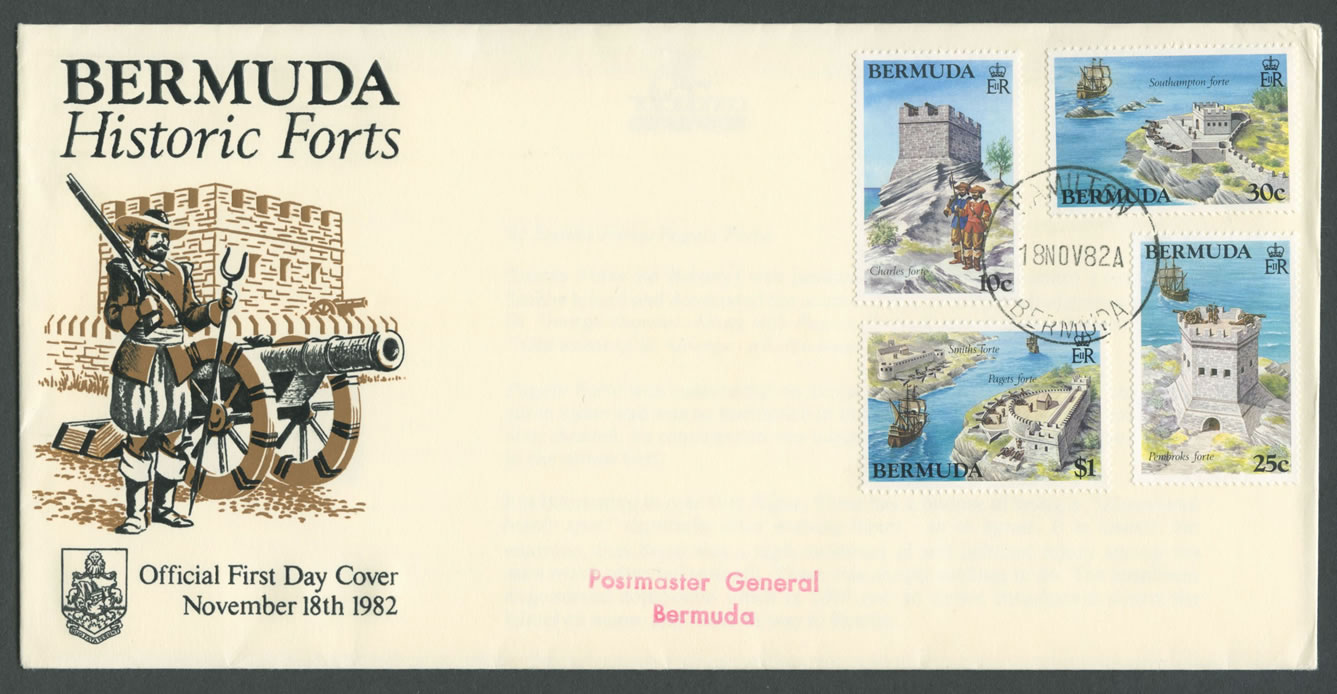 CDS: 18NOV82A HAMILTON BERMUDA
Cachet: Postmaster General Bermuda