Shells definitive stamps
Date: 13th May 1982
Stamps: 10c Conus species; 25c Bursa finlayi; 30c Sconsia striata and $1 Murex pterynotus lightbourni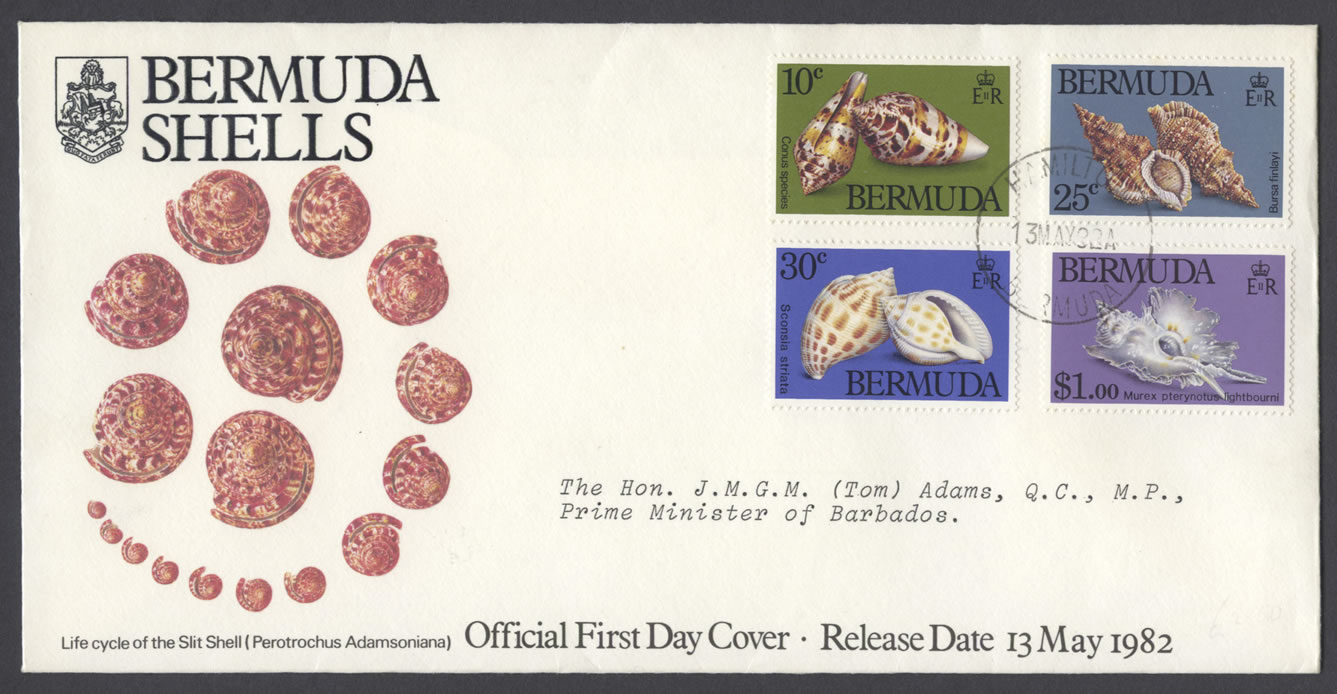 Type: Official First Day Cover
CDS: 13MAY82A HAMILTON BERMUDA
Cachet: BERMUDA SHELLS Life cycle of the Slit Shell (Perotrochus Adamsoniana) Official First Day Cover – Release Date 13 May 1982
Address: The Hon. J.M.G.M. (Tom) Adams, Q.C., M.P., Prime Minister of Barbados.
BERMUDA SHELLS
The First Day Cover depicts the growth series of Perotrochus adamsonianus. The photograph from which this is based was taken four years ago when the shells were exhibited at the Sanibel Island Shell Show where it won first prize. Because these shells are only found in deep water they are very rare, the range being the Gulf of Mexico, Caribbean and Bermuda. It is believed that the growth series is the only one of its kind in the world. The group in question was recovered during the period 1972/1981 and involved 387 individual pot hauls to obtain them. The depths range between 90 fathoms and 250 fathoms.
ACKNOWLEDGEMENTS
Mr. J. R. H. Lightbourn
Mr. Arthur Guest
The Bermuda News Bureau
TECHNICAL DETAILS
Designer: W.S.P. Studios
Printer: The House of Questa
Printing Process: Lithography
Number of Stamps per sheet: 50 (2 x 25)
Stamp Size: 28.45 x 42.58
Watermark: CA Spiral
Perforation Gauge: 14.5 per 2cm
Release Date: 13th May, 1982
Conus species:
This shell was first discovered in 1974 and was at first thought to be a form of Conus juliae. However, this is now disputed and the shell is considered to be new to science and is presently being investigated prior to naming. A total of five specimens have been recovered from the South Shore, Bermuda, in depths ranging between 180 and 200 fathoms.
Bursa finlayi:
This shell is an unknown species found only in deep water, averaging 70 to 125 fathoms. Most specimens recovered so far were confined to South East Florida and Cuba. 14 specimens have, however, been brought up from an average depth of 160 fathoms off the South Shore, Bermuda, the first of which was recovered in 1973 and is believed to be the first of its type discovered in these islands.
Sconsia striata:
This is another deep water species brought up in a fish trap off the South Shore Bermuda from 160 fathoms. It is a rare shell, its range being the Gulf of Mexico, Caribbean and Bermuda. It is much sought after by collectors and is unquestionably the outstanding form of the Sconsia family. A few specimens have been found in Bermuda from time to time, mainly in fish pots but never in any great number.
Murex pterynotus lightboumi:
The genus Pterynotus is one of the oldest lineages and the specimen depicted here is the first of its type to be found in Bermuda waters following its recovery in a fish trap set in 180 fathoms of water off Gumet Rock, South Shore. Bermuda. As a shell new to science it was named after J. R. H. Lightbourn in 1979 and is housed in the Delaware Museum of Natural History, Greenville, Delaware. Only three other specimens have since been found (all in Bermuda waters) and are, therefore, the only four known specimens in the world today.
None of the shells were retrieved with their natural animals inside them as all were inhabited by hermit crabs which were attracted to the meat and fish with which the pots were baited. All the shells were recovered in deep waters about one and a half miles from shore off Gumet Rock, South Shore, Bermuda, in depths of water ranging between 90 and 250 fathoms.
Tom Adams
This cover is addressed to Prime Minister of Barbados Tom Adams, a stamp collector, who on March 11th, 1985 died at his official residence, Ilaro Court. Records show that Adams died while viewing his extensive stamp collection in his study when he collapsed of a heart attack at only 53 years old.