Commemorating the heritage of Bermuda
Date: 21st May 1981
Stamps: BERMUDA HERITAGE 8c KITCHEN (18th century); 25c GATHERING EASTER LILLIES (20th century); 30c FISHING (20th century); 40c STONE CUTTING (19th century); 50c ONION SHIPPING (19th century); $1 PRIVATEERING (17th century)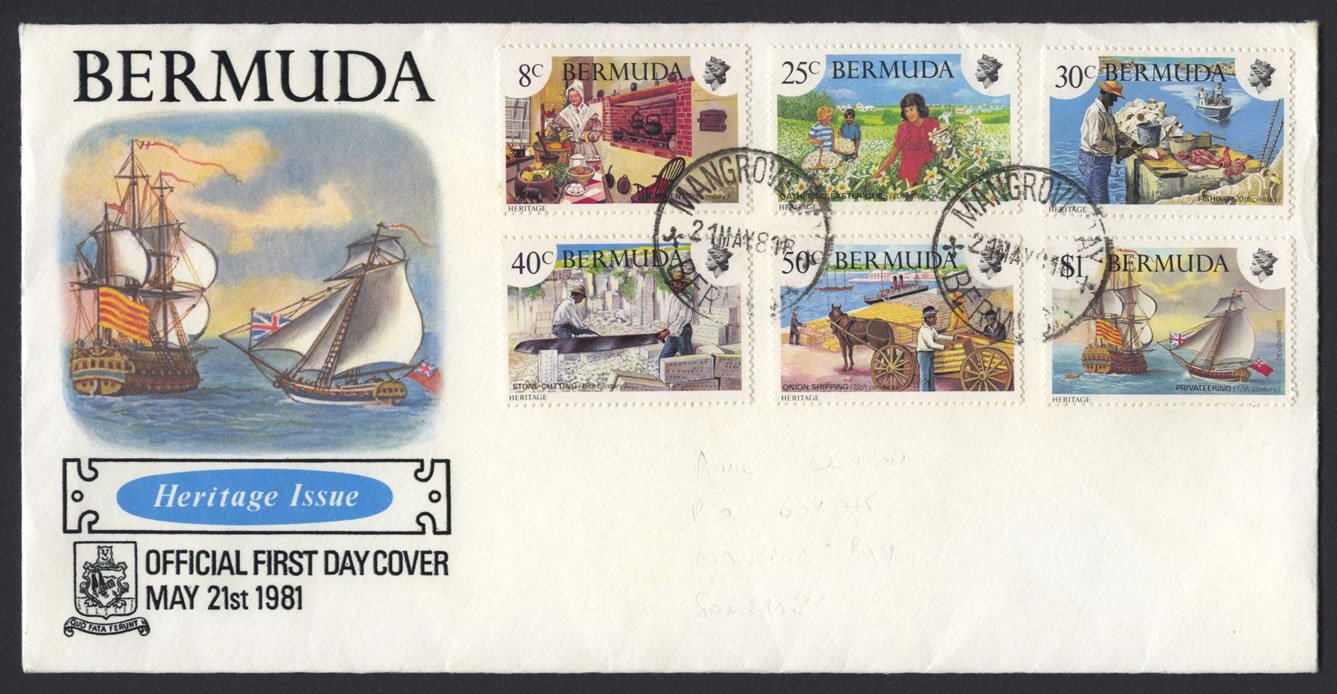 Type: Official First Day Cover
Cachet: BERMUDA Heritage Issue OFFICIAL FIRST DAY COVER MAY 21st 1981/ Reverse: REMEMBER BERMUDA'S ROOTS
CDS: 21MAY81B MANGROVE BAY BERMUDA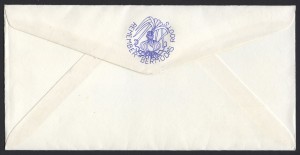 Bermuda Heritage Stamp Issue
Acknowledgement is made to Sir Bayard and Lady Dill. and Mrs. Wingate for their assistance in producing material for this stamp issue.
For the first two centuries of the Bermuda Colony, it was one of the poorest outposts of the British Empire with a population that had reached 5,500 whites and 5,000 slaves by the time of the American Revolution. Any enterprising young man had to leave the Island and seek his fortune elsewhere. As a result, Bermuda's thoughts and livelihood were on the sea. A third of her able men were always afloat and most of those at home were engaged in some maritime business, especially shipbuilding.
The Bermudian sloop of about 100 tons was well known for speed and versatility and was sought after by friend and foe alike. These sloops were very useful for trading, and in time of war saw much service as privateers wearing British, French and other flags. By the end of the 18th century about a hundred vessels were being launched a year. The coming of steam and a shortage of cedar brought an end to shipbuilding by mid-19th century.
Agriculture was not success in Bermuda until Governor William Reid brought a couple of professional farmers to the island 1839 to teach the locals how to improve their land and cultivate fruits and vegetables. Soon oranges and lemons were growing everywhere and onions grown from Madeira seed became a major export. Easter Lily bulbs were brought to Bermuda from Japan in 1853 and found the local climate to their liking. Soon they became so prolific that the bulbs were harvested and shipped to the United States for growing indoors. Early in this century it was found that the Easter Lily Buds could shipped to New York and many thousands were taken each year by steamer for decoration Easter time.
Lacking any other building material, built their homes of local limestone, cut in many cases from a quarry on the same property. The same stone was also burned in kilns to make quicklime to be used in the mortar to hold the stone blocks together. In recent years the availability of good building stone has decreased to the point where such stone is reserved for the roof slates while the houses are built of manufactured cement blocks.
Similarly for the kitchen, there was no local foundry making stoves, so the cooking fireplace, lined with imported bricks, took the place of an expensive foreign stove in most homes. These fireplaces were constructed at a convenient working height above the floor and had various swivelling hangers to allow pots to be hung over the fire and swung out when the food was ready for serving.
It is only in recent generations that Bermudians have been able to indulge themselves in luxuries; their heritage was a simple life.
Technical Details
Designer: John Waddington Studio
Printer: House of Questa
Process: Lithography
No. of stamps per sheet: 50 (2 X 25)
Stamp size: 28.45 X 42.58 mm.
Paper: Slater's Processed
Watermark: C.A. Spiral
Values: 8c, 25c, 30c, 40c, 50c, $1
Perforation gauge: 14.5 per 2 cm
Release date: 21st May, 1981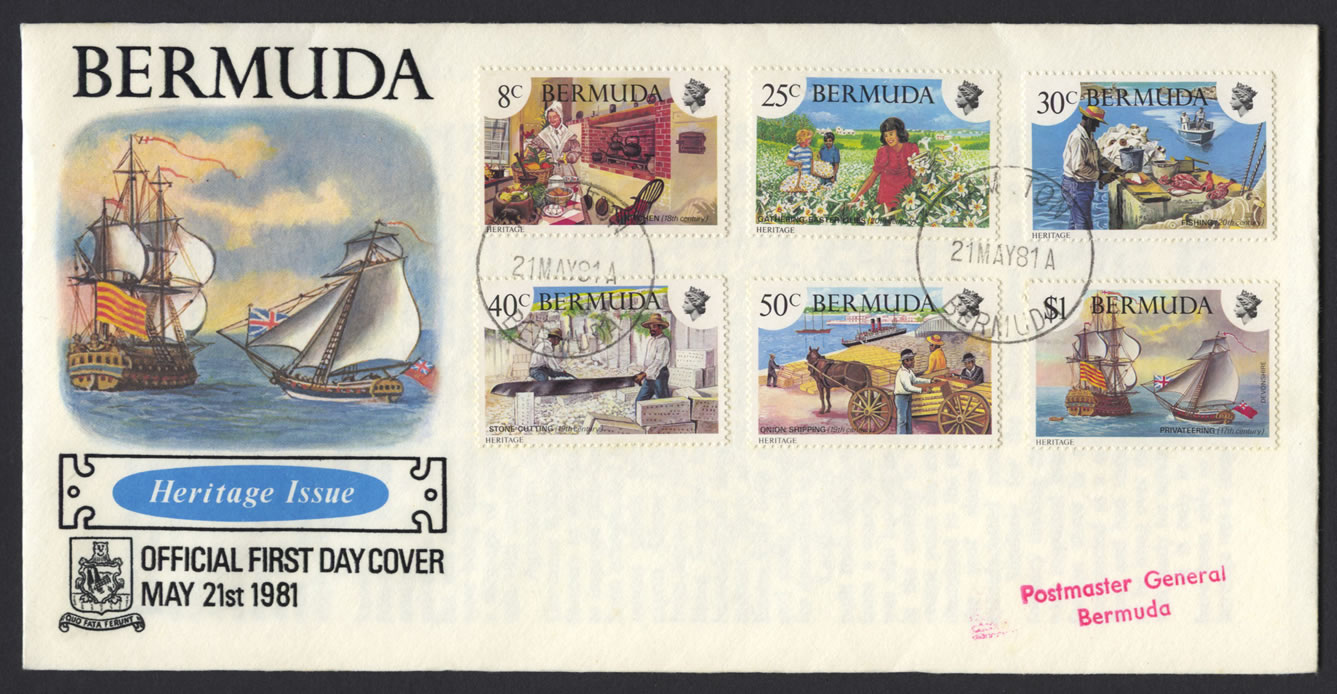 CDS: 21MAY81A HAMILTON BERMUDA