Commemorating Miss Bermuda's Miss World win
Gina Swainson was the official representative of Bermuda to the 1979 Miss World pageant held at the Albert Hall in London on November 15, 1979, she captured the crown of Miss World. Upon her return to Bermuda, there was a parade in Gina's honour and she was depicted on these postage stamps.
Date: 8th May 1980
Stamps: Miss World 1979-80 Gina Swainson 8c Portrait with Bermuda Coat of Arms; 20c After Crowning Ceremony with Pendant; 50c Welcome Home parade; $1 Miss World in a Bermuda Carriage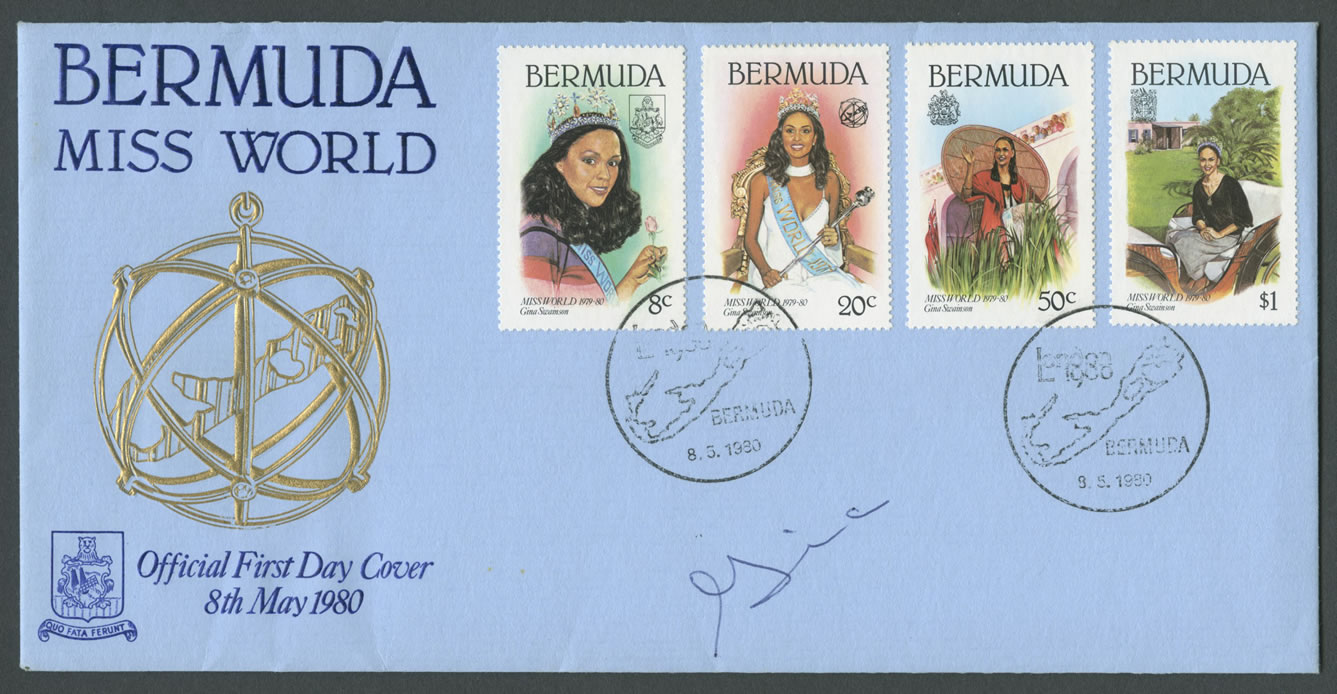 Type: Official First Day Cover
CDS: London 1980 BERMUDA 8.5.1980
Cachet: BERMUDA MISS WORLD Official First Day Cover 8th May 1980
Notes: Autographed by Gina Swainson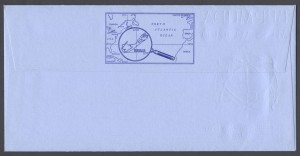 Liner
BERMUDA COMMEMORATIVE STAMPS ISSUE
"MISS WORLD" GINA SWAINSON OF THE BERMUDA ISLANDS
Release date: 8th May, 1980
As a girl of 12, Gina Swainson was quietly called a tomboy but as a woman of 21, she was loudly hailed as Miss World. It was a magnificent seed-to-blossom change, one that resulted in a Bermuda woman, for the first time ever, winning an international beauty title.
As a result of her achievement, Gina Swainson on May 8, 1980 became the first Bermudian ever to appear on a Bermuda postage stamp since the first was officially issued in 1865.
In fact, the four-stamp set commemorating her winning the Miss World Crown marks the first time a living person other than a member of England's Royal Family has appeared on a Bermuda stamp.
For Miss World, the magic moment occurred in London's Royal Albert Hall the night of November 15, 1979, when she was selected from among 70 international contestants. The moment climaxed a remarkable, if brief, beauty contest career that began eight months earlier in March when she was selected Miss St. George's representing the East-end town where she was born September 25, 1958. It seemed only fitting that Bermuda's most famous contemporary citizen should come from St. George's, being the embryo of Bermudian culture and Bermuda's historical gem, and having been the site of settlement in 1612 and later the first Capital.
One month after her St. George's title, Miss Swainson was selected Miss Bermuda, earning a trip to Australia to compete that July in the Miss Universe contest. She finished first runner-up, which did not surprise anyone back home when they heard the news.
From that point on, the rest is history and when Miss Swainson returned home on December 10, 1979 from London, she found that the Bermuda Government had proclaimed "Gina Swainson Day". She was met at the airport by the Premier and then taken to meet the Mayor of St. George's who made her an "Honorary Freeman for Life", the highest honour the town can bestow on one of its citizens.
She then was escorted to the Capital City of Hamilton where she was borne through the streets to the delight of the thousands who lined the parade route. Her achievement sparked such admiration that three Calypso songs were written by local musicians. Bermudians now affectionately refer to her as "Our Gina".
The youngest of four children – three girls and one boy – born to Winnie and Eddie Swainson, Gina received her early education in Bermuda, graduated from High School in Canada and attended University in the United States of America.
A brown-eyed, raven-haired beauty, Miss Swainson is 5 feet, 10 inches tall and weighs 112 pounds with measurements of 36-24-36. Bermuda is justifiably proud of their "Miss World", Gina Swainson.
8 CENT STAMP
A three-quarter facial portrait of Miss Gina Swainson – wearing the "Miss World" Crown, London, England. The Bermuda "Coat of Arms" is appropriately featured in miniature.
20 CENT STAMP
Miss Swainson, after the crowning ceremony, "Miss World 1979-80" at the "Royal Albert Hall", London, England. Featured symbolically is a replica of a pendant, executed in Gold and studded with small Diamond at the intersection of the criss-cross rings or circles that form and suggest the 'Globe', a golden replica of the outline of the "Bermuda Islands" is suspended within.
It was presented to Miss Swainson by the "Bermuda Chamber of Commerce", and designed and made in the workshop of a long established Bermuda jewellery firm.
50 CENT STAMP
This particular stamp portrays the jubilant occasion of Miss Swainson on her "Peacock Throne" riding atop a float especially made for the 'Welcome Home' parade honouring her return to Bermuda on the 10th December, 1979. Featured appropriately is the "Bermuda Red Ensign" and in miniature the "Coat of Arms" of the "City of Hamilton".
$1 STAMP
Miss Swainson wearing the "Miss World Crown" and the 'Pendant', seated informally in a "Bermuda Carriage" in a typical garden setting, where a small "Bermuda Cottate" can be seen in the background, amid lush sub-tropical foliage.
The "Coat of Arms" of the "Towne of S1. George" is appropriately featured in miniature.
Bermuda Philatelic Bureau, General Post Office, Hamilton 5-24, Bermuda
TECHNICAL DETAILS
Designers: W.S.P. Studios, England
Printer: "House of Questa", Security Printers, England
Process: Lithography
Stamp Size: 31.75 x 48.26mm
No. of Stamps per sheet: 50 set in 2 panes of 25
Paper: CA Spiral Watermark
F.D.C Printed by: B.C Deere, Cardiff, Wales
Withdrawal date: 30th May, 1981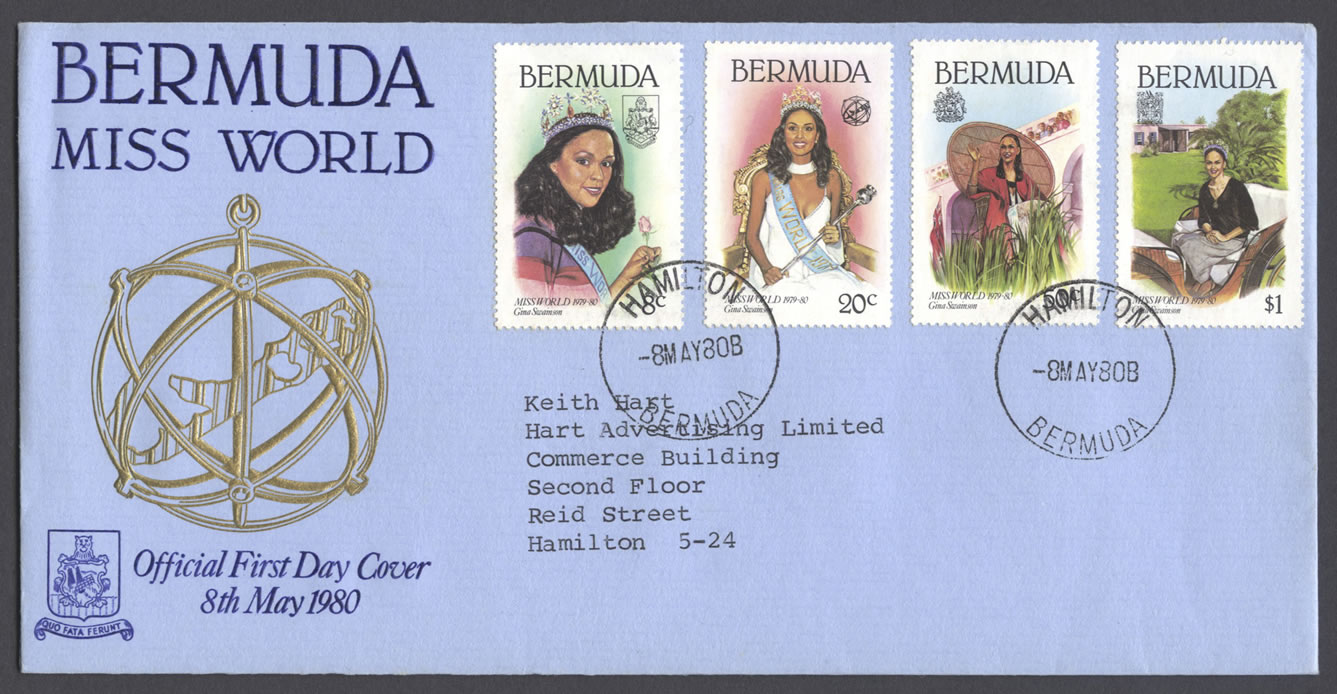 Type: Official First Day Cover
CDS:  -8MAY80B HAMILTON BERMUDA
Cachet: BERMUDA MISS WORLD Official First Day Cover 8th May 1980
Address: Reid Street, Hamilton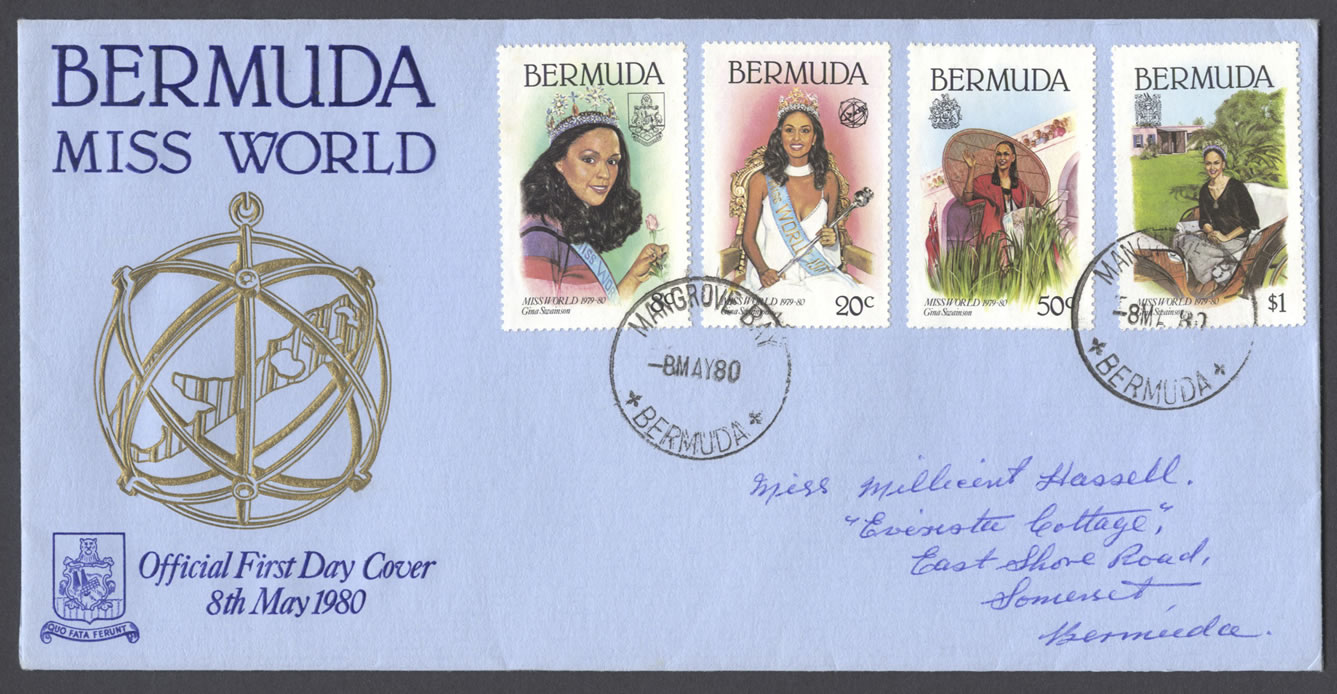 Type: Official First Day Cover
CDS:  -8MAY80 MANGROVE BAY BERMUDA
Cachet: BERMUDA MISS WORLD Official First Day Cover 8th May 1980
Address: Miss Millicent Hasell, Everestee??? Cottage, East Shore Road, Somerset, Bermuda
Video