One hundred years of the Bermuda Police
Type: Official First Day Cover
Date: 26th November 1979
Cachet: BERMUDA POLICE SERVICE CENTENARY / OFFICIAL FIRST DAY COVER / Release date: 26th November 1979
Stamps: POLICE CENTENARY 1879-1979 8c male and female police officers; 20c police office in Birdcage; 25c Police launch "Blue Heron" and 50c Police car and motorcycle.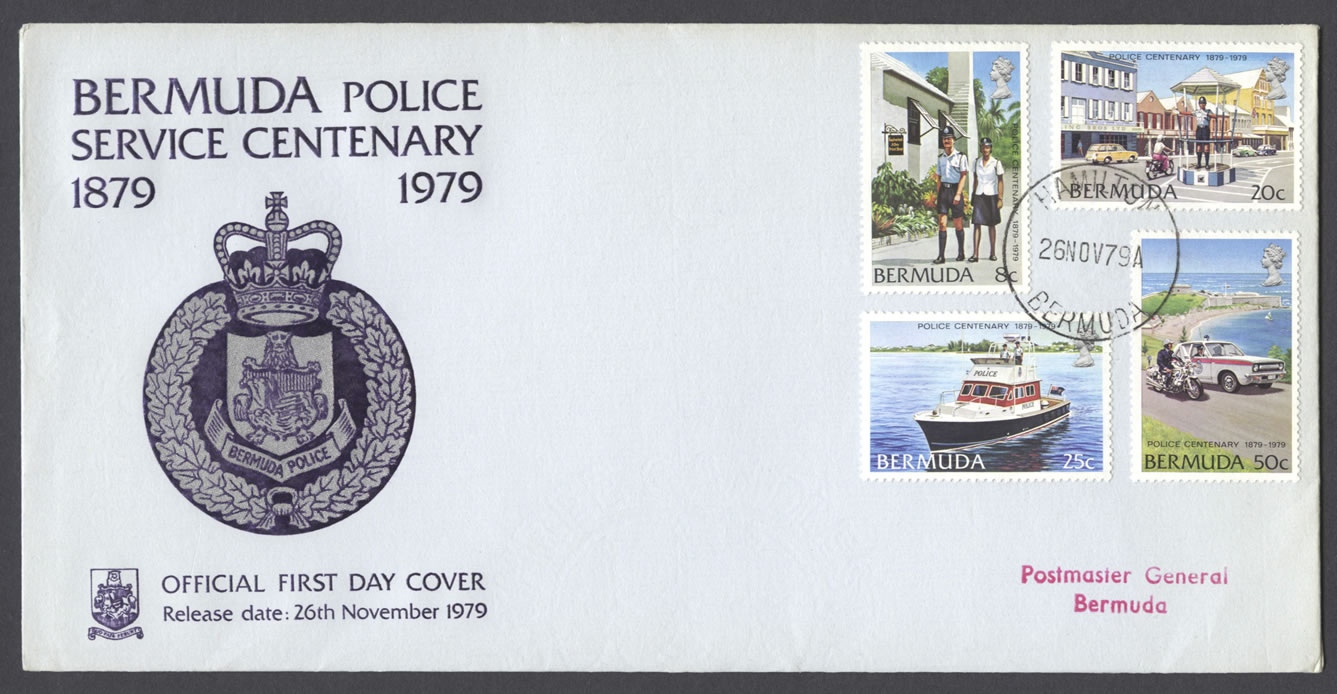 CDS: 26NOV79A HAMILTON BERMUDA
Address: Postmaster General Bermuda
Liner
Bermuda Commemorative Stamps Issue
Bermuda Police Centenary 1879-1979
By E.A. Burton, Esq. Bermuda
Policing in Bermuda may be traced to the very earliest settlers and particularly to the year 1624 when Governor Woodhouse provided the Constable's Oath of Office. In those days every able-bodied man was obliged to serve for one year as a Constable without pay – in addition to his normal occupation. His duties were. well defined; for example: "You do your best endeavours that hue and cry be duly pursued and that the Statutes made for the punishment of rogues, vagabonds, night walkers, and such other idle persons coming within your bounds or limits be duly put in execution".
With the Church playing a dominant role in everyday life, Constables were ably supported by Church Wardens, who held similar powers, and by the 'Bailiffs of the Tribes'. This system of policing continued for almost two hundred years with little alteration. In 1793, for instance, a Bill was introduced in Parliament "For the better Regulation of Vestries, Constables and Churchwardens," etc, but it is doubtful if any improvement was achieved.
The Bermuda Police Service can be truly said to have evolved from 1879 with the implementation of an 'Act to increase the efficiency of the Police Force' passed through Parliament in August of that year, and which came into operation on October 1st. Section 4 of the Act read, in part, "The Police Constabulary of these Islands shall consist of one Superintendent, one Chief Police Constable and eight Police Constables". The Superintendent and three Constables were stationed at Hamilton, the Chief Constable and three Constables at St. George and two Constables at Sandys. All were answerable to a Police Magistrate appointed to each district.
As a British Colony, Bermuda is unique in having followed faithfully the system of policing that has proved so successful in the United Kingdom since the formation of the Metropolitan Police Force by Sir Robert Peel in 1829. This has resulted in a modern and efficient Police Service of four hundred men and women respected by residents and visitors alike.
8 cent stamp
"A Policewoman and Police Constable" on beat patrol in "Featherbed Alley", a typical old street scene in the 'charming, 17th Century, Colonial Town of St. George'.
The houses are soft in line with age and the old walls, unlike the smooth walls of newer buildings, are uneven in surface, having been lime-washed over the centuries.
20 cent stamp
"A Police Constable" directing traffic at "Heyls Corner", Front Street, Hamilton, in what is affectionately known as "The Birdcage". Hundreds of thousands of photographs have been taken of this popular scene.
25 cent stamp
The Bermuda Marine Police Boat "BLUE HERON" in St. George's Harbour, serves the waters around the Islands of Bermuda for rescue, emergencies, protection of property and enforcement of Fisheries regulations and environmental control.
In May 1978, the Police Service took into use the new 36 feet patrol launch with a capability of patrolling outside the reefs area and carrying out search and rescue missions.
Named after her predecessor, the craft is fitted to sleep six and normally operates with a three-man crew. In addition to general duty equipment, the craft is fitted with a pump (capacity 80 gallons per minute) for use in firefighting and spraying chemicals to disperse oil slicks.
The "BLUE HERON" is made of fibre glass and is powered by twin 453 horsepower diesel engines giving a 10 knot cruising speed and 14 knots at sea. Equipment includes side single band and VHF Marine and VHF Police radios, a twelve mile radius radar and an SOS system which automatically transmits position in event of emergency over a universally monitored radio frequency. Other items carried include 12-man rescue liferafts, life jackets, strobe-lighted buoys and other lifesaving equipment.
"BLUE HERON" is moored at the Eastern end of the Island to permit rapid access to deep water and the area along the South Shore.
50 cent stamp
A Police Motorcyclist, and a Patrol Car – the scene from a hill overlooking the North Shore of St. George, with St. Catherine's Beach and Fort St. Catherine and the sea-horizon in' the background.
This view, to say the least, is truly spectacular and the area hereabouts is steeped in history.
Not far from this vicinity, slightly to the east, the survivors or castaways from the wreck of the "Sea Venture" landed in Bermuda on Friday, 29th July 1609, on an epic and fateful voyage from Plymouth, England, bound for Jamestown, Virginia.
As a result of the wreck of the "Sea Venture", the Bermuda Islands were colonized and settled by the English in the year 1612.
Bermuda Philatelic Bureau, General Post Office, Hamilton 5-24
Technical details
Designer: Leslie D. Curtis, Surrey, England
Printer: "House of Questa", London, England
Process: Lithography
Release date: 26th November 1979
Withdrawal date: 30th November 1980
No. of stamps per sheet: 50 (2 panes of 25)
Size of stamp: 28.45 mm x 42.58 mm
Paper: C.A. watermark
F.D.C. printed by: B.C. Deere . Cardiff, Wales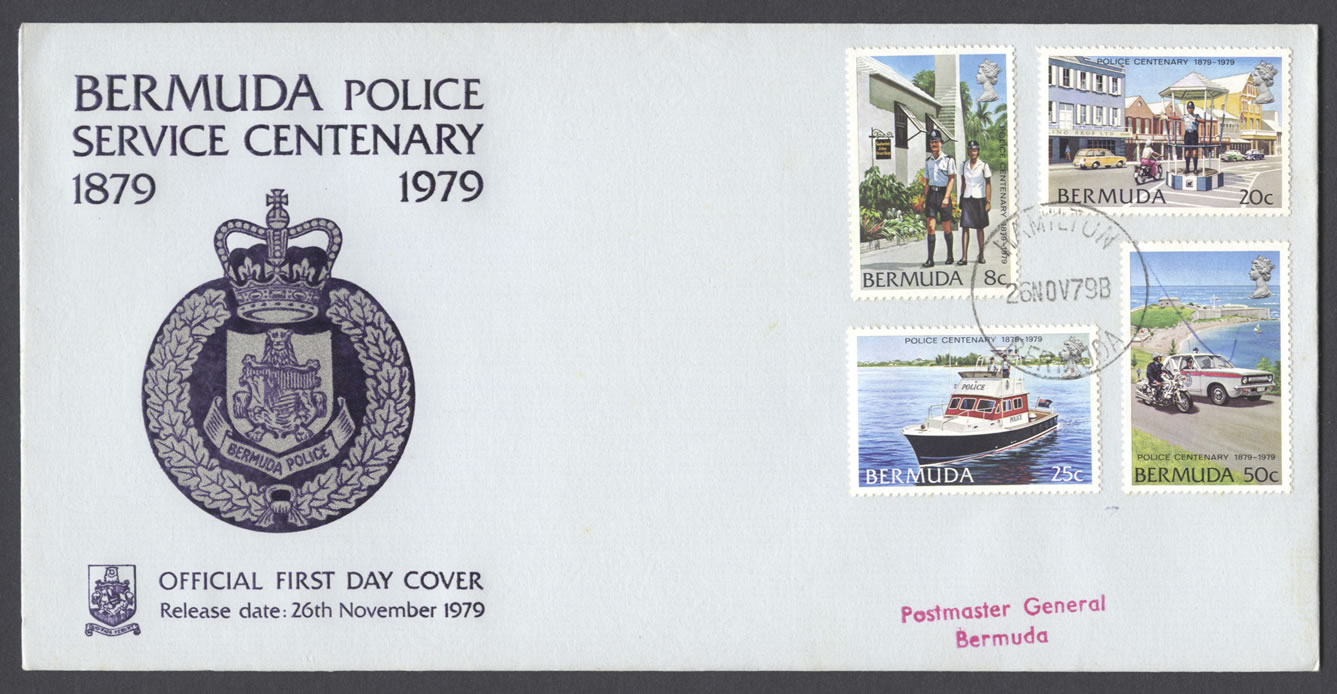 CDS: 26NOV79B HAMILTON BERMUDA
Address: Postmaster General Bermuda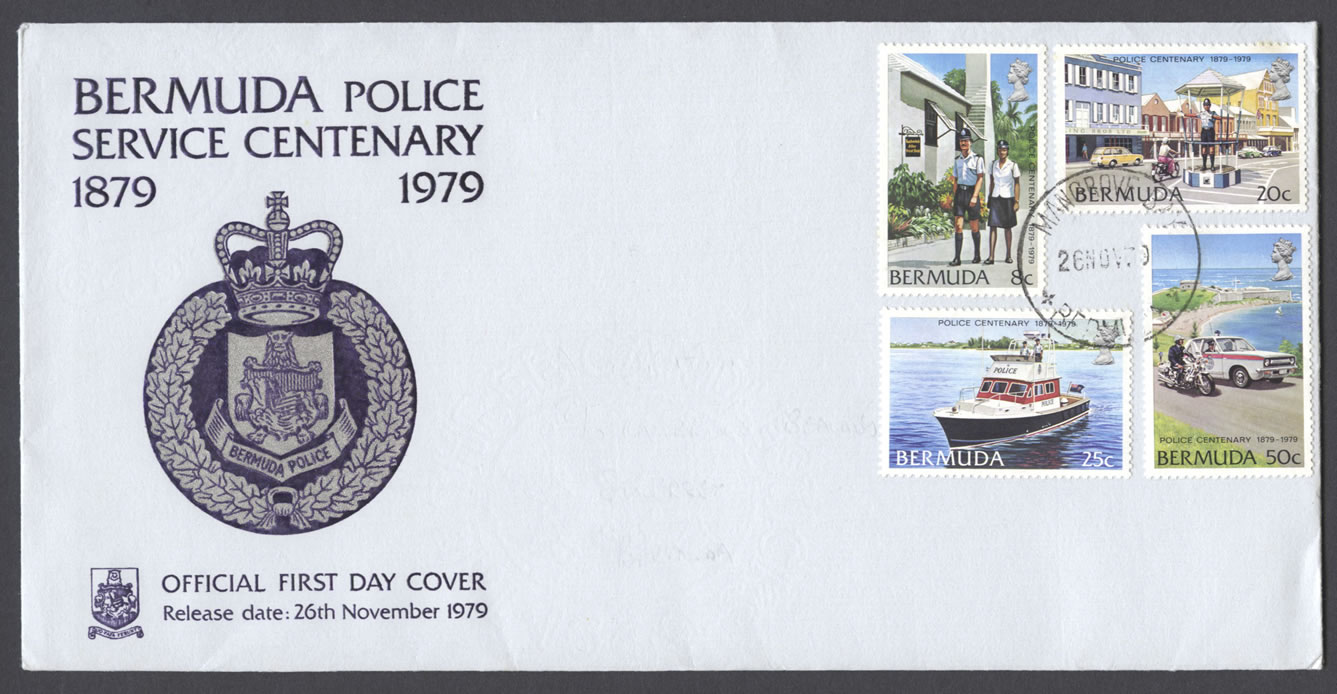 CDS: 26NOV79 MANGROVE BAY BERMUDA