Commemorating the Antique Maps of Bermuda
Date: 14th May 1979
Stamps: 8c Map by George SOMERS 1609, 15c Maps John SELLER 1685; 20c Map by H. Moli, 1729-1740; 25c Map by Desbruslins 1740 and 50c Map by Speed 1626
Official First Day Covers
Cachet: BERMUDA Antique Maps OFFICIAL FIRST DAY COVER Release date 14th May 1979. Features Arms of Bermuda and cartouche.
CDS: 14MAY79 MANGROVE BAY BERMUDA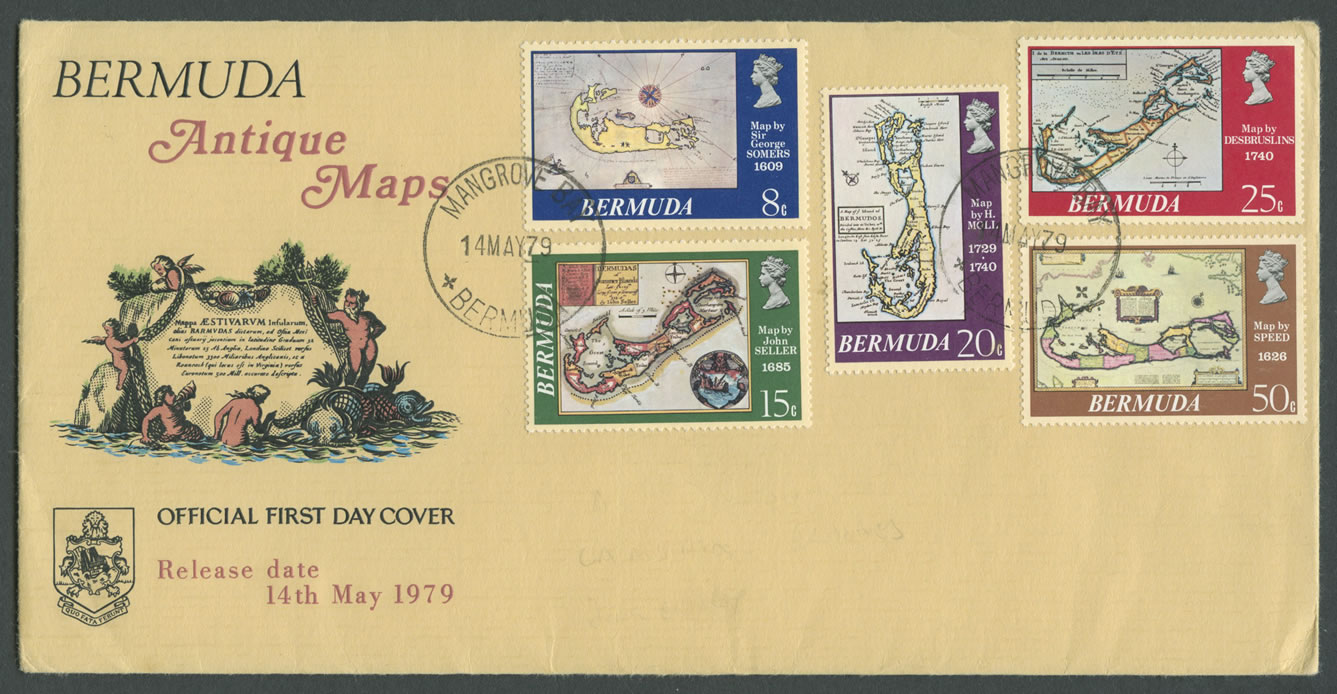 CDS: 14MAY79B HAMILTON BERMUDA
Address: Crown Agents Stamp Bureau, 4 Millbank, London SW1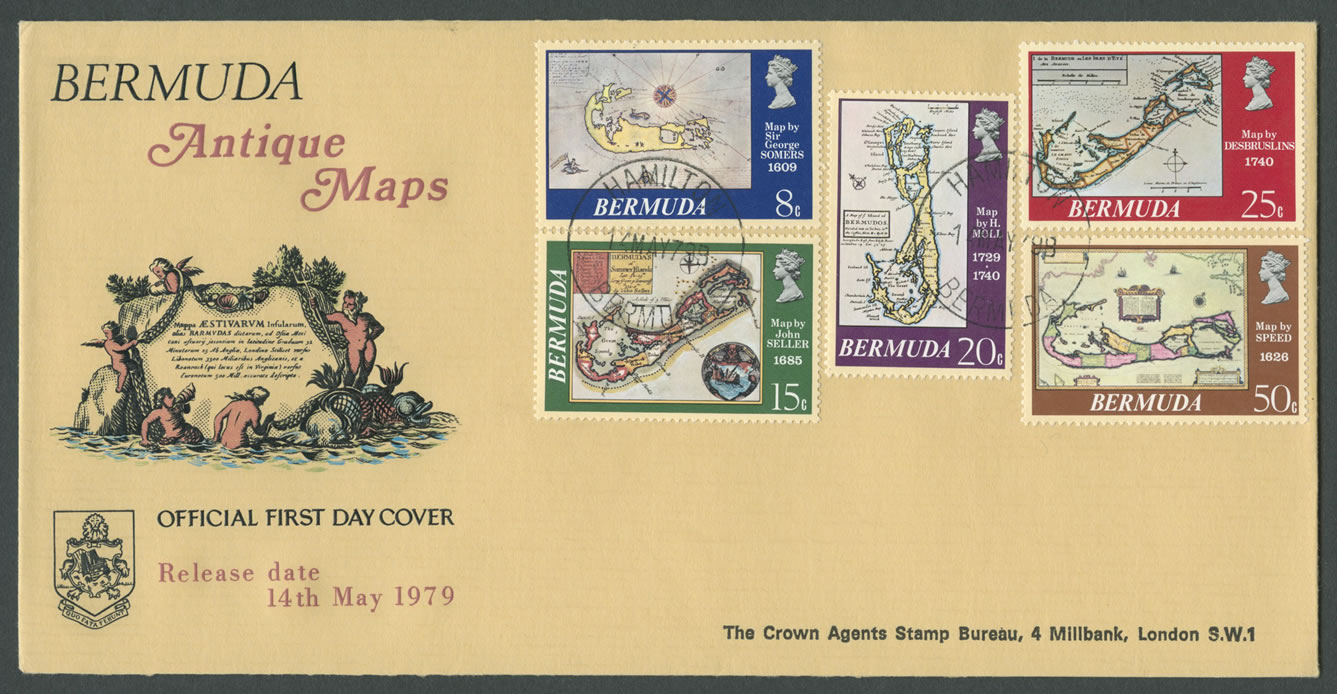 Inserts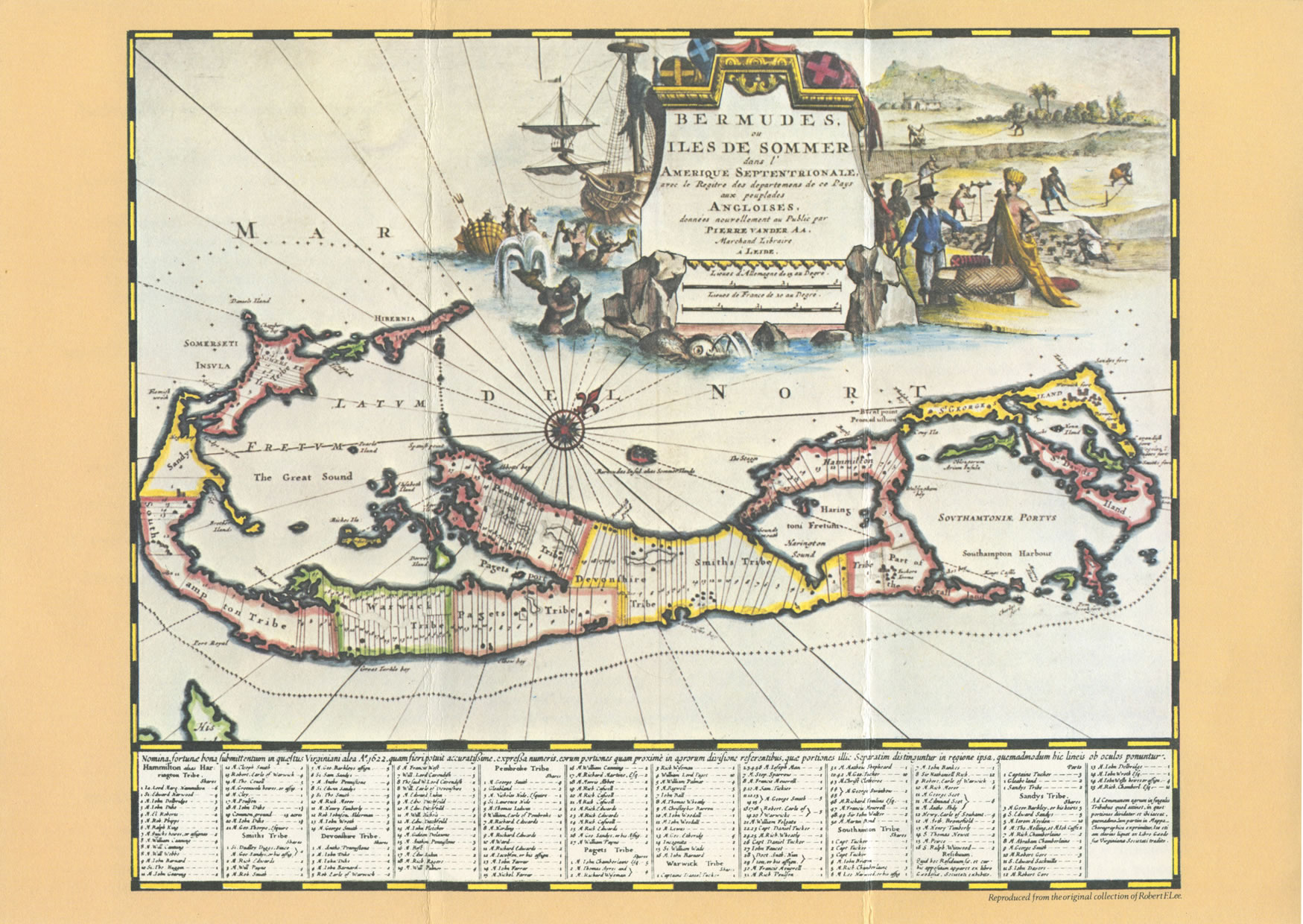 Bermuda Antique Maps
8c "Sir George Somers", 1609
by Terry Tucker, Bermuda Historian and Author,
20½ins x 13¼ins.
One of the most exciting finds of the mid-20th century was the reappearance in the public domain of the MS map made by Admiral Sir George Somers when shipwrecked on the uninhabited Bermudas, and despatched in 1610 to the Adventurers in England, with a 3,000-word description of the Islands bv Secretary-Elect to Virginia, William Strachey. His letter, addressed "Excellent Lady" (probably to Lucy Harington, Countess of Bedford, an outstanding shareholder) was published in 1625 by Durchas, who lamented marginally "the map we have not". In 1948 it turned up in the ancestral collection of the Earls of Dartmouth and was acquired for Bermuda. Some names subsequent to 1609 have evidently been added and the arms of Harington appear in the lower margin. Obviously this map predates Richard Norwood's engraved map of 1622 and his two famous surveys on which all subsequent maps were based up to the 20th century.
By Ronald Vere Jooley, FRGS, FRSGS,
Author and Editor of "The map Collector" –
15c "John Seller", 1685
"Bermudas al Summers Islands"
(London 1685) copperplate engraving,
13½ x 11cms.
John Seller, Hydrographer to their majesties Charles II and James II of England, flourished between 1660 and 1700. He published large and small atlases, and supplied nautical instruments to the Navy. The above map appeared in "A New System of Geography", 1685, 1690, 1703.
20c "Moll", 1729
"A Map of Ye Island of Bermudos"
(together with Carolina on one sheet)
(1729), copperplate engraving
25½ x 17½cms.
Herman Moll, a Dutchman, settled in England in 1678. An engraver, bookseller, and geographer, he published more than 25 Atlases and (Geographical Works. He died in London in 1732. The above map was compiled by him about 1727 and was reissued bv Carington Bowles, a London publisher, in an undated atlas entitled "Atlas Minor", about 1750.
25c "Desbruslins", 1740
"I de la Bermude ou Isles d'Ete"
(Paris, 17110), copperplate engraving,
15 x 13½cms.
F. Desbruslins the elder, French engraver, worked for the geographers Jaillot and Buache.
50c "Speed", 1626
"A mapp of the Sommer Islands",
(London, 1626), copperplate engraving,
53½ x 40cms.
John Speed (1552-1629) was the first Englishman to issue an atlas of foreign lands entitled "A Prospect of the Most Famous Parts of the World", published bv George Humble, London, 1626(7). Based on Richard Norwood's map of 1622. it remained the standard map of the island for many years, and was copied by the Dutch publishers, Hondius, Blaeu and Jansson.
Miniature Reproduction – Overleaf
Pierre van der Aa,
"Bermudes ou Isles de Sommer",
(Leiden, 1729), copperplate engraving,
35½ x 19cms.
Van der Aa (1659-1733) was a prolific Dutch publisher of Leiden. His map of Bermuda, copied from the Speed-Norwood model with his own ornamental titlepiece, appeared in his publication "Galeries Agréable du monde", published in 27 volumes in 1729.
Cartouche for First Day Cover Design
John Ogilby,
"Barmudas" (London, 1671),
copperplate engraving,
35½ x 29cms.
John Ogilby (1600-1676), a versatile Scot, was alternately dancing master, theatre owner, bookseller, publisher, translator and geographer. His map of Bermuda is based on the Speed-Norwood model and appeared in his volume entitled "America. Being an Accurate Description of the New World", London 1671
Technical Details
Designer: John Cooter
Printer: The House of Questa
Process: Lithography
Release Date: 14th May 1979
No. of stamps per sheet: 50 (2 panes of 25)
Size of stamp: 31.75 x 48.26 mm
Paper: CA Watermark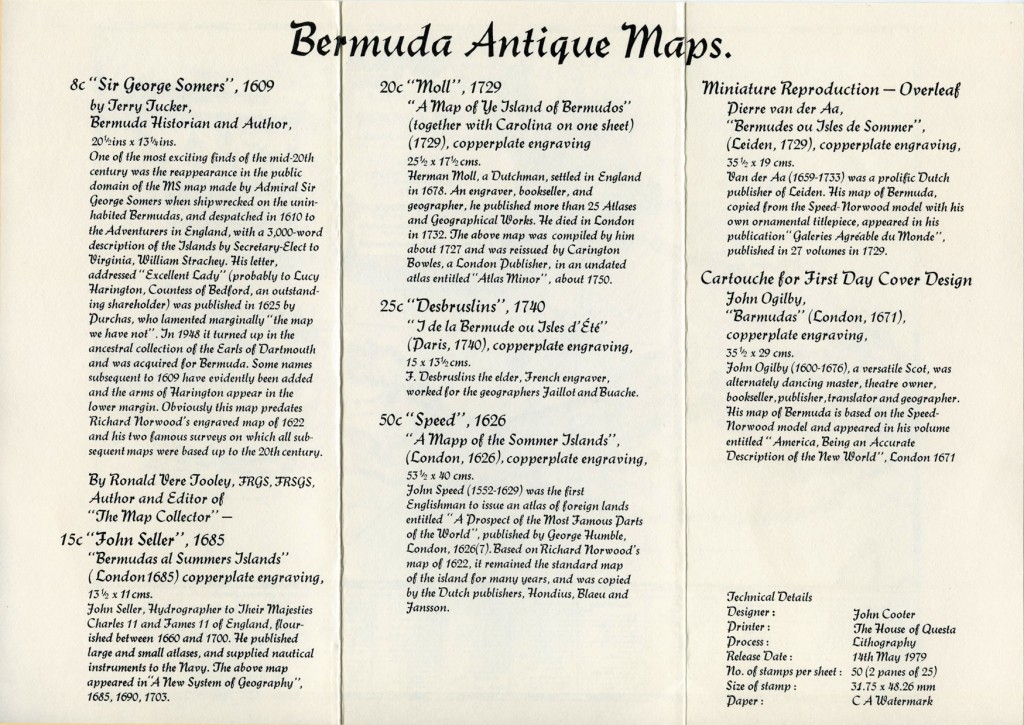 Unofficial First Day Cover
CDS: 14MAY79B HAMILTON BERMUDA
Cachet: STAMPS OF ALL COUNTRIES / LES TIMBRES DE TOUS LES PAYS / BERMUDA / BERMUDES / FIRST DAY OF ISSUE / PREMIERE JOUR D'EMISSION
Address: Mr. Timothy P. Mooney, 61 Memorial Place, Elmwood Park, New Jersey 07407
Stamp: 15c Maps John SELLER 1685
Reverse: INTERNATIONAL SOCIETY OF POSTMASTERS / ASSOCIATION INTERNATIONAlE DES RECEVEURS DE LA POSTE
CERTIFICATE OF AUTHENTICITY
We hereby certify that this First Day Cover bears a commemorative stamp issued by Bermuda and postmarked at the officially designated Post Office of First Issue, with the First Day of Issue cancellation. We further certify that this cover was issued in limited edition by the International Society of Postmasters and bears an original work of art created for this collection.
KENNETH O. STROM. PRESIDENT
CERTIFICAT D'AUTHENTICITE
Nous certifions par la présente que cette Enveloppe Premier Jour porte un timbre commémoratif émis par les Bermudes et le cachet spécial du bureau de poste, désigné officiellement pour cette obliteration Premier Jour. Nous certifions également que cette enveloppe, illustrée d'un dessin original créé exclusivement pour cette collection, fut émise par l'Association Internationale des Receveurs de la Poste dans une édition à tirage limité.
GASTON MEUNIER, SECRETARY GENERAL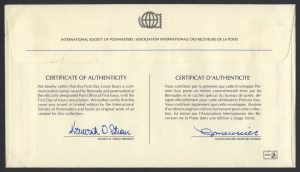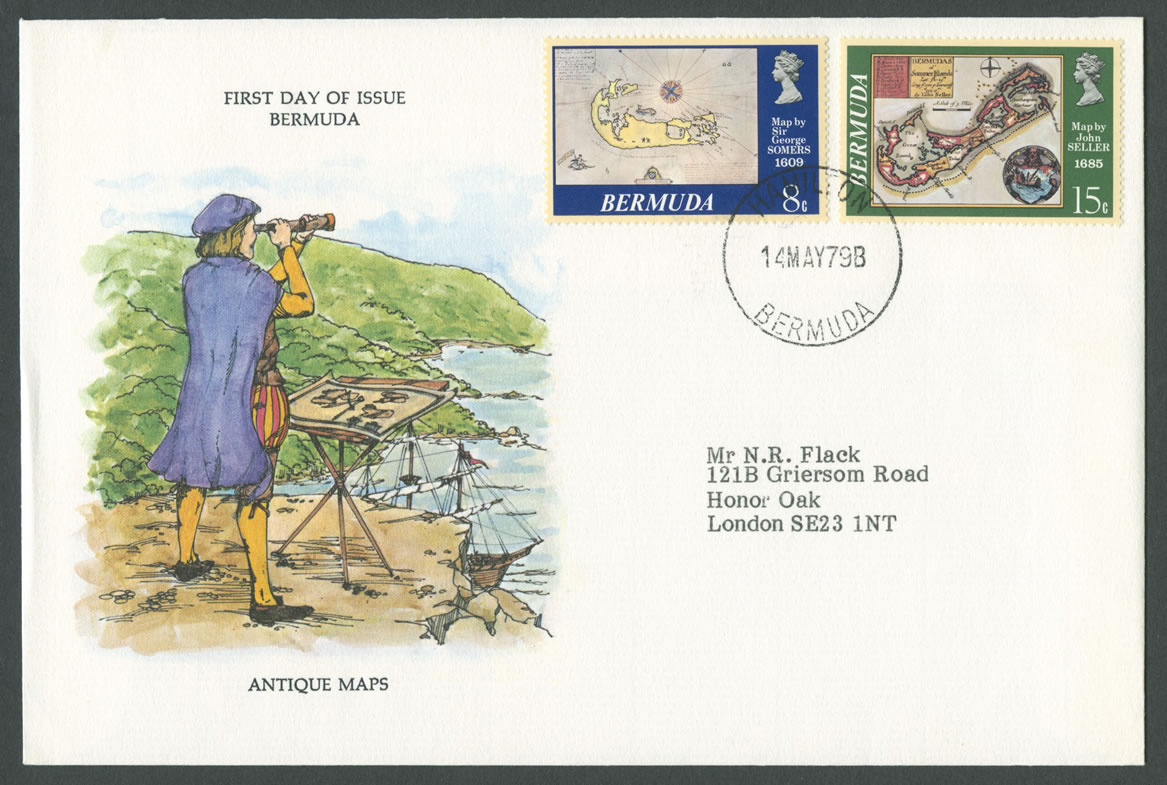 CDS: 14MAY79B HAMILTON BERMUDA
Cachet: FIRST DAY OF ISSUE BERMUDA ANTIQUE MAPS. Features a Cartographer.
Address: Honor Oak, London SE23 1NT