50th Anniversary of the Ocean Race
Date: 22nd June 1956
Cachet: FIRST DAY COVER 22nd June, 1956. 50th ANNIVERSARY UNITED STATES – BERMUDA OCEAN YACHT RACE, 1956
Stamps: 8d White Tropic Bird Phaethon Flavirostris and 1/3d Bermuda map overprinted with 50th ANNIVERSARY U S – BERMUDA OCEAN RACE 1956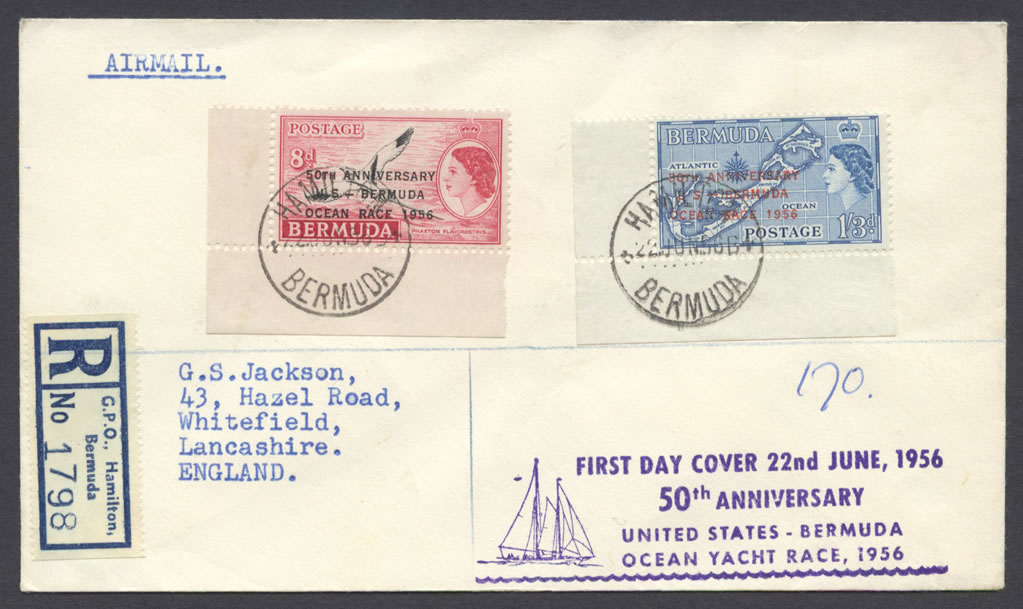 Type: Registered First Day Cover
CDS: 22JUN56B HAMILTON BERMUDA
Registration Label: G.P.O., Hamilton No 1798
Address: G. S. Jackson, 43 Hazel Road, Whitefield, Lancashire, England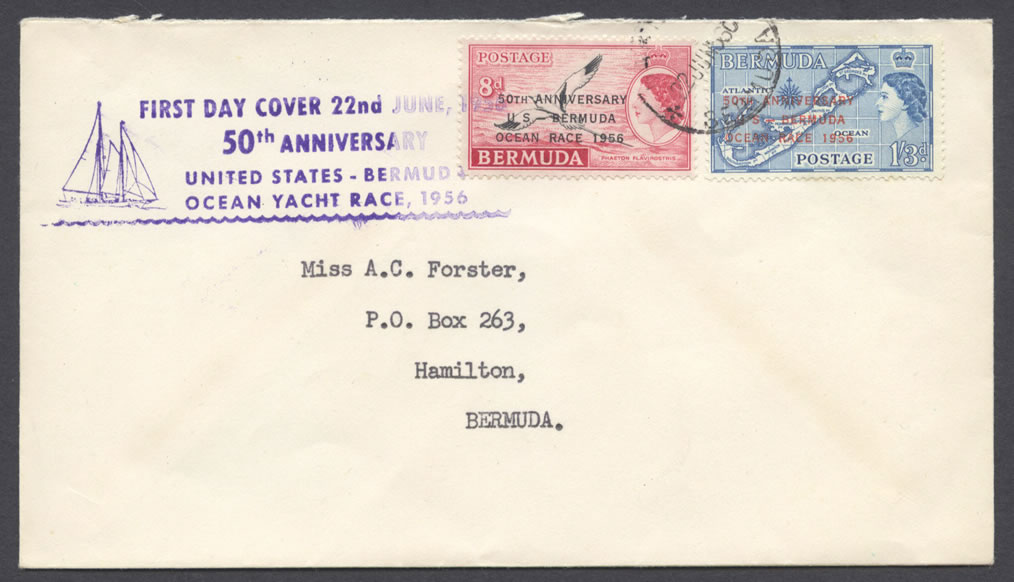 Type: First Day Cover
CDS: 22JUN56C HAMILTON BERMUDA
Cachet: FIRST DAY COVER 22nd June, 1956. 50th ANNIVERSARY UNITED STATES – BERMUDA OCEAN YACHT RACE, 1956
Address: Miss A.C. Forster, P.O. Box 263, Hamilton, Bermuda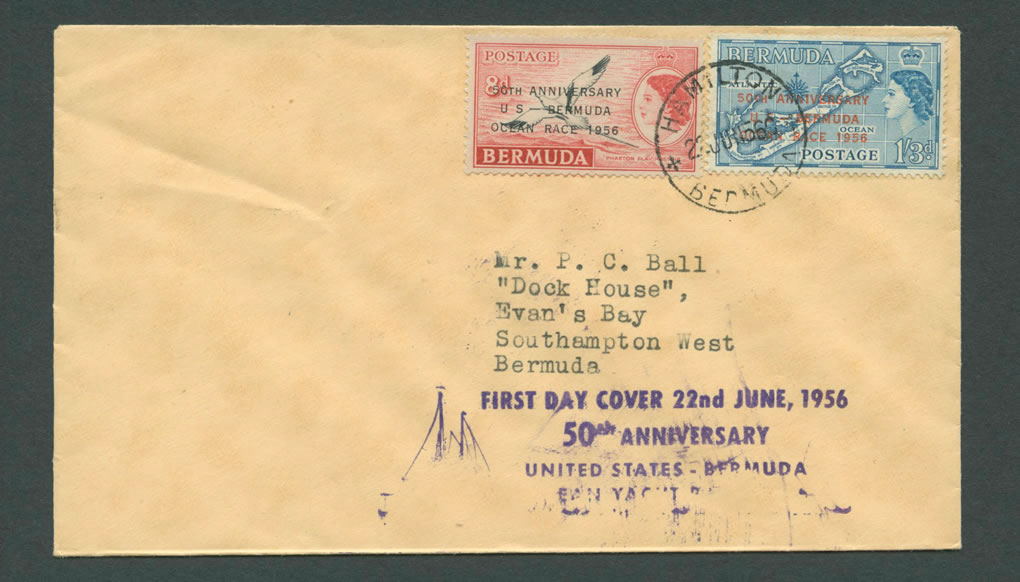 Type: First Day Cover
CDS: 22JUN56C HAMILTON BERMUDA
Cachet: FIRST DAY COVER 22nd June, 1956. 50th ANNIVERSARY UNITED STATES – BERMUDA OCEAN YACHT RACE, 1956
Address: Mr. P.C. Ball, "Dock House", Evan's Bay, Southampton West, Bermuda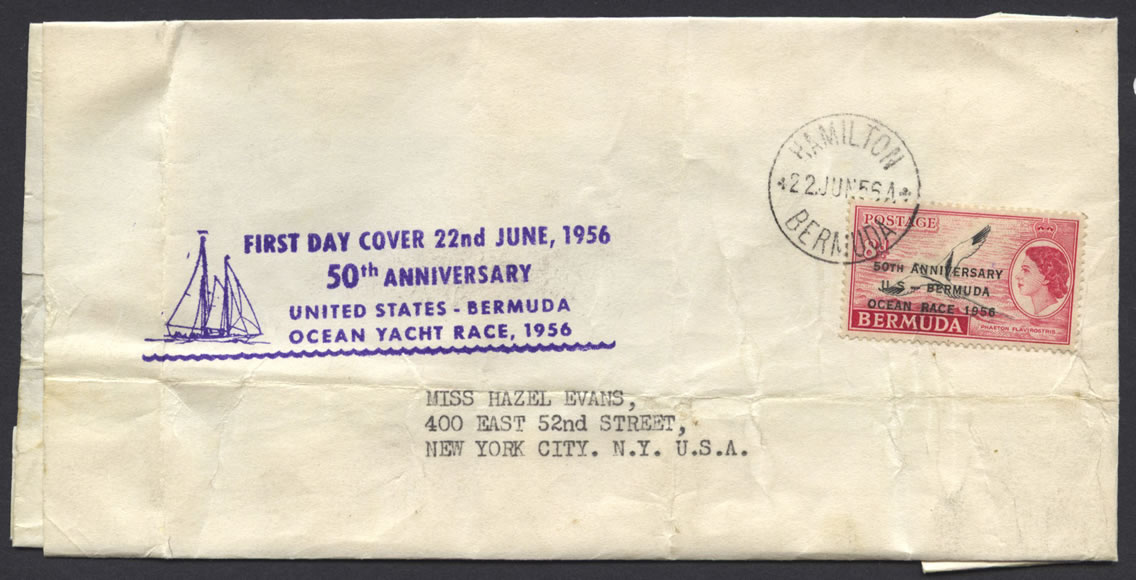 Type: First Day Cover
CDS: 22JUN56A HAMILTON BERMUDA
Cachet: FIRST DAY COVER 22nd JUNE, 1956. 50th ANNIVERSARY UNITED STATES – BERMUDA OCEAN YACHT RACE, 1956
Address: Miss Hazel Evans, 400 East 52nd Street, New York City, U.S.A.
About the Bermuda Ocean Yacht Race
Widely known as the Bermuda Race, the Newport Bermuda Race is a biennial sailing yacht race from Newport, Rhode Island to the island of Bermuda sailed in even-numbered years. The sailing distance is 635 nautical miles (1175 km) across open ocean and the Gulf Stream taking from three to six days to complete.
The first Bermuda race was run in 1906 by Thomas Fleming Day, editor of The Rudder magazine, and started at the Brooklyn Yacht Club at Gravesend Bay, New York. with three entries, all under 40 feet. Two boats finished at St. David's Head in Bermuda. The winner of that first race was the 38-foot yawl Tammerlane, commanded by Day.
After World War I the race was revived by the Cruising Club of America and the Royal Bermuda Yacht Club, with 22 competitors starting at New London, Connecticut. In 1936 the start was moved to Newport. The CCA and RBYC continue to run the race though the Bermuda Race Organizing Committee, consisting of volunteers from both clubs. Over the past 100 years, some 4,500 boats and 46,000 men and women have raced to Bermuda. Founder Tom Day identified the reason so many men and women sail when he said that they are seizing the opportunity "to get a smell of the sea and forget for the time being that there is such a thing as God's green earth in the universe."
The Bermuda Race is the oldest regularly scheduled ocean race. To quote Gary Jobson, Honorary Chair of the event's 2006 centennial race, "It's a feather in every sailor's cap to have done the race, and many consider the Lighthouse Trophy the most coveted trophy in distance racing."
For more information visit the Newport Bermuda Race website.