USS Shark (SS-174) 1936-1942 – first US Navy all-welded submarine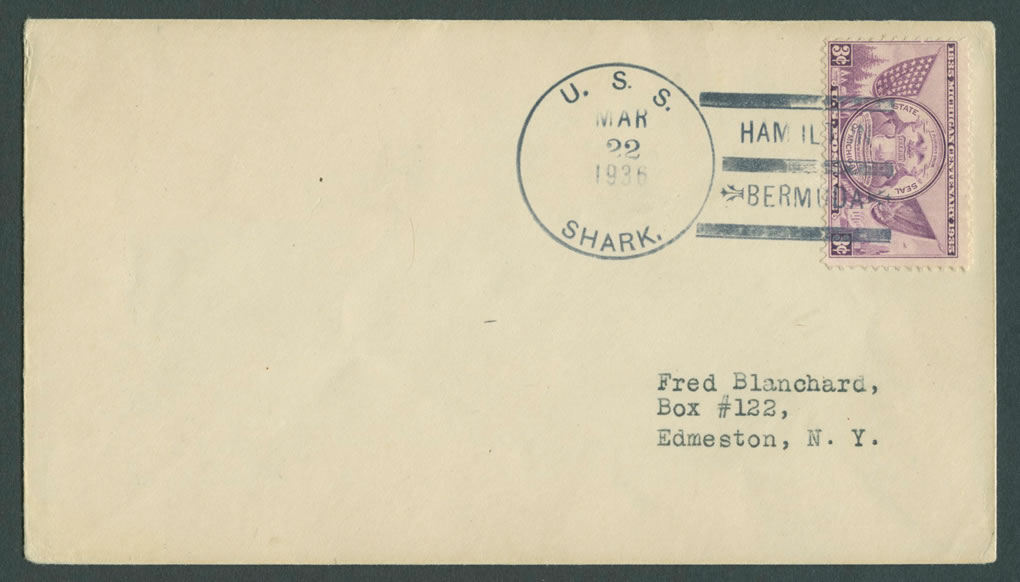 Type: Military Cover
Date: 22nd March 1936
CDS: MAR 22 1936 U. S. S. SHARK. HAMILTON BERMUDA
Cachet: M. R. HALL No. 10 1767 BEDFORD ROAD COLUMBUS, – OHIO AMERICAN NAVAL CANCELLATION SOCIETY
Markings: SS174 and R?8GAP-*YS>FBC?/UK065TWZNHQ (reverse – may be code?)
Address: Fred Blanchard, Box #122, Edmeston, N. Y.
Stamp: U.S. POSTAGE 3c 1835 Michigan Centenary 1935 with State Seal of Michigan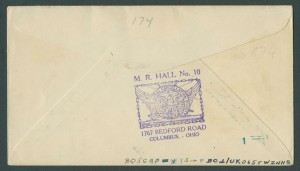 About USS Shark
USS Shark was lead ship of a class of two 1316-ton submarines, and the US Navy's first submarine to feature all-welded construction. Built at Groton, Connecticut, she was commissioned in January 1936 and performed her initial service in the North Atlantic and Caribbean areas.
This cover tells us that USS Shark was visiting Hamilton, Bermuda on 22nd March 1936.
During the first part of 1937 Shark transferred to the Pacific, with her new base located at San Diego, California. After nearly two years there, during which she participated in exercises and training, in December 1938 the submarine was sent to Pearl Harbour, Hawaii, and two years later went on to Manila in the Philippines.
Soon after war began with Japan in December 1941, Shark patrolled briefly to the south of Luzon, then returned to Manila where in late December she embarked Asiatic Fleet commander Admiral Thomas C. Hart and transported him to Surabaya, Java. She began her second war patrol in early January, assigned to take part in the defense of the Dutch East Indies. On 2nd February 1942 Shark made a fruitless torpedo attack and escaped a depth charging, and on 5th February made another radio report.
Nothing more was heard from her and she was ultimately given up as lost, with her entire crew of nearly sixty officers and men. Post-war Japanese records provided no solid information on her fate, though it is possible that she was sunk by depth charges off Menado, Celebes, on 11th February 1942.