The Fiscal Stamps of Bermuda
Revenue or Fiscal Stamps were issued in Bermuda to confirm fees paid on land transfers, contracts, insurance policies, cheques and telephone bill receipts. All visitors leaving Bermuda had to pay a Head Tax, so many stamps were used for this purpose. Bermuda issued dedicated revenue stamps from 1936 to 1984.
Until 1936, dual purpose postage and revenue stamps were used for fiscal purposes with the 2/- to £1 values from the definitive sets of 1918-1932 mainly intended for fiscal purposes only but could be used in the post.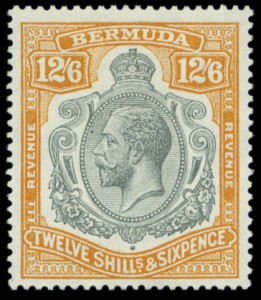 Towards the end of 1936, a King George V key plate inscribed REVENUE on each side, No. F1, was issued for fiscal purposes with the face value of 12/6. This was used for the collection of passport and visa fees.
In the reign of George VI postage stamps were once more used as revenues but a new issue portraying Queen Elizabeth II and the coat of arms of Bermuda was issued in 1954. This was reprinted in decimal currency in 1970, and a new series with a hogpenny coin design was issued in 1982 with values from $1 to $100.
Airplane tickets can be found with various stamps attached paying the Departure Tax, and are collectible examples of the revenue use of Bermuda stamps. The early tickets franked with KGV 12s6d keyplates, on either Imperial Airways or Pan Am tickets, are scarce items. Tickets franked with KGVI keyplates are somewhat more common.
The hand stamp of Harnett & Richardson the Steamship, Air Line and Insurance Agents of Front Street, Bermuda is often found on George VI and George VII key plate stamps.
1920 1st January
A Five Shilling (5/-) per person Departure Tax or Head Tax went into effect on January 1st 1920, and two years later it was increased to Ten Shillings (10/-). It was collected from ship passengers.
1928 1st December
The Head Tax rate was increased to 12s6d and remained at that rate until 31st October 1952.
1937
Air travel to and from Bermuda begins and the 12s6d tax rate and collected with the use of a KGV 12s6d keyplate.
1938 January
KGVI keyplates are now used.
1952 1st November
One Pound rate became effective on November 1, 1952.
Source: Bermuda Post
1954-1970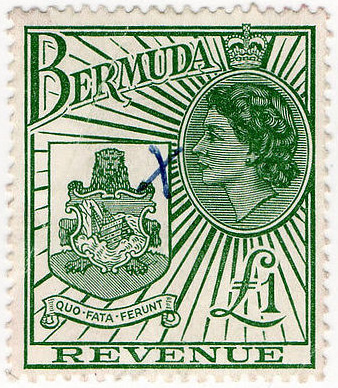 New issue portraying Queen Elizabeth II and the coat of arms of Bermuda issued in 1954.
1970-1980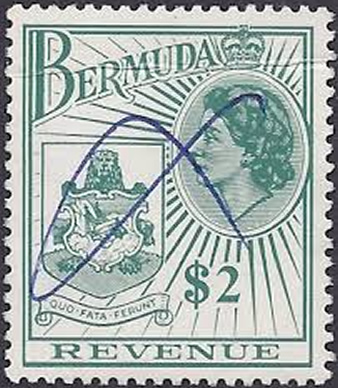 The reprinted decimal currency version in 1970.
1982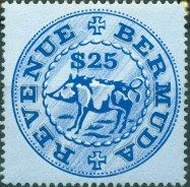 New series with a hogpenny coin design was issued in 1982 with values from $1 to $100. Designed by Clive Abbot and printed by the House of Questa.
Uses of Bermuda fiscal stamps
Steam ship tickets – punch holes
Passports
Visa fees
1978-1980 Contributory Pensions Insurance
A set of seven values from $1.80 to $10 were issued in 1978 for Contributory Pensions Insurance (Social Security). The $1.80 was surcharged with the new value of $1.10.
Saving Stamps
Printed in the 1940s measuring 56-37mm
Examples
Fiscal examples with sources quoted.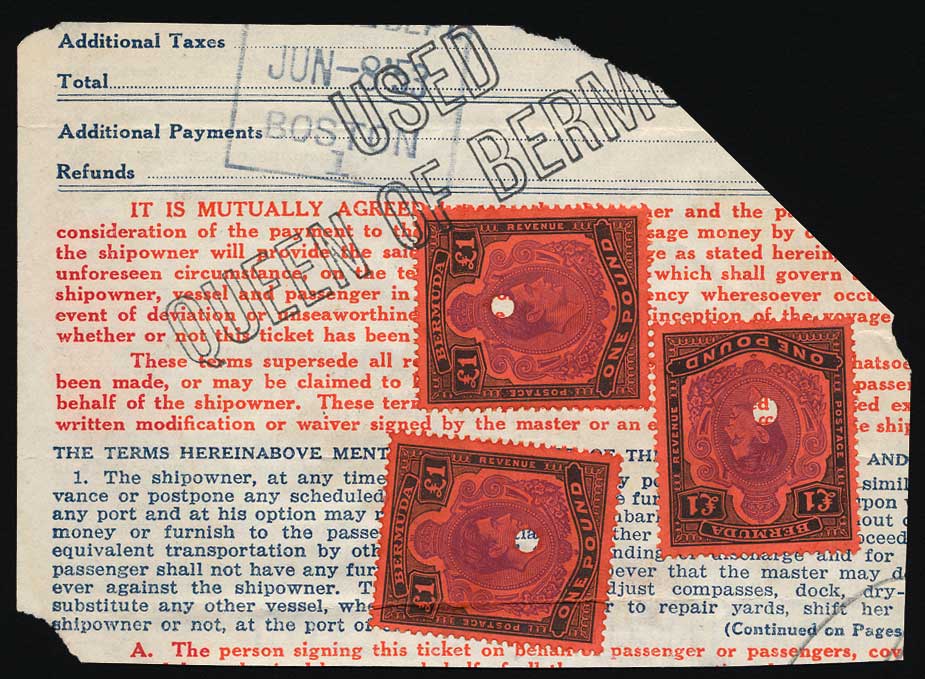 1953 Queen of Bermuda showing tax for three passengers at £1 each. Fiscally punch holed.
Source: Above and below from Keyplater website
1953 Trans-Canada Air ticket with £1 Fiscally Cancelled £1 Keyplate stamp.