Bermuda stamps on covers, envelopes, cards etc
If you like covers then you'll like collecting Bermuda! You'll find a good selection of First Day Covers, Commemorative Covers, First Flight covers, Airmail covers, NASA covers and Postal History covers available for Bermuda.
The term 'cover' refers to an envelope or package with an address, postage stamps and postmark. The contents of the letter or package are not usually included but First Day Covers often include a liner with details of the issue. If the cover does include some contents then all the better, since they will add some interest to the cover. Cover collecting plays an important role in postal history for stamps, postmarks, back stamps and other markings along with names and addresses which help place a cover at a time and place in the history of Bermuda.
Here's a brief description and examples of some common types of cover…
First Day Covers
A First Day Cover (FDC) is an envelope or card mailed on the first day of issue of a postage stamp and canceled on that day. Early FDCs were quite simple with printed or hand stamped cachets (shown below) and later developed with more complex designs and liners. The Bermuda Post Office produce the Official First Day Covers with companies such as Benham and Stuart producing unofficial versions.  Bermuda First Day Covers…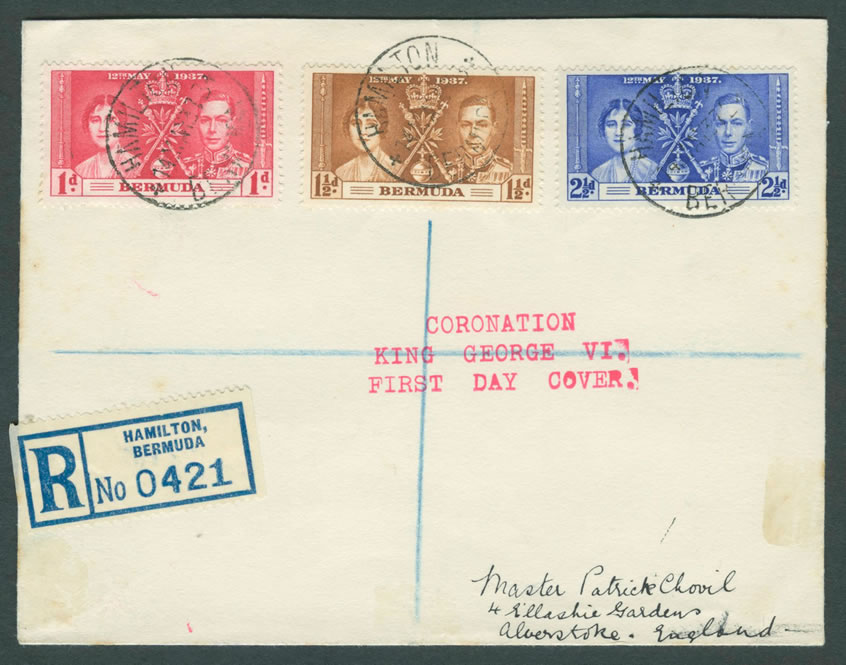 Stamp on cover
Covers collected as an example of a given stamp postally used on a cover.
Pre-stamped covers
Covers that already have an imprinted stamp on postal stationery such as air letters and postal cards.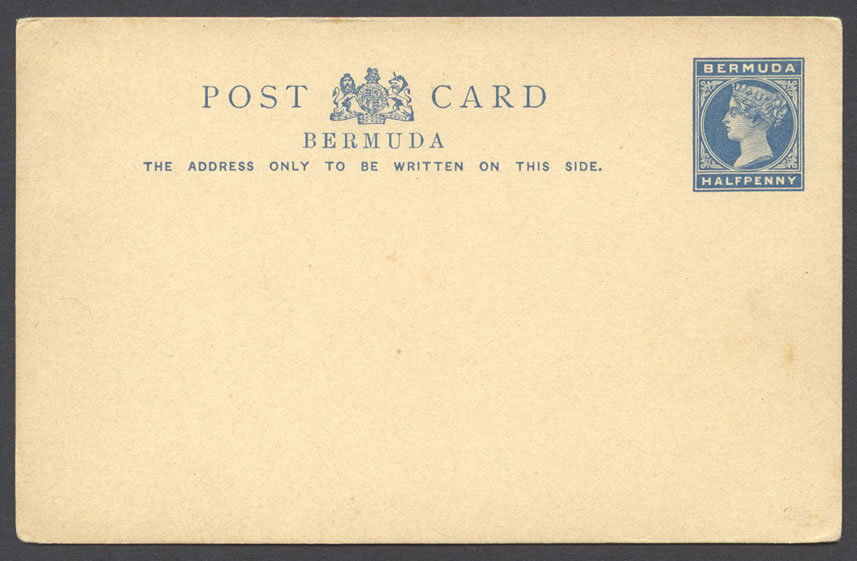 Cacheted covers
A cachet is a printed or stamped design or inscription, other than a cancellation or pre-printed postage, on an envelope, postcard, or postal card to commemorate a postal or philatelic event. There are official  cachets by the Bermuda Post Office as well as private cachets.
The first cacheted FDC (first day cover) was produced by George Ward Linn 1st September 1923, for the US Harding Memorial stamp issue.
Cachet-making is considered an art form and can be produced by using any number of methods including drawing or painting directly onto the envelope, silk screen, block printing, lithography, engraving, laser printing, photography etc.
Companies who print private cacheted covers for Bermuda stamp issues include Benham, Fleetwood and Colorano.
The printed cachet is usually accompanied with a rubber-stamped cachet as shown below.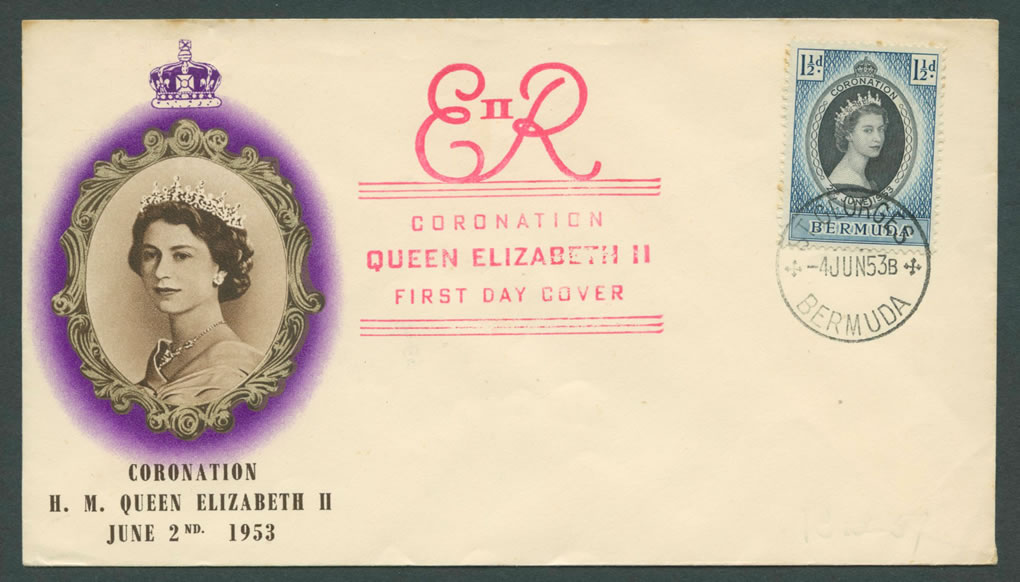 Aerophilately covers
Bermuda was a strategic staging point on the European / North American transatlantic air routes of 1930s as well as being a popular holiday destination, so there is plenty of aerophilately interest for Bermuda collectors. Available are souvenir, survey and special flight covers, acceptance flight covers, first flight covers and other Bermudian aerophilatelia. Bermuda First Flight Covers…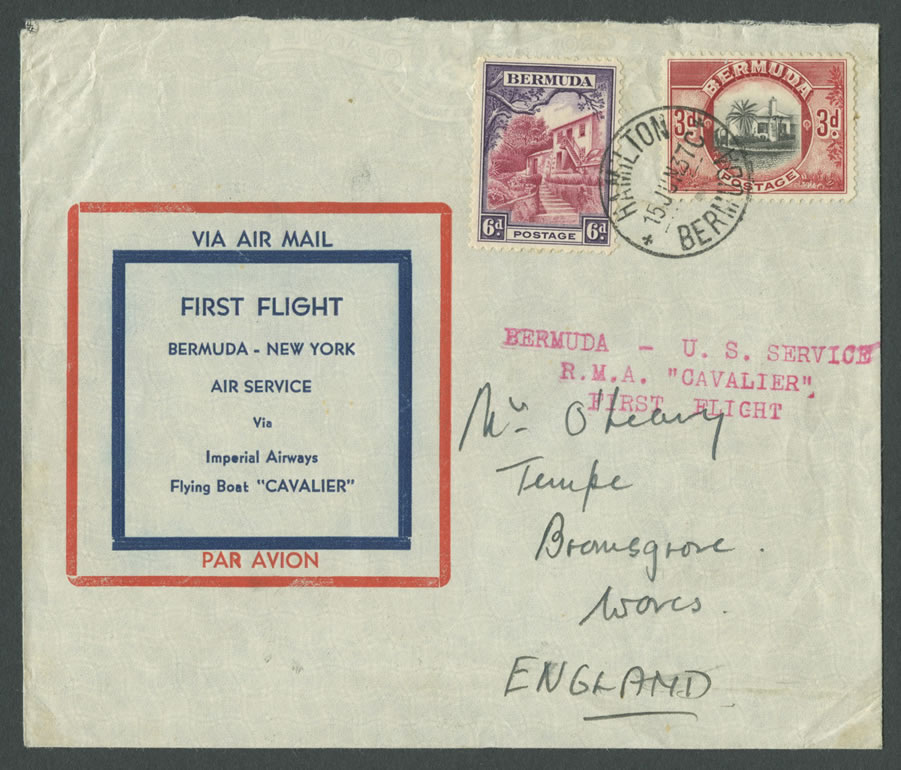 Commemorative covers
A wide variety of subjects and usually have a commemorative design and often a special postmark that designates the place and date of the specific event.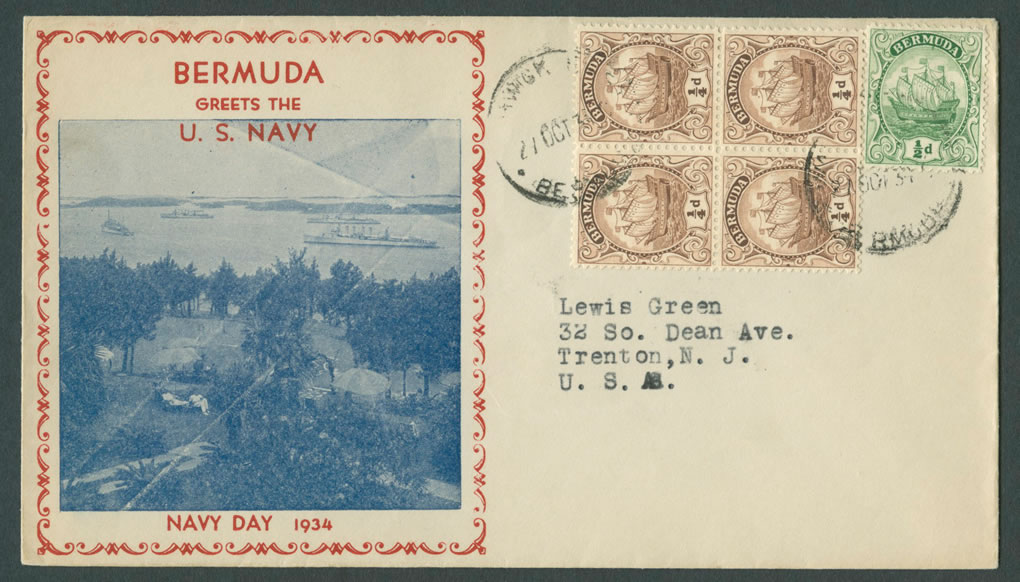 Military covers
Military covers include a wide variety of subjects such as World War I and II, US Garrisons, and Boer War prisoner of war covers. Mail sent from a Army Post Office (APO) or a Navy Post Office (Fleet Post Office, FPO) are common types of military covers. See Bermuda Military Covers…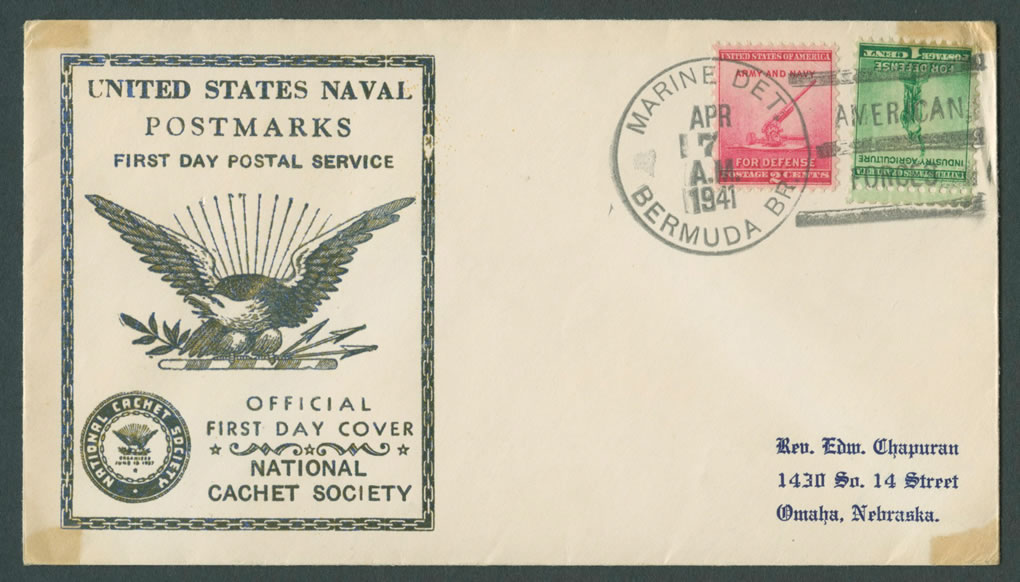 Paquebot covers
Paquebot covers are from mail posted at sea. These would have been held by the ship's purser or postal officer until the next port with postal facilities is reached. Paquebot is French for mailboat and first used in Great Britain in 1894, with the term being adopted for general use by the Universal Postal Union in 1897. Bermuda Paquetbot Covers…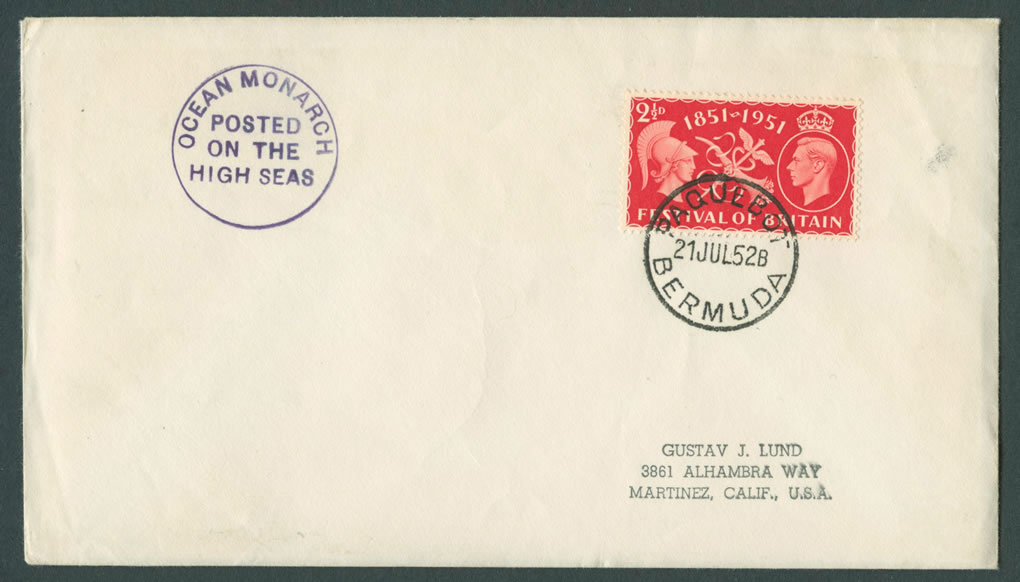 NASA covers
The NASA Bermuda tracking station was fully operational in 1961 and the first recorded commemorative launch covers were issued in 1962 for the Friendship 7 mission carrying John Glenn, the first American astronaut to orbit the earth. Bermuda NASA covers…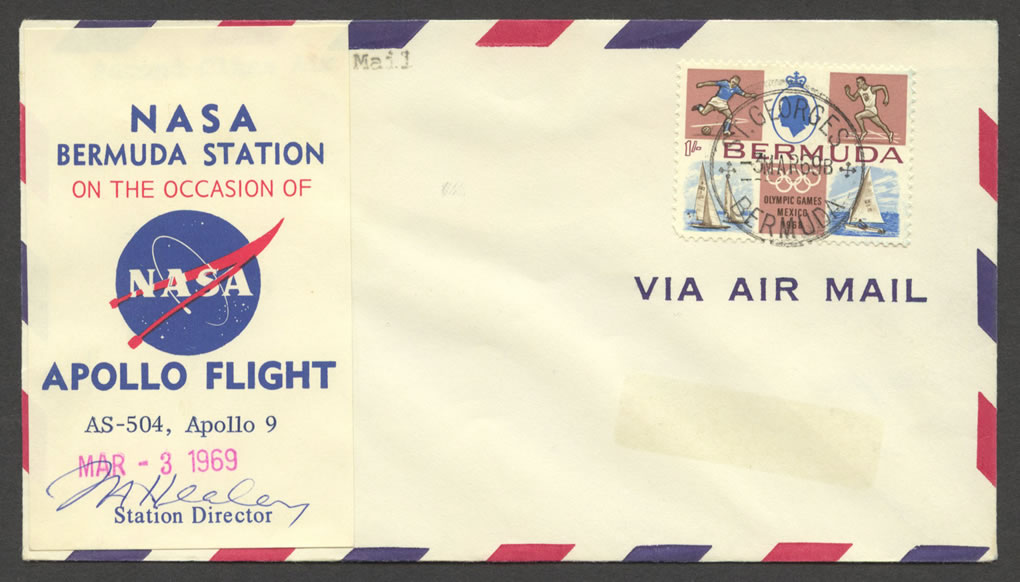 Historical covers
Covers with a special historical significance above and beyond that of the average collectible cover. These can include mail sent by Royalty, Politicians or other famous people. Some covers may have historical interest, check date, postmark, name and/or address for any potential interest point.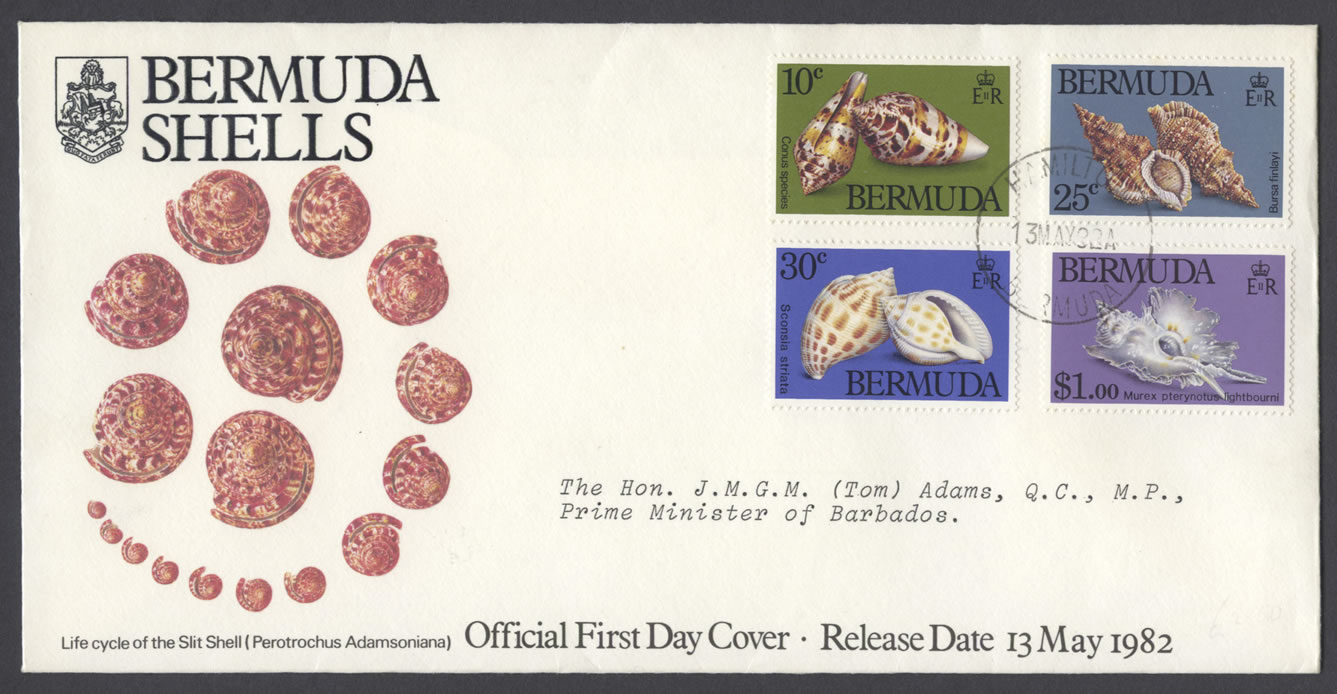 Censored covers
Wartime covers opened by the Imperial Censorship based in Bermuda. Find out more about the Censors or view Bermuda Censored Covers…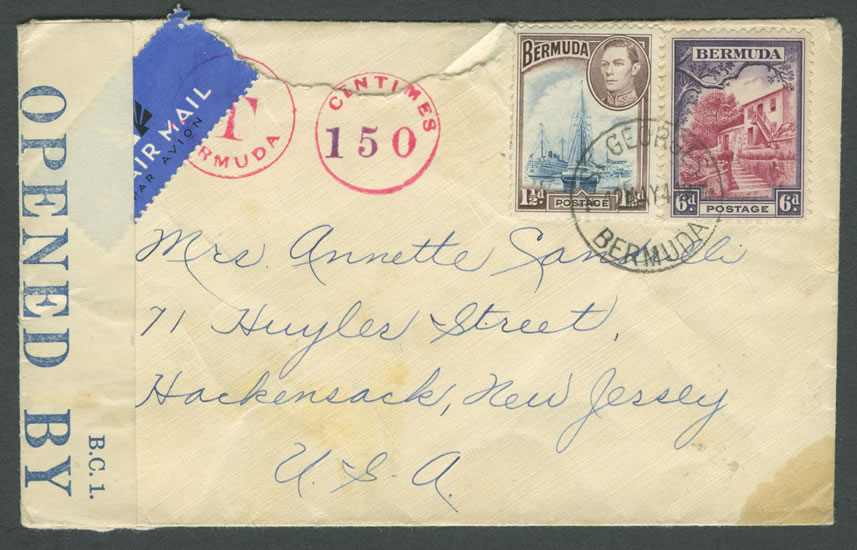 Coin Covers
Technically known as a Philatelic Numismatic Cover (PNC) – a combination of an envelope, stamp sets and a commemorative coin made for collectors. They are often issued in numbered, limited editions, with commemorative stamps. PNC packs contain varying qualities of coins from Brilliant Uncirculated (BU) to Proof. A PNC containing a BU coin will be available at a widely affordable price, whereas the inclusion of a Gold or Silver Proof coin would makes it a higher premium item. Proof coins are special early samples of a coin issue, historically made for checking the dies and for archiving, but more recently struck in larger numbers for coin collectors (numismatists).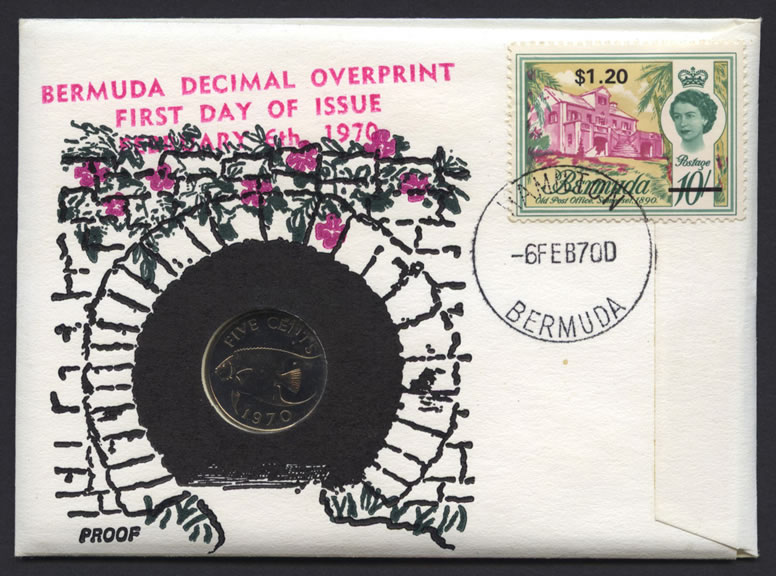 Common envelope / cover dimensions