Stamp dealers relevant to Bermuda
This page will cover Bermuda Stamp Dealers who have supplied and distributed cacheted covers or other philatelic items relevant to Bermuda. It's very much work in progress and a 'notes' holding area.
Albert C. Roessler
Address: Mr. A. C. Roessler, 140 South Parkway, East Orange, New Jersey, USA
Albert C. Roessler (1883-1952) was a stamp dealer who was best known for his cacheted covers, and examples of his work are sought by collectors. Roessler was born April 7, 1883, in Newark, N.J., and spent a portion of his early years in Colorado.  He was a founding member of the Denver Stamp Club, established December 13, 1905.
Within a few years he was established as a stamp dealer in east Orange, N.J., after a period of Nassau Street (New York) activity. With the coming of air mail in the US in 1918, Roessler began the creation of cacheted covers.  His first cover, according to Barry Newton (A. C. Roessler: Photo Cachet Catalogue, FDC publishing co., 1976), was for the first air mail flight between Washington, New York, and Philadelphia. He published Air Mail Stamp News from 1918 to 1938.
Something of a mystery man, Roessler would never permit his photograph to be published and no confirmed pictures of him are known.  Dan Barber in his "Via Air Mail" column in Stamp Collector (September 13, 1980), reproduces two photographs which might be those of Roessler.
Roessler is reported to have gone out of the stamp business in 1940, and he died on January 26, 1952.
Kenneth A. Wood, This is Philately – Volume Three Q-Z, Van Dahl Publications 1982
Roessler's serviced many specialised stamp clubs – essentially mailing lists – who would recieve relevant covers such as first flight covers, first day covers, selections of stamps, etc. The subject matter was wide from zeppelin flights such as the Los Angeles and Hindenberg; to pioneer aviators and their record-setting flights. No matter the event, he or his agents were on the scene to make sure the customers got their covers.
Jaques Minkus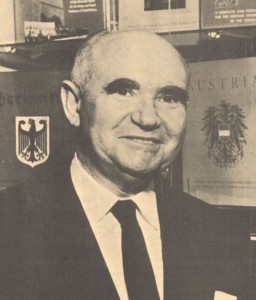 Austrian Jacques Minkus emigrated to the United States from Germany in 1929 and was a successful philatelic publisher from the 1930s and in the late 1940s, Minkus founded Minkus Publications and began designing and publishing stamp albums. His Master Global and Supreme Global Albums were the standard of the era and are still sold today. The Minkus philatelic empire included albums, a periodical stamp journal, catalogues and – as a "service" to collectors during WWII – cacheted patriotic envelopes.
The core of his business were stamp sales from Gimbel's America's Stamp Center, 33rd Street and Broadway, New York, NY, USA.  In the early 30s Minkus had convinced owner of the famous Manhattan store to allow him to open a small stamp counter from where he sold stamps and cacheted covers of his own design. By the mid-1930s, his stamp counter had been transformed into a whole stamp department and, by the early 1940s, it dominated the store's entire main floor. At one time, he employed more than 40 professional philatelists to serve the thousands of stamp collectors who patronised his Gimbel's department. By the early 1950s he had expanded his stamp operations to large sections of 38 other major department stores nationwide.
In the late 1940s, Minkus founded Minkus Publications and began designing and publishing stamp albums. His Master Global and Supreme Global Albums were the standard of the era and are still sold today.
In 1954, he began publishing stamp catalogues under his name, introducing the New American Stamp Catalogue – a radical and popular departure from the old specialised catalogue format used by the Scott's. The next year he began publishing a line of worldwide stamp catalogues.
Nassau Stamp Company
F.W. Hunter formed the Nassau Stamp Company in 1894 and later aquired by employee John A. Klemann in 1899. In 1900 Klemann brought his brother in to the firm, Jacob J. Klemann Jr. John eventually became the leading American dealer in proofs and essays as well as a major student and dealer in Confederate philately. J.J. Klemann was interested in airmails. Once the Klemanns had purchased the Philatelic Gazette from Bartels, John served as managing editor while J. J. was editor. At the 1926 International, J.J. exhibited first flight covers as well as the Rouen issue airmail stamps. The Nassau Stamp Company produced several Bermuda first flight covers.
Address: J. J. Klemann, Jr., 70 Nassau Street, New York, NY, USA
Nassau Street, New York
As early as 1915, Mekeel's Weekly Stamp News contained many advertisements for stamp dealers in Nassau Street. In the 1930s, stamp collecting became very popular and Nassau Street was the centre of New York City's 'Stamp District', called its Street of Stamps, with dozens of stamp and coin dealers along its short length. While the stock market did poorly during the Great Depression, stamps kept their value and were negotiable assets. The Stamp Center Building was located at 116 Nassau Street, and the Subway Stamp Shop was located at 87 Nassau Street. Nassau Street declined as a stamp hub with the dispersal of most dealers in the 1970s and finally with internet trading.
Nassau Street was also the title of a book written in the 1960s by Herman Herst Jr. that described the golden age of the stamp collecting industry.
Alfred H. Dowle
Alfred Dowle joined the Universal Ship Cancellation Society in June 1939. Name and address seen on Collect Covers cacheted covers.
Address: 1723 – 19th Street, N. W. Washington D. C.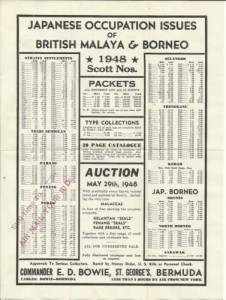 Commander E. D. Bowie
Stamp dealer based in St George's Bermuda. Regular addressee or sender on Bermuda covers.
Address: St. George's, Bermuda
J. Sanders (Philatelists) Ltd
Bermuda covers seen addressed to J. Sanders Esq, 7 Commercial Road, Southampton, England.