Commemorating the beaches of Bermuda
Date: 16th May 2013
Cachet: Beaches Part II Bermuda / BERMUDA Official First Day Cover Release Date: 16 May 2013
Stamps: BERMUDA  35c Jobson's Cove, Warwick; $1.25 Southlands Beach, Warwick; $1.50 Astwood Park Beach and $1.65 Warwick Long Bay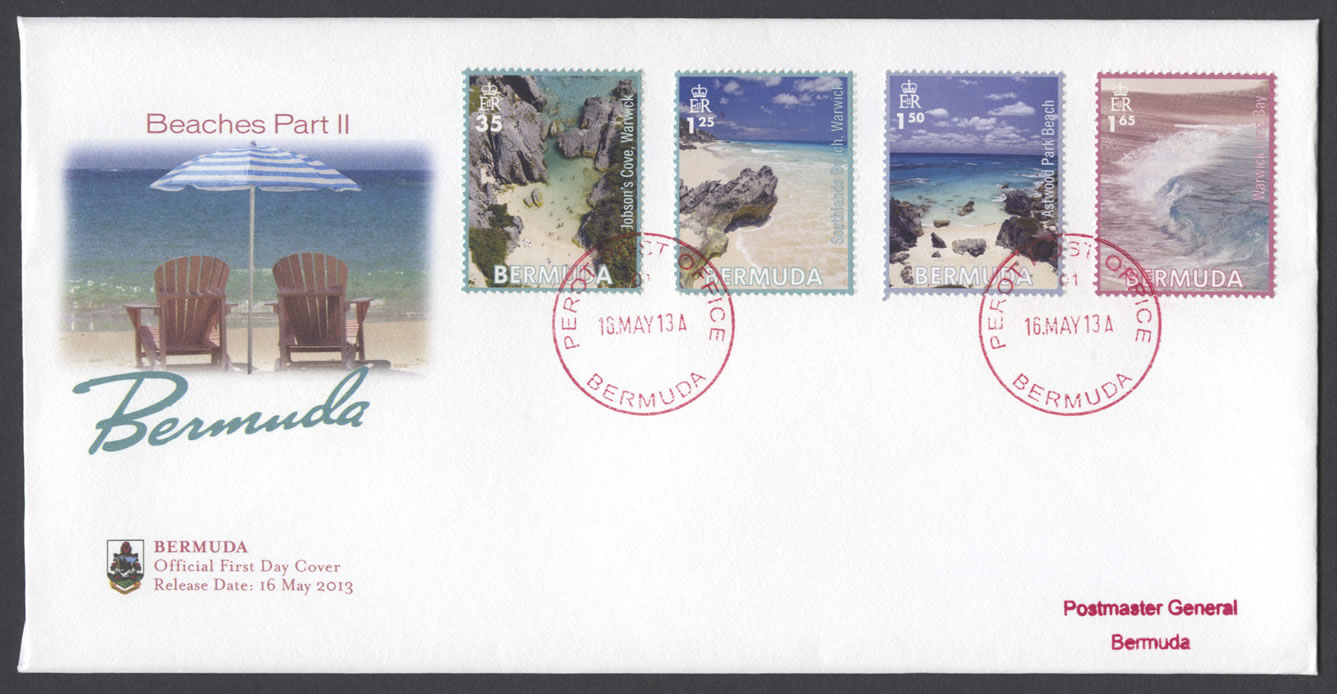 Type: Official First Day Cover
CDS: 01 13.MAY13A PEROT POST OFFICE BERMUDA
Address: Crown Agents Stamp Bureau, 4 Millbank, London SW1 / Postmaster General Bermuda
Beaches Part II
May 2013
Once the island was officially settled in 1612, Bermuda depended on the sea for food, travel and trade. But for centuries the numerous beaches ringing the island were largely deserted. Sometimes smugglers would use them to sneak in goods away from the excise men in St. George's and sometimes wreckers would lure ships onto the reefs and bring plunder into the bays. When tourism began to develop, the beaches were still neglected as visitors from the US came to escape their own icy winters. Bermuda's winters were far more kindly but not warm enough for swimming and sunbathing.
However, once the tourism season switched to the summer months, visitors were soon attracted to Bermuda's beaches unspoiled by building or advertising placards. And soon the beaches became famous for their creamy sands tinted with pink, as well as for seascapes often framed by Aeolian limestone backdrops.
The Bermuda Post Office is pleased to issue a series of four stamps featuring four of Bermuda's South Shore Beaches located in Warwick Parish which have a particularly pink tinge. The sand consists of
trillions of crushed skeletons and other debris – broken clam and snail shells, for example, sea urchin remains and pieces of coral. But the pink in the sand is thanks to the red foram, a tiny single-celled animal with a red skeleton that grows in profusion on the underside at rocks. Once the foram dies, its skeleton is pounded by waves and washed up onto shore.
The South Shore beaches are also popular because the reefis accessible, particularly at low tide, and ideal for snorkelling.
Jobson's Cove, named after its 17th century owner, William Jobson, is depicted on the 35c stamp. The limestone rock formations shelter this beach, making it ideal for small children to swim in its shallow green waters.
Southlands Beach featured in the $1.25 stamp is a good example of Bermuda's unique trinity of sea, sky and sand.
The $1.50 stamp featuring Astwood Cove in Astwood Park,Warwick Parish shows the teal to turquoise palette of Bermuda's ocean and the shadows of the reef. Astwood Park is a popular venue for weddings and its cliffs offer an ideal vantage point for longtail birdwatching.
The $1.65 stamp features Warwick Long Bay, aptly named, and focuses on the surf and the luminous pinkness of the sands.
TECHNICAL DETAILS
DESIGNER: Jackie Aubrey – Department of Communication and Information
PRINTER: JOH Enschede
PROCESS: Lithography
STAMP SIZE: 30.56 mm x 38 mm
PERFORATION: 13.33 Per 2cms
PANE: 50 (2 x 25)
PAPER: CASCO Crown Watermarked
VALUES: 35c, $1.25, $1.50, $1.65
RELEASE DATE: 16 May 2013
Photography – Stephen Raynor, Department of Communication and Information.
Jobson's Cove courtesy Bermuda Department of Tourism.