Commemorating 60 years of service
Date: 9th February 2012
Stamps: BERMUDA DIAMOND JUBILEE LIFETIME OF SERVICE HM QUEEN ELIZABETH II 10c, 35c, 70c, 85c, $1.10, $1.25 and Souvenir Sheet $2.50 HER MAJESTY THE QUEEN ELIZABETH II DIAMOND JUBILEE 1952-2012 CASCO 2012 BDT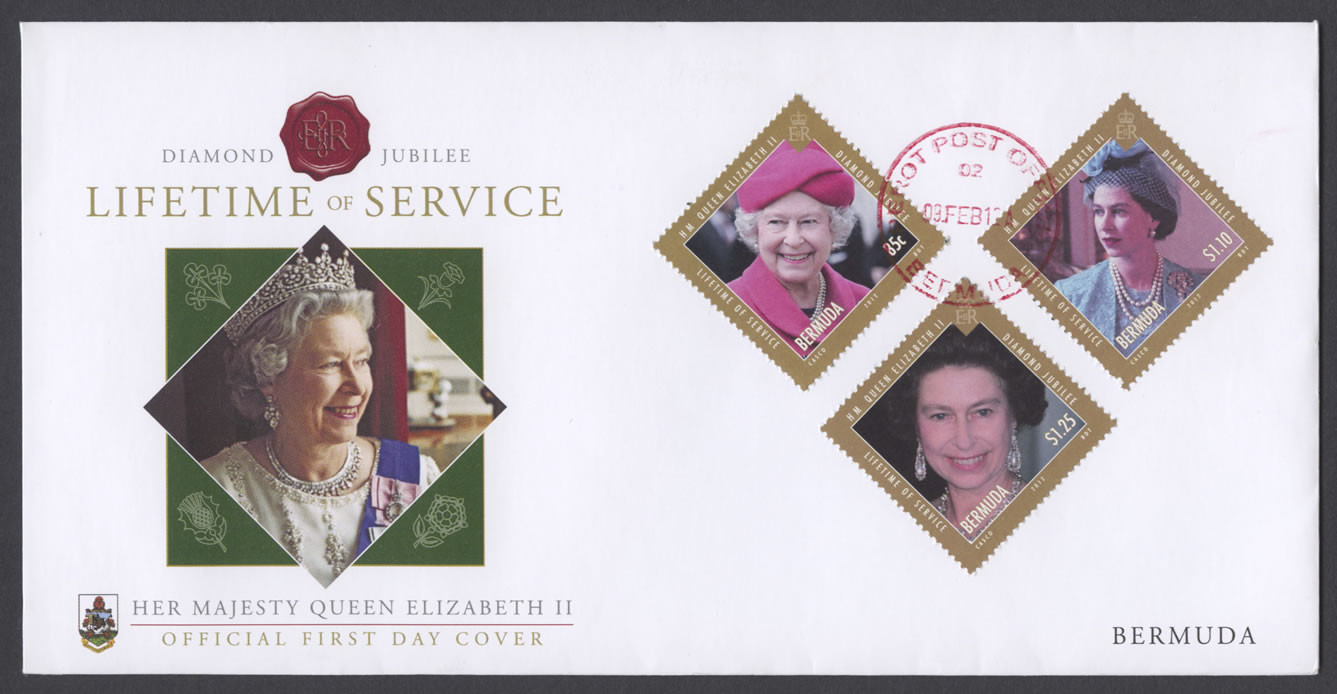 Type: Official First Day Cover
CDS: 09.FEB12A PEROT POST OFFICE BERMUDA
Cachet: DIAMOND JUBILEE LIFETIME OF SERVICE HER MAJESTY QUEEN ELIZABETH II OFFICIAL FIRST DAY COVER BERMUDA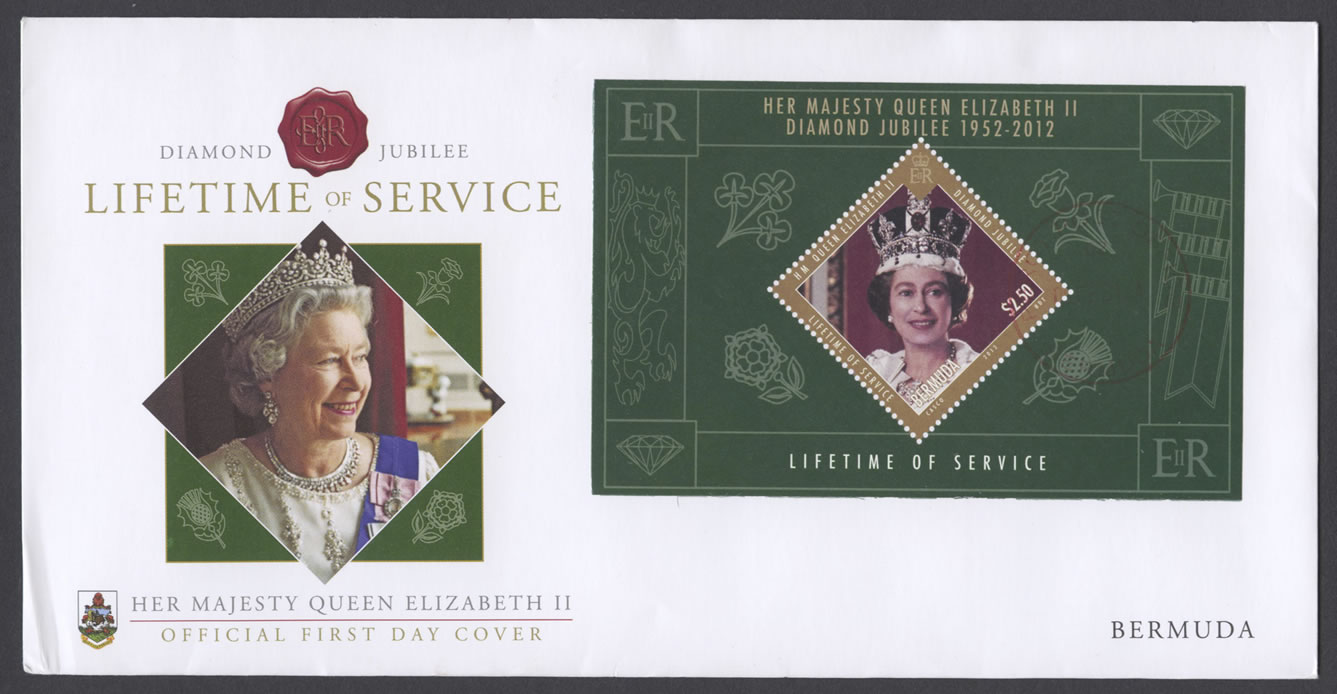 Type: Souvenir Sheet Official First Day Cover
CDS: 09.FEB12A PEROT POST OFFICE BERMUDA
Cachet: DIAMOND JUBILEE LIFETIME OF SERVICE HER MAJESTY QUEEN ELIZABETH II OFFICIAL FIRST DAY COVER BERMUDA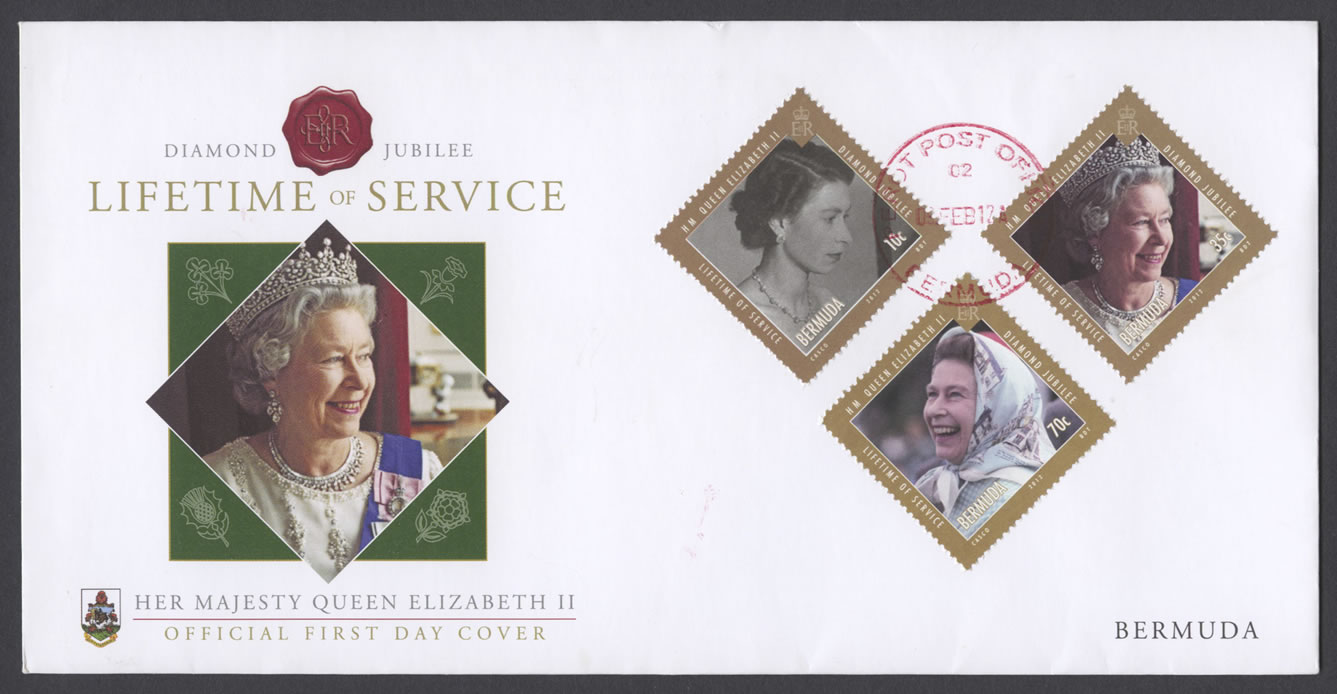 Type: Official First Day Cover
CDS: 09.FEB12A PEROT POST OFFICE BERMUDA
Cachet: DIAMOND JUBILEE LIFETIME OF SERVICE HER MAJESTY QUEEN ELIZABETH II OFFICIAL FIRST DAY COVER BERMUDA
 With thanks to Mira who purchased these on my behalf at the Perot Post Office.

BERMUDA
Lifetime of Service – Diamond Jubilee
Introduction to Lifetime of Service 2012 – Diamond Jubilee
On 6th February 2012, Her Majesty Queen Elizabeth II celebrates sixty years as Sovereign, a milestone only ever reached by Queen Victoria. To mark her Diamond Jubilee, events are being planned all over the UK and across the Commonwealth throughout 2012. In 2013, the Queen will celebrate the Diamond Anniversary of her Coronation which took place in Westminster Abbey on 2nd June 1953.
The set of Diamond Jubilee Sheetlets has been issued in honour of the Queen's Diamond Jubilee. Each stamp features a stunning image of the Queen from the last sixty years. A unique blend of official formal portraits and informal photographs, one from each decade of her reign, the 2012 Diamond Jubilee Sheetlet set is a beautiful issue documenting both the public and the private life of the world's much-loved Monarch. Together they form the definitive tribute to Queen Elizabeth II extraordinary achievement in the history of the British monarchy.
TECHNICAL DETAILS
Designer: CASCO Studio
Printer: BDT International Security Printing Ltd
Process: Lithography
6v Sheetlet Size: 180mm x 126mm with eight 36mm x 36mm stamps in diamond format
Diamond S/S: 175mm 1-65mm ith Jx 6mm x 36mm stamps and three labels in diamond format
Souvenir Sheet: 110mm x 70mm with a 36mm x 36mm stamp in diamond format
Perforation: 14 per 2cms
Paper: TR 110gsm PVA gummed Hi-White
Values: 10c, 35c, 70c, 85c, $1.10, $1.25 S/S $2.50
Release Date: 9th February 2012
Souvenir Sheets