Her Majesty Queen Elizabeth II and His Royal Highness The Prince Philip
Date: 3rd March 2011
Type: Miniature Sheet Official First Day Cover
Stamps: $2.50 H M QUEEN ELIZABETH II HRH THE PRINCE PHILIP LIFETIME OF SERVICE / Miniature Sheet – HER MAJESTY QUEEN ELIZABETH II HIS ROYAL HIGHNESS THE PRINCE PHILIP featuring Queen Elizabeth II's cypher; Prince Philip's cypher; Shamrock, Daffodil, Rose and Thistle; The Imperial State Crown and Anchor and Rope.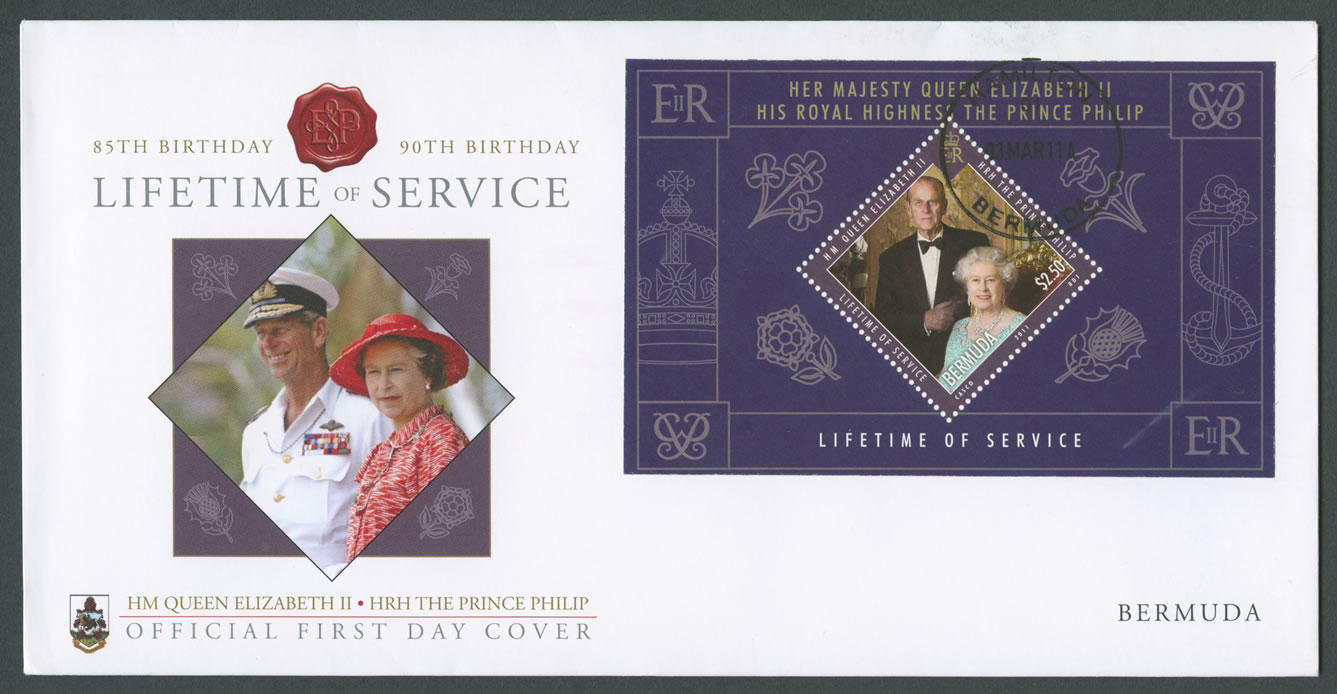 CDS: 03.MAR11A HAMILTON BERMUDA
Cachet: 85TH BIRTHDAY 90TH BIRTHDAY / LIFETIME OF SERVICE / HM QUEEN ELIZABETH II • HRH THE PRINCE PHILIP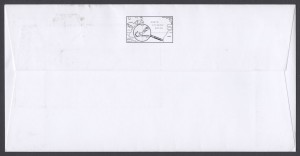 Introduction to the Lifetime of Service Stamp Collection
The years 2011, 2012 and 2013 mark a unique period in the life of Her Majesty Queen Elizabeth II. On 6 February the Queen enters the 60th year of her reign before celebrating her 85th Birthday on 21 April and Prince Philip's 90th Birthday on 10 June.
In 2012 Her Majesty becomes the only Monarch other than Queen Victoria to celebrate a Diamond Jubilee; an event culminating in June with Jubilee Day, before the focus shifts to the Diamond Coronation Anniversary in 2013.
Your collection of commemorative stamps spans this remarkable period in Queen Elizabeth's reign. Spread over the full three years, every single stamp in this superb collection has been issued by one 0f ten BritiSh Isles and Commonwealth countries and features a stunning portrait of their Queen and her consort Prince Philip through the decades. Together they form an incredible limited edition Lifetime of Service tribute to Her Majesty Queen Elizabeth II.
TECHNICAL DETAILS
Designer: CASCO Studio
Printer: BDT international Security Printing Ltd
Process: Lithography
6v Sheetlet Size: 180mm x 126mm with eight 36mm x 36mm stamps in diamond format
Diamond S/S: 175mm x 165mm with six 36mm x 36mm stamps and three labels stamps in diamond format
Souvenir Sheet: 110mm x 70mm with a 36mm x 36mm stamp in diamond format
Perforation: 13.5 per 2cms
Paper: Senator 96gsm
Values: 10c, 35c, 70c, 85c, $1.10, $1.25
Release Date: 3rd March 2011