Happy 80th Birthday to The Queen
The Queen celebrates two birthdays each year: her actual birthday on 21st April and an official birthday on a Saturday in June.
Date: 21st April 2006
Stamps: Bermuda 35c, 70c, 85c, $1.25. All stamps show images of HM The Queen taken throughout her life.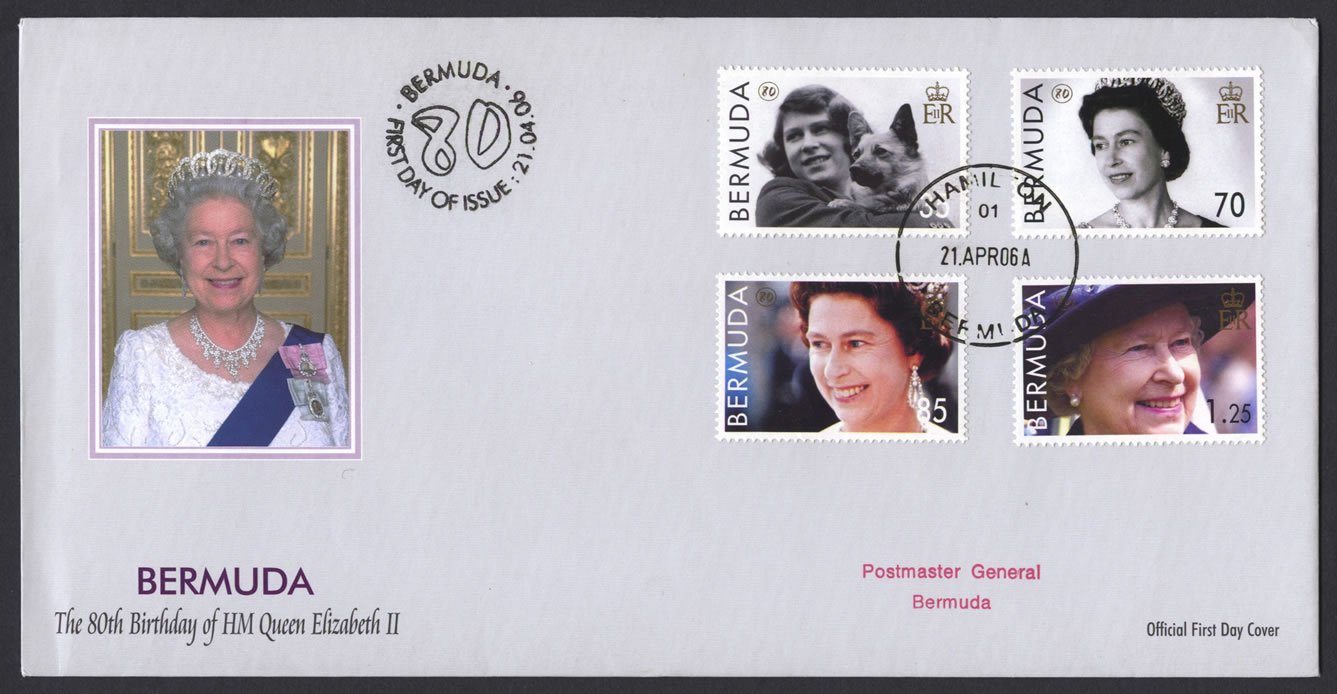 Type: Official First Day Cover
CDS: 21.APR06A HAMILTON BERMUDA / BERMUDA 80 FIRST DAY OF ISSUE 21.4.06
Cachet: Portrait of The Queen with BERMUDA The 80th Birthday of HM Queen Elizabeth II Official First Day Cover
Address: Postmaster General Bermuda
Reverse: Map of Bermuda with magnifying glass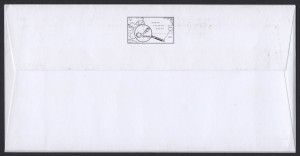 Liner
BERMUDA
80TH BIRTHDAY Of HM QUEEN ELIZABETH II
21 APRIL 2006
Her Majesty Queen Elizabeth II was born in London on 21st April 1926. She was the first child of His Majesty King George VI and Her Majesty Queen Elizabeth. She was christened Elizabeth Alexandra Mary in the chapel at Buckingham Palace five weeks later.
Princess Elizabeth was educated at home with her sister, Princess Margaret. In her early teens she studied history, law and also art and music. She was a keen horsewoman in her childhood and remains so to this day. Princess Elizabeth also enjoyed amateur dramatics, was a good swimmer, and became a Girl Guide before eventually becoming a Sea Ranger.
In October 1940 she made her first radio broadcast, through the BBC, to all the children in Britain and the Commonwealth. This was the first formal step towards her devoted duty to the Commonwealth that she is so interested in and supportive of today.
During the Second World War she carried out a number of official duties and completed a course with the Mechanical Training Centre of the ATS in 1945, passing out as a fully qualified driver and reaching the rank of Junior Commander.
In 1947 she undertook her first official overseas visit, to South Africa, and made a broadcast to the world dedicating herself to the service of the Commonwealth, a dedication she repeated five years later on her accession to the throne.
On returning to Britain she married Lt Philip Mountbatten who was to become HRH The Duke of Edinburgh.
The current duties of Her Majesty Queen Elizabeth II are many and varied. They include regular weekly meetings with the United Kingdom Prime Minister and other government ministers, hosting visiting Heads of State and attending many and varied functions throughout the UK and the rest of the world. She is patron of over 700 organisations and entertains around 48,000 members of the community including many from overseas at Royal Garden Parties and other occasions.
Her Majesty Queen Elizabeth 11 is Head ofThe Commonwealth and has visited avery large proportion ofCommonwealth member countries where amongst other duties she presents honours to those in public life who have distinguished themselves and usually arranges a "walkabout" when she can meet ordinary members of the public.
Her Majesty The Queen has visited Bermuda on three occasions during her reign, firstly in 1953 and then in 1975 and 1994. Bermuda was the first stop in the 1953 Coronation Tour of the Commonwealth, starting just five months after her glittering Coronation ceremony. As her aeroplane departed it was to the sound of bagpipes played by the official piper to the Caledonian Society. The 1975 tour included visits to City Hall and the Dockyard and a tree planting and an investiture ceremony at Government House. At the National Stadium, Duke of Edinburgh Awards were presented. In 1994, there was an investiture ceremony at Government House and HM The Queen attended many functions during her visit including a tour of the Botanical Gardens. She also visited Bermuda College where she met teaching staff and students. Lunch at the Stonington Beach Hotel was prepared by students of the Bermuda College.
The Queen has two birthdays. Her actual birthday is on 21st April and this year her official birthday falls on 17th June 2006.
In this her 80th year, the celebrations will be modest and include a family dinner hosted by HRH The Prince of Wales, services of Thanksgiving, a children's Garden Party at Buckingham Palace and a reception hosted by HRH The Duke of Edinburgh at Buckingham Palace for other people who will also be 80 on the 21 st April 2006.
TECHNICAL DETAILS
LAYOUT AND DESIGN: CASB Studio
PHOTOGRAPHIC AGENCIES: Camera Press Ltd and Tim Graham Picture Library
PRINTER: BDT International Security Printing Ltd
STAMP SIZE: 28.45mm x 42.58mm (landscape format)
S/SHEET SIZE: 143mm x 75mm (in the landscape format comprising two stamps)
PROCESS: Lithography
COLOURS: 4 colour process plus metallic gold
PERFORATION: 14 per 2 cms
DESIGNS: All stamps show images of HM The Queen taken throughout her life. The photographs capture HM The Queen in both a formal and informal capacity
PAPER: CA Spiral Watermarked
RELEASE DATE: 21 April 2006
Commemorative Covers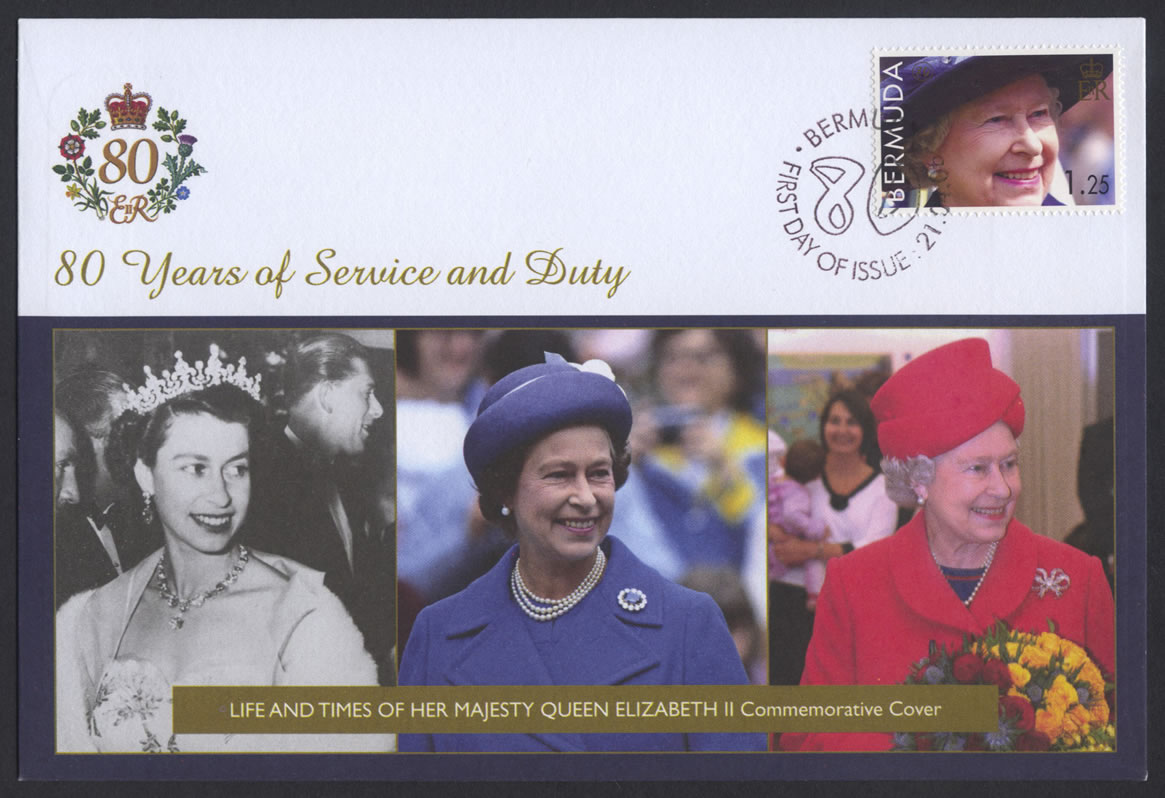 Type: Commemorative First Day Cover
CDS: BERMUDA 80 FIRST DAY OF ISSUE 21.4.06
Cachet: 80 Years of Service and Duty. LIFE AND TIMES OF HER MAJESTY QUEEN ELIZABETH II Commemorative Cover
Stamps: Bermuda $1.25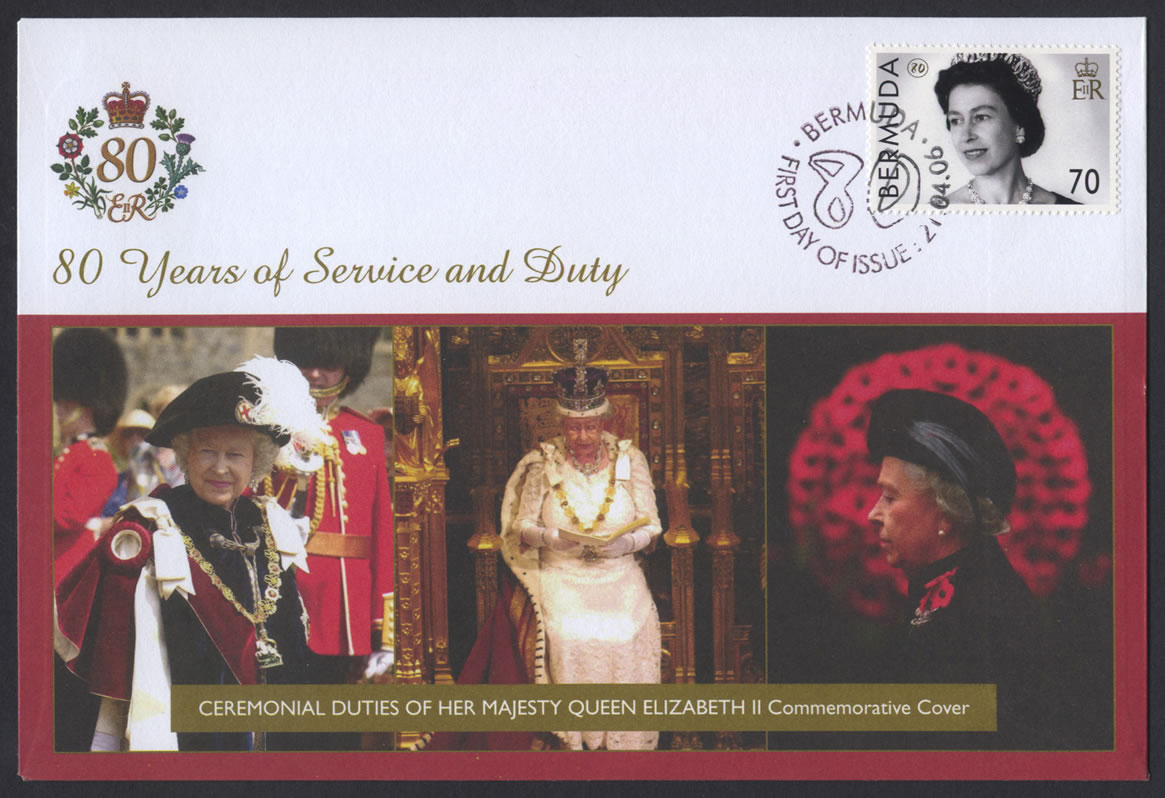 Type: Commemorative First Day Cover
CDS: BERMUDA 80 FIRST DAY OF ISSUE 21.4.06
Cachet: 80 Years of Service and Duty. CEREMONIAL DUTIES OF HER MAJESTY QUEEN ELIZABETH II Commemorative Cover
Stamps: Bermuda 70c