World Wide Fund for Nature
Date: 19th August 2004
Stamps:BERMUDA Bluefin Tuna Thunnus thynnus with WWF Panda 10c, 35c, 85c and $1.10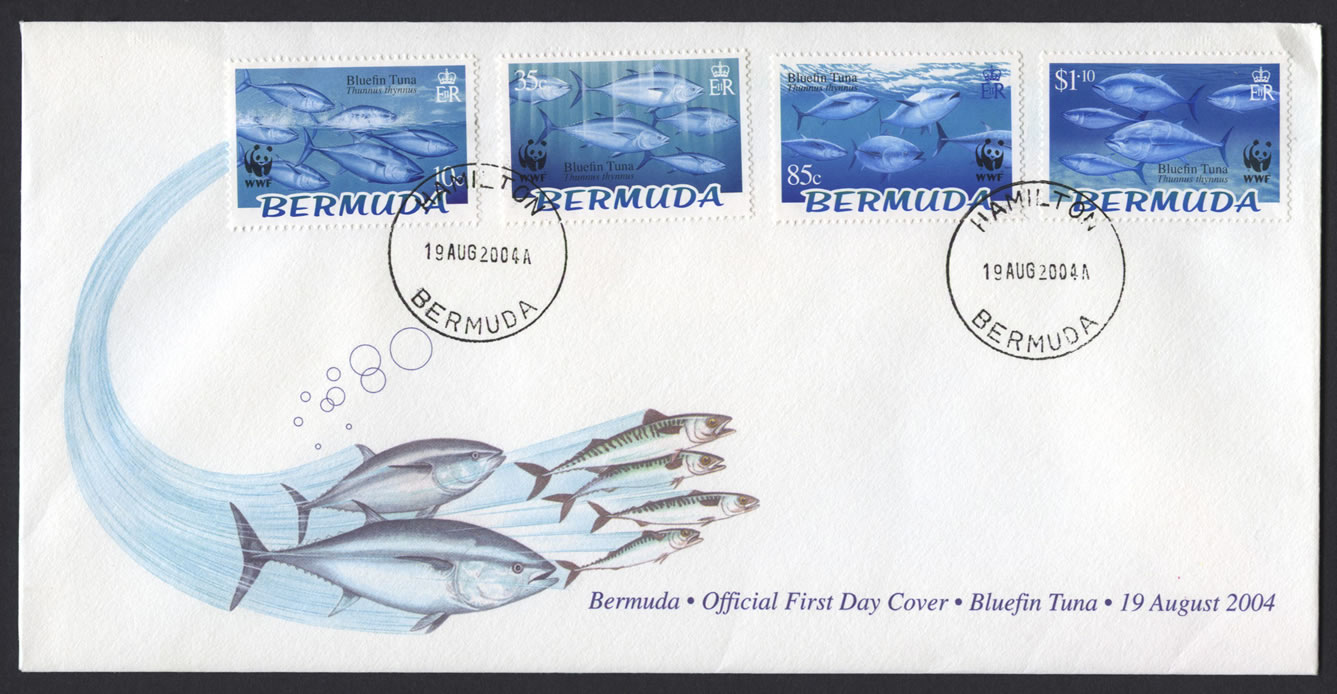 Type: Official First Day Cover
CDS: 19AUG2004A HAMILTON BERMUDA
Cachet: Bermuda • Official First Day Cover • Bluefin Tuna • 19 August 2004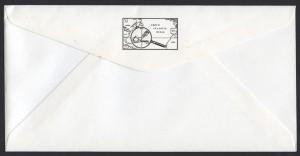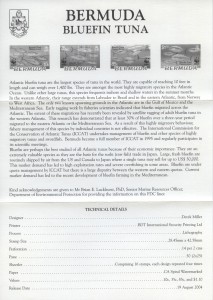 BERMUDA
BLUEFIN TUNA
Atlantic bluefin tuna are the largest species of tuna in the world. They are capable of reaching 10 feet in length and can weigh over 1,400 Ibs. They are amongst the most highly migratory species in the Atlantic Ocean. Unlike other large tunas, this species frequents inshore and shallow waters in the summer months.
In the western Atlantic, their range extends from Labrador to Brazil and in the eastern Atlantic, from Norway to West Africa. The only two known spawning grounds in the Atlantic are in the Gulf of Mexico and the Mediterranean Sea. Early tagging work by fisheries scientists indicated that bluefin migrated across the Atlantic. The extent of these migrations has recently been revealed by satellite tagging of adult bluefin tuna in the western Atlantic. This research has demonstrated that at least 30% of bluefin over a three-year period migrated to the eastern Atlantic or the Mediterranean Sea. As a result of this highly migratory behaviour, fishery management of this species by individual countries is not effective. The International Commission for the Conservation of Atlantic Tunas (ICCAT) undertakes management of bluefin and other species of highly
migratory tunas and swordfish. Bermuda became a full member of ICCAT in 1995 and regularly participates in its scientific meetings.
Bluefin are perhaps the best studied of all Atlantic tunas because of their economic importance. They are an extremely valuable species as they are the basis for the sushi (raw fish) trade in Japan. Large, fresh bluefin are routinely shipped by air from the US and Canada to Japan where a single tuna may sell for up to US$ 50,0000
This market demand has led to high exploitation rates and severe overftshing in some areas. BIuefin are under quota management by ICCAT but there is a large disparity between the western and eastern quotas. Current market demand has led to the recent development of bluefin farming in the Mediterranean.
Kind acknowledgements are given to Mr Brian E. Luckhurst, PhD, Senior Marine Resources Officer, Department of Environmental Protection for providing the information on this FDC liner.
TECHNICAL DETAILS
Designer: Derek Miller
Printer: BDT International Security Priming Ltd
Stamp Size: 28.45mm x 42.58mm
Process: Lithography
Perforation: 14 per 2 cms
Pane: 50 (2×25)
Sheetlet: Comprising 16 stamps, each design repeated four times
Paper: CA Spiral Watermarked
Values: 10c, 35c, 85c, and $1.10
Release Date: 19 August 2004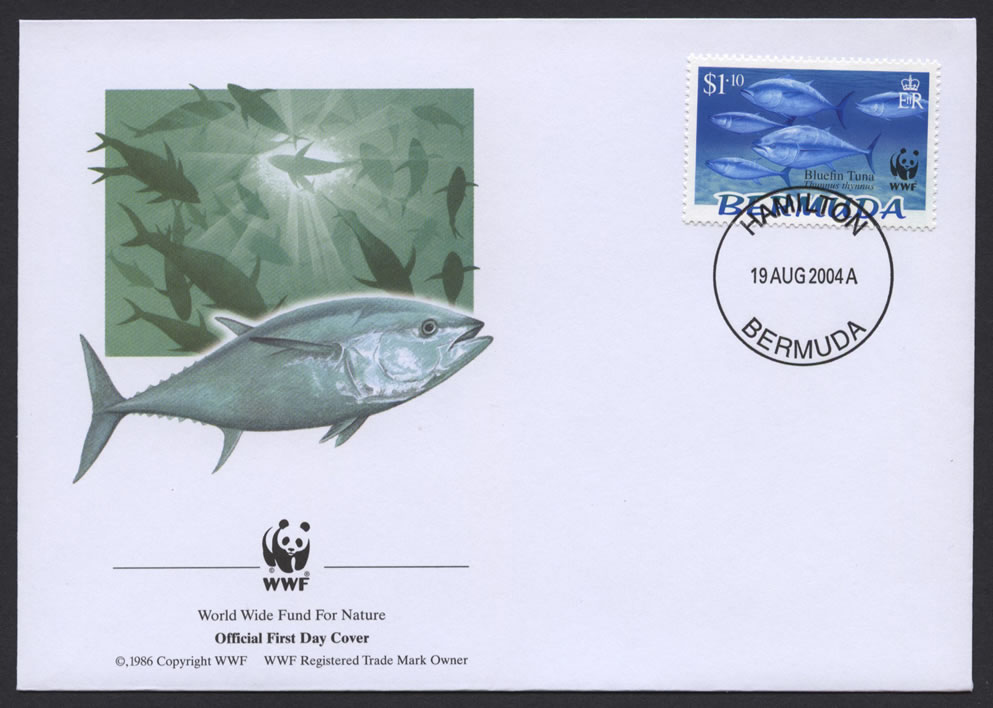 Type: WWF First Day Cover
CDS: 19AUG2004A HAMILTON BERMUDA
Cachet: WWF World Wide Fund for Nature Official First Day Cover ©1986 WWF Registered Trade Mark Owner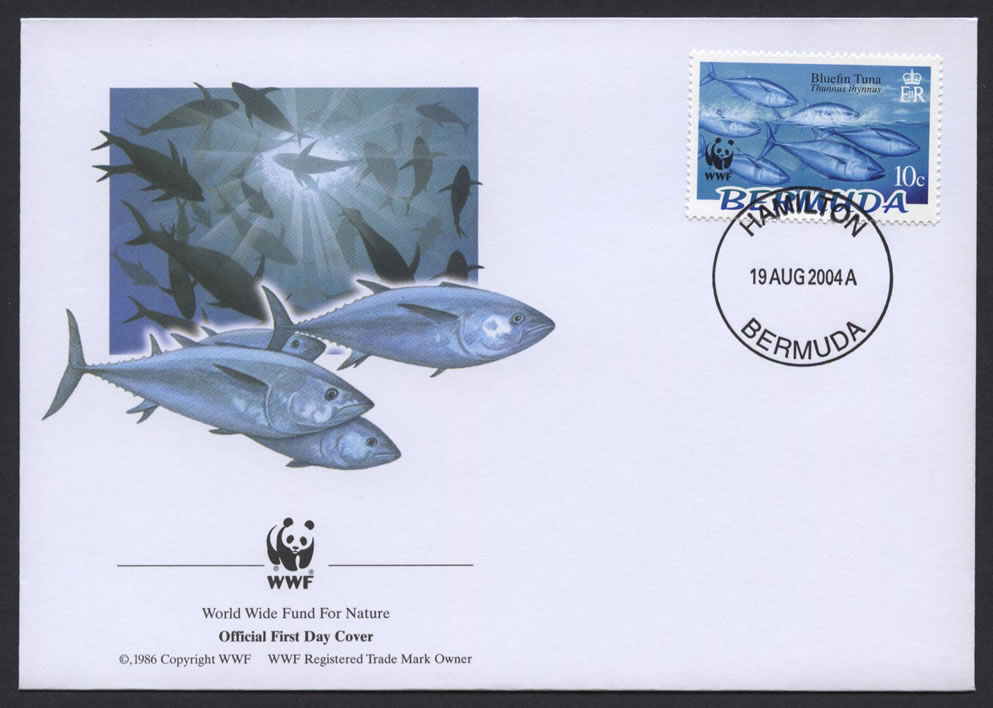 Type: WWF First Day Cover
CDS: 19AUG2004A HAMILTON BERMUDA
Cachet: WWF World Wide Fund for Nature Official First Day Cover ©1986 WWF Registered Trade Mark Owner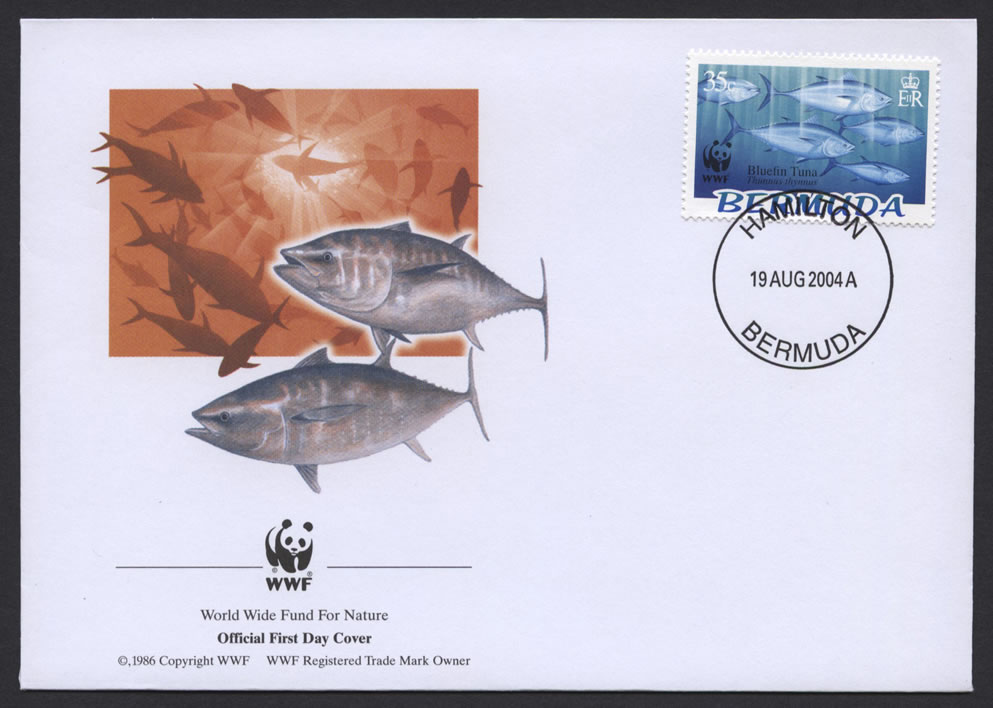 Type: WWF First Day Cover
CDS: 19AUG2004A HAMILTON BERMUDA
Cachet: WWF World Wide Fund for Nature Official First Day Cover ©1986 WWF Registered Trade Mark Owner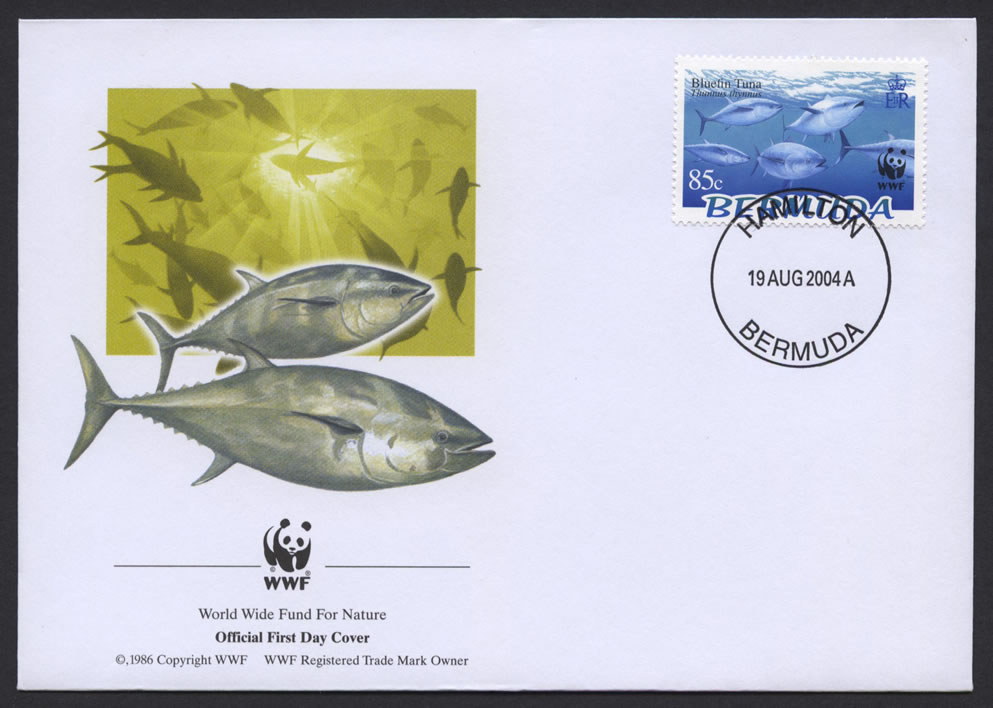 Type: WWF First Day Cover
CDS: 19AUG2004A HAMILTON BERMUDA
Cachet: WWF World Wide Fund for Nature Official First Day Cover ©1986 WWF Registered Trade Mark Owner

Type: Marginal strip