More values for the definitive issue
Date: 6th October 1994
Stamps: 10c Calabash Crescentia cujete; 25c Mulberry Morus nigra; 35c Grape Vitis vinifera; 55c Orange Citrus sinensis; $1 Prickly Pear Opuntia dillenii; $5 Banana Musa paradisiaca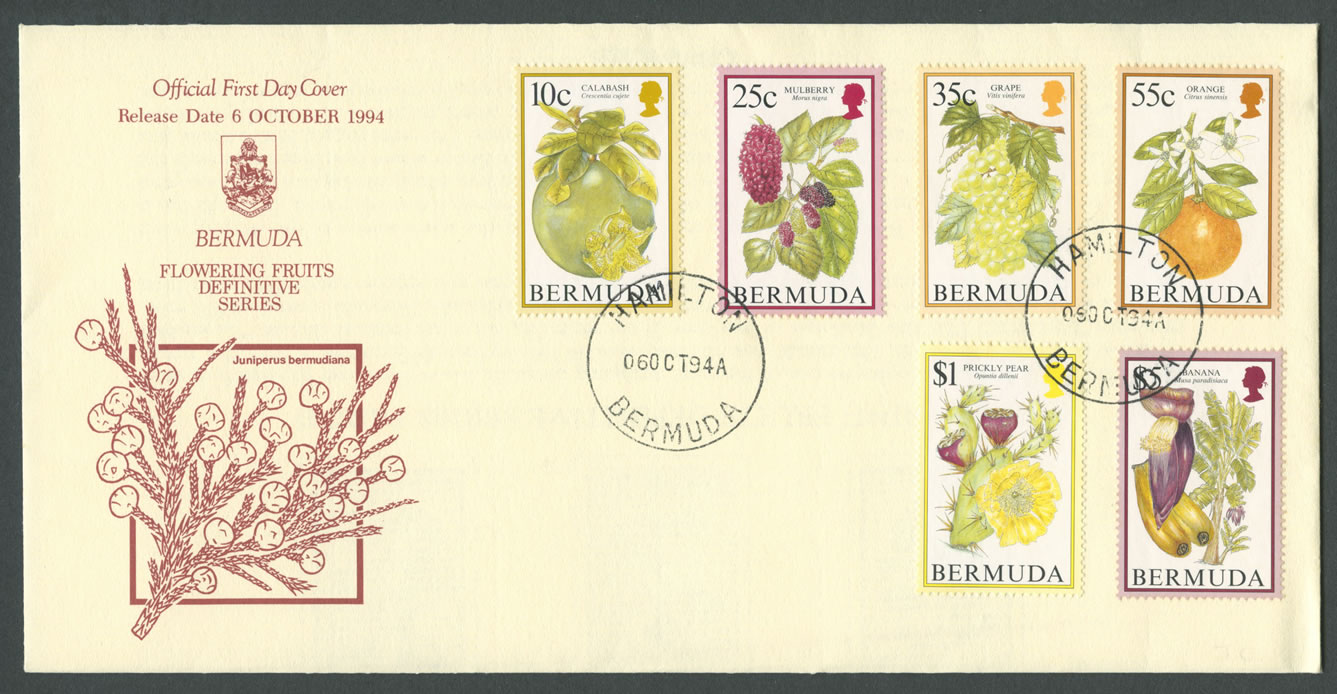 Type: Official First Day Cover
Cachet: Official First Day Cover. Release Date 6 October 1994. BERMUDA FLOWERING FRUITS DEFINITIVE SERIES Juniperus bermudiana
CDS: 06OCT94A HAMILTON BERMUDA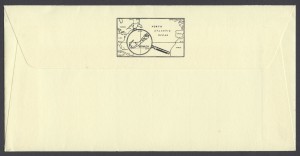 BERMUDA
FLOWERING FRUITS DEFINITIVE SERIES PART II
Bermuda Flora, which is undoubtedly one of the most intriguing on earth, ha evolved over thousands of years on these remote oceanic islands. The islands were first discovered in 1503 by Juan de Bermudez, a Spanish Captain of a ship "La Garza". This tiny landmass of just over 21 square miles, has a sub-tropical climate that enables a diverse range of plants from all corners of the world to thrive. Geographically, Bermuda is situated 570 miles due east of Cape Hatteras, North Carolina, 911 North East of the Bahamas and approximately 3445 miles from London, England.
One of the oldest remaining British Colonies, its shores are washed by the warm waters of the Atlantic Gulf Stream, providing ideal habitats, for a wide range of migrating birds. For such a small island, Bermuda has a very diverse range of habitats from upland limestone hills to moist peaty valleys. Mangrove lagoons and marshland dot the landscape. Miles of coral reef can be seen along the pretty South Shore where jade blue seas splash the fascinating coastline. Many plants are found colonizing the pink sand dunes. The more rugged North Shore gets the occasional lashing from the cold winter winds, only allowing hardy plants to grow well. Inland spectacular hedgerows of Hibiscus, Oleander Acalypha and other shrubs and trees provide continuous year round colour. There can be few other places in the world which provide such a wonderful display of botanical splendour.
Today, 17 true endemic plants and 160 native species survive. There are also approximately 1,300 cultivated plants growing on the island. Occasional pockets of undisturbed land give an impression of how the islands looked when the first settlers arrived in 1612. The landscape was thickly wooded with Bermuda cedar, palmetto, prickly pear and pomegranates. Some mulberry, tobacco, yellowood and white stopper trees were also evident. The Bermuda cedar was the dominant tree at that time, but it was almost destroyed in the 1940s when accidentally introduced scale insect devastated the forests. With care and encouragement the Bermuda cedars are making a comeback, thanks to a programme which started in 1978 when almost 10,000 cedar trees were reintroduced into the Bermuda landscape. This major effort has helped to save this unique tree, Juniperus bermudiana, from extinction.
Many new fruits, vegetables and herbs were introduced in the early years. These included corn, cabbage, peas, onions, carrots, beans, artichokes, lettuce, cassava and arrowroot. Radish, parsnips and many more were cultivated and some of these were successfully exported, particularly the arrowroot and onion. Figs, lemons, limes, oranges, melons, pineapples, sugar cane and plantains were also grown. Fennel, marjoram and many other herbs became useful for culinary and medicinal purposes. Madder and indigo were imported and used as dye plants whilst flax and hemp were used for making rope. Coffee, wheat, cotton and rice were also imported.
These Bermuda islands are rich in both trees and exotic flowers and abundant in edible fruits.
Today Bermuda's lush sub-tropical landscape has over forty fruits found growing both wild and cultivated and many gardens contain avocado trees, peach, banana, citrus, loquats, surinam cherry and pawpaw. Despite immense growth in population and development on this fragile island, Bermuda has wisely taken positive steps to preserve and conserve its unique environment for future generations.
10c – CALABASH Crescentia cujete
Family: Bignoniaceae
Originally from the Tropical Americas, the mature Calabash tree reaches approximately 25 ft (8m) high and the spreading branches hold large rounded 'Cannon Ball' like fruits that can be used as cups, bowls, bird boxes or boat bailers. The flowers are bell shaped yellow/green, with conspicuous deep red/brown markings. The first mention of the Calabash in Bermuda was by the poet, Tom Moore who wrote his famous verse while sitting under the Old Calabash Tree, which was sadly devastated by the 1987 storm.
25c – MULBERRY Morus nigra
Family: Moraceae
A native of West Asia, trees will grow more than 25 ft (8m) tall and flower in drooping catkins followed by delicious red to black edible fruits. Bermuda has a few scattered specimens found occasionally in well established gardens, they are said to have been introduced into Bermuda in the early 1600s by the early settlers.
35c – GRAPE Vitis vinifera
Family: Vitaceae
The Wine Grape originally from the Caucasus region was known in Ancient Egypt and cultivated for centuries (from 6,000 years ago). A woody deciduous vine with climbing tendrils, thin scarcely toothed 3-5 lobed leaves and greenish flowers followed by delicious fleshy sweet green fruits, it is most widely grown in temperate areas of Europe and California. The original grape was a wild grape, in Bermuda it is more commonly found in old traditional gardens where yields vary depending on exposure, soil type and aspect.
55c – ORANGE Citrus sinensis
Family: Rutaceae
Originally from Brazil, the large Bermuda Orange is locally known as the Washington Navel. It's very sweet, juicy and has a long ripening period from November to April. The white waxy flowers are produced in large fragrant clusters and can be seen from January each year. Citrus seeds were originally sent to Bermuda in 1616 and soon became a popular crop. The thick skin may still be green when the fruit inside is sweet and edible.
$1.00 – PRICKLY PEAR Opuntia dillenii
Family: Cactaceae
The rounded – oblong fleshy spine covered pads distinguish the prickly pear from any other Bermuda plant and was probably introduced to Bermuda by birds. The large golden yellow flowers are followed by crimson/purple fruits with bunches of tiny stinging prickly hairs so the edible fruit~ should be peeled before eating. Locals like to make jelly, but not an easy fruit to crop, fruits may be used for producing purple scarlet dyes. Historically a type of candy was produced locally with the pulp from the fruit.
$5.00 – BANANA Musa paradisiaca var. 'Cavendishii'
Family: Musaceae
Introduced to Bermuda around 1616, the common Banana has spirally arranged leaves produced on a slender succulent trunk and in all but sheltered areas the leaves are broken and frayed by strong winds. Hanging bunches of cream/yellow flowers with red/violet bracts are followed by delicious yellow Bananas 18 months from planting. As the plant begins to die new suckers produce the next generation of plants. The Islands are now almost self sufficient for much of the year. Locally a few craftspersons make traditional Banana leaved dolls. The leaves were once used for stuffing matresses, and as a remedy for burns.
Acknowledgements to Christine Phillips-Watlington (Nee Pill) Botanical Illustrator for providing liner information.
TECHNICAL INFORMATION
Designer: Christine Phillips-Watlington
Borders and Layout: Derek Miller
Printer: The House of Questa Ltd
Process Lithography
Stamp: Size 28.45 mm x 42.58 mm
Pane: 50 (2×25)
Perforation: 14 per 2 cms
Paper: CA Spiral Watermarked
Values: 10c, 25c, 35c, 55c, $1, $5
Release Date: 6 October 1994