Commemorating the 75 years of the RAF
Date: 1st April 1993
Stamps: 75th ANNIVERSARY of the ROYAL AIR FORCE 1918-1993 25c CONSOLIDATED CATALINA; 60c SUPERMARINE SPITFIRE; 75c BRISTOL BEAUFIGHTER and $2 HANDLEY PAGE HALIFAX
Official First Day Cover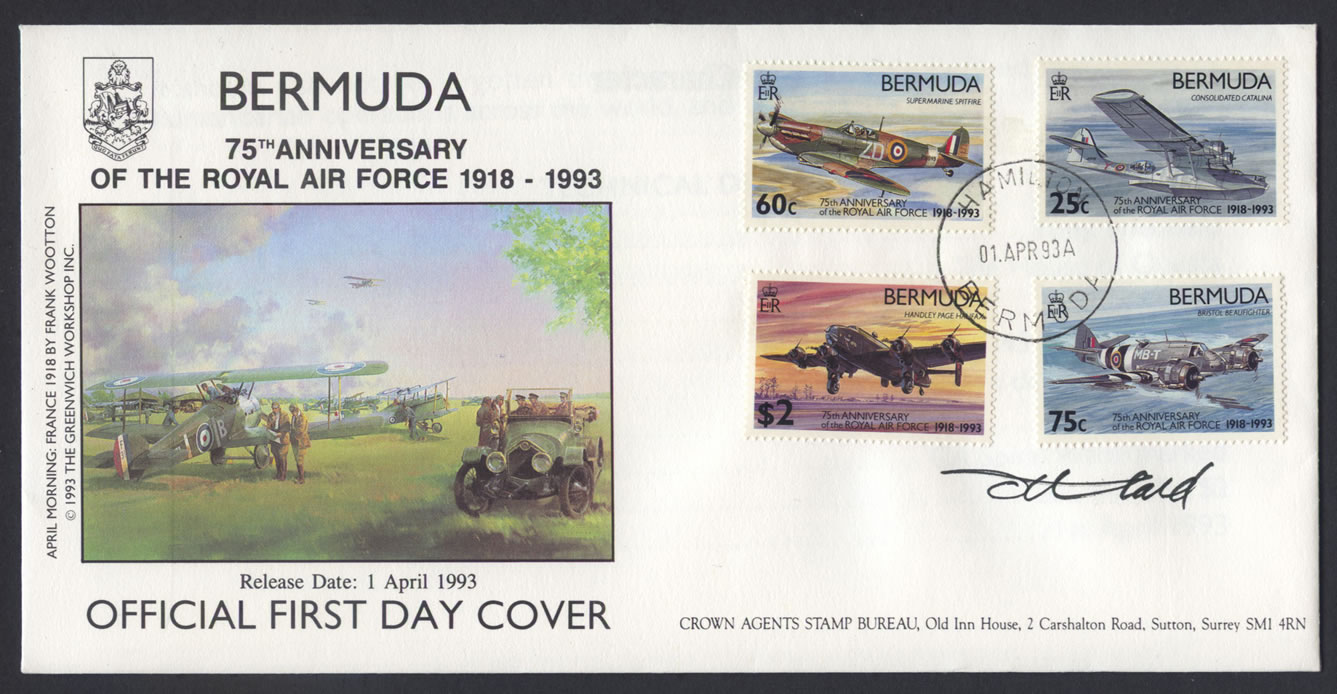 CDS: 01.APR93A HAMILTON BERMUDA
Cachet: BERMUDA 75th Anniversary of the Royal Air Force 1918-1993 / Release Date: 1 April 1993 OFFICIAL FIRST DAY COVER / APRIL MORNING: FRANCE 1918 BY FRANK WOOTTON ©1993 THE GREENWICH WORKSHOP INC.
Address: Crown Agents Stamp Bureau, Old Inn House, 2 Carshalton Road, Sutton, Surrey SM1 4RN
Signed: Tony Theobald, designer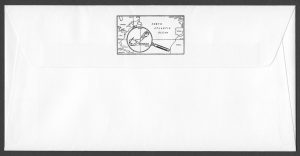 Liner
BERMUDA
75th ANNIVERSARY OF THE ROYAL AIR FORCE 1918-1993
Considering man's centuries long aspirations to fly like a bird and his innumerable thwarted, often fatal, experiments it is incredible that, within a dozen years of the Wright brothers' first successful powered flight, armed aircraft were engaging in acrobatic duelling thousands of feet above the trenches and battlefields of the First World War.
When the Armistice was signed in November, 19 18, the Royal Air Force was barely six months old and Britain had over 22,500 combat aircraft under command. When World War Two began in 1939, Britain's combined air defence strength amounted to fewer than 1500 aircraft in the United Kingdom and about 400 deployed overseas.
The early history of the Royal Air Force is, in fact, a chronicle of ups and downs – not all of them aeronautical. There were aviation pioneers a-plenty vying to emulate the Wright brothers' success with the 'Flyer' in December 1903. Mostly they were enthusiasts with sporti ng or commercial objectives in mind, but the advantages of mobile aerial reconnaissance were not overlooked by some progressive military strategists.
Observers positioned in baskets strung below balloons made the first aerial reconnaissance but were very vulnerable to hostile attack and as the balloons were usually moored, the range of observation was limited. Aeroplanes travelling across the sky seemed to offer a much better prospect so, despite the opposition of die-hard, traditional mil itary men, an Air Battalion of the Royal Engineers was established, as part of the Army, in 1911. Tentative trials with flimsy slow powered aircraft began but there was no urgency attached to these early experiments.
In his book 'The Story of Air Fighting', Air Vice Marshal J. E. 'Johnnie' Johnson comments "The records ofthe early days of service reveal a story of divided opinion, of interrupted experiments, of the boldness of a handful of designers, of the deep conviction of the fanatics and the usual cautious approach of the Government to a new and costly venture".
However, the ominous shadow of war began to loom in Europe and, resulting from recommendations made by a committee which had considered the future of military aviation, the Royal Flying Corps was formed in 1912, which absorbed the Air Battalion of the Royal Engineers. The Royal Navy, equally keen to explore the possibilities of airborne naval reconnaissance, established and developed its own Royal Naval Air Service (1st July 1914).
Two outstanding personalities emerged during these events. Brigadier General David Henderson, the Director of Military Training also doubled as Director General of the Military Aeronautic Directorate. He is sometimes affectionately dubbed "the grandfather of the Royal Air Force". During his term as head of the Royal Flying Corps in its infancy he saw the potential of Major Hugh Trenchard. Trenchard, by then Brigadier, took command of the Royal Flying Corps in August 1915.
Under his leadership aerial warfare extended its horizons beyond passive reconnaissance to sky-high combats between opposing airmen.
The war continued for three more long years, and in fact there were virtually two wars; the one with the enemy; the other 'war' was an internal struggle between the War Office and Admiralty. Both Royal Flying Corps and Royal Naval Air Service had grown in size and importance and organizational problems multiplied. Both believed their influence was paramount. The Prime Minister, David Ll0yd George, decided to invite an impartial observer to adjudicate. His report recommended a new, independent, service with its own ministry and its own staff. The report was approved by the War Cabinet and Parliament passed the necessary bill. The Royal Air Force came into being on the 1st April 1918.
Many countries became inextricably involved with the development of the Royal Air Force and played an active role as the years unfolded – particularly during the Battle of Britain in 1940 and throughout World War Two.
Bermuda was used as a staging base for the Maritime Patrol Flying Boats, and provided two Spitfires; also a number of Bermudians served with distinction as air crew in fighter and bomber aircraft.
It should also not be forgotten that the Royal Air Force also plays a vital roll in humanitarian operations across the world, and continues to do so.
TECHNICAL DETAILS
Designer: Tony Theobald
Printer: The House of Questa
Process: Lithography
Stamp Size: 28.45mm x 42.58mm
Pane: 50 (2 x 25) with decorative gutter
Perforation: 14 per 2 cms
Paper: CA Spiral Watermarked
Values: 25c, 60c, 75c, $2
Release Date: 1st April 1993
Benham First Day Cover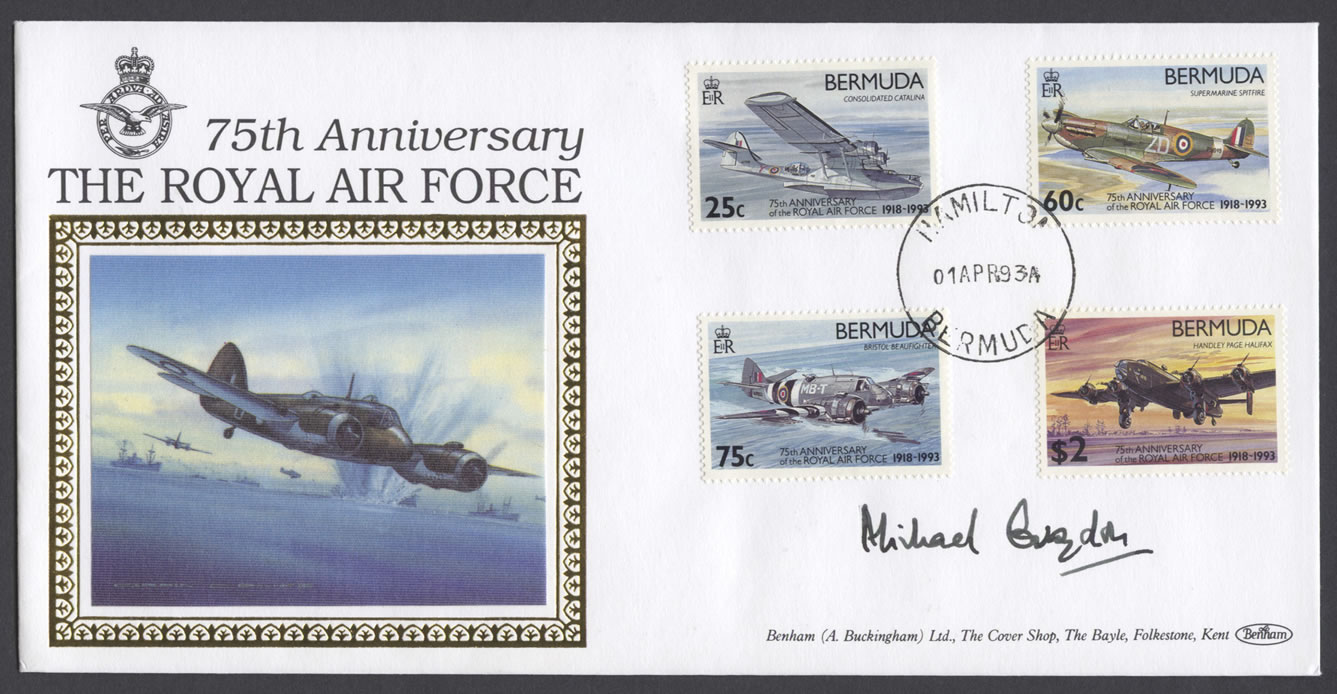 Type: Benham First Day Cover
CDS: 01APR93A HAMILTON BERMUDA
Cachet: 75th Anniversary THE ROYAL AIR FORCE Signed by Sir Michael Graydon KCB CBE
Address: Benham (A. Buckingham) Ltd, The Cover Shop, The Bayle, Folkstone, Kent
Sir Michael Graydon KCB CBE
Air Chief Marshal Sir Michael (James) Graydon KCB CBE was born in 1938 and has been Chief of the Air Staff and Air ADC to the Queen since 1992. He has served in the RAF since the early sixties, whilst becoming a qualified Flyin9 Instructor at No 1 FTS Linton-on-Ouse. He has also served ln several squadrons over the years including Fli9ht Comd No 56 Sqn (1967-69). Other posts include Operatlons Joint Warfare MoD (1973-75), OC RAF Stanley Falkland Is (1983), AOC-in-C Raf Support Comd (1989-91) and C-in-C UK Air Forces (1991-92).
He has published "Contributions to Professional Journals" and his recreations include golf, birdwatching and reading.
You Magazine / Benham – The Art of First Day Cover Design Perfected
Aviation owes an immense debt to Lord Rothennere, owner of the Daily Mail. He was concerned about Britain's role in aviation, particularly during the 1930's when war threatened. In 1934 he ordered a six passenger executive aircraft capable of speed of 250mph from the Bristol Aeroplane Company. He called the plane Britain First. The Air Ministry recognised its potential as afast medium bomber and gave an immediate orderfor 150 aircraft. Renamed the Blenheim Bomber, it served the Royal Airforce [sic] with distinction.
RAFA First Day Covers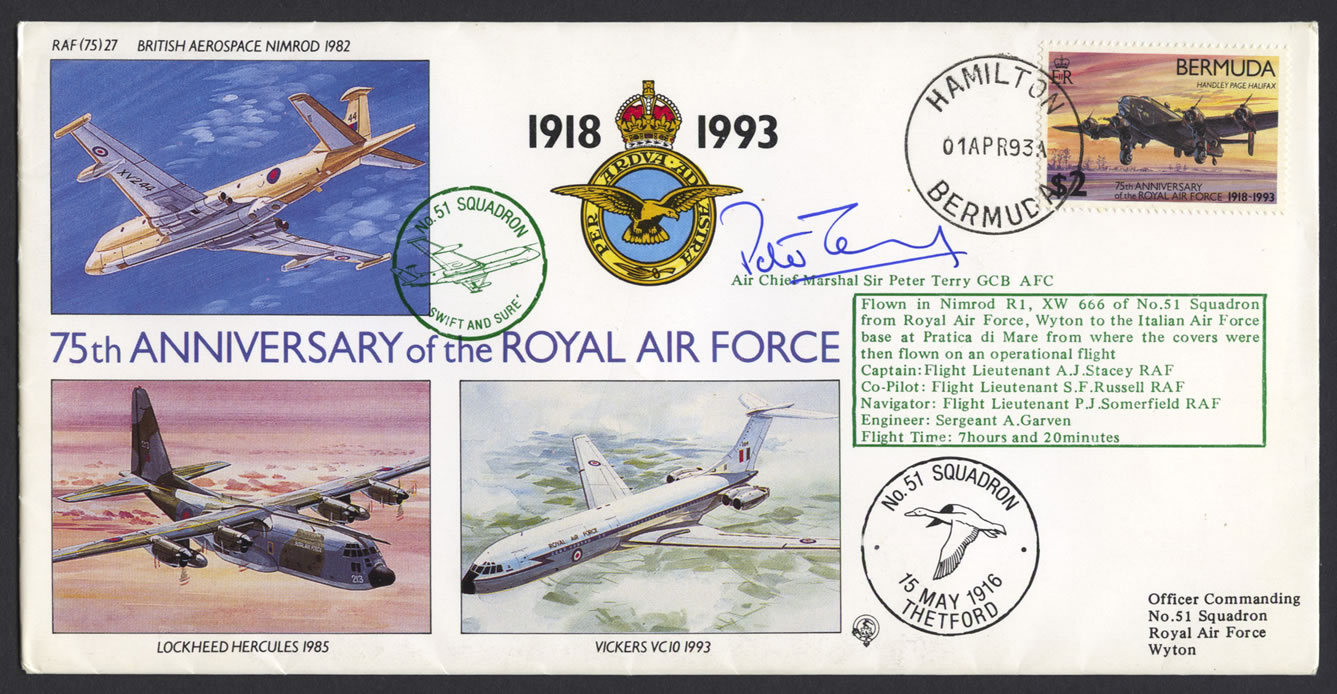 Type: RAFA First Day Cover
CDS: 01APR93A HAMILTON BERMUDA / No.51 SQUADRON 15 MAY 1916 THETFORD / No.51 SQUADRON 'SWIFT AND SURE'
Cachet: 1918-1993 75th ANNIVERSARY OF THE ROYAL AIR FORCE Signed by Air Chief Marshal Sir Peter Terry GCB AFC. Flown in Nimrod R1, XW 666 of No.51 Squadron from Royal Air Force, Wyton to the Italian Air Force base at Pratica di Mare from where the covers were then flown on an operational flight. Captain: Flight Lieutenant A.J. Stacey RAF; Co-Pilot: Flight Lieutenant  S.F. Russell RAF; Navigator: Flight Lieutenant P.J Somerfield RAF; Engineer: Sergeant A. Garven; Flight Time: 7hours and 20minutes. Officer Commanding, No.51 Squadron, Royal Air Force, Wyton
Envelope: RAF (75) 27 Featuring BRITISH AEROSPACE NIMROD 1982 / LOCKHEED HERCULES 1985 / VICKERS VC10 1993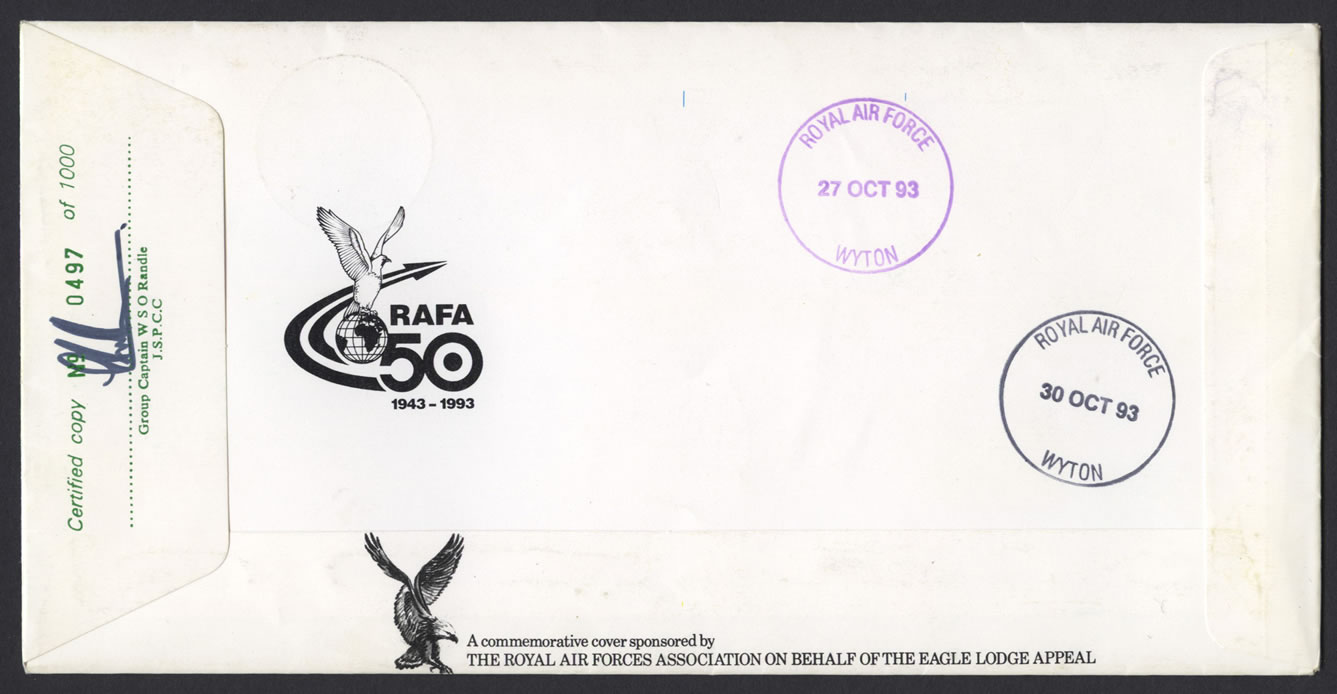 CDS: 27 OCT 93 ROYAL AIR FORCE WYTON and 30 OCT 93 ROYAL AIR FORCE WYTON
Reverse: Certified copy No 0497 of 1000 Signed by Group Captain W S O Randle J.S.P.C.C. A commemorative cover sponsored by THE ROYAL AIR FORCES ASSOCIATION ON BEHALF OF THE EAGLE LODGE APPEAL
AIR CHIEF MARSHAL SIR PETER TERRY GCB AFC
Air Chief Marshal Terry joined the RAF Volunteer Reserve in 1943. He entered full-time RAF service in 1945 and was commissioned in the RAF Regiment where he served as an anti-aircraft gunnery instructor and as the personal staff officer to the Commandant-General.
In 1953 he trained as a pilot and subsequently served with No. 79 (FR) Squadron flying the Meteor, Vampire and Swift, latterly as a Flight Commander. After training asa flying instructor in 1959, he commanded a Vampire and Meteor training squadron at the RAF College Cranwell. He attended the RAF Staff College in 1962 and then served in the HQ of the Far East Air Force. Following a course at the Joint Services Staff College, he commanded No. 51 Squadron flying the Comet 2 and Canberra 66. In 1968 he assumed command of the RAF Station at El Adem in Ubya until it dosed in 1970 when he was appointed Director of Air Staff Briefing in the Ministry of Defence and later Director of Forward
Policy for the RAF.
In 1975 Air Chief Marshal Terry was appointed Assistant Chief of Staff for Policy and Plans in the Supreme Headquarters Allied Powers Europe. In 1977 he became Vice Chief of the Air Staff and in 1979 Commander-in-Chief RAF Germany and Commander Second Allied Tactical Air Force. In 1981 he was appointed Deputy Commander-inChief Allied Forces Central Europe and, in the same year, Deputy Supreme Allied Commander Europe. He retired from the RAF in 1984 and was subsequently appointed to be the Governor and Commander-in-Chief Gibraltar where he served until 1989.
Air Chief Marshal Terry was awarded the Queen's Commendation for Valuable Service in the Air in 1959 and in 1962 and the Air Force Cross in 1968. He was appointed Companion of the Most Honourable Order of the Bath in 1975, Knight Commander of the Same Order in 1978 and Knight Grand Cross in 1983.
NO. 51 SQUADRON
"Swift and Sure"
No. 51 Squadron was formed at Thetford on 15th May 1916 as a Home Defence squadron to cover the Norfolk area and equipped with a miscellany of aircraft most of which were B.E.2c and d. There were a few B.E. 12 and later F.E.2bs were added to the strength.
The Squadron was established with its Headquarters at Hingham and with detached flights at three other airfields within reach of the Headquarters. No. 51 saw little action and was given the secondary duty of training pilots in nightflying. This task lasted until the end of 1917 when the Squadron concentrated solely on night fighting and was given a special single-seat version ofthe Avro 504k with a Lewis gun fitted above the top centre section. Subsequently the Squadron re-equipped with the Sopwith Camel night fighter. No. 51 remained on alert until the end of the war and in 1919 moved south where it disbanded at Sutton's Farm on 13th June 1919.
On 5th March 1937the Squadron reformed at Driffield as a bomber unit in No. 4 Group, Bomber Command equipped with the aged Vickers Virginia and the unsuitable Avro Anson. The defmitive armament of No.51 Squadron arrived in February 1938 in the form of Tiger-engined Armstrong Whitworth Whitley. The Squadron was one of the few to use this version when World War II broke-out. Three Whitleys, operating from Leconfield, in conjunction with Whitleys of No. 58 Squadron made the first leaflet raid over Germany during the night of 3rd/4th September 1939. By November the Squadron had begun to receive the more powerful Merlin-engined variants. These were used on leaflet raids throughout the winter until, in the Spring of 1940, No. 51 began to drop bombs. The Squadron was the first in Bomber Command to make an attack on a land target in Germany, the mine-laying seaplane base at Hornun on the island of Sylt on 19th/20th March. It also took part in the first big attack on the German mainland, the exits of Munchen Gladbach on 11th/12th May; the first attack on Italy, the Fiat works in Turin on 11th/12th June and the first area bombing attack on a German industrial centre, Mannheim on 16th/17th December 1940.
For the next two years the Squadron persevered with the obsolescent Whitley in the night offensive against Germany. During this time No. 51 also participated in two notable paratroop operations; Operation 'Colossus' on 10th/11th February 1940 when, jointly with No. 78 Squadron the Squadron flew crews outto Malta and then dropped paratroops to destroy the Tragino aqueduct in Southern Italy; and Operation 'Biting' on 27th/28th February 1942 when a Parachute Regiment raiding party was dropped by No. 51 to capture vital radar equipment at Bruneval near Le Havre.
The Squadron was the last in Bomber Command to use Whitleys on a raid over Germany at Rostock on 26th/27th April 1942. By this time the Whitley was completely outmatched over Germany. No. 51 was then attached to Coastal Command from May to October 1942 flying anti-submarine patrols from Chivenor in Devon over the Western Approaches and the Bay of Biscay.
In November 1942, the Squadron returned to Yorkshire and Bomber Command and converted to the Handley Page Halifax. With this type of aircraft it resumed the night offensive against Germany until the war in Europe finished.
On 7th May 1945, No. 51 Squadron was transferred to Transport Command and re-equipped with Stirling C Mk.5 transports. These were used for freighting along the routes to and from India. The Avro York replaced the Stirlings in early 1946 and with these the Squadron played a prominent part in the Berlin Airlift before being disbanded at Bassingbourne on 30th October 1950.
No. 51 Squadron was reformed in Signals Command at Watton on 21 st August 1958 by the renumbering of No. 192 Squadron. Equipped with Canberra and Comet aircraft the squadron task was now the calibration of radio and navigation aids. In 1963 it moved to Wyton, its present base where, 5 years later, No. 51 received its Standard. In October 1967, Comet XK655 re-joined the Squadron, having completed a refit at Watton, thus bringing the Squadron up to its full strength of four Comets, four Canberras and one Hastings. The Hastings which supplied logistic support for many detachments, left Wyton on retirement in October 1968.
A unique event occurred in 1969when music composed by a No. 51 squadron memberfor a Squadron March received official recognition. "Swift and Sure" is now played whenever the Squadron parades on ceremonial occasions. The first Nimrod was delivered to Wyton by Hawker Siddeley on July 8th 1971 and by 1974 the Squadron had discarded all its Comet 2s and re-equipped with Nimrods. The Canberras were also phased-out although one, WT 305, was substantially re-fitted and returned to the Squadron in 1975 for a specific task. When this was finished, this particular aircraft was relegated to become RAF Wyton's present 'Gate guardian'.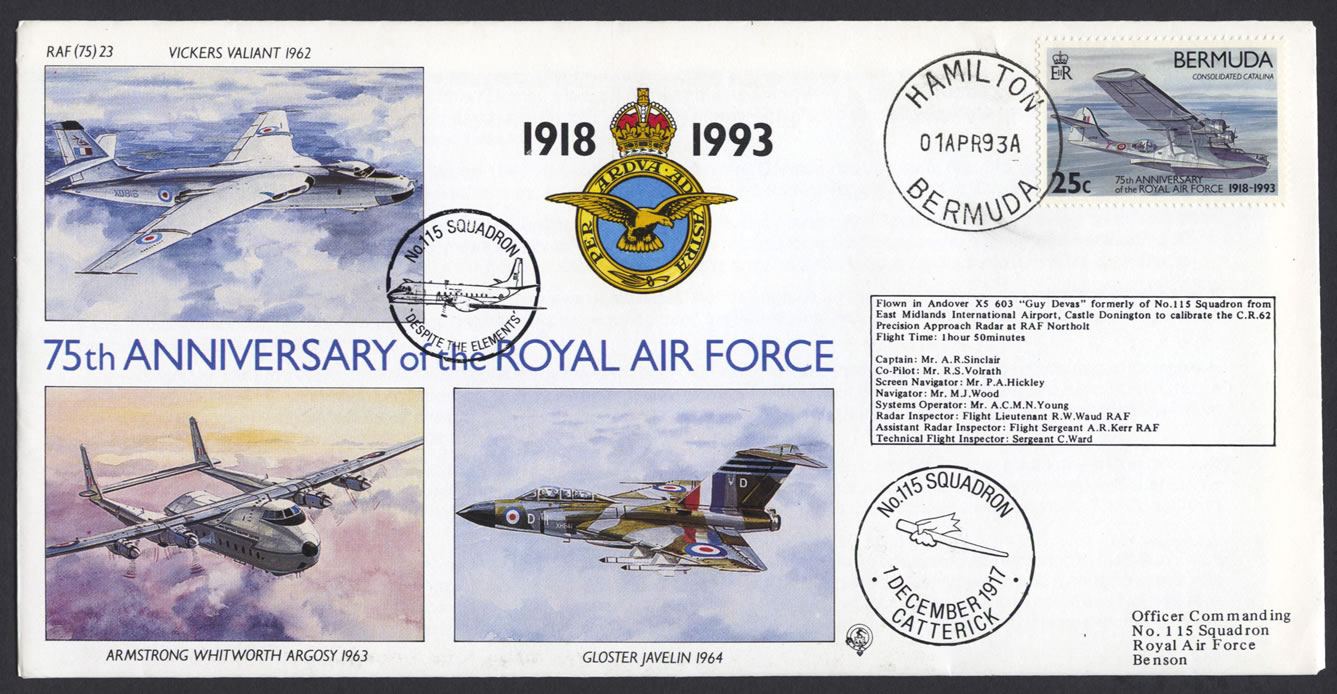 Type: RAFA First Day Cover
CDS: 01APR93A HAMILTON BERMUDA / No.115 SQUADRON 1 DECEMBER 1917 CATTERICK / No.115 SQUADRON 'DESPITE THE ELEMENTS'
Cachet: 1918-1993 75th ANNIVERSARY OF THE ROYAL AIR FORCE Flown in Andover X5 603 "Guy Devas" formerly of No.115 Squadron from East Midlands Ineternational Airport, Castle Donington to calibrate the C.R.62 Precision Approach Radar at RAF Northolt. Flight Time: 1 hour 50 minutes. Captain: Flight Lieutenant Mr. A.R. Sinclair; Co-Pilot: Mr. R.S. Volrath; Screen Navigator: P.A. Hickley; Navigator: Mr. M.J. Wood; Systems Operator: Mr. A.C.M.N. Young; Radar Inspector: Flight Lietenant R.W. Waud RAF; Assistant Radar Inspector: Flight Sergeant A.R. Kerr RAF; Technical Flight Inspector: Sergeant C. Ward. Officer Commanding, No.115 Squadron, Royal Air Force, Benson
Envelope: RAF (75) 23 Featuring VICKERS VALIANT 1962 / ARMSTRONG WHITWORTH ARGOSY 1963 / GLOSTER JAVELIN 1964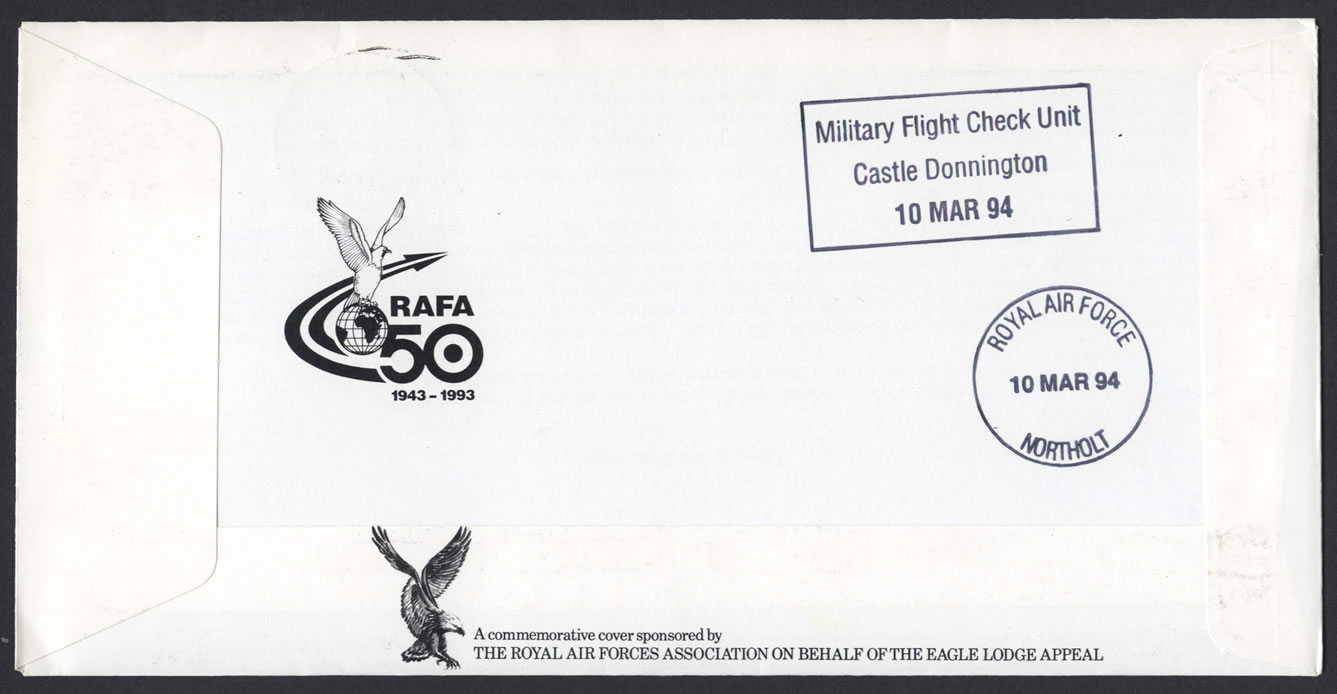 Backstamps: Military Flight Check Unit Castle Donnington 10 MAR 94 and 10 MAR 94 ROYAL AIR FORCE NORTHOLT
Reverse: A commemorative cover sponsored by THE ROYAL AIR FORCES ASSOCIATION ON BEHALF OF THE EAGLE LODGE APPEAL
NO. 115 SQUADRON
"Despite the Elements"
The Squadron laid great stress on the importance of navigation and the hand on the tiller in the squadron badge is taken as symbolic of this. The Squadron was formed by a corporal and 20 men of No. 52 Training Squadron at Catterick on 1st December 1917. It was not complete until it moved to Netheravon in April 1918 and, by the end of August, after being equipped with the Handley Page 0/400 bomber, it joined the Independent Air Force at Roville-Aux-Chemes in France. The first operation flown by No. 115 was on the night of 16th/17th September when eight aircraft dropped nearly 4 tons of bombs on Metz/Sablon railway station. Three aircraft were lost, one force-landing in Luxembourg and the other two crashing because of fuel problems. The Squadron's most successful raid was made against Morhange airfield when five aircraft, making double trips, dropped 6½ tons of bombs. By the end of the war, No. 115 had made 15 raids, the longest to Baden, in all dropping 26 tons of bombs.
The Squadron returned to England on 4th March 1919 and was disbanded at Ford Junction on 18th October.
The Squadron was reformed by using No. 38 Squadron's 'B' Flight on 5th June 1937 at the height of the RAF expansion scheme. At first it had to borrow Fairey Hendons from No. 38 Squadron but within two months it was fully equipped with the Handley Page Harrow. No. 115 became operational within a year to form part of No. 3 Group, Bomber Command.
In March 1939 the Squadron began to re-equip with Vickers Wellingtons and by the outbreak of war was again operational. The first sortie was flown on October 8th in search of the German Fleet off Norway but no ships were sighted. On 3rd December a successful raid was made against German shipping off Heligoland and, despite attacks by enemy fighters, no aircraft was lost in what proved to be the last costly raid daylight raid by Bomber Command over the North Sea.
The Squadron's main occupation until March 1940 was with leaflet raids over Germany but, in April, No. 115 gained the distinction of making the RAF's first bombing raid of the war on a mainland target, the enemy-held Norwegian airfield at Stavanger/Sola.
When the Germans launched their Blitz-Krieg on Belgium, the Netherlands and France, the Squadron began attacks on oil refineries and rail installations in Germany. As the Germans rapidly advanced No. 115 switched to tactical bombing in support of the retreating Allied armies. Then, after the collapse of France, it returned to attacks on Germany and, on 28th August 1940, made its first raid on Berlin.
In January 1941 a number of expenmental GEE sets were installed in the Wellingtons for the Squadron to undertake the initial Service trials of this great naVigational aid. By August these sets were being used on operations and, as a result, GEE was put into large-scale production for Bomber Command.
In November 1941 the Wellington Mk1 was replaced by the Mk3. With GEE now installed in all aircraft bombing results began to improve. In March 1942, No. 115 was used, with other No. 3 Group squadrons to fly ahead of the Main Force to drop flares and so to illuminate the target, aforerunner ofthetype of work taken up by the Pathfinder Force later in the year. Throughout 1942 the Squadron operated at maximum strength, taking in the 1,000 – bomber raids and the first real attacks on targets in Italy.
From the spring of 1943 until the end of the war No. 115 flew Lancasters and, for a while – until May 1944, it was one of the relatively few units to operate the Mk2 Bristol Hercules version. This type was not particularly successful having a relatively low operational ceiling and strangely attracting German night fighters, probably because of the glowing exhausts of the Hercules radial engines. The Squadron's losses during this period were constant.
Re-equipment with the Lancaster Mk1 and M2 M3 gave the Squadron greater flexibility in its operations. It remained in the Main Force and took part in most Bomber Command operations. Its last raid was on April 24th 1945 on rail marshalling yards and it ended the war with 5,392 operational sorties flown, 23,000 tons of bombs dropped together with a vast number of mines. At the end of hostilities No. 115 took part In Operation 'Manna' dropping food to the starving people of the Netherlands and in numerous flights to bring home prisoners of-war from Germany and Italy.
Then the Squadron was earmarked for 'Tiger Force', the bomber force being assembled to bomb Japan. It-re-equipped with Lancasters modified to operate in the Far East which meant that with the end of the war in August the Squadron entered a dismal period with increased servicing difficulties with untypical equipment.
In 1948 matters improved with regular overseas flights to Egypt and the Sudan. In September 1949 the Lancasters were replaced with Lincolns but only as a temporary measure.
In 1950 crews were sent to the U.SA to train on the B-29 Superfortress of which 87 were to be supplied to the Royal Air Force as a stop-gap until British jet-bombers were ready. No. 115 Squadron returned with its complement of B-29s, now called Washingtons, on 13th June 1950 which they operated until 1954 when they were replaced by the Canberra. Fully employed with this light jet-bomber until 1957, the Squadron then disbanded at Marham on 1st June of that year.
On 21 st August 1958 it reformed in a completely new role when its numberwas allocated to No. 116 Squadron, a radio and radarcalibration unit in No. 90 Signals Group atWatton using the Vickers Varsity and a fewVickers Valettas. Laterintheyearthe Squadron moved to Tangmere and was additionally tasked with medical evacuation duties. In 1963 it returned to Watton.
The Squadron re-equipped with the Argosy E Mk1 in 1968 and moved to Cottesmore, retaining some Varsities for a further 18 months. Calibration duties were extended to the Far East and No. 115's aircraft were seen wherever there were RAF bases. In 1976 the Squadron moved to Brize Norton where the Argosy was replaced with the Andover E Mk3. No. 115then moved to Benson in January 1983 until it became a victim of the 'Peace Dividend' and was disbanded in the autumn of 1993.