Depicting stained glass windows in Bermuda
Date: 24th September 1992
Stamps: Bermuda 25c Wreck of the Sea Venture; 60c Bluebirds and Cardinal in tree; 75c Shells; $2 St. Francis with bird in hand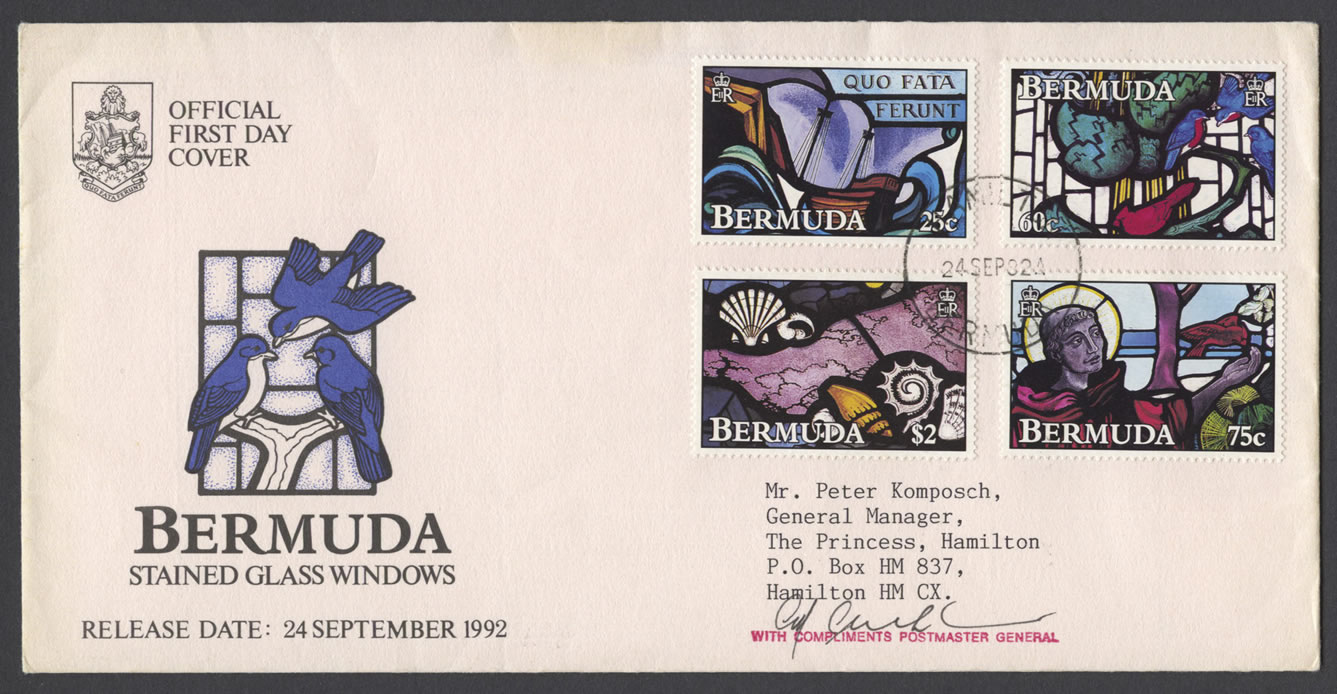 CDS: HAMILTON BERMUDA 24SEP92A
Address: Mr. Peter Komposch, General Manager, The Princess, Hamilton P.O. Box HM 837, Hamilton HM CX
Signed: Unknown, WITH COMPLIMENTS POSTMASTER GENERAL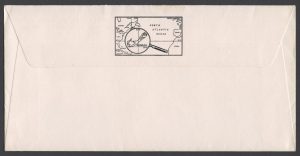 Liner
BERMUDA STAINED GLASS WINDOWS IN BERMUDA CHURCHES
Bermuda's area equals approximately 20 square miles and yet there are nearly 30 religious denominations. Considering that the Islands have a population of about 60,000 people it is noteworthy that most of the churches and meeting halls have good sized congregations every Sunday.
These places of worship range from a tiny white roofed chapel perched high above the sea to the massive neo-gothic Cathedral that dominates the skyline of the City of Hamilton. Many of them are graced with some truly beautiful and valuable stained glass windows. Bermuda can be proud to have windows by the famous Kempe Studios in England and by La Farge in the United States. Much of the stained glass dates from the turn of the 20th century and has come from England and Scotland, but more recent examples have come also from North America and there are others being produced by a local stained glass studio.
The technique of making these windows has hardly changed over the centuries since the earliest were made in the 11th century in Europe. This is a magnificent art form, and, while most durably serving the purpose of keeping out the weather, these windows both tell their stories to the glory of God and fill a church with a radiance of coloured light.
25 cent Detail of a window, designed by Vivienne J. Gardner and shows the wreck of the Sea Venture, in which Sir George Somers and the Virginia Colonist, were wrecked on Bermuda reefs in 1609. Bermuda's Motto "Quo fata ferunt" can be translated as "Wither the Fates May Lead".
60 cent This is also the detail of a Window made in England and shows the Bermuda Bluebird and Cardinal (or Redbird).
75 cent Detail of a window designed by Vivienne J. Gardner of Bermuda, it shows St. Francis with a Cardinal.
$2.00 Detail of a window made in England but was based on a design by Florence Fish, a long time resident of Bermuda, the design shows some of Bermuda's sea shells.
With kind acknowledgements to:
Photography by Ian McDonald Smith
Liner by Vivienne J. Gardner
Technical Information
Designer: Derek Miller
Printer: The House of Questa
Process: Lithography
Stamp size: 31.75 mm X 48.26 mm
Pane: 50 (2 x 25)
Perforation: 14 per 2 cms
Paper: CA Watermarked
Values: 25c, 60c, 75c, $2
Release date: 24 September 1992