Commemorating Bermuda's ferries
Date: 16th February 1989
Stamps: 18c The Corona; 50c Rowboat Ferry; 60c The St. George's Ferry and $2 The Laconia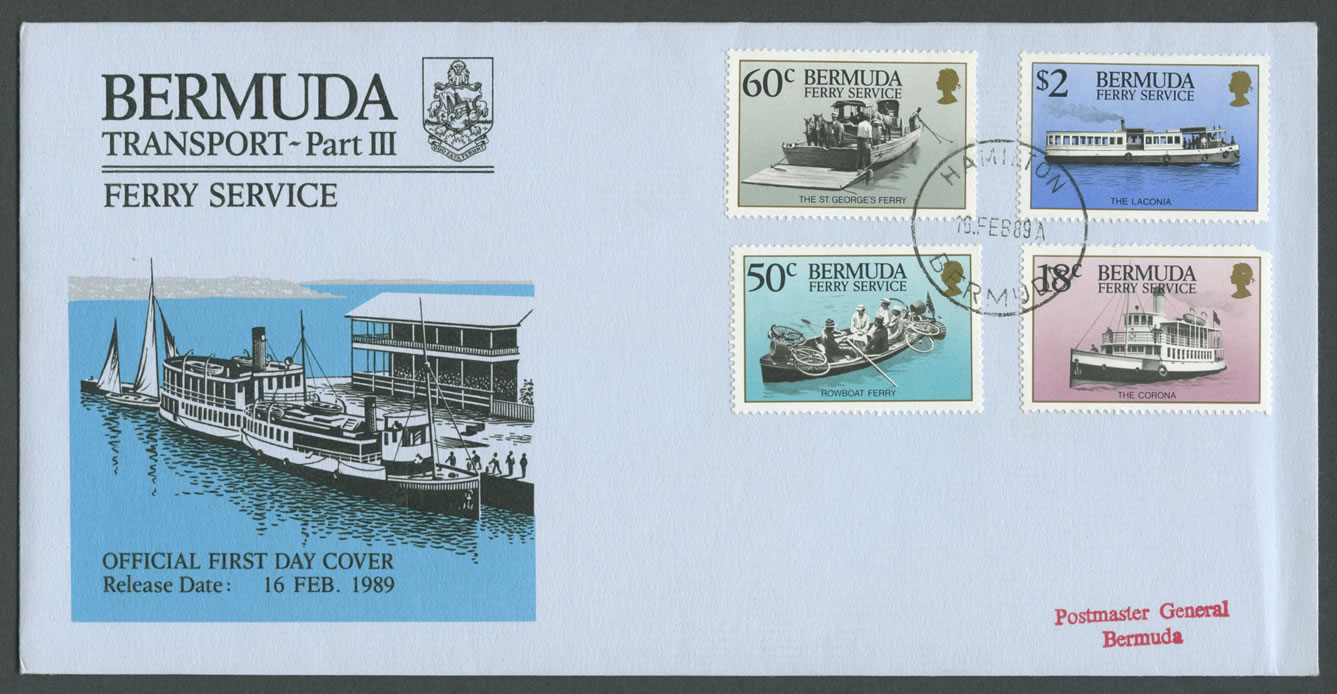 Type: Official First Day Cover
CDS: HAMILTON BERMUDA 16.FEB89A
Cachet: Bermuda Transport – Part III. Ferry Service. Official First Day Cover. Release Date: 16 Feb. 1989
Address: Postmaster Genral Bermuda
BERMUDA
TRANSPORT – Part III FERRY SERVICE
For over two hundred years, Paget and Somerset residents and dockyard workers have depended on Ferry Services from Hamilton, and for over a hundred years, St. David's Islanders required a regular service to St. George's. These services were provided by private individuals, partnerships and corporations, government contracts, and latterly the government itself. In the 1870's Samuel Saltus Ingham (Speaker of the House of Assembly) ran two steam vessels from Hamilton to the Dockyard – the Reliance and the Dispatch. The story goes that these ferries were always breaking down and one wag commented that "there was no Reliance in the Dispatch and no Dispatch in the Reliance!'~ This service was discontinued when in 1886 the "Island Steam Service" partnership was born. In 1911, because of the personal financial risk facing the partners should there have been personal injury or death to passengers, it was decided to incorporate and the "Bermuda Transportation Company Limited" was formed. This company did have government subsidy contracts for certain of its less-frequently used routes (such as Hamilton-Lower Ferry and Hamilton-Ireland Island), but was taken over completely by the government early in the 1950's. The rowboat ferries travelled for over two hundred years between Hamilton and Lower Ferry and Hodgsons Wharf in Paget, also there was a service between St. George's, Smith's Island, and St. David's Island. The St. George's ferry service by steam vessel began in 1886 with Mr. lames Richardson's "Dawn'~ Today all ferry services are operated by the government under the Department of Marine and Ports Service. In total over 490,000 pas engers are carried per year, providing for locals and visitors alike a convenient and scenic way to commute from the Dockyard, Somerset, Warwick and Paget to the Capital City of Hamilton.
18c stamp depicts the "Corona': which was built about 1892 as a Hudson River Ferry Boat. An iron hulled steamboat, she was 90 feet long and carried 350 passengers. Purchased by the "Island Steam Service" in 1902, she was brought from New York to Bermuda by Captain Henry Hollis of Bailey's Bay during that summer. This was no mean feat, as she had little freeboard. While lying at anchor during the hurricane of 1906, she caught fire. The superstructure was completely gutted and she was towed to White's Island where she sank in shallow water. She was refloated and taken to Pitt's Bay where she was rebuilt. Sponsons were added which increased the beam by six feet and thus the carrying capacity. A new coal burning engine
was purchased from Plenty and Sons of Yeovil in Somerset, England. She was named "Corona" as she was purchased in the Coronation Year of King Edward VII. Used on the run to the West End, she took dockyard workers from Hamilton in the early morning and took Somerset passengers to Hamilton on the return trip.
50c stamp shows one of the rowboat ferries that plied from the Old Yacht Club Steps in Hamilton to Lower Ferry or Hodgson's Wharf, carrying both passengers and their bicycles as well as sundry packages! Typical of this service was Mr. Waiter Ingham who started as a boy of fifteen on 18th February, 1902. At the time, there were eight boats on the run – four of which were government subsidized. Mr. Ingham worked for Mr. lames DeShield who had a government contract until 1910, when he lost it to a lower bidder. The fare was 1lfzd. at that time. Between 1885 and 1890, Mr William Smith of Red Hole built a rowboat named "Vesta" of cedar and cypress, and Mr. Ingham bought her for 12 pounds in 1912, and operated her as a challenge to the subsidized boats. He operated from 6.30 a.m. to 6 p.m. and in summer as late as midnight between Hamilton and Lower Ferry. At the age of sixty-five on 18th February, 1952, he had rowed for fifty years and was the last of these stalwart men who made it their living. By then the fare had risen to 6d! He had rowed over 200,000 miles (eight times around the world!). When in his youth, he had made the Hamilton-Paget run in two and a half minutes, but ordinarily five minutes was a good time. Mr. Ingham continued his service, but unfortunately while rowing around the stern of a large ship, which was under way, he was sucked into the propellor and killed. A Mr. Astwood was on the Paget run before the turn of the century, and Mr. Reginald Wentworth Stovell began in 1903. The diesel engine ferries finally put paid to this ancient, charming, and much appreciated rowing service.
60c stamp. In the early days of Bermuda's development St. George's was the Capital. The only way to travel from St George's to the remainder of the islands was by water transport. The main road from St. George's ran through Wellington for another mile on the peninsula to Ferry Point. A rowboat ferry carried passengers across about 100 yards of water to Coney Island in Bailey's Bay from whence one could reach all points on the Main Island. Later the rowboat ferry was augmented by a barge which could carry horses and carriages as well as passengers. This stamp shows the barge tieing up at the Coney Island landing. In 1864 the construction of the Causeway began. This would join St. George's to the mainland via Longbird
Island. This was completed and opened on 19th September 1871 with a great celebration. For a time, this made the Ferry Point-Coney Island service superfluous. However, the joy and convenience were short-lived as on the 12-13 September 1899, Bermuda suffered a devastating hurricane which destroyed the causeway, making the ferry a necessity once again. The causeway was rebuilt before the First World War, and this event closed the ferry service for good.
$2.00 stamp. The "Laconia" which was purchased by the Bermuda Transportation Company Ltd. in 1923. She was originally a coal burner, but in 1940 she was converted to a twin screw diesel. She was withdrawn from service in September 1963. It is estimated that she did five hundred miles per week during those forty years. She had carried eight million passengers and travelled over one million miles in service. She was towed out to deep water and scuttled.
In October, 1963, a second "Laconia" was put in service. Built by Rowhedge Iron Works Company Ltd. in the U.K. she had a welded steel hull, a single screw, a Gardiner Diesel 6L3B engine developing 142.5 horse power, and was 42 tons gross and 19 tons net. Fifty-four feet 3 inches long, sixteen feet wide. and drawing six feet, she carries one hundred passengers. Both "Laconias" were used on the Hamilton, Paget, and Warwick run. Still operating, the second "Laconia" will be withdrawn from service in the near future.
With acknowledgement to Mr. Malcolm Gosling.
Technical Details
Design: Concept – Clive Abbott Artwork – Leslie Curtis
Printer: The House of Questa
Process: Lithography
Set: 50 (2 panes of 25 stamps)
Stamp size: 28.45×42.58 mm
Values: 18c, 50c, 60c, $2
Release date: 16 February 1989
An Official First Day Cover is available.