Omnibus issue for the Queen's 60th Birthday
Date: 21st April 1986
Stamps: Bermuda 15c Princess Elizabeth aged three, 1929; With Earl of Rosebery at Oaks May Meeting, Epsom, 1954; With Duke of Edinburgh, Bermuda, 1975; 60c At British Embassy, Paris, 1972; $1.50 At Crown Agents Head Office, London, 1983.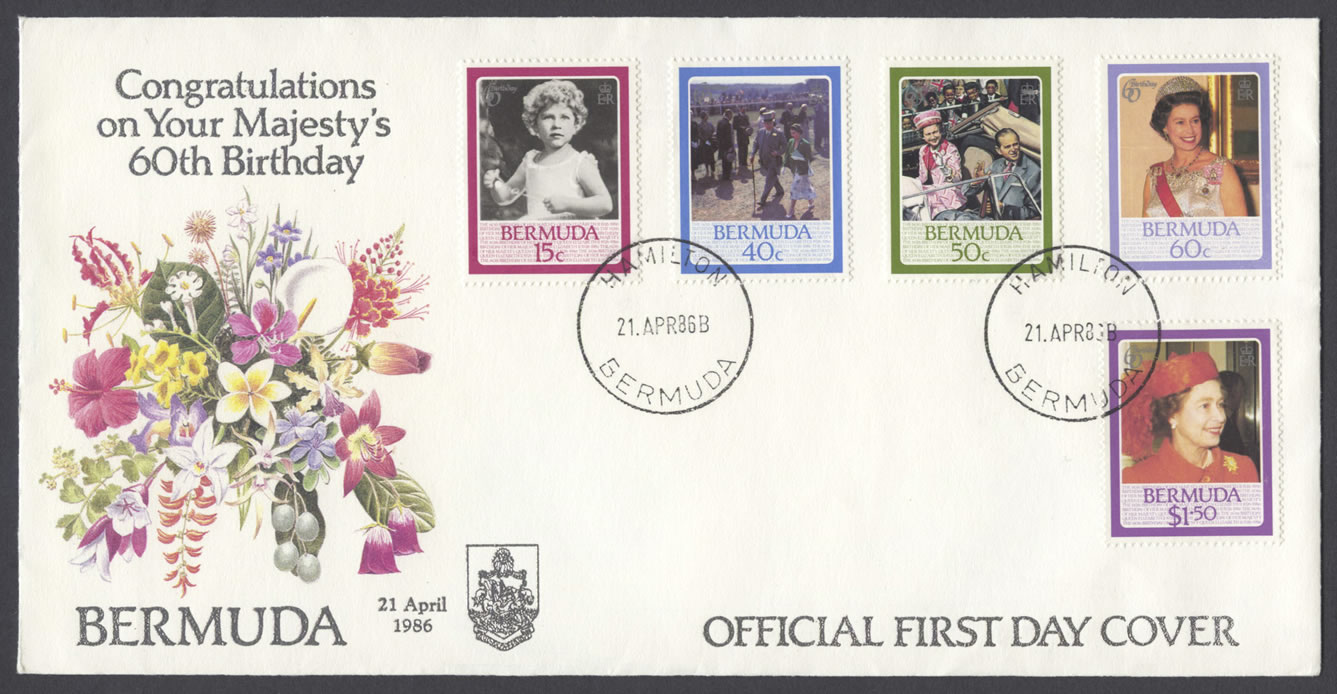 Type: Official First Day Cover
CDS: BERMUDA
Cachet: Congratulations on Your Majesty's 60th Birthday BERMUDA 21 April 1986 OFFICIAL FIRST DAY COVER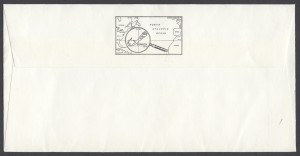 Liner
BERMUDA
The 60th Birthday of Her Majesty Queen Elizabeth II
Princess Elizabeth was born on 21 April 1926 at 17 Bruton Street, London: the eldest daughter of the Duke of York, second son of King George V.
Elizabeth and her younger sister Margaret spent their earliest years at the family residence: 145 Piccadilly. However, upon the abdication of King Edward VIII in favour of their father, the family moved to Buckingham Palace. Until that time it was never considered that Elizabeth would succeed to the throne but suddenly she found herself to be the heir presumptive. With her future in mind, the Princess was educated privately, concentrating on languages, history and music.
In early 1939 the two Princesses went with their father to visit Dartmouth Royal Naval College where the royal escort for the day was Philip, the nephew of Earl Mountbatten. He was five years older than Elizabeth and like her, a great great grandchild ofQueen Victoria. Philip graduated before the outbreak of the Second World War, going to sea as a Second Lieutenant, later in his career becoming an Admiral of the Fleet. Philip, a member of the Danish and Greek royal families, became a British subject two years after the end of the War. The couple, who during the War had continued to meet at Windsor Castle, became officially engaged on 9 July 1947. Their wedding took place in Westminster Abbey on 20 November 1947, the day after Philip had been created a Royal Duke.
Due to the King's ailing health, from 1951 Princess Elizabeth began to represent her father on various state occasions. In February 1952, whilst she and Prince Philip were on an official tour of East Africa, Australia and New Zealand, news was brought to them that the King had died.
The young Queen was crowned in Wesminster Abbey on 2 June 1953. One hundred thousand people lined the streets to witness the momentous event.
Today, Her Majesty The Queen is still Sovereign of the largest group of nations in the worl and Head of the Commonwealth. Her reign has witnessed many changes, seeing the gradual dissolution of the British Empire as many countries have sought and been granted independence. She is nevertheless, one of the most significant figures of the twentieth century.
Her Majesty rules by rights of a constitution that is over one thousand years old. Politically, she has "the right to be consulted, the right to encourage and the right to warn". There are regular weekly meetings between herself and the Prime Minister to discuss affairs of State and, of course, her signature is required on all Acts of Parliament before they become law.
Through her numerous official tours and public engagementsHMThe Queen acts as the premier ambassador for the United Kingdom, cementing international relationships and ties offriendship.
To celebrate her 60th birthday, Bermuda along with twenty,two other postal authorities are participating in a Crown Agents Omnibus series ofstamps to be released on Her Majesty's birthday, 21 April 1986.
15c – Princess Elizabeth at the age of 3
60c – Her Majesty at the British Embassy in Paris during a State Visit to France 1972
50c – Her Majesty and Prince Philip whilst on a visit to Bermuda in February 1975
40c – Most successful Horse Owner in the UK 1954
$1.50 – Her Majesty visiting the Crown Agents Head Office in London in 1983 to celebrate the 150th Anniversary of the Crown Agents
Each printed sheet will comprise 50 stamps separated into two panes of 25 by a vertical gutter.
In descending order the gutter designs depict the following:-
a) Order of Chivalry – Thistle Star
b) Royal Residence – Windlesham Moor
c) Birthday Greeting – (Common to all countries)
d) Insignia of 16th/5th Queen's Royal Lancers
e) Bermuda Coat of Arms
Technical Details
Designer: Tony Theobald
Printer: The House of Questa
Process: Lithography
Watermark: C A Spiral Script
Perforation gauge: 14 per 2 cm
Stamp size: 30.56 x 38.00 mm
Layout of Stamp Sheet: 50 (2 x 25) with a vertical gutter containing special designs
Release date: 21 April 1986
Issue contents: 15c, 40c, 50c, 60c, and $1.50 stamps plus an Official First Day Cover
The First Day Cover, designed by ]ennifer Toombs, features an attractive bouquet illustrating one flower from each participating country.