Commemorating architecture in Bermuda
Date: 24th January 1985
Stamps: BERMUDA 12c Buttery; 30c Rooftops; 40c Chimneys and $1.50 Archway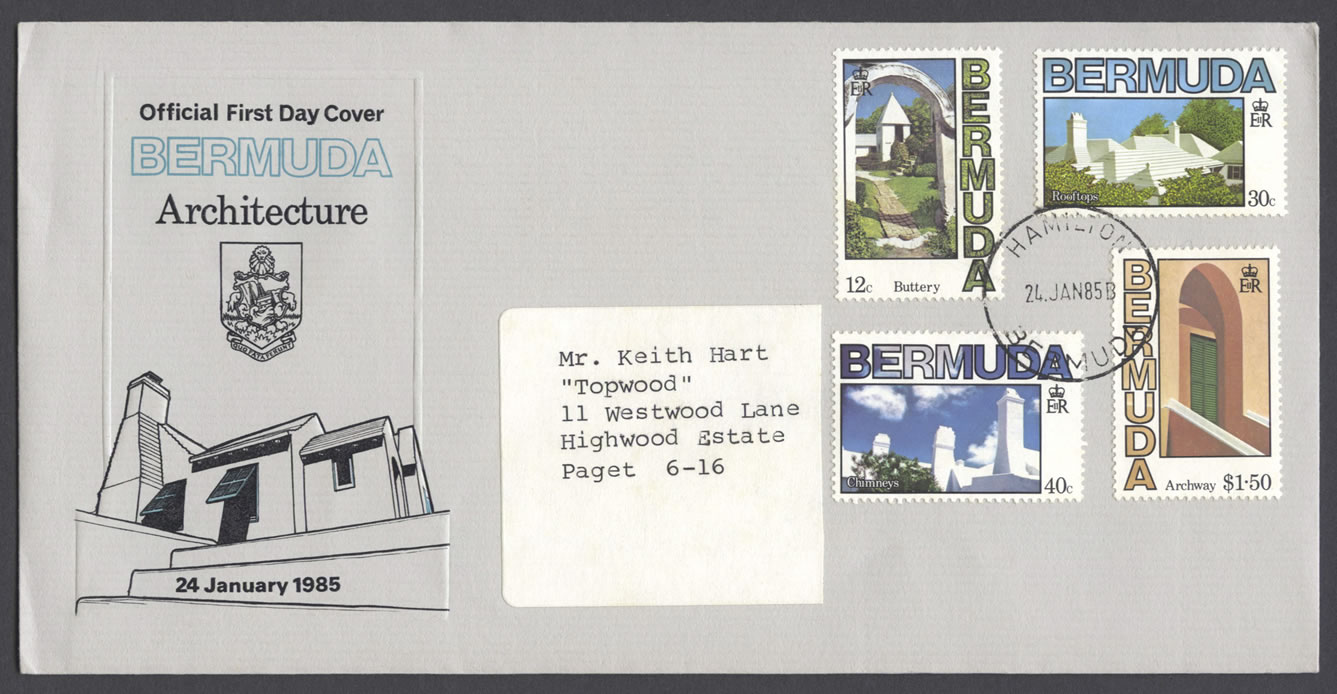 Type: Official First Day Cover
CDS: 24.JAN85B HAMILTON BERMUDA
Cachet: Official First Day Cover BERMUDA Architecture
Address: Paget, Bermuda
BERMUDA ARCHITECTURE
(With acknowledgement to Mr. John T. Adams M.A. (History & Art) Yale)
Bermuda's unique style of architecture, with structures built of local stone, evolved during the seventeenth and eighteenth centuries. The first settlers had made half-timbered buildings with thatched roofs, but their descendants discovered by the end of the 1600's that it was far more practical to build sturdy structures with walls and roofs of local limestone.
Limestone blocks would be cut in hillside quarries, and cemented together with lime-based mortar to form walls. Roofs were made of hand-sawn limestone slates fined into cedar rafter frames set on top of the walls. The roofs were then coated with lime wash and used as water catchments, draining rain water down gutters and pipes into storage tanks. These old houses also had large stone fireplaces and chimneys which not only provided warmth but also buttressed the heavy weight of the stone roofs and walls.
These Bermudian builders of two and three hundred years ago were meticulous craftsmen, which is why so many of their sturdy buildings have survived today. They also had an uncanny knack for building houses that fit in well with the landscape around them. Devoid of elaborate ornamentation, these houses had simple lines and pleasing proportions that complemented the surrounding landscape instead of dominating it. Painted soft earth tones with white roofs and external woodwork trimmed in dark green. their colours also blended into the surrounding natural environment. Even tiny butteries – small out buildings with pyramidal roofs used for storage – were designed with a grace and charm that few trained architects could rival.
Today. local builders use concrete rather than limestone blocks, and often make roofs of synthetic materials. Yet the best architects still try to keep the appearance of the old style in their structures, building houses with simple lines and good proportions that blend in with the landscape around them.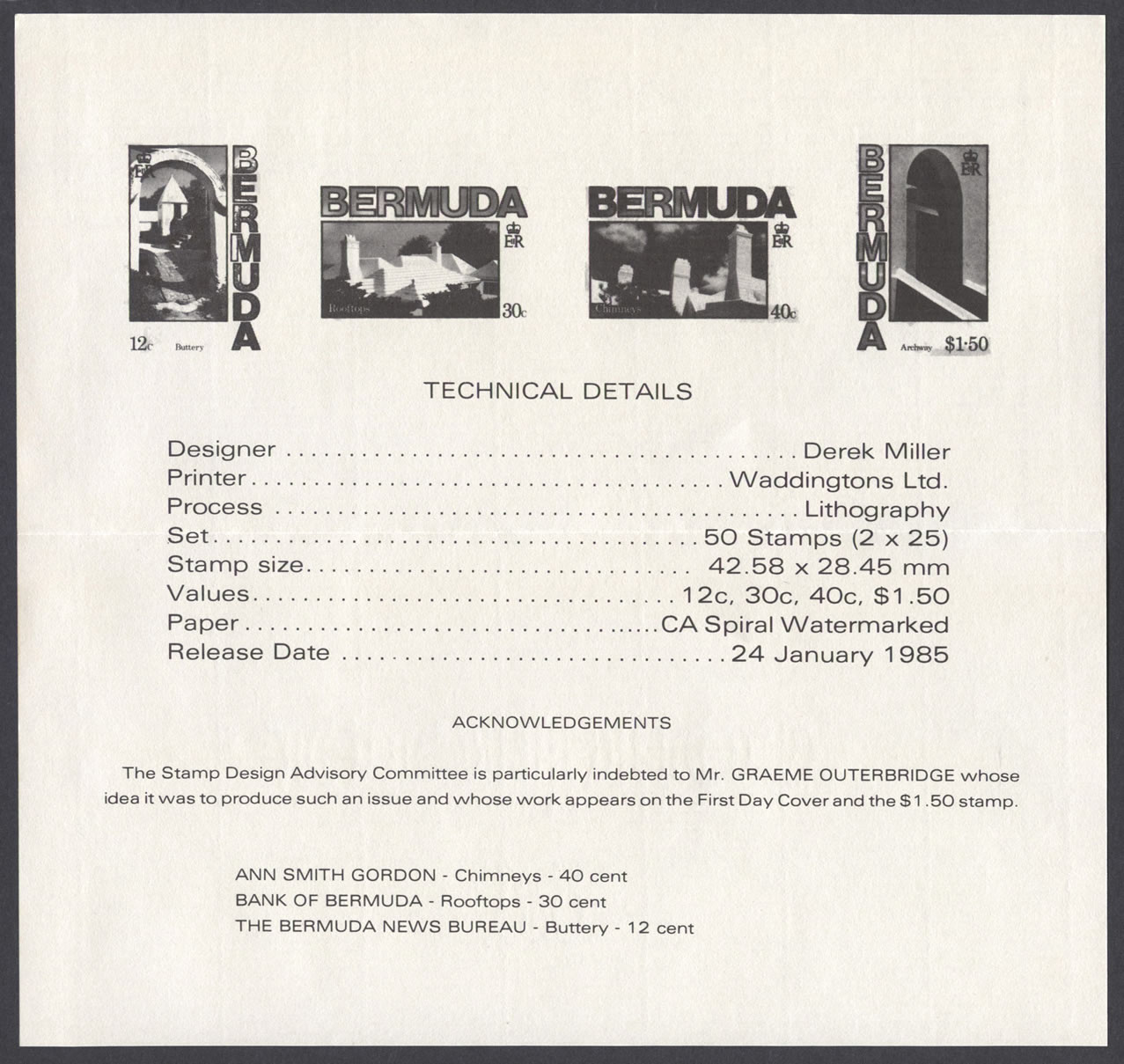 TECHNICAL DETAILS
Designer: Derek Miller
Printer: Waddingtons Ltd.
Process: Lithography
Set: 50 Stamps (2 x 25)
Stamp size: 42.58 x 28.45 mm
Values: 12c. 30c. 40c. $1.50
Paper: CA Spiral Watermarked
Release Date: 24 January 1985
ACKNOWLEDGEMENTS
The Stamp Design Advisory Committee is particularly indebted to Mr. GRAEME OUTERBRIDGE whose idea it was to produce such an issue and whose work appears on the First Day Cover and the $1 .50 stamp.
ANN SMITH GORDON – Chimneys – 40 cent
BANK OF BERMUDA – Rooftops – 30 cent
THE BERMUDA NEWS BUREAU – Buttery – 12 cent